Commentary
Page 2 crashes NBA All-Star parties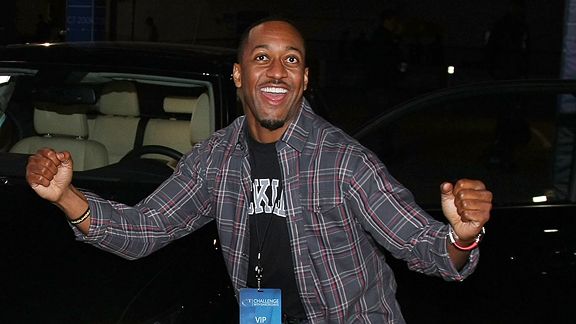 Arnold Turner/Getty ImagesActor Jaleel White, who played Steve Urkel on "Family Matters," makes his presence known.
The Page 2 partiers are back at it.
Thursday night marked the beginning of the 2011 NBA All-Star Weekend, and athletes and celebrities kicked off the festivities at events around town. Here's what was hot (and not so hot) at some of the events we checked out.
[+] Enlarge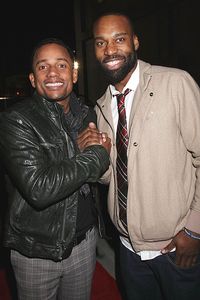 Arnold Turner/WireImageActor Hill Harper and Baron Davis at the Lexus CT 200h Challenge.
The Baron Davis Lexus CT 200h Challenge
Why that title? Because L.A. Clippers player Baron Davis challenged his celebrity buddies to a race around a track, driving a new Lexus CT 200h.
When and where: Thursday evening, downtown Los Angeles; across the street and adjacent to the Staples Center.
Performers: Hot industry guy DJ Skee was on the wheels of steel.
Celebrities we saw: John Salley, Hill Harper, Boris Kodjoe, Terrell Owens, April Ross, Cash Warren, Dule Hill, Michael Strahan, Tichina Arnold and Jesse Metcalfe. Gnarliest sighting of the night goes to Jaleel White, who played uber nerd Steve Urkel on "Family Matters," who we spotted talking with Jenna Von Oy, who played Sixx, Blossom's BFF on the '90s sitcom "Blossom."
Overheard: "This week is fun. Fun. No work," said Strahan, who linked hands all night with girlfriend Nicole Murphy. "I can just show up where I want to show up and I don't have no obligation. I don't have to wake up early and I can stay up late. I'm good. This is that makeup for being in cold Dallas, having to wake up and work. Now I can just sit back and enjoy and watch some other guys do something that I admire. Basketball players get it in. That guaranteed money makes for a lot of fun!"
Food and drink: A unique idea called for a uniquely Los Angeles experience. In addition to having passed hors d'oeuvres (seared tuna wontons, jerk chicken and beef, to name a few) in the VIP section, Davis had a collection of some of the best L.A. food trucks set up for people to get complimentary burgers, tacos, po' boys, macaroni and cheese, red velvet cupcakes and seafood.
Swag: The hottest thing at this party? Those hybrid Lexus vehicles. Even famous folks couldn't help themselves from posing next to the vehicles on display, though some tried to be slicker about it than others.
All-Star rating: Slam dunk . The party was amazing. It was well-attended and athletes and celebrities got to mingle with one another and sip amazing concoctions (from lemonade iced teas to pomegranate martinis), while raving about the delicious L.A. homegrown food-truck grub. Plus, it was all for charity. Davis' foundation, The Rising Stars of America (RSOA), benefited from the event. $1,000 was awarded for each celebrity that participated in the competition.
[+] Enlarge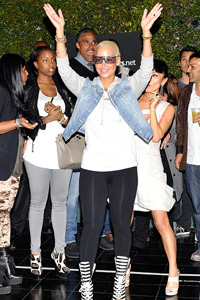 John M. Heller/Getty ImagesModel Amber Rose shoots free throws as Rick Fox and others hang out at the Block Party.
NBA All-Star Block Party
Why that title? This Rick Fox-hosted throwdown actually took over a small section of the popular shopping block of Melrose Ave.
When and where: Thursday night, Melrose Avenue.
Performers: An awesome DJ -- her name is DJ Reflex -- kept the crowd energized with hit hip-hop music from the '90s through the now.
Celebrities we saw: Rick Fox, Amber Rose, Bai Ling and Angela Simmons.
Overheard: "Ooh, look, there's Amber Rose, wonder how she feels ..." someone shouted when two Kanye West songs played in a row. Rose is West's ex-girlfriend and the muse, he says, for his current project.
Food and drink: Passed trays of sushi and an open bar that had pretty much anything you'd find at a regular bar. As the party was winding down, someone brought in about a dozen boxes of pizzas, presumably to hand out to partygoers.
Swag: Celebrities walked away with bags of shoes from Ed Hardy and adidas.
All-Star rating: Rebound! This party may not have been crawling with all of the famous faces of some of the night's other events, but it made up for it with great music, a fun atmosphere (men were treated to shaves and haircuts) and strong cocktails. "My mission is for everyone to have a good time and get home safely," one bartender told a patron.
[+] Enlarge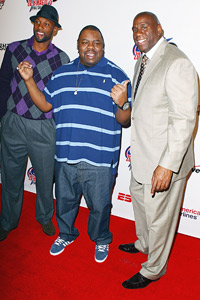 Joe Scarnici/FilmMagic/Getty ImagesAlonzo Mourning, Biz Markie and Magic Johnson arrive to get the party started.
Zo & Magic's 8-Ball Challenge
Why that title? The event was hosted by Alonzo Mourning and Magic Johnson.
When and where: Thursday night, JW Marriott, downtown Los Angeles.
Performers: Biz Markie served as DJ, supplying the tunes for the entire night as Tichina Arnold emceed. Biz seemed to favor the classics from the late '80s and early '90s. The highlight came when he spun an extended mix of Cali Swag District's "Dougie," which sparked a Dougie dance-off about 30 minutes before last call.
Celebrities we saw: There was a high athlete turnout with high-profile ballers such as Dwight Howard, Chris Paul, Kenyon Martin and Dwyane Wade, who walked in hand-in-hand with girlfriend Gabrielle Union, who were on hand for much of the night. Streetballers The Professor and Escalade were in attendance, too, and got much love from Biz Markie.
Overheard: As the night got started, CNN analyst Roland Martin joked with retired ballers Gary Payton and Jalen Rose on the red carpet like they were old friends. When Howard arrived, it seemed that every former big man in attendance was offering advice. At one point, former centers Kevin Willis and former Bulls center Bill Wennington huddled with Howard before his attention turned to the clamoring masses. The highlight of the night came on the dance floor when Howard requested the Electric Slide and proceeded to perform said dance with two dozen, mostly female, patrons. Howard showed swift dance-floor skills and delivered a pound to Biz after the song before disappearing out the door.
Food and drink: The big hit was the chicken tender and waffle squares on a stick, which were an obvious ode to LA's famed chicken and waffle rep. Patrons appreciated the six open bars, which stayed open 'til 1:30 a.m. and kept the revelers in a constant state of euphoria.
Swag: Folks came dressed to impress. Styles that were prominent included carefully folded ties, vests, a wide range of fedoras and fashionable high-top sneakers.
All-Star rating: Slam Dunk. Plenty of pro athletes who seemed to know how to work the room. You could tell the stars in attendance had a few All-Star Weekends under their belts. And as tired partygoers headed for the door just before 2 a.m., their satisfied grins told the story.