Commentary
Page 2 crashes NBA All-Star parties
Updated:
February 19, 2011, 10:23 AM ET
By
Kelley Carter
and
D'Arcy Maine profile
| Special to Page 2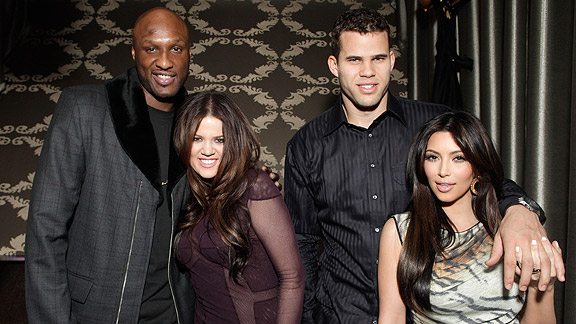 Todd Williamson/WireImageLamar Odom, Khloe Kardashian, Kris Humphries and Kim Kardashian live the reality curse.
Your trusted Page 2 Party Team was back at it again on Friday night in Los Angeles, crashing some of the hottest parties in celebration of all things NBA All-Star.
We saw famous faces, great performances and barely-there clothing, but for the most part the inclement Southern California rain dampened much of the night. Most of Friday night's events were all wet; some actually were canceled by midday because the events were scheduled to happen outside or on rooftops, and there weren't any plan B options for harsh L.A. rains. Still, we were out and about -- it's a living -- and can report that some All-Star partiers didn't let the rain keep them inside.
My Space/Capital A Party Entertainment Night Before All-Star Jam Party
Why that title? The online social media spot was a sponsor for the party and brought out some musical heavyweights to entertain the crowd.
When and where: Friday night, Conga Room in the L.A. Live complex, which is right in the thick of the All-Star action and near the Staples Center.
Performers: An incredible hip-hop heavy DJ and later performances by rapper Fabolous (with surprise guest Trey Songz) and later Snoop Dogg, though we never got a chance to see him take the stage.
Celebrities we saw: Blake Griffin, Kevin Love, Fabolous, Trey Songz and L.A. Lakers player Matt Barnes, who clutched hands with "Basketball Wives" co-star and girlfriend, Gloria, all night.
Overheard: "Trey Songz looked right at me! I about died," screamed one fan who reported the news to her parents, who also were in attendance and hanging out with her in VIP. She then proceeded to explain who Trey Songz was to them.
Food and drink: Passed hors d'oeuvres (southwestern chicken patties, mini-cheeseburgers, Cuban-style sautéed mushrooms on homemade, crispy tortillas and pulled pork sandwiches) were handed out in the exclusive VIP section. Near the party's end, Ding Dongs and Twinkies on a platter were handed out. Those who were lucky enough to score black wristbands drank whatever they wanted all night long -- one of the bartenders there had a specialty, blueberry mojitos.
Swag: In spite of the cold Los Angeles temperatures and the mostly rainy night, barely-there clothing ruled the night. Women favored short shorts and stilettos; men didn't seem to mind. Still, we felt bad for the fashion forward because at times the rain was quite heavy and many sad saps hung outside and got drenched, hoping to get inside either this party or the one at Club Nokia, which was hosted by Khloe Kardashian and Lamar Odom. We headed there first but only heard complaints of too-high-priced tickets (one pair of New York fans paid $126 each to get inside, only to be disappointed) and not enough famous faces.
All-Star rating: And-1! Even if you couldn't get inside of this exclusive party and get a listen to the awesome live hip-hop music, once it dried up there was plenty of outside congregating -- kind of reminded us of late-night, all-night undergraduate parties. Downtown Los Angeles hasn't seen this kind of late-night action in a long time, and things were still rocking and going strong (outside of the party venues) long after last call.
---
WSS All-Star Weekend Event
Why that title? This one is pretty self-explanatory. WSS Shoe Warehouse hosted an event for All-Star Weekend.
When and where: Friday night, downtown Los Angeles at the Target Terrace.
Performers: More than just a friend, Biz Markie hopped on the ones-and-twos and the mic to delight of the crowd.
Celebrities we saw: Matt Barnes, Biz Markie.
Overheard: Matt Barnes guaranteeing a third straight Lakers NBA title, going as far as calling it "a fact".
Food and drink: Pizza was passed around in the early hours of the party. The moderately priced cash bar offered various Monster-infused adult beverages among other standard drinks. We spotted a delicious-looking cupcake display but were crushed to see it knocked over by a woman who had perhaps one too many Monsters at said bar.
Swag: While there was no "swag" in the free-goodies sense, there was a silent auction with some impressive Lakers memorabilia, including signed Kobe Bryant sneakers and a team-autographed champagne bottle from the 2010 championship celebration (alcohol not included). The proceeds went toward Barnes' charity, "Athletes vs. Cancer".
All-Star rating: Missed last-second game-winner. Between having a Lakers' player as a host and a terrific location right next to the Staples Center, this party had so much potential. Unfortunately a lack of anyone else rocking the purple and gold (or, heck, we'd even settle for a Cavs player) and the general lack of star power made this event lackluster at best. Where's Kobe when you need him?
---
Shaquille O'Neal Presents Annual "Shaq's All-Star Weekend"
Why that title? This one also is self-explanatory. For the last few years, O'Neal has hosted All-Star events.
When and where: Friday night, downtown Los Angeles at the Nokia Theater.
[+] Enlarge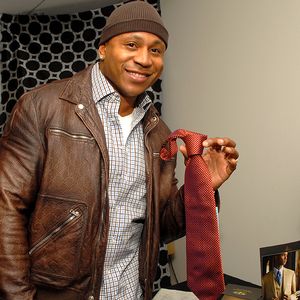 Mark Sullivan/WireImageLL Cool J hangs out around the swag at Shaq's event.
Performers: Funnyman Kevin Hart was the headlining comedian at the concert event. The comedian's "Laugh at My Pain" show was recorded and will be packaged for theatrical distribution by Codeblack Enterprises.
Celebrities we saw: Keri Hilson, Boris Kodjoe, Nicole Ari Parker, Amber Rose, LL Cool J and Morris Chestnut.
Overheard: "Does LL smell this good?" asked one person, who got to sniff a new unisex fragrance (Gendarme Cologne) in the gifting suite. To be fair, the cologne is being hawked by the chiseled rapper and is one of his newest business ventures. We couldn't make out the answer.
Food and drink: It was a bit of a hike but there was a VIP Lounge where they had full bar service and a rather-sad-looking display of food. Perhaps we arrived there too late, but awaiting guests were chips, warmed-over dipping sauce and what looked to be chopped up veggies over a sauce (or protein?) in mini cups. Or perhaps we just didn't get to the lounge where the real VIPs were treated to the high-life?
Swag: Backstage and downstairs, far, far away from the comedy, was where the famous faces hung out. Why? Because there was a celebrity retreat where the VIPs could walk away with free stuff before, after and during Hart's comedy show. The suite gifted celebs with watches, jewelry, cologne, custom-made dress shirts, eyewear and T-shirts.
All-Star rating: Benched. Maybe it was chips. And maybe it was because we missed the comedy show while making the long trek to find the celebs (or maybe it's because we're haters that we aren't among the famous and didn't get to walk away with a bag full of goodies -- c'mon, we'd like to have custom tailors come to our house and design a dress shirt for us, too!). Also, we headed to the Khloe Kardashian and Lamar Odom after party and wondered if the rain kept most people away. It almost was a dashed night.
Coverage of the first night of parties at NBA All-Star Weekend.