Commentary
The 10 most significant sports owners
Originally Published:
July 14, 2010
By
Samuel Chi
| Special to Page 2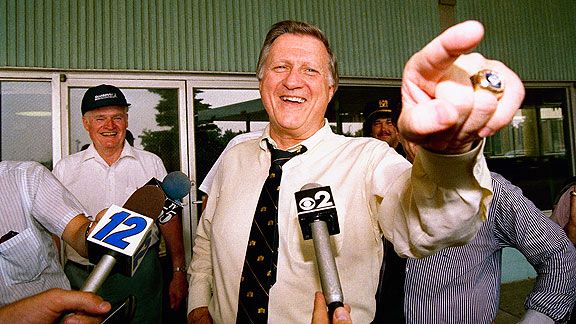 AP Photo/Charles WenzelbergDoes legendary Yankees boss George Steinbrenner rank as one of the most significant owners ever?
George Steinbrenner's reign as the New York Yankees' owner came to an end with his death Tuesday. He's being eulogized as one of the most successful -- and controversial -- owners in all of sports.
While the Boss was obsessed with winning, he was also a bombastic showman until his final years. In Steinbrenner's honor, Page 2 presents our list of the most significant owners in sports history, all of whom won on the field and made more news off it:
10. Al Davis: Commitment to excellence. Lawsuits. Leisure suits. The last of Al's three Super Bowl victories came in January 1984, and his fashion sense and playbook seem to be frozen at about the same time.
9. Walter Brown: He built the NBA's first dynasty by being racially progressive. Brown, whose Celtics won seven titles before his death in 1964, paired the Jewish, cigar-smoking Red Auerbach with the legendary Bill Russell. But he was also the guy who, as president of the Boston Athletic Association, banned Koreans from running in the 1951 Boston Marathon during the Korean War, saying they should fight for their country instead of train for a race.
8. Malcolm Glazer: Glazer was loved in Tampa for turning the Bucs from losers into champs. In England? Not so much. Despite winning three Premier League titles and a Champions League crown, he's reviled by Manchester United fans for & well, being an American and running up huge debts while simultaneously jacking up ticket prices.
7. Peter Pocklington: You think Cleveland hates LeBron? Try being the guy who sold Canada's national treasure to Hollywood. Pocklington traded Wayne Gretzky to the Los Angeles Kings after the Great One won him four Stanley Cups in five years with the Edmonton Oilers.
6. Eddie DeBartolo Jr.: Eddie D. was the NFL's Steinbrenner. Win at all costs. Spend lavishly. Break the law. He built a dynasty and won five Super Bowls in 14 years. But an errant Louisiana casino deal led to a one-year suspension by the league in 1999 and the takeover of his beloved 49ers by his spendthrift sister.
5. Dan Topping and Del Webb: Their names sound like German machine gun parts, but they were in fact the winningest owners of the Yankees with 15 pennants and 10 World Series titles in 20 seasons (1945-1964). Webb was best known for his "active" senior communities, but Topping was famous for his six marriages, including one to Olympic figure skating champion Sonja Henie.
4. Jerry Jones: The Arkansas oilman shocked Big D by firing Tom Landry on his first day as owner of America's Team in 1989. Then he took a page out of Al Davis' book by naming himself president, GM and personnel director for life. Jerry won big -- three Super Bowls in the 1990s -- and built an even bigger monument to himself with a shiny, new $1 billion stadium complete with the world's biggest HDTV.
3. Jacob Ruppert: A brewer in the early 20th century, "The Colonel" brewed beer -- and near-beer, which he sold exclusively at Yankee Stadium, during prohibition. After buying the Yankees, he also secured the rights to Babe Ruth, subsequently winning seven World Series in 18 years and touching off an 86-year curse in Boston.
2. George Steinbrenner: The Boss wasn't the winningest owner of the Yankees, but he was the most entertaining. Famous for fighting with his managers, he also parodied himself on "Saturday Night Live" and hired a snitch to dig up dirt on Dave Winfield. In his spare time, he won seven World Series, founded the YES Network and orchestrated the construction of the new Yankee Stadium.
1. Jerry Buss: He's a "playa" who could make Hugh Hefner jealous, and he has a Ph.D. in chemistry. He plays a mean game of cards, having finished as high as third in a World Series of Poker event. But Buss is our No. 1 because he bets big and wins big, turning a snakebit franchise into a 10-time NBA champion during his 31 years as owner. His team's star power, both on and off the court, turned L.A. into a Lakers town.
Samuel Chi is a freelance writer for Sports Media Exchange, a national freelance writing network.