Bucs punter had cancer scare as rookie
When Tampa Bay Buccaneers punter Josh Bidwell was drafted in the fourth round by the Green Bay Packers in 1999, he thought life couldn't get much better. The 23-year-old University of Oregon alum moved to Green Bay that summer and began competing for a roster spot.
After the third preseason game, he received more good news: Bidwell was named the team's punter. "The sky was the limit for my NFL future at that point," Bidwell says.
Three days later, Bidwell noticed an unusual lump and asked team doctors to examine him. The doctors worried the lump might be cancerous, but still sent Bidwell out to practice. After a second look from another physician a few hours later, Bidwell was told he had testicular cancer and would need surgery immediately.
"In the course of a few days, I went from the starting nod to being told I had cancer and would be fighting for my life," Bidwell says. "I was laying in the hospital after the initial surgery and thought 'What in the world just happened?' I'm a deeply spiritual man, so I knew God had a plan for me, whatever that might be, but it was still terrifying."
His girlfriend Bethany (now his wife) flew to Green Bay to join Bidwell, who was staying with kicker Ryan Longwell. After the tumor was removed and examined, doctors confirmed Bidwell's cancer had spread and he'd need chemotherapy. "I remember Josh talking with our trainers and me about what they'd found," Longwell says. "He started welling up in tears and we were both crying. That's when you really gain perspective. You've got 70,000 [fans] in Lambeau going nuts but nothing in the world means less than a football game when you see one of your best friends hit with the worst possible news."
Bidwell flew home to Oregon to be treated by the same oncologist who'd operated on Lance Armstrong. After his diagnosis, Bidwell's grandmother had obtained Armstrong's e-mail address and the two athletes had exchanged several e-mails. During one of Bidwell's chemotherapy sessions, Armstrong stopped by. Unfortunately for Bidwell, he was asleep. "Here I had a chance to meet one of my heroes and I slept the whole time," Bidwell laughs.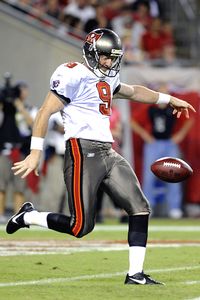 Al Messerschmidt/Getty Images
Josh Bidwell has spent the past five seasons punting for Tampa Bay.
Not as funny? The $100,000 in hospital bills. Because the regular season hadn't started when he was diagnosed, Bidwell wasn't covered by NFL insurance. In Green Bay, Longwell organized numerous fundraisers and asked teammates to donate. Soon, the Packers had donated more than Bidwell needed. The organization also offered to pay Bidwell's salary for the year, even though he wasn't on the team.
In December, after almost four months of chemotherapy, Bidwell was 50 pounds lighter and could barely walk across a room. He spent the next six months regaining his strength, with an invitation from the Packers to compete for the job in 2000. That July, Bidwell made the team and has been in the NFL ever since (with Green Bay through 2003 before signing with Tampa Bay), earning a Pro Bowl trip in 2005.
Bidwell lives with Bethany and sons Aaron and Brady in Oregon in the offseason and visits local high schools to educate young men on testicular cancer awareness. He also has begun a foundation, with proceeds going toward local ministries and a nonprofit cancer treatment facility.
While the school visits and foundation work helped, Bidwell still felt he wanted to share his story. A chance meeting with the president of Harvest House Publishers, a leading Christian publishing company, led to Bidwell signing a book deal in 2006. He spent the better part of the next season authoring his autobiography, resulting in this past September's release of "When It's Fourth and Long."
"I'd be on my computer in the lounge typing or by my locker typing and about three months into the season, someone finally asked, 'What are you doing? Checking stocks?' Bidwell says. "So I told people I was writing a book and they said, 'You gotta be kidding me!' A lot of guys didn't even know my story."
When teammate Ronde Barber learned Bidwell had written an autobiography, Barber claimed he'd buy a copy for everyone on the team. "I'd still love to have those 53 copies bought," Bidwell says, laughing.
Bucs kicker Matt Bryant, one of Bidwell's closest friends on the team, says that friends and teammates have learned from Bidwell's lesson. "To be able to beat something like that and still chase your dreams and be able to accomplish them, I think it's pretty big," Bryant says. "Not ever giving up and fighting and beating something like that."
Perhaps most remarkably, Bidwell says he wouldn't change anything that's happened. "I wouldn't be half the person I am today if I hadn't gone through cancer," Bidwell says. "People ask me the biggest blessing in my life. My boys and my wife are my top priority, but cancer was the biggest character builder I could've ever gone through."
Anna Katherine Clemmons is a reporter for ESPN The Magazine and a regular contributor
to Page 2.