After cancer, Olympic swimmer Shanteau aims for 2012
The week of the men's Olympic swimming trials changed Eric Shanteau's life. But not in the way it did for Michael Phelps or Ryan Lochte. Yes, Shanteau qualified for the U.S. team in the 200-meter breaststroke. But he also learned that he had testicular cancer.
On June 19, a week before he was scheduled to leave his home in Austin, Texas, for Omaha, Neb., Shanteau noticed "something [he] didn't think should be there." He visited a local doctor, who diagnosed cancer, and then Shanteau called for a second opinion. His coaches at the University of Texas knew Lance Armstrong's agent, Bill Stapleton, and immediately called Stapleton. A few hours later, Shanteau was on the phone with Armstrong's doctor, one of the premier physicians for testicular cancer treatment worldwide. He confirmed the probability of cancer.
Because the trials were less than a week away, doctors approved Shanteau's participation, but Shanteau says they told him that if he made the team, "we'd have some things to talk about." He didn't share his diagnosis with any of his teammates, worried that the media would hear or his friends would worry. Of his time at the trials, he says, "I was on autopilot. I won't say it wasn't on my mind, but I tried to stay focused and just compete."
Shanteau beat out former world-record holder and meet favorite Brendan Hansen for the second spot on the team. Doctors told Shanteau he should have surgery immediately, but Shanteau worried that possible repercussions would delay his Beijing preparation and asked if he could wait. Doctors said that if he was tested weekly and his blood counts stayed within a certain range, he could wait for an operation -- but they still discouraged it. "I told him that if he were my son, he'd be getting operated on even before the trials," Longhorns (and head Olympic) coach Eddie Reese said. Shanteau had dreamed of the Olympics since he was 10 and just missed qualifying in 2004. He was determined to do whatever was necessary to compete.
At the Olympic training center in Palo Alto, Reese called Shanteau in front of his teammates one day after practice. "I hadn't planned on actually getting in front of the team and telling them," Shanteau says. "I was going to release a statement the day before media day, but the coaches said it'd be better if the team heard it from me."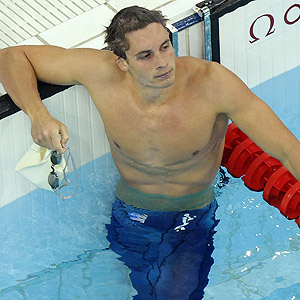 Michael Kappeler/Getty Images
Eric Shanteau delayed his cancer surgery until after the Olympics, where he placed 10th in the 200 breaststroke.
When he stood before his team and delivered the news, "people just stared in disbelief," Shanteau says. "It was 'I can't believe you have cancer,' mixed with 'I can't believe you just went through what you went through.'" Some teammates cried; others offered hugs and words of support. Shanteau assured them that while he knew he could die, he had also made an informed decision and that if the situation became too dangerous, he'd quit.
Shanteau didn't win a medal in Beijing, finishing 10th in the 200 breaststroke. Still, he says, simply being there was an incredible triumph. Six days after returning to the U.S. he had surgery in Atlanta, and two weeks later, he was declared cancer-free. He's been tested since then and thus far hasn't had any recurrence. The one-year cancer-free milestone will be an important date to reach.
Shanteau has become an advocate for awareness and early detection, speaking to everyone from businessmen to IT conventions. At the recent Golden Goggles gala in New York City for USA Swimming's elite, Shanteau invited an 18-year-old swimmer battling testicular cancer to sit at his table and talk about their shared experiences. In the U.S., according to the National Cancer Institute, there will be an estimated 8,090 new cases of testicular cancer in 2008, with an estimated 380 deaths. Most cases occur in young or middle-aged men.
"Everyone prepares you to deal with cancer, but no one prepares you for life after cancer," Shanteau says. "You're a very different person. After I was declared cancer-free, I came down from the two-month rush and kind of freaked out." Fortunately, he says, the support of family and friends was "overwhelming" as he faced his new reality. "Cancer is part of my life and will be for the rest of my life," Shanteau says. "But at the same time, I don't want to only be known as the guy who had cancer."
Part of his plan for avoiding that tag means returning to the pool full-time in Austin. He already has his sights set on 2012. "Whatever Eric does, he's going to do to the best of his ability," Reese says. "This is the way he is. His career is not finished yet. He has a lot he wants to do -- and can do."
Anna Katherine Clemmons is a reporter for ESPN The Magazine and a regular contributor
to Page 2.