The Cubs: 99 years of misery
1960
Record: 60-94
Finished 7th in the National League, 35 games out
Ex-Cub Factor: Former Cubbie Don Hoak finishes second in the NL MVP voting.
Shockingly, a 17-year-old center fielder is not the solution to what ails the Cubs. Danny Murphy, the youngest player in Cubs history, makes his major league debut on June 18, going 0-for-4 while hitting leadoff. He's more than a little overmatched in his debut season, hitting .120 in 75 at-bats. But the eight Cubs catchers fare worse: None receives more than 115 at-bats; they combine to hit .212 with three home runs.
1961
Record: 64-90
Finished 7th in the National League, 29 games out
Whoa! He played here? Future manager and Cubs infielder Don Zimmer makes his only All-Star Game as a player.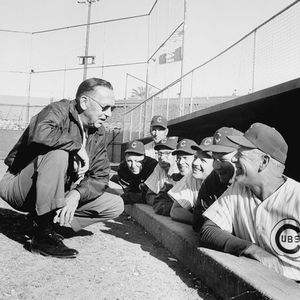 Francis Miller/Time Life Pictures/Getty Images
Who needs a manager when you can rotate through a "head coach" each game?
As owner of the St. Louis Browns, Bill Veeck once had fans "manage" from the stands by calling for plays using placards. Owner Phil Wrigley devises an even less-brilliant system: the College of Coaches, in which the team rotates eight major league and minor league coaches throughout the season (four different men would serve as "head coach"). The plan makes an inauspicious debut as the Cubs fall to the Reds on Opening Day, 7-1.
1962
Record: 59-103
Finished 9th in the National League, 42 games out
Whoa! He played here? Future Hall of Famer Lou Brock received MVP votes in 10 of his 19 seasons ... but none of that happened until he was traded to the Cardinals in 1964.
The College of Coaches returns for a second year, and on Friday, April 13, the Cubs lose their fourth straight to open the season, part of an 0-7 start. They're shut out three times in their first nine games by the Houston Colt .45s, a team that did not exist before the season. The Cubs lose 103 games, still tied for the most in franchise history, and are saved from the embarrassment of a last-place finish only by the expansion Mets.
1963
Record: 82-80
Finished 7th in the National League, 17 games out
A Cubbie is born: Shawon Dunston
When is it not good to have three future Hall of Famers in your lineup? When two of them hit like Robert De Niro in "Bang the Drum Slowly." Ernie Banks posts the worst season of his career, hitting .227 with a .292 on-base percentage. Lou Brock hits .258, with 122 strikeouts and a .300 OBP as the primary leadoff hitter. At the least the Cubs do finish over .500 for the first time since 1946. Put your hands together, Cubs fans.
1964
Record: 76-86
Finished 8th in the National League, 17 games out
A Cubbie is born: Mark Grace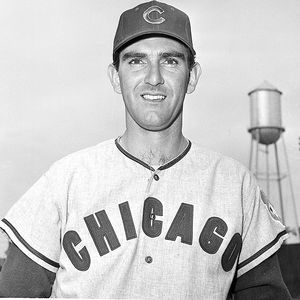 AP Photo/Harry L. Hall
Acquired for Lou Brock, Ernie Broglio won only seven more games the rest of his career.
As Rob Neyer wrote in his "Big Book of Baseball Lineups," the sentiment in St. Louis on June 15 was, "Why in hell didn't the Cardinals get more for Broglio?" Ernie Broglio had been one of the NL's top pitchers in 1963. Getting him for Brock, who was hitting .251, seems like a steal. But Brock hits .348 the rest of the way, helping the Cards win the pennant and World Series; he later goes on to play a Hall of Fame career. Broglio, on the other hand, won seven games the rest of his career. Folks, your Chicago Cubs!
1965
Record: 72-90
Finished 8th in the National League, 25 games out
Whoa! He played here? Doug Clemens hits .221. He probably should have worked out more with a personal trainer in the offseason.
Three notes about your 1965 Cubbies: (1) On May 15, Dick Ellsworth takes a no-hitter and a 1-0 lead into eighth inning of a game against Los Angeles. Ron Santo makes an error to start the inning, Dick Tracewski reaches on a fielder's choice, and then Al Ferrara comes up as a pinch-hitter and smacks his only home run of the season. Chicago loses 3-1, despite allowing only one hit. (2) On Sept. 9, Bob Hendley allows just one hit against the Dodgers; unfortunately, Sandy Koufax pitches a perfect game that night. (3) Billy Williams, Santo and Ernie Banks combine for 95 home runs; nobody else hits more than six.
1966
Record: 59-103
Finished last in the National League, 36 games out
A Cubbie is born: Greg Maddux
After beating Hall of Famers Don Sutton and Don Drysdale via shutout on back-to-back days, the Cubs fall to the lowly Mets on April 26, 14-11. Manager Leo Durocher once said that "nice guys finish last." These Cubs do, tying their franchise-worst record with 103 losses and finishing last in the NL in attendance. The moral of the story? Even Cubs fans hate crappy baseball.
WORLD SERIES WINNERS
1960: Pittsburgh Pirates 4, New York Yankees 3
1961: New York Yankees 4, Cincinnati Reds 1
1962: New York Yankees 4, San Francisco Giants 3
1963: Los Angeles Dodgers 4, New York Yankees 0
1964: St. Louis Cardinals 4, New York Yankees 3
1965: Los Angeles 4, Minnesota Twins 3
1966: Baltimore Orioles 4, Los Angeles Dodgers 0
1967: St. Louis Cardinals 4, Boston Red Sox 3
1968: Detroit Tigers 4, St. Louis Cardinals 3
1969: New York Mets 4, Baltimore Orioles 1
1967
Record: 84-74
Finished 3rd in the National League, 14 games out
Wait, what happened? Fergie Jenkins (20-13, 2.80 ERA) comes in third in the Cy Young Award voting.
What did the Cubs do to anger the baseball gods? Through 96 games, the Cubs and Cardinals are even in the National League's race for first place. St. Louis takes a 4-2 lead into the ninth inning of a July 25 contest, but Chicago rallies. With two on and two out, Al Spangler singles home Banks, but Ted Savage tries to score as well and is thrown out to end the game. The Cubs never again sit in first place.
1968
Record: 84-78
Finished 3rd in the National League, 13 games out
A Cubbie is born: Sammy Sosa (the franchise leader in strikeouts with 1,815)
In the year of the pitcher, the Cubs drop seven 1-0 games. Only the crosstown White Sox, with nine, lose more. Amazingly, Ferguson Jenkins, who finishes 20-15 with a 2.63 ERA, starts six of those seven losses.
1969
Record: 92-70
Finished 2nd in the National League East, eight games out
Wait, what happened? On May 13, Ernie Banks gets seven RBIs via two three-run home runs and a double during a 19-0 drubbing of the Padres.
They were sunning themselves without suntan lotion in the Wrigley bleachers. Warm beer tasted good. People were dancing in the streets and hugging sweaty strangers. In mid-August, the Cubs were 30 games over .500 and held an improbable nine-game lead in the NL East. Then, during a game at Shea Stadium against the surging Mets, a black cat scampers onto the field and stares at Santo in the batter's box before disappearing under the stands. The Cubs lose 7-1 that day, part of a 1-11 stretch that turns a five-game lead into a 4½-game deficit. The Mets pass the Cubs for first place the next day and never relinquish the lead, eventually winning the division by eight games.
Futility by the decades: 1909-1919 | 1920-1929 | 1930-1939 | 1940-1949 | 1950-1959 | 1960-1969 | 1970-1979 | 1980-1989 | 1990-1999 | 2000-2007
Research and text by Brett Edgerton, Mark Simon and Jeremy Lundblad of the ESPN Research Department. Additional contributions from Page 2 editors David Schoenfield and Michael Philbrick.