The Cubs: 99 years of misery
1980
Record: 64-98
Finished last in the National League East, 27 games out
A Cubbie is born: Mark Prior
Mike Tyson is the Cubs' regular second baseman. He hits .238, belts three home runs, steals one base and makes 18 errors. But the Cubs avoid any bench-clearing brawls.
1981
Record: 38-65 (strike year)
Finished last in the National League East, 21.5 games out
A Cubbie is born: Carlos Zambrano
The players go on strike on June 12, killing any momentum Chicago might have had during a three-game win streak. The season resumes on Aug. 10, and the Cubs promptly drop three straight to the Mets, eliminating them from contention early in the second half of season.
1982
Record: 73-89
Finished 5th in the National League East, 19 games out
Whoa! He played here? The Cubs finally get a first-round pick to pan out. They take Shawon Dunston No. 1 overall in the draft.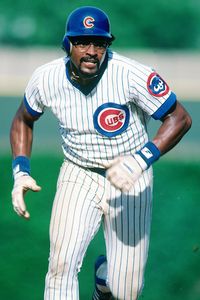 Ronald C. Modra/Getty Images
Luckily for Cubs fans, we don't have a picture of Leon Durham fielding.
Former Cub Dave Kingman, who once famously said, "Athletes are piece of meat," piles up 5 RBIs as his Mets win at Wrigley 9-5 on April 10. The Cubs enter that game 2-1 on the young season, but never again post a winning record in '82. Speaking of meat, starter Doug Bird posts the lowest walk rate in the NL; he also leads the league in home runs allowed and earned runs allowed, going 9-14 with a 5.15 ERA.
1983
Record: 71-91
Finished 5th in the National League East, 19 games out
Missed out on drafting: The Cubs take a high school pitcher from Texas named Jackie Davidson with the sixth pick; a college pitcher from Texas named Roger Clemens goes with the 19th pick.
On April 29, Lee Smith's wild pitch brings home Ken Landreaux with the go-ahead run for L.A., dropping the Cubs to 5-14 and sparking one of the great moments in baseball history: Lee Elia's 448-word, 39-profanity tirade, highlighted by "Eighty-five percent of the people in this country work and the other 15 percent come out here and boo my players." The Cubs lose 91 games; by August, Elia is one of those 15 percent who don't work.
1984
Record: 96-65
Finished 1st in the National League East, lost NLCS to Padres 3-2
Whoa! He played here? From one cursed team to another, the Cubs send Bill Buckner to the Red Sox for Dennis Eckersley and Mike Brumley.
Playing in the postseason for the first time since 1945, the Cubbies leave Chicago with a 2-0 lead, needing just one win in San Diego for a trip to the World Series. After Steve Garvey ties the series with a game-winning home run in the bottom of the ninth in Game 4, the Cubs take a 3-0 lead in the deciding Game 5. But then, in a prequel to the Bill Buckner moment two years later, the Padres tie it up in the seventh on a ground ball that rolls through Leon Durham's legs at first base. Two batters later, Tony Gwynn doubles home a pair of runs. That one win never came. That one win has never come.
1985
Record: 77-84
Finished 4th in the National League East, 23.5 games out
Whoa! He played here? Larry Bowa's Cubs career ends when he is released on Aug. 13.
By June 12, the Cubs cruise along at 35-19, in first place, perhaps headed to another NL East title. So no one thinks much of it when they get shut out by the Expos, 2-0 (well, except maybe Cubs fans). Who could've known that game would start a 13-game losing streak, during which the anemic offense would get shut out five times? Thank you, Bob Dernier, for playing so terribly (and thank you for an even worse effort in 1986).
WORLD SERIES WINNERS
1980: Philadelphia Phillies 4, Kansas City Royals 2
1981: Los Angeles Dodgers 4, New York Yankees 2
1982: St. Louis Cardinals 4, Milwaukee Brewers 3
1983: Baltimore Orioles 4, Philadelphia Phillies 1
1984: Detroit Tigers 4, San Diego Padres 1
1985: Kansas City Royals 4, St. Louis Cardinals 3
1986: New York Mets 4, Boston Red Sox 3
1987: Minnesota Twins 4, St. Louis Cardinals 3
1988: Los Angeles Dodgers 4, Oakland A's 1
1989: Oakland A's 4, San Francisco Giants 0
1986
Record: 70-90
Finished 5th in the National League East, 37 games out
Whoa! He played here? Terry Francona hits .250 in 124 at-bats as a backup outfielder/first baseman.
Pittsburgh's Barry Bonds drops the Cubs to 2-8 with a RBI base hit in the 17th inning. Chicago loses eight of its first nine extra-inning games, and manager Jim Frey -- a hero just two years earlier -- is fired in June. By the way, before the Reds hired Dusty Baker, the previous 14 Cubs managers, going back to Charlie Fox in 1983, never managed again in the majors other than on an interim basis. Ladies and gentlemen, let's congratulate the Tribune Company for its fine efforts!
1987
Record: 76-85
Finished last in the National League East, 18.5 games out
Wait, what happened? In one of the season's few bright spots, Andre Dawson signs as a free agent on March 9.
On April 3, the Cubs trade a washed-up Dennis Eckersley to Oakland for Brian Guinn, Dave Wilder and Mark Leonette. This turns out be one of the great deals in Cubs history, because it helps the Cubs finish in last place, leading to the great trivia question, "Who won the 1987 NL MVP award while playing on a last-place team?" Meanwhile, the Lee Smith era comes to a close after he loses 10 games. But he does win the All-Star Game with three scoreless innings.
1988
Record: 77-85
Finished 4th in the National League East, 24 games out
Missed out on drafting: Cubs select Georgia Tech second baseman Ty Griffin with the ninth pick, one spot of Oklahoma State third baseman Robin Ventura (not the Cubs have had issues finding third basemen after Ron Santo).
Tied with the Mets in the 12th inning on June 2, with the bases loaded, one out, and a 3-2 count on Manny Trillo, manager Don Zimmer figures it's the perfect time to try a hit and run. Trillo strikes out and Vance Law is subsequently caught stealing home to end the rally. Chicago loses on Howard Johnson's walk-off home run in the 13th.
1989
Record: 93-69
Finished 1st in the National League East, lost NLCS to San Francisco Giants 4-1
Ex-Cub Factor: Dennis Eckersley, Ron Hassey and Tony La Russa get rings with the A's.
Game 5 of the NLCS is tied 1-1 with two outs and nobody on in the bottom of the eighth inning. Mike Bielecki gets ahead of Candy Maldonado, 1-2, but Maldonado works out a 10-pitch walk. Bielecki walks the next two hitters as well. Replacement Mitch Williams then allows a two-run single to Will Clark, giving the Giants the lead. The Cubs threaten to tie in the ninth, but the Giants escape and advance to the World Series.
Futility by the decades: 1909-1919 | 1920-1929 | 1930-1939 | 1940-1949 | 1950-1959 | 1960-1969 | 1970-1979 | 1980-1989 | 1990-1999 | 2000-2007
Research and text by Brett Edgerton, Mark Simon and Jeremy Lundblad of the ESPN Research Department. Additional contributions from Page 2 editors David Schoenfield and Michael Philbrick.