Commentary
Sports items that'll be treasured forever
Originally Published:
September 28, 2009
By
Kaitee Daley
| Special to Page 2
There it sits on a shelf above his living room television.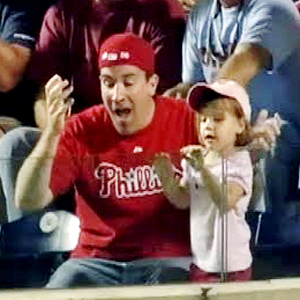 ESPNThe Monforto family became a national sensation after Emily threw the ball away.
An encased baseball signed by Jayson Werth. Lifelong Philadelphia Phillies fan Steve Monforto did have it displayed on the mantel, but his daughter can climb on a chair and reach that. And this time, Monforto wanted to ensure that 3-year-old Emily doesn't "play Phillies" (what she calls a game of catch) with his newest piece of Philadelphia sports memorabilia.
That's because the last time little Emily got hold of a big league ball, she threw it away and became an overnight sensation.
Let me explain.
Monforto and his family were taking in a Phillies-Nationals game a few weeks ago when Jayson Werth lifted a foul ball toward their seats. Leaning over the rail, Monforto made an impressive grab, and began celebrating with nearby fans. He had been coming to Phillies games since he was a little boy, and -- like many fans -- had always dreamed of catching a ball. But when he handed his new souvenir to little Emily, she promptly hurled it back over the rail.
"My first thought was 'Nooo, there goes the ball!'" said Monforto, reflecting on his toddler's now-famous toss. "But she had this startled look on her face after it happened, so my first instinct was just to give her a hug."
Share Your Story
What sports memorabilia do you treasure? Tell us the story and upload a picture to your profile. We'll feature the best on Page 2. Submit story, photo links
Monforto never thought that his fatherly impulse would lead to a lawn full of camera crews and national media coverage. But before he could process their whirlwind fame, he and his family were on the "Today" show. Since the foul ball that Emily threw away was never actually found, the Monfortos were presented with personalized jerseys and a replacement ball signed by Werth -- the ball that now sits "high enough to be safely out of the reach of little hands."
Eventually, Monforto plans to do a "Philadelphia Sports" corner in his basement. He saved his ticket from Game 3 of last year's World Series, and even has an autographed Mike Lieberthal hat.
But the Werth ball, and Emily's Phillies jersey, will remain front and center.
"My World Series ticket and other gear is great to have as a fan," Monforto said. "But the ball and jersey mean so much more to me because it was a moment I shared with my little girl."
Page 2 caught up with some ESPN on-air personalities to see if they, too, had moments and memories that stemmed from favorite pieces of sports memorabilia:
Jay Harris

Harris' favorite item of sports memorabilia is impressive on its own -- an autographed Kansas City Monarchs baseball cap signed by John Jordan "Buck" O'Neil, the first African-American coach in major league baseball. But Harris and his family were also fortunate enough to spend some time with O'Neil at a traveling Negro Leagues exhibit in Washington, D.C. The former Monarchs player and manager walked Harris' then 6-year-old son Bryce through the exhibit and posed for pictures with him. "Buck was in his element talking to my son about baseball, teaching him about the Negro Leagues," Harris recalled. "We'll never forget that afternoon we spent with him."
John Anderson

Growing up in Green Bay, Wis., Anderson was a huge Milwaukee Brewers fan. But he was raised during the 1970s and, like many others, was "wowed by the Big Red Machine" driven by Hall of Fame manager Sparky Anderson. Each year John's father would take him to a Brewers game to celebrate his birthday. But on his 14th birthday, John and Sparky would share more than just a last name. Sparky was managing the Detroit Tigers at that time, and John and his father happened to be staying in the same hotel as the Tigers. At breakfast the morning of the game, John got Sparky to sign his baseball. A teenage desire to cover sports for a living now further reinforced, Anderson went on to study journalism at the University of Missouri. Of course, the first MLB game he was credentialed to cover in college pitted Anderson's Tigers against the home-team Royals. The fiery manager asked him if he still had the ball, and John pulled it out of his bag, assuring Sparky that it hadn't left his sight since that day. "[Sparky] looked it over, smiled, pulled out a pen and signed it again on the opposite side. He tossed it back to me and wished me luck. … Now here I am."
Trey Wingo

Trey Wingo (cue Jerry Stackhouse: "No, seriously, what is your name?") has journalism in his genes. His father worked for both Life magazine and People magazine for 35 years, in a time when Jackie Kennedy -- not Kate Gosselin -- graced the covers. Though Wingo can't remember the exact occasion, his father once covered Muhammad Ali, and asked Ali if he could get an autograph for his then 8-year-old son. That was in 1971, and Wingo still cherishes that piece of paper more than any collectible he's obtained during his ESPN tenure. "I don't hold onto much," Wingo said, "but that one was special." Now the NFL anchor treats his own son to similar perks. When asked if he thought his son would ever treasure a gift like the one his father gave to him, Wingo smiled and said, "He really loves his framed Bob Sanders jersey. But we'll see."
Linda Cohn

The die-hard NHL fan may be a dying breed, but Linda Cohn remains a staple of the New York Rangers fan specimen. So you can imagine her out-of-this-world excitement when she got to attend Game 7 of the 1994 Stanley Cup finals. Though tempted to use her press credential to join in the postgame locker room celebration, she ran into a friend who was heading to the Rangers' official victory party at the Paramount Theatre. One stroke of luck after another and Cohn was inside with the players and their closest guests, staring at a champagne-filled Stanley Cup. A security guard must have recognized Cohn from ESPN, because he let her slip into the roped-off trophy area to take a sip. At that exact moment, a photographer snapped a picture -- a picture that is now framed and forever the centerpiece of Cohn's sports collectibles. "The stars were just aligned for me that night," Cohn said.
Scott Van Pelt

When Van Pelt was a young boy growing up in Maryland, his father took him to an Orioles game at the old Memorial Stadium. All-Star third baseman Brooks Robinson hit a foul ball into the stands and Van Pelt's father made the grab, triggering longtime PA announcer Rex Barney's favorite catchphrase: "Give that fan a contract!" The next day, Van Pelt was dying to play catch with the ball. "I was convinced that since it was a big league ball I could throw a big league curve, right? Well I couldn't." Van Pelt's friend missed the toss and the ball rolled into a nearby sewer. Fast-forward 25 years, and the celebrated "SportsCenter" anchor and ESPN Radio host shares this same exact story at a dinner event in Baltimore. Unbeknownst to him, one of his listeners works closely with Brooks Robinson. A few days later, a small box arrived in the mail -- a ball, signed by Robinson himself, that reads, "Hope this makes up for the one in the sewer."
Marcellus Wiley

"Dat Dude" has plenty of sports collectibles, and some pretty funny stories to accompany them. Having played 10 seasons in the NFL, footballs are readily available items. But Wiley's favorite sports piece is an autographed and encased softball given to him by his grandfather, a pitcher on his championship local rec league softball team. Wiley says that the ball was given to him "to show that I could." Wiley's immediate family was never that into sports, so his grandfather was the first person who really encouraged him to take on athletic endeavors. After being a first-team All-American at Columbia and having a successful 10-year career in the NFL, including a 2001 Pro Bowl appearance, Wiley said that the softball still symbolizes the beginning of it all.
Kaitlin Daley is an editor for ESPN.com, and the proud owner of a massive basketball-card binder, her own favorite sports-related item. Given to her in elementary school by her father, the album holds hundreds of cards and even more memories (including the time her brother talked her into trading a Michael Jordan card for a Detlef Schrempf).
ESPN Editor
Senior Editor
Joined ESPN in 2009
Vermont native, Bowdoin College graduate