Single page view
By Kieran Darcy
Page 2
PHILADELPHIA – It's only fitting I covered the Philadelphia Eagles Cheerleaders 2005 final audition.
A year and a half ago, I agreed to try out to be a Chicago Bulls Matador – even though I'm a Knicks fan (embarrassing as it is to admit these days) and I weighed about 200 pounds less than most of the other contestants. So I always hoped, one day, I could do a story on some real cheerleaders.
Attractive cheerleaders.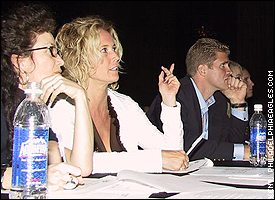 The judges take in the view (including our own reporter peeking his nose out on the far right).
You know, females?
Yes, I'm a Giants fan. And yes, I can't stand the Eagles. So why the Eagles Cheerleaders?
Come on, people. Have you ever seen the famous Eagles Cheerleaders lingerie calendar? There's a reason why, when you first click on the "Cheerleaders" section of the Eagles' website, you first get a warning message saying, "Please note, this area contains age-appropriate content." The only other websites where I've seen a warning message like that pop up are ... uh, never mind.
Anyway, I happened to hear that the final audition for this year's squad was taking place last week, so I pitched (pleaded with) my editor here at Page 2 about letting me cover the festivities. We decided the story would be more fun if I could participate in the event somehow. So I called the Eagles Cheerleaders director, Barbara Zaun, with the idea of being a towel boy or a water boy backstage during the competition.
Barbara had a better idea.
"Want to be a celebrity judge?"
Hmmm. Had to think really hard about that one.
---
On the Amtrak train from New York City to Philadelphia on Thursday afternoon, I questioned my qualifications to be a "celebrity judge." I'm certainly no celebrity (though I'm told rather frequently I bear a striking resemblance to Peyton Manning). And I'd never judged a contest of any kind before.
But then I thought better of things. After all, I work for Page 2, the home of the Hottest Athlete contest. And I help out with our photo production, which involves the painstaking analysis of ... certain details.
I came to three conclusions: 1) I could handle this; 2) I would take my choices very seriously; And 3) I probably wouldn't be able to resist scoring any contestant through the roof if she so much as batted an eyelash at me.
I arrived early at the Keswick Theatre, found Ms. Zaun and introduced myself. While I was waiting for the other judges to arrive, I was interviewed on the Eagles Television Network. The interviewer asked me why I felt I was qualified to help pick a cheerleading squad. My response was something like, "Well, as sportswriters, we're supposed to focus on what's happening on the field. But I think many of us will admit that we can't help but look at the lovely ladies on the sidelines from time to time."
Amazing how bright lights and a rolling camera can elicit brutal honesty from a person.
After the interview, I watched as some of the contestants practiced their dance moves on stage. And I fell in love (for the first time that evening) with a very cute blonde wearing a lavender sports bra and tight black shorts. (That's what they all were wearing, in various colors.) I decided I'd definitely have to keep a particular eye on her during the competition.