By Kieran Darcy
Page 2
Welcome to March! The Madness isn't quite here yet -- but I'm so excited, I decided to get a head start on things Thursday.
J.J. Redick and Adam Morrison. Those two have been the talk of college basketball this season. And many fans would love to see them and their squads square off deep in the NCAA Tournament.
I couldn't wait that long. So, on Thursday afternoon I fired up the old PlayStation 2 and popped in "College Hoops 2K6." I matched up the Blue Devils and the Bulldogs, and took turns playing with each. Both Redick and Morrison performed much better when I wasn't at the controls. (What can I say, I haven't played much PS2 in the past few months).
What I really wanted to do, though, was watch them go head-to-head. Yes, I know they don't play the same position. But still -- who would play better? Whose team would come out on top? So I decided to simulate a game.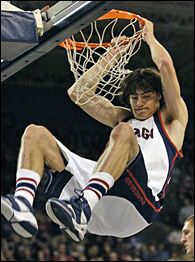 AP Photo/Amanda Smith
Adam Morrison was the higher scorer in both games, but Gonzaga lost both. (AP Photo/Amanda Smith)
I wanted the game played at a neutral site. The RCA Dome in Indianapolis, home of this year's Final Four, wasn't available -- so I picked Indiana's Assembly Hall instead. And I made Duke the "home" team, because they should have a higher seed than Gonzaga in the upcoming tournament (and they were the higher-rated team in the game).
It was a packed house in Bloomington. On Duke's first possession -- you guessed it -- Redick buried a jumper. Morrison -- sans mustache -- didn't get on the board until almost three minutes in, when he nailed a 3-pointer to cut the Duke lead to 11-5. But things quickly got out of hand. It was a laugher by halftime. Final score? Duke 124, Gonzaga 71! Redick had 25 points for the Blue Devils. Morrison scored 30 in a losing effort. And despite a raucous crowd, all the Duke players stayed on the court till the final buzzer.
Pretty disappointing game, I must admit. I had my suspicions the computer still gave Duke a big advantage for being the home team, even though the game was played at Indiana. So I simulated one more game -- this time with Gonzaga as the home team. The second game was pretty tight throughout. The score was tied at 91 with 2:30 to play -- that's when the Blue Devils rattled off 10 straight points to seal a 101-93 victory. This time Morrison scored 32, while Redick had 27. But get this -- Redick shot 12-of-41 from the field! I know J.J. has earned the green light, but who does he think he is, Kobe?
Anyway ... so what did I learn from this little exercise? Well, pretty much nothing. Except I still really want to see this matchup. Let the Madness begin!
PHYS. ED.

Redick and Morrison will both be starring in NBA video games soon.
John Goldsberry
will not be. All he wants is to get back to where he was three years ago. This is his last chance.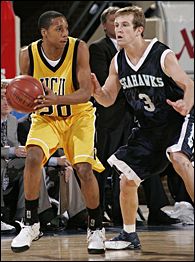 AP Photo/Scott K. Brown
Goldsberry is a gutty player on both ends of the floor. (AP Photo/Scott K. Brown)
On Friday night, March 21, 2003, the 11th-seeded UNC Wilmington Seahawks faced sixth-seeded Maryland, the defending national champions, in an NCAA first-round game in Nashville. I was there to cover it -- it was my first NCAA Tournament. And Wilmington was expected to give the Terps a good challenge, led by their star perimeter scorer, Brett Blizzard.
Well, Wilmington gave Maryland more than that. But Blizzard wasn't the star. Freshman guard John Goldsberry, who averaged 4.9 points per game that season, had the night of his life. He took eight 3-point shots. And he sank every last one of them -- an NCAA Tournament record. Thanks in large part to him, with five seconds left in the game, Wilmington led by one, 73-72.
Maryland had the ball -- the Terps had to go the length of the court. Drew Nicholas received the inbounds pass, started flying up court, and at the buzzer threw up a one-legged prayer from about 30 feet away. The shot went in, a miracle that made Maryland a winner, and Goldsberry's performance a footnote.
"I've thought about that game so many times," says Goldsberry. "It seems like yesterday."
Unfortunately, Goldsberry and his Seahawks have never been able to get back to the Dance. But this year, they have a good chance. UNC Wilmington is 22-7, and its 15-3 record in the Colonial Athletic Association gave the Seahawks a share of the CAA regular-season title along with George Mason. The Seahawks got the top seed in the CAA tournament via tiebreaker, so they'll play a quarterfinal game Saturday afternoon vs. either Delaware or Drexel. And they should receive strong at-large consideration if they lose in the conference tournament.
Unlike three years ago, Goldsberry comes in as the star of this team. The 6-foot-3 senior is the Seahawks' second-leading scorer at 11.4 points per game, while also averaging 4.9 assists and 4.0 rebounds. He also was last season's CAA defensive player of the year and will likely retain that title this year.
Hey, College Hoops Fans...
Want to contribute to the College Hoops Report Card? Send your questions, and nominations for the subject categories, here.
"He doesn't wow you with his stats, but he's the toughest player I've ever coached," says UNC Wilmington coach Brad Brownell. "Floor burns, face burns, dislocated shoulders, beat-up ankles, bruised knees, broken fingers ... he plays every day like it's his last."
As a freshman, Goldsberry never dreamed that his first NCAA Tournament game might be his last. "I didn't know how hard it would be to get back," says Goldsberry. "It would mean a whole lot to get back there."
So if you're looking for an underdog to root for this Championship Week and beyond, then John Goldsberry just might be your man. He's already proven he can put on a good show in the Big Dance.
Maybe this time, he'll be the one to pull off a miracle.
SCIENCE

More College Hoops
Check out ESPN.com's College Hoops index for everything you'd want to know about the game.
With 1.7 seconds left in Florida State's upset win over Duke on Wednesday, a swarm of FSU fans rushed the court, thinking the game was over. Once the court was cleared,
Coach K
decided to send all of his players who weren't in the game back to the locker room so they could avoid the second court-rush after the 1.7 seconds elapsed. Probably a smart move -- but it did seem a little too dramatic. And it won't make the Blue Devils any more popular around the country.
MATH

Believe it or not, Oklahoma has won four straight games
by a single point
: 83-82 vs. Iowa State, 71-70 at Texas Tech, 71-70 vs. Kansas State, and 67-66 vs. Oklahoma State (the last two were this past week). People are calling it "Sooner Magic" -- a phrase that first appeared after the Oklahoma football team had several big comeback victories in the 1970s.
The Sooners surely hope they've got a little more magic left for their game at Texas on Saturday. But no matter what, it bodes well for Oklahoma in March. Good teams find a way to win close games -- as opposed to a team like Notre Dame, for instance, that seems to always find a way to lose them.
LANGUAGE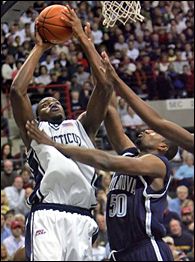 AP Photo/Bob Child
Jeff Adrien is one of UConn's best weapons off the bench. (AP Photo/Bob Child)
"They got real happy after that first win, and we had to shut their mouths. Today we had to go out there and show them we're not what they think we are. We are men out there."
That quote is from UConn forward Jeff Adrien, after the Huskies beat Villanova 89-75 last Sunday. The Huskies might have been a little extra fired up for the game after some comments Villanova players made in the papers -- but nonetheless, UConn showed it's a tougher team than some people thought. Yes, UConn can run up and down the floor and fill it up -- but they also physically wore down the Wildcats. UConn blocked 11 shots, eight by Hilton Armstrong. Adrien himself had eight points and nine rebounds. The Huskies are indeed a team of men -- and they might make a lot of teams look like boys this month.
RECESS
Other thoughts from this past week:
• I really thought Kansas would hang much closer with Texas last Saturday. Texas made the Jayhawks look very young, particularly Brandon Rush. That said, after the Longhorns' loss to Texas A&M at the buzzer Wednesday, Kansas is tied for the Big 12 lead again.
• Florida State beats Duke ... Texas A&M topples Texas ... now UAB over Memphis? I'd say some people in the Missouri Valley are a little more nervous right now.
• We're not even at Selection Sunday yet -- but this is already the basketball story of the year
, in case you missed it.
HISTORY

Last Saturday, Duke's J.J. Redick set another record, becoming the all-time leading scorer in ACC history -- extremely impressive when you consider how many outstanding players that conference has produced. But many people started scratching their heads when they heard who owned the record prior to Redick.
Dickie Hemric, a 6-foot-6 center, played for the Demon Deacons from 1952-55. And he scored 2,587 career points -- which also stood as the NCAA Division I scoring record until Pete Maravich broke it in 1969. Hemric still holds the ACC record for career rebounds with 1,802. After his career at Wake Forest ended, he was drafted by the Boston Celtics and played for them for two seasons.
For more on Hemric, read this very interesting story.
ART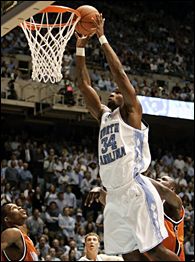 AP Photo/Chuck Burton
David Noel saved the best for last. (AP Photo/Chuck Burton)
David Noel gets a very high mark in the art of going out in style. The North Carolina senior swingman scored a career-high 26 points in his final game at the Dean Dome, leading the Tar Heels to a 99-54 pasting of Virginia on Wednesday. He was the first Carolina player since Phil Ford in 1978 to post a career high in his final home game (Ford scored 34 against Duke).
Speaking of Carolina, the Tar Heels have just been flat-out clobbering people lately. They've won six in a row -- but the last three have come by margins of 24 (at NC State), 24 (vs. Maryland) and now 45. Next stop for UNC: Cameron Indoor. Can't wait.
ENGLISH

Speaking of North Carolina ... Roy Williams might be doing his best coaching job ever this season. He lost his top
seven
scorers from a season ago, yet he has molded this young group into a team that could do some serious damage in the tournament.
We all know what Roy Williams accomplished last year. But I'd be even more interested to read about Williams' first season at Carolina, the '03-04 season, when he started planting the seeds that blossomed into a national championship. That's why I'm recommending "Going Home Again: Roy Williams, the North Carolina Tar Heels, and a Season to Remember," by Adam Lucas.
CLASS PARTICIPATION

Well, I agree with the 65.8 percent of you who voted last week that you'd rather see more mid-majors in the Big Dance than major-conference teams. We'll see how the selection committee feels a week from Sunday.
This week's poll question: Would you rather see a conference's regular season champ get the league's automatic bid (like in the Ivy League), or do you like the conference tournament champ getting the auto bid? Please vote in the poll at the top right of this page.
And remember, please do send me questions for next week's column, or nominations for the different subject categories. You can e-mail me here.
Here are a couple of e-mails from this past week:
I completely agree with Memphis' No. 3 ranking in the polls and I can see why they could get a No. 1 seed in the tournament. They've beaten quality teams (Gonzaga, UCLA, Tennessee) and beaten every team they are supposed to beat in Conference USA. With all that said, how far do you see them going in the tournament without seeing quality competition all year long?
Joe, San Luis Obispo, Calif.
First of all, I received this question before Memphis' loss to UAB Thursday night. But I still think Memphis has a shot at a No. 1 seed. Memphis did see plenty of quality competition earlier in the year. But yes, they haven't been tested too much in conference play -- and I do think that could hurt them, as well as Gonzaga, because they won't be used to playing such good competition. That said, my biggest concern about Memphis is its youth and inexperience. It's a talented enough team to make the Final Four, but I think it's more likely to get bounced in the Sweet Sixteen, maybe even before.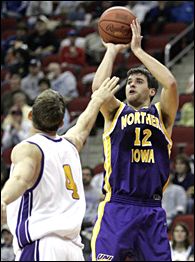 AP Photo/Charlie Neibergall
Ben Jacobson and Northern Iowa should play well, if they get in. (AP Photo/Charlie Neibergall)
I know you love mid-majors as much as I do. There has been some talk that the Missouri Valley Conference may get as many as five teams in the tournament. Of those teams, which ones do you think could make some serious noise in the tournament?
Brandon Peterson, Minneapolis, Minn.
I don't think the MVC will get five -- four would be quite an achievement. And I think whatever teams from the MVC get in will all be threats to win a game or two. If I had to pick one as the biggest threat, I'd still say Northern Iowa -- if it gets into the tournament -- even though it has lost four of its last five games. Northern Iowa is a veteran group that beat Iowa and won at LSU earlier this season, and it has come very close to scoring big upsets in the first round the past two years.
HOMEWORK ASSIGNMENT
North Carolina at Duke (Saturday, 9 p.m. ET, ESPN+): It's fair to say we've got this game covered.
Oklahoma at Texas (Sunday, 4 p.m. ET, CBS): Is there any Sooner Magic left? The Big 12 title has not been decided yet.
Big East quarterfinals (Thursday, all day, ESPN/ESPN2): Always a great day at Madison Square Garden. This year's quarters should be particularly exciting.
Any conference championship game: It doesn't get much better than watching a team celebrate a spot in the field of 65.
Kieran Darcy is an editor at ESPN.com and a contributor to ESPN The Magazine. You can e-mail him at kieran.d.darcy@espn3.com.