CHICAGO -- It was a startling sight, seeing this group of young men in Auxiliary Locker Room No. 2 look so down. Kevin Menifee, staring at the floor. Seth Engelken, starting to tear up. Scooby Johnson, dead silent.
About three hours earlier, the Texas A&M-Corpus Christi Islanders had been on top of the world, huddled together and whooping it up in the hallway outside that same locker room, about to run out onto the United Center floor and play their first NCAA Tournament game.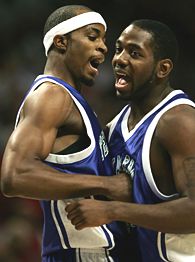 Jonathan Daniel/Getty Images
Kevin Menifee and Taurean Mitchell had some Cinderella magic going early on.
That's the cruelty of postseason play -- something the Islanders just experienced for the very first time.
But for a couple hours on Friday afternoon, Texas A&M-Corpus Christi gave this tournament some juice. They certainly electrified everyone in the United Center who wasn't wearing Wisconsin red. But in the end, they ran out of gas, simple as that.
"You can't let up on a team like that," said A&M-CC coach Ronnie Arrow after the game, a 76-63 loss. "Once you get them down, you've got to go for the jugular vein ... we just didn't finish it."
It certainly was a heck of a start though. When the two teams took the floor for the opening tip, they did look a little mismatched physically. Forward Seth Engelken looked a little skinnier. Center Chris Daniels looked ... well, a little wider. But then Engelken hit a jumper. And Daniels stuffed a couple shots. And Menifee made a layup. And Taurean Mitchell hit a 3 ... and another one.
Suddenly the Islanders had jumped out to a 10-0 lead, stunning the Badgers -- just like Arrow had talked about doing at practice on Thursday.
From that point on, the Islanders had every non-Wisconsin fan in the building on their side. And they didn't back down. In fact, they stepped it up, racing out to a 25-7 lead with 5:29 left in the first half. Arrow was talking to a ref and actually slapped him 5. CBS announcer Jim Nantz turned around to look at the Islanders fans behind him, and had a big smile on his face.
You couldn't help but get that feeling that something special was brewing, in a way only the NCAA Tournament can provide.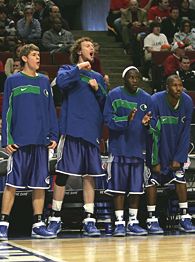 Jonathan Daniel/Getty Images
The Corpus Christi bench was pumped as the Islanders rolled to a 25-7 first-half lead.
At one point one of the reporters from the Wisconsin State Journal, Madison's morning newspaper, remarked about Texas A&M-Corpus Christi, "They're too good a story. No, it just can't happen."
Alas, he was right. Wisconsin cut the deficit to 27-19 at halftime. And even though it'd been a great first half for Cinderella fans, you got the sense that the second half wouldn't be nearly as comfortable.
The Islanders fired back early in the second half, pushing the lead back up to 40-28 with 14:56 left on Johnson's 3-point play. But it was downhill from there. Kammron Taylor and Alando Tucker -- Wisconsin "two pros," as Arrow called them -- got hot from the perimeter, and the Badgers stormed back. The Islanders simply didn't have enough energy in the tank.
With two minutes remaining and the game effectively out of reach at 68-58, Arrow stood in front of his bench and just shook his head, hands on his hips, and took a long exhale. It seemed like he was going to call off the dogs and have his team stop fouling -- but then he suddenly screamed: "Foul! Foul!" As if he had changed his mind. As if he didn't want it all to end.
"The ride has been good and I love all of these guys in this program," Mitchell, one of seven seniors on the team, said after the game. "I've been here four years. If I could do it again, I'd do it again with these guys."
It's a shame the final score wasn't closer. Because this was a much better game than the 13-point final margin. These Islanders showed America they can play. They showed they belonged on this stage. Unfortunately, this game didn't end with a walk over to their fans to celebrate. It ended with a slow walk down the handshake line, and an even slower walk back to Auxiliary Locker Room No. 2.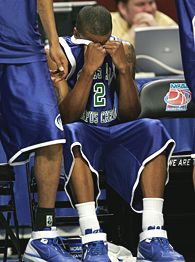 Jonathan Daniel/Getty Images
For Josh Washington and the Islanders, the dream ended as Wisconsin scored 57 in the second half.
"It really hurts at this point," said starting guard Josh Ervin. "We didn't come here to lose. We know we had a great season, we know it was a tremendous ride, but we came here to win some games."
Back in that locker room after the game, a large dry-erase board still showed Arrow's pregame notes for his team. There were 14 of them -- but the very last one stood out.
Champions aren't the largest team, they have the largest heart. Win!
The Islanders didn't win this game. But they won this March, believe me. They won their first conference championship. They won the opportunity to play in an NCAA Tournament -- in a sub-regional that included such storied programs as Kentucky and Kansas -- and they gave a No. 2 seed a serious run for their money. They put this little school on an island from south Texas on the map. And despite the heartache, this will be the memory of a lifetime.
"These guys have been super," said Arrow. "These guys have been here four and five years. They put a lot of hard work in and they've done a lot for this program, for the university, for the town. We've had a lot of wins. We've had a lot of fun. Right now, we don't feel very good, but when you look back to what these young men have done for this program, it speaks for itself. There's work to be done. It's a work in progress, and we're looking forward to coming back."
When the Islanders' bus pulled slowly out of the United Center at 5:50 p.m., this reporter was pretty bummed. But as he sat back down at his computer, he caught a glimpse of the Texas A&M-Corpus Christi postseason media guide. And his eyes rested on the picture on the front cover -- from Houston, five days ago -- of 15 smiles, frozen in time. One shining moment, indeed.
It was a pleasure, and a privilege, to be along for the ride.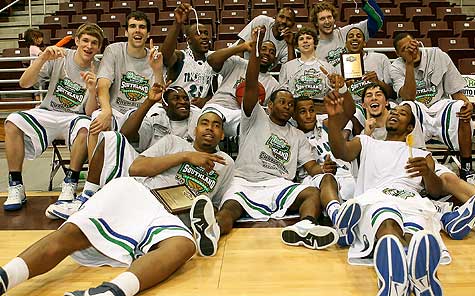 Steve Nurenberg
The Islanders were all smiles after they won the Southland Conference tournament.
Kieran Darcy is an editor for ESPN.com. You can e-mail Kieran at kieran.d.darcy@espn3.com.