NEW YORK -- "This is the wrong reaction."
Those were the words of CBS' Jim Nantz, describing the fan response at the Meadowlands in Week 1, when Jets starting quarterback Chad Pennington literally hopped off the field on one leg after badly injuring his right ankle, and backup QB Kellen Clemens ran onto the field to replace him.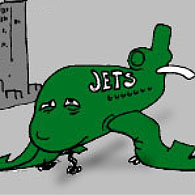 Kurt Snibbe/Page 2 artist
Loud cheers rained down from the stands.
Realize, those fans were cheering the replacement of the winningest quarterback in franchise history, and the quarterback with the second-highest completion percentage (65.2) in NFL history!
They'd rather see a second-year quarterback who threw only two passes his entire rookie season, and who looked impressive this preseason playing against second- and third-stringers.
Why? It's just the latest manifestation of that age-old staple of NFL Overreaction Nation: the love affair with the backup quarterback.
We see it time and time again. Whether the backup QB is a young colt who hasn't been broken in yet, or a grizzled vet with a little something left in the tank, a team's fan base becomes enamored with him and his potential. A quarterback controversy swirls up and gains steam. The grass is always greener on the other side of the depth chart.
In this case, many Jets fans have fallen in love with a second-round pick out of Oregon in 2006 whose claim to fame is a strong right arm -- the one knock on Pennington being that he doesn't have a very strong arm.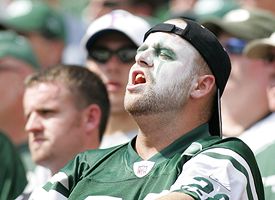 Scott Boehm/Getty Images
In Week 1, Jets fans left little doubt about which quarterback they preferred.
And all those Jets fans who cheered Clemens' appearance in Week 1 must have been delighted at the beginning of Week 2, because even though Pennington dressed and wanted to play, Clemens got the start in Baltimore against the Ravens.
On Sunday afternoon, at the ESPN Zone smack in the heart of Times Square, the Jets' fans in attendance seemed pretty excited about their team's prospects before the game -- despite having a quarterback making his first NFL start and facing the league's No. 1 defense from 2006. For instance, Mike Beckerman, Adam Robles and Brian Convey -- three young Jets fans in their 20s -- performed the customary "J-E-T-S Jets Jets Jets!" chant just prior to kickoff at their booth on the right-hand side of the second-floor bar.
Their enthusiasm did not wane much as Clemens got off to a rocky start against the Ravens, including throwing an interception on his second throw of the day. "I think [Clemens] is ready," Convey said assuredly.
Nobles was asked how much he actually knows about Clemens. "Not so much, to be honest," he replied. "But I know Kellen Clemens is our future."
Jets fans had a little more to cheer about in the second half, as Clemens played better and led the team to 10 fourth-quarter points. But he couldn't quite complete the comeback, as the Jets fell to Baltimore 20-13.
Clemens' final numbers? He completed 19 of 37 passes for 260 yards, with one touchdown and two interceptions. Not bad … but not as good as what Pennington typically delivers. Or even what he delivered in Week 1 -- 16-for-21 for 167 yards, two touchdowns and no interceptions against the Patriots -- much of it while he was practically playing on one leg after re-entering the game.
And yet, typically, sports talk radio in New York on Monday was aflutter with the swirling winds of a quarterback controversy. On "Mike and the Mad Dog" on WFAN Monday afternoon, the first two Jets callers of the day were firm in their decision on the situation.
"This is the Clemens era," said Anthony from Staten Island. "I love [Pennington's] heart but he has no arm."
"Pennington's a nice guy," said Dave from Brooklyn. "[But] it's time for Clemens."
Football fans in New York City are a pretty depressed bunch right now. Both the Giants and the Jets are 0-2, and both teams' playoff prospects look awfully bleak -- no overreaction there. Pennington will probably start for the Jets next week. But at least Jets fans have Kellen Clemens -- that possibility, that potential, that promise of a better tomorrow -- to hold on to.
Ignorance is bliss, right?
Kieran Darcy is an editor for Page 2. You can e-mail him at kieran.d.darcy@espn3.com.
NFL OVERREACTION NATION

We've seen two weeks of football, and for most NFL fans, that's more than enough to either jump on the bandwagon ... or jump ship.
Overview
•
Jackson: Welcome to Overreaction Nation
•
ESPN experts: Should you be overreacting?
•
Vote: What do we know after two weeks?
In Chicago ...
•
Wojciechowski: Even a win is too much to Bear
In New York ...
•
Darcy: Apple of their eye is the backup QB
In Dallas ...
•
Pearlman: Cowboys fans letting it all hang out
In Cleveland ...
•
Gallo: Net gain or loss for roller-coaster Browns?
In San Diego ...
•
Buckheit: Pats pull the plug on Bolts fans
In Los Angeles ...
•
Neel: Who says no one in L.A. loves the NFL?
Also See
ESPN Top Headlines