Commentary
A different kind of champion
Originally Published:
November 4, 2009
By
Kieran Darcy
| Page 2
These are very exciting days in New York City -- particularly in the Bronx, where the Yankees are on the brink of their 27th World Series championship.
On Thursday, the day of Game 2 of the Series, I went up to the Bronx. Not for the game, though.
No, I went for another reason -- to attend a celebration for a different kind of champion.
Deon Taylor, whom I first wrote about on Page 2 a year ago, was an undercover narcotics officer for the New York Police Department. He also was a member of the New York National Guard, serving in Afghanistan. He was killed on Oct. 22, 2008, when the Humvee he was riding in was destroyed by a roadside bomb.
[+] Enlarge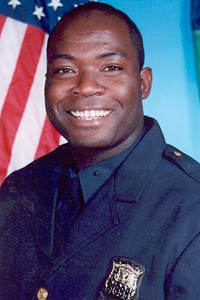 AP Photo/NYPDDeon Taylor, NYPD officer and U.S. Army sergeant.
When I first read about Deon in the New York Daily News last fall, I was quite moved. His story in particular resonated with me because he was exactly my age at the time of his death (30), and he was from the same city. It also resonated because he was a big sports fan, who rooted for the same teams I do, the Yankees, Giants and Knicks.
I have kept in touch with Deon's cousin, NYPD detective Darren Bullock, since writing that story a year ago. So when he let me know about the ceremony taking place on Thursday, I really wanted to be there.
It took place on Deon's old block, at the intersection of 163rd Street and Simpson Street -- a stone's throw from the Bruckner Expressway and just 1.6 miles from Yankee Stadium. Dozens of NYPD officers were there, as well as many of Deon's fellow soldiers. Lots of regular neighborhood folks showed up, too. Plus Deon's family, of course. His mother, Pamela Taylor, sat right up front, along with his fiancée, Caitlin Casey, whom he was to marry this past August.
It was a gorgeous, sun-drenched afternoon. Bagpipes were played. The national anthem was performed. Police commissioner Raymond Kelly spoke, saying Deon was "a talented leader." Bronx borough president Ruben Diaz Jr. called him "a true hero."
But the most touching part was when Deon's family gathered together on the corner of 163rd and Simpson and tugged on a thin rope, thereby removing a covering and revealing the new sign attached to the street pole:
"Police Officer Deon L. Taylor Way"
After the sign was revealed, Deon's cousin Darren spoke. He described how Deon embraced dangerous assignments at work, trying to make a difference on the streets. He also described the circumstances of Deon's death -- how he was actually filling in for a friend when he was riding in that Humvee. That friend, a platoon-mate, wanted to fly home to the U.S. to attend the funeral of his own cousin, who'd been killed in the war. Deon volunteered to take his place.
Suddenly, the World Series was the furthest thing from my mind.
"He was someone special," Pamela Taylor said afterward. "I'm gonna miss him. But I just loved what he did with his life in a very short period of time."
[+] Enlarge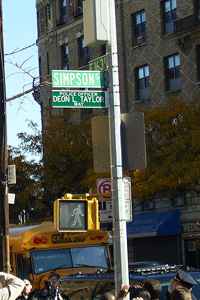 Kieran Darcy/ESPN.comA permanent tribute to a man who made the ultimate sacrifice.
If you follow the news, you probably know how hazardous the situation is for our troops right now. October was the deadliest month for U.S. forces in Afghanistan since the war there began in 2001. With Veteran's Day coming up on Nov. 11 and Thanksgiving two weeks after that, now would be a great time to think about a tangible way to help our troops, or show your gratitude and appreciation. Yankees outfielder Johnny Damon is heavily involved in the Wounded Warrior Project -- that's just one way to help.
As many of us settle in to watch Game 6 of the World Series back in the Bronx on Wednesday night, maybe we all could spend a moment remembering the thousands of men and women who have given their lives, both figuratively and literally, so you and I can sit back and enjoy things like the World Series, feeling safe and at peace.
Deon would certainly be enjoying this World Series. Caitlin described to me how huge a Yankees fan Deon was. In fact, Caitlin's parents live in Massachusetts and are big Red Sox fans, and Deon used to call them all the time to talk trash about the rivalry.
Caitlin spent Sunday night with Deon's mother, brother and cousin, watching Game 4 -- finding some small solace and distraction in cheering on Deon's beloved Bronx Bombers. "He would be so ecstatic about the Yankees being back in the Series," Caitlin said. "I just wish he was still here with us."
If the Yankees are able to win one more game, there will be a parade in a few days on lower Broadway. I'll probably try to go, and I'll cheer on Alex Rodriguez, CC Sabathia, Mariano Rivera and the others as they process up the Canyon of Heroes.
But if I ever need a reminder of a true hero, I know where to go now.
The corner of 163rd and Simpson.
Kieran Darcy is an editor for Page 2. You can reach him at kieran.d.darcy@espn3.com.
ESPN Staff Writer
Kieran Darcy is an ESPNNewYork.com staff writer. He joined ESPN in August 2000 after graduating from the University of Pennsylvania, where he played four years of JV basketball.
Follow Kieran on Twitter »