By Michael Davies
Special to Page 2
Day 1
July 18, New York City, 7:30 a.m.
I am awakened by the same track of the same CD that has been in my alarm stereo for more than a year. It is like "Groundhog Day." Ah, yes, hark the taxis, the air conditioner set on deafeningly whirry, unstick the sweat stained, grubby sheets from my back, retrieve the battered pillows from the floor.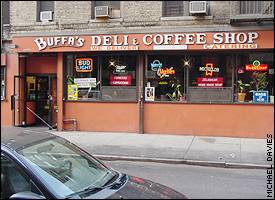 Michael Davies
To wake up in time to catch the British Open definitely requires a caffeine run to Buffa's.
I have been dreaming, intermittently, fitfully, of Scotland -- of Edinburgh and Leith and the coastline beyond, of the land of my forefathers and my college years. Of frigid days, on frigid beaches with frigid girlfriends -- of abysmal rounds of golf in torrential rain and gale force winds on the local links.
I have arisen to return again ... via ESPN and Time Warner Cable of Manhattan. It is the first day of the Open at the finest links of them all, Muirfield. And for some reason, my editors at ESPN.com want me to write about it. And for some reason, I agreed. This requires caffeine.
7:45 a.m., Buffa's Coffee Shop, Prince and Lafayette
The truth is, ever since I got back from covering the World Cup in Japan, I haven't been able to bring myself to visit a Starbucks. I just know I won't be greeted with a chorus of "Konishiwas," served with a flourish of "Arigatos" and generally treated like the most important Gaejin on the planet. So I've been a regular at my local coffeehouse, Buffa's. There is something just so damn refreshing about the place. It has been there more than 70 years, since Nolita was actually just north of Little Italy rather than part of East Soho. It is still operated by the family, generations of them. They still threaten, good humoredly, to "break your face" if you give them a $20 bill for a 75-cent cup of coffee -- and that's just Mrs. Buffa! But their food is solid, the coffee is strong to the point of illegality, and it's the most unpretentious place in Manhattan. I ride the elevator back to my apartment in love with Italy again. I have forgiven them their World Cup whining. I am resolved to cheer for Constantino Rocca.
7:58 a.m., my apartment
But it might have to be Chris DiMarco. Because according to my newspaper, Rocca is not playing -- which is a shame, because he definitely would be on my list of favorites for The Open, the Other Open, The World Jug. As it is, here is a list of my favorites in no particular order:
Norman: Niver underistimate the paaagh of the shaark!

Is there anything more entertaining than watching a Phil Mickelson meltdown?

Lefty: There is no one loopier in the entire world of sports, I love that look he gets in his eyes in post-round interviews as he makes less and less sense. I love how large he wears his pants, nine or 10 pleats each leg, a good 10 inches too long.

Jesper: I'm often accused of dressing a little like him on the golf course, but I think it's more that most of my golf pants were bought when I was less fat. By the way, I lost 15 pounds in Japan and have gained back 17 in less than two weeks. Mmm. Barbecue. Daly: Tragically flawed, one of the best and most honest interviews in sports, ridiculously talented, takes enormous risks, really overweight this year. Van de Velde: Might surprise those of you who read my World Cup coverage to see me so high on a Frenchman, but how can you not love this guy? Also not actually playing this week, but his spirit lives on. Could Remesy be the new Van De Velde? Sandy Lyle: I was once partnered with him in a pro-am in Florida, and I think he shot an 87, including a three putt from 18 inches and two eights on par threes. The other two guys in my group couldn't look him in the eye. I loved every second of it.
Of course, none of my favorites will actually win. I like my golfers crazy, I like extroverts, I like meltdowns. I don't like them too young, too consistent, too studious, too cautious, too focused. Tiger? Just not for me. Far too confident. I want demons. I want self-doubt. I want drivers, eagles, four putts and triple bogeys. And before I get reported to some House Committee on Anti-Tigerist sentiment (where it seems that anyone who makes the most benign comment about any aspect of Tiger that isn't immediately gushing gets lashed with a mashy niblick) let me make it clear that I do, of course, acknowledge that Woods (or "Irons" as the Scots have started to call him) is without a doubt the best golfer in the universe. He will almost certainly win.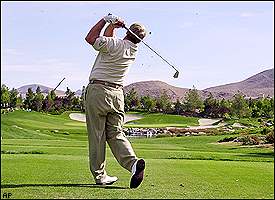 AP
OK, yes, a John Daly meltdown is even more entertaining.
But tell me you wouldn't want to see Jean Van de Velde, paired with Daly on Sunday, the final match on the course, standing on the tee protecting a one-shot lead. With the wind behind, Van de Velde takes a pitching wedge off the tee, Daly tries to drive the green. The Frenchman, three pot bunkers later, cards a snowman. Daly, after going OB and playing out of the stands scrambles for a nine. Which leaves 11 players at 4-under, including Woods and my favorite name in this year's field, Scott Laycock, forced into a sudden-death playoff in 50 mph winds for the Claret Jug.
So Tiger will probably win, but I have just had a psychic moment -- or maybe it's the coffee -- but mark my words, the color yellow will play a major role before the 72nd hole. And that rhymes.
8:05 a.m., entrenched on the sofa
I know it's early, but I'm a little unhappy with what I'm seeing. Firstly, I seem to have missed half an hour of "bonus coverage" which was not listed anywhere and came before the "actual coverage." This is very confusing -- how can a bonus come before? Oh, when Tiger has an early tee time. Secondly, the skies are blue, and a couple of players are not even wearing sweaters! Thirdly, I recognize almost every name on the leaderboard, and the scores are way too good. The early highlight is definitely Roger Twibell's interview with Jean-Francois Remesy -- "It's a virry tiff gilf curse" and Twibell's wonderful question "Did the performance of Jean Van de Velde encourage French golfers? The lowlight is definitely Peter Alliss doing a baseball promo for the Diamondbacks against the Rockies. It just doesn't seem right when he talks about the Big Unit. Some other early notes:
Justin Rose is way too good to be English (isn't he really South African?) and 21 years old. But, look he's wearing a yellow hat. There's no way an Englishman can win this thing. If he's anywhere near contention Sunday, the whole first Beckham, then Henman, now me, man, pressure will get to him.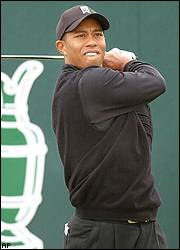 Tiger Woods is a bit too predictable for Davies' taste.
Sandy Lyle is in at 3-under. Holy Moly.
Tiger is all humility in his post-round sitdown with Twibell -- "I played beautifully today ..." No, don't be so hard on yourself, Tiger -- "... I hit a lot of beautiful putts that didn't go in." Diddums.
Thomas Bjorn drops the Ts off the end of his words in his London-influenced English. He sounds a lot like Bjork. He's Danish, which is practically Swedish, who also have a lot of yellow in their flag.
David Duval looks visibly in pain being interviewed by Roger Twibell. Why does he button the top button of his polo shirts. What is under there?
My reception on Time Warner Cable of Manhattan sucks.
John Daly is immense.
I am all for Muirfield and Augusta National accepting women members but I am 100 percent against "Lifetime Real Women" getting promos on ESPN, even in local breaks. This must be stopped.
I watch for about 3½ hours but the truth is, this is not massively entertaining stuff. Only one hole of live Tiger coverage. The weather is perfect, but there aren't many birdies. Nor many meltdowns. The greens are so slow, and everyone is playing so conservatively (long- to mid-irons off the tee) that the rough is rarely coming into play. Lefty and Monty are entertaining -- intermittently brilliant and crazy. I just remembered I have a syndicated television show to start shooting next week and must go to work. 7:15 p.m., my office
I want to check the final Open leaderboard, but I have to finish grading my World Cup Quiz responses of which there are, amazingly, almost 2,000. 9:21 p.m., same place
Jesus, what have I wrought?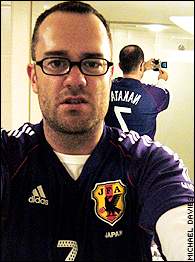 Michael Davies
Michael Davies models the fine Nakata shirt that the lawyers don't want you to have.
Drum roll. The winner of the Davies' Diary World Cup Quiz, but who will absolutely not be winning the Japan shirt at right because the ESPN.com lawyers would go ape, is ...
** Steve McFarland from Campbell, Calif. **
Who just sneaked past Phil Cordano from New York City, Gavin Nesbitt from Melbourne, Australia, Eric Highsmith from Long Beach, Calif., and Luis Abila from Louisville, Colo., who also all had perfect scores. Steve, frankly, sucked up to me more effectively in his introduction and his answer to the tie-break question No. 26 was a little bit more imaginative and completely unprintable. The stumbling block for 98 percent of the rest was question No. 17, the correct answer to which was ... my wedding. Someone must have told the Premier League (friends in high places) of the unfeasability of scheduling Chelsea vs. Man U, the Big Match, on my Big Day. So the Big Match has been moved forward to Aug. 23 (currently researching flights -- is it OK to miss the rehearsal dinner?). Thanks for all your entries. I was stunned by how many of you entered and the amount of time you all took. Thanks also to everyone who e-mailed me. Especially the two marriage proposals. I am gradually going through them all, and perhaps if I quit my job, or get dumped at the altar, I'll answer. I apologize sincerely to anyone who clicked on this thinking they were going to read a golf column. 11:05 p.m., still at the office
Must go home, so I can get up early, come back here, check on the web for the early scores and file this crap. But I'm telling you, after checking the leaderboard, I might be onto something with this yellow thing. Petterson, co-leader at 4-under, Swedish, yellow flag. Waldorf, co-leader at 4-under, weird loud shirts, very likely to wear yellow. Soren Hansen, 3-under, Thomas Bjorn, 3-under, Danish, practically Swedish. Remesy, Rose, 3-under, yellow hats&& I will keep track of this. Day 2 8:33 a.m., my office
"Groundhog Day" again. Slept fitfully. Awoken by same song. Coffee at Buffa's. Drove to work -- I am almost certainly the only New Yorker who drives to work from Downtown to Midtown. Turn on the TV and log onto ESPN.com to check the scores, and my yellow theory is holding up well, Petterson, Sweden and Leaney, Australia are leading at 5-under, but most of the field is still to tee off. Will the conditions hold up? It's cloudy and cooler, but still very little wind. Monty's actually playing like he wants to win this thing. He just birdied 18 for a 64, his best round ever in the Open. Lefty has self-destructed, 3-over right now and in danger of not making the cut. "Unfortunately, this game is played in the six inches between the ears," says Monty in his post-match interview with Roger Twibell. Unfortunately, that's probably not Mickelson's strongest six inches. We're all waiting for Tiger. And to see if Rio leaves Leeds for Manchester United. Michael Davies, a native of London, is executive producer of ABC's "Who Wants to be a Millionaire."