By Michael Davies
Special to Page 2
Day 3
July 20, Easthampton, N.Y., 9 a.m.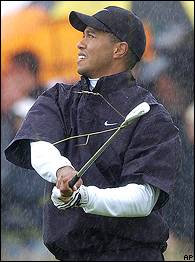 Tiger Woods was all washed up after the third round.
I do not use the word "tragedy" lightly. But after having forced myself out of bed at 6 a.m. on Saturday for no football-related reason and driven two hours out to Bridgehampton to spend the weekend watching golf on television, the discovery that Friday's storm knocked out both my cable and satellite is nothing sort of tragic.
I have heard that it is possible to receive a television signal "over the air" by the use of something called an "aerial." But this seems way too complicated. I jump in the car and head off to my future in-laws place, 10 minutes away if you drive like Jackie Stewart.
The Den, 10:05 a.m.
Now this is what I call Open Golf -- 38-degree wind chill, rain all over the lenses, players looking absolutely miserable -- and I'm inhaling Portugese muffins and Marmite. Shot of the day -- Mickelson's face, grabbing his hand and whingeing like a girl after catching a cold one up the arms out of the primeval rough. The players look miserable. Definitely one of the best meltdown days of all-time -- Tiger's 81 was particularly enjoyable (at last, as Jim McKay pointed out, he is human -- where were they shooting Jim by the way? It might have been heaven) but I would definitely have liked to have seen more of Monty's 84. I heard it was a classic -- full of pout, bluster and stomping off. You'll miss him when he's gone. The crew at ABC Sports is doing an amazing job covering the action. But right now, they have to be wondering who on earth is going to win this thing. It's not going to be Tiger, nor will he be in contention, not good for the ratings, Mickelson won't be there, Sergio and Els, at least, are hanging around. But let me tell you two words that terrify American Sports executives around the time of major championships -- unknown European. And this is particularly evident this year when a concerted attempt seems to be under way to turn unknown Europeans into unknown-sort-of-Americans. By the end of Saturday, having been reminded perhaps 15 times both by the commentators and on-screen graphics that Padraig Harrington of Ireland's second cousin is Joey Harrington of the Detroit Lions, Carl Petterson has practically become the most famous North Carolinan since Jordan. At about 1:15 p.m., I fall asleep. I dream of Chelsea winning the premier league, the FA Cup and the UEFA cup with Justin Rose replacing Emmanuel Petit in central midfield. I wake up suddenly, this is really unlikely to happen, Chelsea are so bankrupt they couldn't afford Dustin Diamond.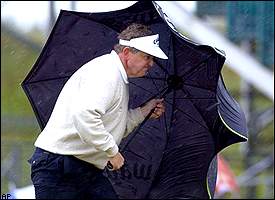 Colin Montgomerie couldn't hide from his dreadful 84 on Saturday.
By the end of Round 3, I wish I could tell you I care more about who's going to win it. I'd love to see Des Smyth balancing the jug on the bobble of his ski hat, but I still think it's going to be between Hansen and Els. They'll have scores to aim at.
Soren Hansen is the "in form" golfer out there, but Els is the thoroughbred, and if the weather's bad, you know he can play in it. I also like Leonard, and I even think Maruyama is still in it -- or maybe I'm just partial to the Japanese these days. Perhaps golf tournaments, like World Cups, should not be so wide open. I'd love to see Duval at the top of his game, Lefty contending down the final stretch, Monty fighting his mercurial temper with that majestic high fade, all chasing Tiger, with Sergio and Els, all shooting low, all taking drivers and aiming for the pin.
Day 4
Back in front of the television, 9 a.m.
I'm not sure why I don't care much today, but I think it started yesterday. Maybe I should have gone over to Scotland because covering golf from television is strangely uninspiring. Golf is something I veg out to. I don't think much about it. But as a quasi journalist where I suddenly have to think, I just can't think of anything more interesting than just vegging out and watching. There would be more to write about if they were all chasing Tiger. Or maybe not because everything would be written. Yes, the whole Gary Evans thing is exciting but not, I think, one of the most memorable Open moments as Curtis Strange (who has been excellent all week) would have us believe. His interview with Roger Twibell, I actually find embarrassing. How could any major athlete be so unprepared to win? Oh, he's English. Lower your expectations a bit. Props to Eddie Izard. My major rooting interest on this uncharacteristically fair Scottish day (though I did once get a sun tan at the Scottish University Tennis Championships in Aberdeen) is to see if my bold psychic prediction from Day 1 (that the color yellow would have something to do with the outcome of this championship) comes true. Initially, my focus is on the pale yellow shirt of Soren Hansen, the yellow flags, the yellow scoreboards, the players from countries with yellow in their flags.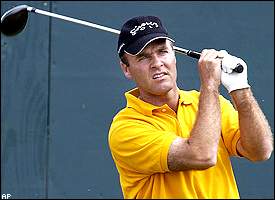 Someone like streaky Thomas Levet could be the key to the Ryder Cup.
I'm expecting a subtle manifestation of my prediction which would leave me nodding my head and thinking, not bad, you could make an argument for that one. But as the day continues and finally ABC shows a shot of Thomas Levet, I am suddenly in shock.
His shirt screams yellow. I shriek. It is the yellowest thing since the submarine for Sgt. Pepper's, it inspired Coldplay, it is yellower than ABC's marketing. I possess psychic powers. Give me a syndicated talk show. The playoff was ruined by a poor format. You needed to see all four golfers together. It was therefore more than a little anti-climactic. The Van De Velde comparisons as Levet pulled out his driver were a little forced (as though there is just one one French golf guru who teaches all French golfers that when they "get to thee last at zee Breetish Open, pull out thee big one and throw zee caution to zee weend!"). At Carnoustie, Van De Velde had a three-shot lead. Levet must have imagined one of the second pair would make birdie at 17 and force him to make birdie at the last to win it. He is not long off the tee and had been straight all week with his driver, he would have struggled to put himself in birdie position with an iron. In the end, I was glad to see Ernie win it. He has a great first name, looks like Conan O'Brien and beat someone French. Moreover, I was happy to see it end. This all went on for far too long to end up with a playoff between four players, three of whom we hadn't spent any time following for the first three and a half days. Maybe I just don't have what it takes to write about golf. I henceforth would like to announce my retirement as a golf writer. And let me begin my retirement with the following premier league season preview: Arsenal are no worse, Liverpool have signed half the planet and RioFerdinand is going to Manchester United. Meanwhile, Chelsea are bankrupt. Not looking good.
Michael Davies, a native of London, is executive producer of ABC's "Who Wants to be a Millionaire."