By Michael Davies
Special to Page 2
New York -- May 11th -- 9:30 a.m.
Right now, I still can't review "Bend It Like Beckham" (perhaps the greatest women's sports movie ever made -- think about that for a second), an opening which is probably not going to please my incredibly patient editors at Page 2.
The fact is, I have procrastinated horribly since accepting the assignment to write a review of the word-of-mouth momentum-gaining chick flick three weeks ago (don't worry, I'm not going off all Charlie Kaufman in "Adaptation" on your asses). Initially, this was work-related -- contrary to popular opinion (including my own sometimes), I do have a job outside of watching, reading about, obsessing over, occasionally writing on and generally planning my entire life around what I call football.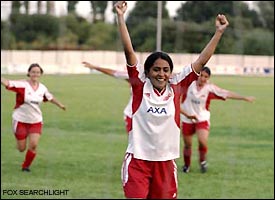 The passion of soccer fuels "Bend It Like Beckham".
But then, over the last eight days, it has just become impossible for me to leave the house, or the office, and do anything as inconsequential as seeing a low budget Anglo-Indian comedy about women's soccer (will gladly use the "S" word in that context) until I knew how the life-changing, internationally-significant and economically-vital events taking place on another continent were going to unfold.
I mean, of course, the culmination of England's Premier League season and Chelsea Football Club's vital final game against their storied (but dare I say it, somewhat dull) opponents Liverpool, which starts in five minutes on Direct Ticket Pay-Per-View.
Plus, I started reading Dan Brown's "The Da Vinci Code." Page turner.
12:30 p.m.
So with the game finally over ... on with the review.
World Cup Fever Revisited
Our very own Michael Davies is no stranger to the world of soccer. In fact, Page 2 was wise enough to send him to the 2002 World Cup. Check it out:

End of Days: Is it too early to talk about 2006?
The 'other' football: Lord, help me.
What a story! What a performance by the stars, the supporting cast, the team behind the scenes! By the end, there were plenty of tears from the girls and a standing ovation from the boys. Terrific feel good stuff ...
... Chelsea 2, Liverpool 1. And so Chelsea finishes fourth in the league and qualifies with the biggest clubs in Europe for next season's highly lucrative UEFA Champions League (reportedly worth about $30 million dollars in incremental revenue -- which, considering Chelsea is reportedly about $120 million dollars in debt, is something of a relief). Smashing.
After conceding an early 11th-minute aerial goal to Liverpool's Finnish captain, Sammy Hyppia, Chelsea responded quickly through its own captain and central defensive giant, Frenchman (but don't hold that against him because he's really from Ghana) Marcel Desailly. Chelsea's 27th-minute winner was a stunner, a 20-yard left-footed curler from the most unlikely source, Danish Superwuss Jesper (pronounced YES-per) Gronjkaer (pronounced gron-kay-er).
Who cares if he hit it with his dodgy left foot while inevitably falling over and probably intending to cross? Jesper is nicknamed "Halfway There" by some of the Chelsea faithful, who salute his blindingly quick sideline runs -- beating three men down the wing, only to result in a cross that sails 40 feet wide or high of his intended target -- with a tribute chant to the tune of Bon Jovi's "Living On A Prayer":
Ooh, ooh, he's halfway there-ere
Woah, oah, Jesper Gron-kay-ere &
So in a great mood, and resisting the urge to go down to the pub with some of my New York-dwelling Chelsea blood brothers for a liquid lunch to celebrate, I'm off to the movies to see a matinee performance of "Bend It Like Beckham," a movie whose title is almost as difficult to explain to most Americans as the rules of cricket.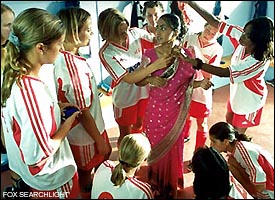 Cultures and values clash as these women try to reach their goal.
7 p.m.
Alright ... I've seen the film.
It's a cracking 90 minutes or so, not on par with ChelseaLiverpool, but every bit as entertaining. In fact, certainly more entertaining than Liverpool.
Is it better than "A League Of Their Own" (I hear you ask), or "International Velvet," or "Bring It On"? Could this be the greatest womens' sports movie of all time?
Who cares.
But before your wife, girlfriend, sister, mother or gay lover (of either sex) inevitably takes you to see this movie (as word of mouth grows "Bend It" is now in the top 10 in the U.S., despite playing on a fraction of the screens of "X Men II" or "Daddy Day Care") here are ...
The 11 Things Page 2 Readers Need To Know About "Bend It Like Beckham"
1. It's about two quite fit-looking young women, one from an Anglo-Indian background, Jess Bhamra, who worships English footballing superstar and international heartthrob, David Beckham, and one from a more traditional English background, Jules Paxton, who worships the stars of the WUSA (no mention whatsoever of the problems that league is facing -- the way it's portrayed in the movie, you'd think the Carolina Courage and the Philadelphia Charge were playing to sellout crowds in brand new stadiums). Both girls are crazy about "soccer," become the best players on their amateur team, but are forced to overcome the cultural objections of their families to girls taking sports too seriously. That's all the plot you're getting.
2. It's not a movie you get a group of lads together to go and see. Unless you're all gay, in which case, based on the evident appreciation a certain rather large section of the audience (I saw the movie in Long Island's ritzy East Hampton), you'll love it.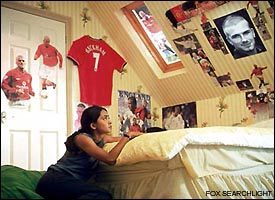 Jess isn't the only one in England to worship David Beckham.
3. Yes, it's a bit of a chick flick, but not on par with "Divine Secrets of the Ya-Ya Sisterhood." If you want to earn a great "Get out of jail free card" for future use (you all know what I'm talking about) -- take her to see this and pretend you didn't enjoy it that much, even though you probably will.
4. But whatever you do, don't cry at the end. An actual man sitting four seats away from me with his kids was bawling.
5. You don't need to know anything about football to enjoy it, and you certainly won't learn a lot about football during it -- except for a superb scene explaining the offside rule with a jar of sea salt, a bottle of teriyaki sauce and a tub of French mustard.
6. Nor will you learn anything about David Beckham, England's captain, Manchester United's set piece specialist, and let's not get carried away with these Michael Jordan comparisons, one of the best players in the world -- the movie is called "Bend It" like him, because David Beckham has a unique ability to consistently hit the ball from free kicks with amazing speed and accuracy, and unparalleled topspin and right-to-left swerve, to bend around the defensive wall, inside the post, past the goalkeeper and under the bar, scoring lots of crucial goals in big, big matches. (By the way, if you do want to learn about David Beckham, and you live near Seattle, Los Angeles, New York or Philadelphia, buy some tickets to see him play live when Manchester United tours the U.S. this summer starting in late July.)
7. Though the movie has an "are they or are they not" lesbian subplot, there is no actual girl-on-girl action.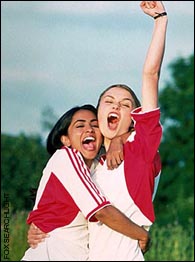 Success on the soccer field is everything.
8. Please note the correct and fantastic use of the word "bollocks," a really good all-purpose British slang term for "testicles" but which is usually used instead of "rubbish" -- as in, "This column is a load of old bollocks." I have clearly run out of things at eight, or arguably six.
9. After the film I guarantee you're going to feel like going out for a curry -- find a good Indian restaurant near the movie theater.
10. The three TV anchors in the dream sequence at the beginning of the film are not merely the worst actors you have ever seen in a movie, they are three former superstars of English football -- Gary Lineker, John Barnes and Alan Hansen. Alan Hansen is actually Scottish, but "former superstar of the Scottish game" doesn't really mean anything.
11. If "Bend It Like Beckham" puts you in the mood for some top-flight women's soccer, you might want to check out the U.S.A. vs. England Coalition Of The Willing Grudge Match Women's Soccer Friendly this coming Saturday on ESPN at 10 a.m. Eastern.
On reflection, and I can't quite believe I'm writing this -- "Bend It Like Beckham" might just be the second greatest film ever made about "the beautiful game."
This sounds ridiculous. But the truth is, outside of "Escape To Victory" (which receives an eternal No. 1 ranking for featuring Pele) and unlike the major American sports, especially baseball, there have really been so few films made about what the rest of the world calls football. And arguably -- with the greatest respect to "The Big Green," "Lady Bugs," "Escape To Victory," "Shaolin Soccer," "Mean Machine" and "A Shot At Glory" (that's what you call pointless research) -- no memorable ones. Unless, of course, you include the superb documentary "The Game Of Their Lives," which not more than 15 people in America have even seen, on the North Korean team's stunning performance in the 1966 World Cup.
Nor have there been any good books written about football, except in the nonfiction category which has really taken off in the last few years (trust me and order "The Miracle of Castel Di Sangro" by Joe McGinniss, Nick Hornby's "Fever Pitch," Bill Buford's "Among The Thugs," "On Penalties" by Andrew Anthony, Tony Cascarino's autobiography "Full Time" -- you won't regret it).
But perhaps "Bend It" is not really a football movie at all. If it were, I'm pretty sure that my wife, who regards football as her mortal foe, would not have seen it twice. Moreover, if Americans have no interest in "soccer," an idea that the mainstream sports media seems just a little too eager to promote, then why are Americans increasingly flocking to see this film, with no big stars, no massive marketing push and little mainstream media coverage?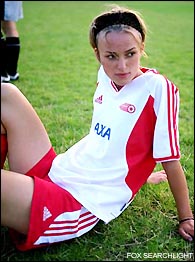 Her family, her love life -- nothing is more important to Juliette than soccer.
The truth is, the amazing success of "Bend It Like Beckham" is that it is appealing to American audiences despite being about "soccer." And despite being largely about the Anglo-Indian experience. Yes, the movie does reach out to American audiences with it's Hollywood-style story structure (one critic has dubbed it "My Big Fat Sikh Wedding") and a refreshingly unabashed, pro-American attitude (in its view of the opportunities offered to female soccer players in the United States).
Ultimately, though, the underlying appeal of this film is its driving energy, unexpected comedic exuberance and that, at its heart, this film is about the same thing that always seems to grab an American audience -- family. No doubt, few Americans have met families even remotely like the Bhamras and the Paxtons of Southall and Hounslow, but they are impossible not to like, even when their opinions and actions are putting the requisite happy ending in jeopardy.
Which, come to think of it, is why, after a lifetime of seeing them fail to win the English League title, I still love Chelsea. Fourth, fourth, we finished fourth! Hoorah!
Michael Davies, a native of London, is executive producer of ABC's "Who Wants to be a Millionaire."