Debating the 25 greatest seasons
Watching Tom Brady and the New England Patriots dominate the 2007 NFL season has us thinking historically, and the good folks in the ESPN research department recently compiled a list of the greatest individual seasons of all time. Like all lists, it got Page 2 talking …
Eric Neel: So, who's missing from the list, folks?
Scoop Jackson: I thought it was interesting that Jim Brown was left off of the list. Pick a season, any season of his. At some point, I think one of his seasons needs to be recognized, even if it's his junior or senior season at Syracuse, where he also was dominating in lacrosse.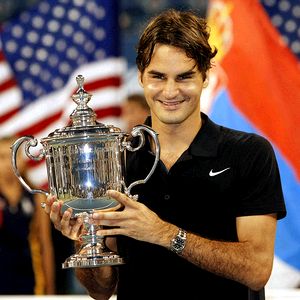 Timothy Clary/Getty Images
Roger with his trophy ... a familiar sight in the tennis world.
Patrick Hruby:
I think it's ridiculous that Roger Federer is missing; pity he's not a quarterback. You have to put Federer in there; it's, like, a huge shock when he loses a match. Federer 2006: 92-5 record, three Grand Slam titles, won the year-end Masters Cup, reached the final in 16 of the 17 tournaments he entered, won 12 of those, lost to only two players (Rafael Nadal and Andy Murray) ALL YEAR. Wayne Gretzky '84-'85 might have been better than Gretzky '82, overall. I wouldn't even put Marcus Allen on the list. Ricky Williams had a better year in '98. And what about Eric Gagne in 2003? I think so. Bonds is on there, which means we're cool with accused juicers, right?
DJ Gallo: How about Carl Yastrzemski in 1967? Last triple crown winner, better power numbers than Williams in '41 (although a much lower batting average). And my wild card would be Bo Jackson in 1989. MLB All-Star MVP (32-105-.256, 26 SB), and 950 yards rushing in 11 games (9 starts) for the Oakland Raiders, averaging 5.5 yards per carry. He was a baseball All-Star and arguably the best running back in the NFL, all in the same calendar year. Not too shabby.
Kurt Snibbe: These are old school, but does Jesse Owen's 1936 Olympics or Jim Thorpe, an All-American football player whose team won the national championship and who then spent the summer winning two 1912 Olympic gold medals (decathlon, pentathlon), count?
Thomas Neumann: It might not be a "major" sport, but this bears consideration: Cael Sanderson, Iowa State wrestling, 2002 -- at 197 pounds, went 40-0 (undefeated over entire college career, too) with 22 wins by falls.
Kurt Snibbe: I noticed the list doesn't have Rod Laver. His 1962 season included winning all four majors in the same calendar year and leading Australia to a Davis Cup. And one more thing. Don't get me wrong, but if you put Richard Petty on the list, you should have him below Michael Schumacher's Formula One glory. And I'll trade both those guys if you put the original LT -- Lawrence Taylor -- on the list for his 1986 season.
Patrick Hruby: What is this "Formula One" you speak of? Is it some sort of motor oil? Haircare product? Can I buy it at Walgreens? Or is it a Paul Mitchell-esque beauty salon exclusive?
Kurt Snibbe: Where would Shaquille O'Neal's 2000 season fit in? He was co-MVP of the All-Star Game, league MVP and NBA Finals MVP, and he would have won an Oscar if that "Steel 2" deal had come through -- not to mention what he did to stifle the Y2K threat to start the year! Pretty good year, but perhaps just short of the list.
Patrick Hruby: Kurt: "Steel 2?" I think you mean "Kazaam: Reloaded." If this writers strike keeps dragging on, scripts like that are gonna find their way back into circulation. Yipes!
Jim Caple: You guys are right. And why Pedro in '99, but not Randy in 2002? More innings, more strikeouts, a spectacular ERA. … Or Maddux in '95? Or better yet, Koufax in '65?
Eric Neel: We must not be too interested in baseball if we're leaving Dwight Gooden's 1985 off the list. At age 20, he was good for a 24-4 record, eight shutouts, a 1.53 ERA, 276.2 innings pitched, 198 hits, 268 strikeouts and the CY Young. Or how about Orel Hershiser's 1988: 23-8, 8 SHO, 2.26 ERA, 267 IP, 208 H and World Series MVP, and he finished the season with 59 consecutive scoreless innings, including three starts and a save in the National League Championship Series, and two shutout wins in the World Series.
DJ Gallo: Henry Armstrong, boxer. In 1937, he went 27-0 with 26 knockouts; in 1938, he went 14-0 with 10 knockouts and simultaneously held the welterweight, lightweight and flyweight belts. But unfortunately, unlike Floyd Mayweather Jr., he could not rap.
Jim Caple: Eddie Merckx, 1972. Won the Tour de France AND the Giro D'Italia (the two biggest races in the sport) AND set the hour record.
Eric Neel: What's your take on Tom Brady at No. 4, Jim?
Jim Caple: Does Brady even belong on the list? As TMQ points out, his season isn't that exceptional. Almost all of the 25 are time-tested. But I think Brady is benefitting from it being a recent performance.
David Schoenfield: Well, he did have one of the highest QB ratings ever. (For whatever that's worth.) And a 50-to-8 touchdown-to-interception ratio is pretty good.
Patrick Hruby: If Brady is on there, doesn't Moss have to be on there, too?
Kurt Snibbe: Agreed. And while we're at it, if I had a vote, Brady's "seven layers of protection" offensive line would have won the MVP.
Thomas Neumann: And what about Oscar Robertson at No. 13? … How bad were NBA defenses in 1961-62? Chuck Daly and Pat Riley must have been rolling over … in their cradles. Seriously, doesn't it seem silly to put Brady and Sanders so high on this list, when they depend so heavily on their offensive line and receivers? Wilt Chamberlain, Gretzky and Babe Ruth would have mashed on any team.
Eric Neel: While we're talking sacrilege, after you've taken a shot at the Big O (a man who, I believe, will hunt you down and smack you upside the head just for thinking what you're thinking about his triple-doubleness), let me say Wilt at No. 1 strikes me as questionable. The man was simply exploiting a huge height and size advantage. He was a freak, unmatched by his opponents' physical limitations almost every night of the season …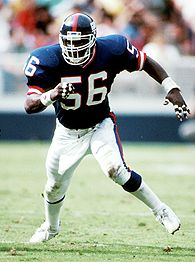 Bill Cummings/WireImage.com
LT didn't just play the game ... he changed the game.
Patrick Hruby:
Something else to keep in mind: Numbers are nice, but they seldom tell the entire story. Lawrence Taylor had 20.5 sacks in his 1986 MVP season -- but it wasn't just those sacks that forced offenses to change their entire schemes (for instance, Joe Gibbs cooking up the H-back) in order to slow LT down. It was Taylor's sheer, primordial destructiveness. It was
fear.
When you force everyone else in the sport to all but change the rules of the game … that's a pretty dominant season, isn't it?
Eric Neel: One of the things that interests me, at least as a subtext, on a list like this is the role of winning championships in thinking about the value of a season. Case in point: Michael Jordan's 1987-88 season is ranked 23rd here, when the Bulls still came up short of a ring (also true of his 1989 season, which was even better, I think). But to Patrick's point about things going beyond numbers -- wasn't Jordan's 1991 season (when he still was going great guns but also had learned to trust the players around him more) or his 1993 season (when, at the critical juncture of the Finals, he realized someone else should take the biggest shot) just as impressive? And beyond that particular question, isn't there something ultimately insubstantial about a tremendous season that doesn't come with the stamp of a title win at the end?
Patrick Hruby: Good points. Again, here's the problem with individual greatness within a team sport context -- what does it mean, exactly? Is it strictly based on personal numbers? Is it being part of a winning team? Should it extend to the postseason? Kevin Garnett could win the NBA's MVP award this season. But when he put up similar, if not better, numbers in Minnesota, with absolutely no help … well, wasn't that more impressive? He knew he had no shot at the Finals, no shot at the conference finals, almost no shot at the playoffs altogether. And yet, he still gave maximum, dominant effort, both barrels blazing. To me, there's some honor in that, and yeah, some greatness, too. If the Pats don't win the Super Bowl, I don't think that diminishes Brady's work this season -- it simply fails to enhance it.
Eric Neel: Garnett's seasons in Minnesota are appealing to me personally, even heroic. But in the end, for a variety of reasons (some of which have to do with his supporting cast, or lack thereof, and some of which have to do with his strengths -- high-post offense, baseline jump-shooting -- not being particularly well-suited to taking over games on the offensive end of the floor, particularly against playoff-style defense and at playoff-style pace), those losing efforts bring more questions than answers about his value. It's hard to include those things when thinking about his greatness, but it's almost impossible not to, too.
Patrick Hruby: I see what you're saying. The thing about numbers is that they're supposed to measure individual contributions toward team success, and they do -- unless your team loses, in which case they're more like a measure of how much worse your team would have done without that effort, which takes us into the realm of what-ifs, which is always hard to wrap one's head around. I mean: Did KG fail in Minnesota? Or did he succeed by taking a lottery team to the playoffs in the brutal Western Conference? Anyway, is there a place on this list for the freakish-of-nature? I'm thinking of Bo Jackson blasting home runs and snapping bats over his thigh in baseball, ducking into a phone booth for a quick uniform change, then trucking fools in the NFL.
Eric Neel: KG failed. But did it gloriously. He belongs on a list of heroic efforts, along with Ernie Banks, and maybe Archie Manning. Now Bo, he might just be a list unto himself. Not sure anyone keeps his company. … And let's end it there, where this list begets still more lists, where the compulsion feeds on itself.
GREATEST INDIVIDUAL SEASONS
What are the greatest individual single-season accomplishments in sports? Let the debate begin here, with the all-time list of the top 25 seasons, a writers debate, top-10 lists from each sport, a listranker and a photo gallery.
Greatest individual seasons
•
Top 25 greatest individual seasons
•
Page 2 writers debate the top-25 list
Sport by sport
•
Top 10 NBA seasons
•
Amber: Top 10 NHL seasons
•
Ashenfelter: Top 10 NASCAR seasons
•
Chadiha: Top 10 NFL seasons
•
Hawkins: Top 10 tennis seasons
•
Katz: Top 10 college basketball seasons
•
Low: Top 10 college football seasons
•
Neyer: Top 10 MLB seasons
•
Sobel: Top 10 golf seasons
•
Top 10 fantasy seasons
Worst seasons
•
Dirty dozen: the worst individual seasons
Photos
•
Zoom photo gallery
SportsNation
•
Listranker: Create your own top-25 list
•
List researchers chat wrap

•
Conversation: Join the debate/discussion!
ESPN Top Headlines