Commentary
Golfer, 18, playing in all lower 48 states
Originally Published:
May 27, 2010
By
Lynn DeBruin
| Special to Page 2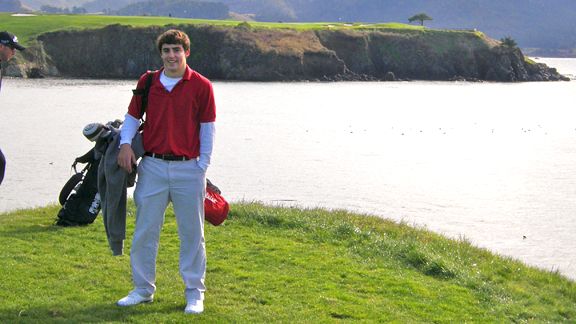 Courtesy Dylan DethierDylan Dethier is set to finish his quest to play golf in each of the 48 contiguous states in a few days.
He played in Augusta on the Sunday of the Masters, caddied in Phil Mickelson's pro-am group and took $5 off the assistant pros at famed Pebble Beach.
While those moments will always stick out, Dylan Dethier's nine-month journey to play golf in all 48 contiguous U.S. states already has created a lifetime of memories -- even if he is just 18 years old.
"It definitely was not a tour of the country's greatest golf courses," said Dethier, who played four of the top 100 courses in one week but also teed it up on bleak splotches of land in west Texas and hurricane-damaged Louisiana.
"Golf is a lens and a way to see the country in a way I wouldn't be able to otherwise and meet people I wouldn't otherwise meet."
Dethier, a 3-handicap who hopes to play for Williams College next year, expects to wrap up his tour June 1 at his home course, Taconic Golf Club, in Williamstown, Mass.
After playing more than 100 courses, driving his 2002 Subaru more than 32,000 miles and spending countless nights sleeping on the station wagon's folded-down back seat, Dethier knows just how he'll celebrate the end.
"Sleep for like a week," he said, noting he plans to stay put for several weeks and "settle back into small-town living."
The Massachusetts teen has chronicled his trip with his blog and hopes to write a book about his experience of traveling the country alone. His parents weren't crazy about the idea of the trip, and Dethier's only promise was to text home every night just to say, "I'm alive." And now the adventure has landed him not only in some major publications but also on some of the most exclusive courses.
"I guess I have to admire someone who has that foresight and intestinal fortitude to go out, on his own, at that age, to do something like this," said Rick Pohle, head pro at Taconic and head coach at Williams College. "I'm not sure at my age I'd do it. But he's always been a very mature kid anyway."
During the journey, he played Merion Country Club in Ardmore, Pa., Oak Hill in Rochester, N.Y., and Valhalla in Louisville, Ky.
Other than a $211 round at Valhalla (the other high-end rounds of golf were comped by the courses), he hadn't paid more than $55 for a round, and there were some pleasant flip-side surprises. Dethier expects to spend $6,000 on his trek.
When a friend flew down to meet him in West Virginia, he was told greens fees were $5 -- for both of them.
That was perfect for a kid who often found himself sleeping in his car, in a tent or debating whether it was worth it to eat a regular meal when he was headed to bed in a few hours.
Asked about dinner this night, he admitted it was animal crackers and an ice cream sandwich.
Motels were a splurge, even at $36.95 for the one he stayed at outside Hartford, Conn.
"Every time I'm in a motel it kind of nags at me because I think what I could have used the money for had I slept in the car or pitched a tent," Dethier said. "But it was going to rain and I needed a shower."
The trip may have taken on a life of its own, but Dethier sounds true to his roots -- a real people person interested in more than his score.
There were nights spent with the family of a livestock auctioneer and another with a rodeo announcer -- stays set up by the likes of his brother's ski coach's cousin's friend's friend.
He also met the superintendent of a run-down municipal course in Louisiana that seemed symbolic of the area's effort to rebuild after Hurricane Katrina.
And he played 18 with a Flint, Mich., man who worked at a nearby GM plant.
"It made the recession hit home," he said, recalling his talk with the man about all the layoffs. "Kids after high school always had a place to go to work, in the factories. Now that's not true anymore, and crime and unemployment is way up."
As for that round at Augusta, well it was Augusta, Mo., not Georgia, but it seemed like a good idea.
Dethier, who said golf has never been central in his life, expects to move onto bigger and better things.
But he is grateful to have survived his journey, considering there were some shocking wake-up calls, from the night San Diego police informed him it was illegal to sleep in a car there to Illinois state troopers who rustled him awake at 1:30 a.m. and made him call home.
Chances are he told his family, "I'm alive."
Lynn DeBruin, formerly of The Rocky Mountain News, is a freelance writer for the Sports Media Exchange, a national freelance network.