By Roger Director
Special to Page 2
I usually feel better by Wednesday. It was that way when I was 11 and it is that way now, four decades later, as an AARP member. It takes until Wednesday to get over a Giants loss.
By Wednesday I have no more strength to writhe around in the dirt of their latest flop. Panting, on all fours, exhausted by all the self-degradation, I look up, gulping air, and train my sights on the next game. The next opportunity to lose all semblance of self-control comes this week against the Cowboys. The "Tuna," Bill Parcells, is riding into the Meadowlands as co-division leader. It is a must-win game. The game of the season so far. If the Giants lose, their hopes for the division and even the wild card are, in the words of the last radiologist who took a look at some upper GI film of me, "less than optimal."
The Angst
• The Seahawks beat the Giants in a game they usually lose. Yes, even though Seattle is 9-2, Seahawks fan Kevin Jackson fears the worst. But ... dare we ask ... could this finally be the year?
I'm not sure what kind of putative grownup learns to accept death and rejection better than a Giants loss, but that's who I am. And I suppose I should be ashamed, either of that or the amount of money I've spent on psychotherapy. But there's no dissipating the gloom until Wednesday.
Partly, that's because I'm exhausted. I can't sleep after a debacle like the overtime loss in Seattle. I have Restless Leg Syndrome is what my wife tells me Monday morning and then again on Tuesday when I inquire how come, when I awoke, she wasn't there.
"I can't sleep anymore in the same bed with you," she tells me. And I tell her she's been saying that for years, but it hasn't stopped her.
"This time it's different," she says, and shows me a Web site for RLS. Restless Leg Syndrome. It's an actual disease. "Every 30 seconds during the night you start twitching, so how do you expect me to get any rest? Every time I'm about to fall asleep, you shudder. It's caused by anxiety."
That's her diagnosis. But I know better. The Giants haven't given me Restless Leg Syndrome. They have given me Luke Petitgout Syndrome. LPS. Similar symptoms. Every 30 seconds you twitch, like Luke Petitgout does at the line of scrimmage. Where he got called for five procedure penalties against the Seahawks.
AP
Jay Feely's kicking last week would make any Giants fan sick.
LPS is so predictable the Giants should try to broker a deal with the refs and the other team at the pregame coin flip. Something like, if you'll let us receive, we promise to start off first-and-15.
Someday Petitgout will be flagged in the morgue. They'll have to dig his grave 5 yards back from the tombstone.
But maybe LPS is not what's gotten me so restless the week before the Cowboys game.
I think I'm twitchy because Big Blue is making me believe so damn much. You can't get this crazed, alternately ecstatic or abject, unless the team is good, unless it gives you a shard, enough evidence to whip your hopes Everest high. And so the playoff intensity of the Seattle pants-soiler invokes the playoff loss to the 49ers, the last time the Giants were in the postseason, and their epic, last-second field-goal disaster. This year's Giants are better than that team, and have a shot at the playoffs, and it's not because Petitgout has a couple more years under his belt and probably more career penalty yards than Ron Dayne gained rushing in New York.
It's because of Eli Manning. They've come from behind in the fourth quarter four times so far this year. Like they did to beat Denver. They didn't have to come from behind to beat Philly, but Eli iced it with Plaxico Burress after Mike McMahon got the Eagles close. And they not only came from behind against Seattle, Eli lasered a two-point conversion to Shockey. One of those popcorn-fart, sit-down patterns in the end zone the Tuna and his tight end Jason Witten will use against Big Blue on Sunday, because they used it successfully in the first game and the Giants are slow learners.
Except for Eli. He's a quick study. Little brothers have to be. Big brothers have very limited patience. I'm a "little brother," so I know what I'm talking about. Think of all the crap Eli had to take from Peyton growing up. Think how many times Peyton yelled. "Think fast!" and then fired bullet passes into Eli's gut so hard they left him doubled over and choking. Or how many times Peyton scoffed from the porch while Eli played out an imaginary game-winning drive in the backyard. Big brothers live to put heart-stopping challenges in the way of their siblings. It's part of their job description.
Eli, like any little brother, had to learn fast. He earned that poker face of his. Be a stoic. So it won't look like you're bawling to mama, because that only gets you another Indian burn or a knee in the thigh. Or dangled out the window. But if little brothers can survive, they find out there's a much nastier payback you can inflict on the big brothers of this world than telling mom. Little brothers can grow up to be rattlesnakes.
And now the Giants have a poker-faced little brother with an ice pick for an arm. Who strikes fear when the clock is ticking loud and they break the huddle with the length of the field to go. Other than having a defense you know can't be scored on, there's no better card to have in your hand or to help your Luke Petitgout Syndrome.
So let the restorative, midweek gush of hope run. They lost to the NFC's so-called best team, Seattle. But who was the better QB on the field, Manning or Matt Hasselbeck? Answer: Manning. He wasn't "throwing" passes, he was "unleashing" them. If Hasselbeck ever wins a Super Bowl, I'll eat my Prius, part by part.
Which running back, Shaun Alexander or Tiki Barber, gained more yards? Answer: Tiki. Who had the better defense, the Giants or the Seahawks? Answer: the Giants. Osi Umenyiora made Seattle's Mr. Perfect, tackle Walter Jones, look like a drunk searching for a signpost to hold onto in a strong wind.
Just don't ask who had the better kicker. That's why the Seahawks won. That and because Hasselbeck didn't guarantee an overtime victory the way he did against Green Bay in the playoffs two seasons ago.
My Big Blue voodoo tells me to be glad we lost. A loss puts the Giants in better position, even though it drops them to 7-4 and tied with Dallas. Better two guys 20 paces apart in the bar and one gun on the floor between them than trying to protect a one-game lead against the wiles of Parcells. When you've got a one-game lead, you're nursing something, and the Tuna grows fat on vulnerable nurses.
This is going to be the Tuna's last big game at Giants Stadium. And he's going to lose it. And be left wearing that face of his. You know the one, that tight-lipped, lemon-sucking grimace that puckers his mouth. The one Parcells made when a 240-pound Thanksgiving turkey named Ron Dayne reared up on the platter, hopped down onto his drumsticks and waddled 55 yards in overtime to help Denver beat Dallas.
The Tuna's going to be wearing that face on Sunday. And I'm not saying that just because I asked my daughter's pink-and-green electronic fortune-telling ball if the Giants would win and it said, "You got it, Dude."
They are going to win because Eli Manning is ready for this shootout.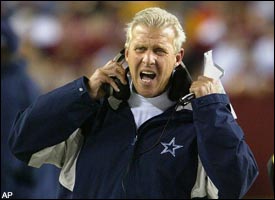 Coaching a big game at Giants Stadium is nothing new for The Tuna.
When I was 11, the Giants were faced with a crucial late-season game at home against the Steelers. The Steelers of John Henry Johnson and Buddy Dial who brought hell with them to the line of scrimmage each snap. I couldn't get tickets, and the game was blacked out for 75 miles in those days, even though it was a sellout, like usual. So I somehow sold my neighbor Bruce Landau's father on the idea of driving way out on Long Island to catch the game in a bar. I think I promised I'd help with Bruce's homework.
We journeyed way past where I'd ever been before. And pulled up to a clam bar by the docks. The proprietor let two 11-year-olds sit there, because there were very few patrons around in the middle of a Sunday afternoon. Their lack of zeal for something I felt so passionate about baffled me.
We watched the game there, sharing one plate of soggy fries and a Coke. My friend's dad grew bored and wanted to leave early, because the reception wasn't reception at all. It was just a blur of lines and ghostly shadows and blips and hissing, horizontal waves. You really couldn't see anything.
It was nothing like a sports bar today, with plasma screens plastered at every angle. This was just a black-and-white set with a pair of brown rabbit-ear antennae, which, no matter how the barkeep adjusted them, brought in just that blur. In fact, maybe all I did was listen to the game on the TV and watch two fat guys in front of the bar re-enact the play-by-play for me.
But sometime late in the gray afternoon, a ghost wearing No. 16 reached way back behind him for a pass, hauled it in and tumbled to the ground with a first down. Gifford and the Giants went on to win that game. And I went home reassured by a special glimmer two lousy rabbit ears couldn't fail to catch on the cheap tube.
It was the moment at the very beginning of the game, when the Giants' offense broke the huddle and came to the line for the first play. Gifford. Big Red. Rosey Brown. Joe Morrison. From the dark caverns of the steeply decked Yankee Stadium a roar showered the field. It was something different from the chanted chorus of "dee-fense." And also unlike the more frenzied cheering after a score or even a win.
Before it all starts, before it all begins to get broken apart by hurt and fumbles and bad luck or arbiters' decisions or the occasional superior Úlan of the opposition, before it has all started to be lived and worked out to a running-down clock, there is this communal howl of a faith that has been neither rewarded nor punished by anything yet. It is an innocent, heartfelt, proud, loving prompt. It is unspoiled and not even greedy. It is hope.
So, God willing, I'll be among that home crowd Sunday when Eli brings them to the line for the first time. Hope seems rarer to come by the longer you live. It's not that the hope is weaker, it's that you are. So its summoning, pretty much over anything, is something to value, and one a man, however grown, is best advised to seek out. A place where the stat sheet's blank. And everything's before you. The way it was when I was 11, and sometimes can be still.
There are those blue jerseys out on the field.
And Eli, the little brother, looking over the line.
Roger Director was a producer and writer for "Moonlighting" and has written for other TV series. He still hates Chuck Bednarik.
Roger
Director
THE MEN IN BLUE