By Eric Neel and David Schoenfield
Page 2
Here's what two obsessive baseball fans dream up as we reflect on a first half of surprises, a second half of unknowns, Triple Crown numbers and an ancient warhorse spinning a 1.48 ERA.
We dream up a new game: two teams, 15 players each, 30 players total -- one from each major-league franchise. We take turns drafting our 15-man rosters (nine regulars by position, including a DH; four starting pitchers and two relievers). So if you draft, say, Derek Jeter of the Yankees, no more Yankees can be selected. Every team gets represented, but you have to correctly fill out your roster.
Here's the caveat: This is your team for the next five years. So you don't want to draft too many old players and you have to be careful about too many fragile players. Oh, one more rule: Salaries don't matter.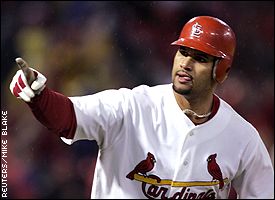 Albert Pujols was the No. 1 pick in the dream draft.
Hey, it's our dream game, right?
David: OK, E. Let's go. I get the first pick, you get the next two, and then we alternate the rest of the way.
I know he doesn't play a premium position, but I'm taking Albert Pujols, the best hitter in the game. He's young, durable, consistent, and scares the crap out of opposing pitchers. He has forearms made from steel and I want a guy to build a lineup around, a guy who can go .330-40-120 every year. Did you know from All-Star break '04 to All-Star break '05, Pujols led the NL in batting average, home runs and RBI?
Eric: That's all well and good, but still, you have to deal with the fact that he's saddled with a name perfectly suited for bathroom humor punch lines. If you're good with that, I guess he's a decent pick.
David: You can make all the jokes you want as Albert jogs around the bases.
Eric: Miguel Cabrera and Johan Santana. I could trot out a bunch of numbers to justify Santana, but I'm not going to do that, because you know the numbers and you dream about the numbers and you wish, the way a man in the desert wishes for a puddle of rain, that the numbers were for you instead of me. But numbers aside, my thing with Johan is this: He can pitch. He isn't just blowing guys away (though he is surely doing that), he's also toying with them on changes of speed and almost computer-calibrated location. All of this means we're likely to see him maintain his high level of performance, I think, because it isn't a straight physical gift that might one day up and leave him, like a flighty girlfriend who suddenly got a better offer.
As for Cabrera, let's see … .298/.362/.517 career, with 62 home runs and 236 RBI in two seasons' worth of work and he's 22 years old. He's the one offensive player I wanted more than any other going into this thing, and that includes Albert Pie Hole.
David: Why are you jumping on Albert? You won't see me ripping on Johan or Cabrera (I'll save that for your later picks). I'm just going to throw this out at you: Pujols, .337/.423/.594; Cabrera, .333/.388/.571. Yes, your guy is a few years younger, but Albert isn't exactly on the Larry Walker retirement watch at 25 years young. Here's why I think Pujols will be the better hitter over the next five years: 44 walks, 36 K's. Your guy has 30 walks and 67 K's.
Eric: I can't believe you're taking my Albert swipes seriously. If you don't see them for the fronting that they are, just a lot of noise to mask my pain and envy, then you're just not looking. And if you're biting on cheap, scatological mocking of your best player, then I can't wait to take shots at the, uh, bottom half of your lineup.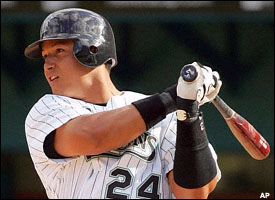 With his first pick, Eric Neel selected Marlins slugger Miguel Cabrera.
David: My next pick: Alex Rodriguez. Maybe third base. Maybe shortstop. I'll leave you wondering for now. Sure, he turns 30 in July, but you can expect five more years of greatness from him.
Eric: This and Albert makes you the leader in the clubhouse in the All-Metrosexual derby.
David: Such negativity, my friend. You dress well, you play well. You look good, you hit good.
Eric: Ties on game day for the Schoenfield squad, I trust?
David: You better just worry about your next pick there instead of our team dress code.
Eric: My next pick is Mark Teixeira. I like that his nickname is Tex and he plays in Texas. I like that he's a 25-year-old switch-hitting monster masher, and I like that he's surrounded by a bunch of other young boppers that will make it hard for pitchers to avoid him for years to come.
David: Nice pick. You're happy with that, I know, but I'm about to make you sad: Jake Peavy, 24 years old, 124 K's in 111 innings at the break. I know you love his nasty stuff. He's my ace.
Eric: Now it gets ugly.
David: Kind of like the L.A. press and their treatment of Paul DePodesta?
Eric: No, not that ugly. You and I are still friends, at least for another pick or two …
David: Quit stalling. Who you taking?
Eric: Ben Sheets, vertigo and all. Johan from the left, Ben from the right. Read 'em and weep, baby … David: Well, you want vertigo, I'll give you some more vertigo. How could you pass up Miguel Tejada? He'll make Ben dizzy. I'll slide A-Rod over to third base, thank you very much.
Eric: Let's see, you have an old man at short (wheels coming off next year, the year after?), and a guy playing out of position (.954 fielding percentage so far this year). I'm cool with that.
Seriously, though, Miggy's a great pick. My tendency, though, is toward the younger legs. And though he's not using them this year, I have to believe he will in the years to come … so give me Carlos Beltran, and take the Mets off the board (bye-bye Pedro, David Wright, Cliff Floyd and Mr. Met).
David: OK, I have to admit … my original plan was to go A-Rod at short, and go Wright at third. But I couldn't pass on Miggy, even though his OBP (.373) isn't quite world-class status. Still, it leaves you hurting for a shortstop.
Eric: I like your Miggy pick, and I wouldn't be at all worried if I were you about how old he is or anything. Really, he'll be fine. In the meantime, I'm chalking up Beltran's rough first half to a tweaked hammy, and figuring that the best is yet to come. Am I swayed by the postseason performance last fall? Most definitely.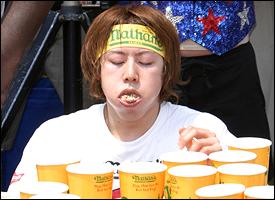 'Hope you don't mind if I take another look at dinner, dear.'
David: Beltran can play, and I'm with you on the hammy -- he'll have a big second half -- but I can't believe you passed on Wright considering you still have third base open. Heck, I can't believe I passed on Wright. Just wait until he grows up and starts collecting All-Star spots and MVP trophies. Anyway, for my next pick I have to go Vladimir Guerrero. I had my doctors check him out and they say his back will be fine.
Eric: Your doctors are the same ones who help Doug Mientkiewicz with his stretching routine, I trust … OK, after Vlad, which takes K-Rod and Dallas McPherson off the board, and speaking of doctors, I'm going to go with Marcus Giles, who I hope and pray will one day learn a little more plate discipline, and will help me convince his brother Brian to come along some time down the line and be our hitting coach.
David: I have to go with Big Adam Dunn. We're changing his first name to Big. Because he's a big power hitter with a big lefty bat to help balance out my dream team of righties. And I'm thinking I can get some pitchers with my next picks.
Eric: I love Dunn. Great call. I wouldn't worry about the pitchers. You'll be fine. Let's see … umm … I'll take … Mark Prior.
David: All I can say is … $*&$#! … give me Rich Harden and his 23-year-old slingshot right arm and 2.53 ERA and .207 batting average against.
Eric: Nice recovery. Harden's got about the best on-the-hill look of any pitcher going. He "looks" like a pitcher, like he'll never get rattled. He almost looks as good as, well, Mark Prior, actually.
David: And he's not pitching for Dusty Baker.
Eric: True enough; can I get in trouble in this theoretical exercise, for theoretically taking out a contract on a theoretical Dusty Baker? David: Unfortunately, sort of like "War Games," you don't have complete control over even a theoretical exercise.
Eric: You're scaring me a bit, the way "Eternal Sunshine of the Spotless Mind" scared me. Anyway, as insurance against what Dusty might do to Prior, and what I might do to Dusty, give me Roy Oswalt.
David: OK, now that you have all your starting pitchers, I'm thinking of blocking you at other positions. I know he's not hitting like he did last year, but he's just 26 and he's been raking better of late. I'm taking Victor Martinez as my catcher.
Eric: Bold move, my brother. Did you think at all of Travis Hafner here for your DH?
David: I love Travis Hafner. He's on my fantasy team and helped me win the first-half title (take that, Eric Karabell!). But I'm looking around and I don't see any young catchers who make my heart skip a beat, so I'm going with Victor, and although Hafner would have fit nicely at the DH slot, now you don't get him, either.
Eric: I hate to be too reactive but, like in fantasy, and in life, catchers are precious. I keep the early Mike Piazza in a lock box, actually. In the here and now, and in the years to come, put Brandon Inge on my roster, please.
David: Very tricky, young Skywalker. Inge can play catcher and he's learned how to hit and draw some walks. And, by chance, you weren't thinking "I'll take Brandon Inge and screw Schoenfield out of Jeremy Bonderman at the same time," were you? No worries. There's this right-hander named Roy Halladay still on the board.
Oh, and while it seems like he's been around since Cito was still managing the Jays, he just turned 28.
Eric: The Bonderman element was just a bonus, like when Sheila E sat in with Prince's band back in the day.
Because I like the old "buy-low" approach, and because he's only 26, and because I don't believe in the "contract year" phenomenon, and because I think he's coming around (ironically, thanks to a tight hammy that's keeping his head in) … Adrian Beltre.
David: Well, that kills my plan to take M's phenom Felix Hernandez for my fourth starter. I'm looking at my team, and I need a center fielder, so I'm going with Carl Crawford, who we both know has the speed to run 'em down there even though Lou usually plays him in left.
| | | | | | | | | |
| --- | --- | --- | --- | --- | --- | --- | --- | --- |
| Pos. | Player | Age | Team | HR | RBI | AVG | OBP | SLG |
| C | Brandon Inge | 28 | Tigers | 7 | 38 | .283 | .368 | .435 |
| 1B | Mark Teixeira | 25 | Rangers | 25 | 73 | .290 | .362 | .568 |
| 2B | Marcus Giles | 27 | Braves | 7 | 31 | .304 | .384 | .469 |
| SS | Clint Barmes | 26 | Rockies | 8 | 34 | .329 | .371 | .516 |
| 3B | Adrian Beltre | 26 | Mariners | 9 | 44 | .261 | .302 | .404 |
| LF | Jason Bay | 26 | Pirates | 16 | 44 | .299 | .384 | .546 |
| CF | Carlos Beltran | 28 | Mets | 10 | 44 | .266 | .321 | .434 |
| RF | Miguel Cabrera | 22 | Marlins | 17 | 62 | .333 | .388 | .571 |
| DH | David Ortiz | 29 | Red Sox | 21 | 75 | .314 | .396 | .585 |
| Pos. | Player | Age | Team | W-L | ERA | IP | H | SO |
| SP | Johan Santana | 26 | Twins | 7-5 | 3.98 | 124 | 105 | 143 |
| SP | Ben Sheets | 26 | Brewers | 5-6 | 3.41 | 87 | 79 | 77 |
| SP | Mark Prior | 24 | Cubs | 5-3 | 3.41 | 74 | 56 | 77 |
| SP | Roy Oswalt | 27 | Astros | 12-7 | 2.39 | 135 | 118 | 95 |
| RP | Chad Cordero | 23 | Nationals | 2-1 | 1.13 | 47 | 37 | 42 |
| RP | Merkin Valdez | 23 | Giants | minors | | | | |
Eric: Geez, you took the Devil Rays off the board! I don't know if I can recover from that. Seriously, I had dreams of B.J. Upton at short.
David: Well, that is a dream. The kid has 29 errors in Triple-A last time I checked.
Eric: Thanks for sparing me that. Big Papi.
David: I'm jealous. I'm thinking I should have taken him over Crawford. Well, Big Papi wouldn't look too good in center. Anyway, for my next pick I'm taking Chase Utley. Very underrated second baseman. Oh, and a Jimmy Rollins block. Your shortstop pool is shrinking quicker than Boston's lead over the Yankees.
Eric: You should get bonus points for the name alone: Chase Utley. That's the stuff of turn-of-the-century baseball glory if I've ever heard it.
My shortstop pool still has Clint Barmes swimming around in it.
David: Is that your pick? That's all you got? Some rook who had a hot two months and then fell down some stairs? Because that leaves me Mr. Mark Buehrle, who never met a strike he couldn't throw or a sore arm that will prevent him from making a start the next five years.
Eric: Listen, that was some heavy deer meat, that could have happened to anyone … and besides, what are the odds Clint and I have to endure that kind of thing again? Very low, I'd say. But Buehrle's a great pick. He's a master of the cheap babysitter game: two hours and change. Who's left? Pirates and Royals, Nationals, Dodgers, D-Backs and Giants. I'll take Jason Bay.
| | | | | | | | | |
| --- | --- | --- | --- | --- | --- | --- | --- | --- |
| Pos. | Player | Age | Team | HR | RBI | AVG | OBP | SLG |
| C | Victor Martinez | 26 | Indians | 9 | 35 | .236 | .312 | .380 |
| 1B | Albert Pujols | 25 | Cardinals | 22 | 69 | .337 | .423 | .594 |
| 2B | Chase Utley | 26 | Phillies | 11 | 40 | .303 | .390 | .504 |
| SS | Miguel Tejada | 29 | Orioles | 19 | 62 | .329 | .373 | .604 |
| 3B | Alex Rodriguez | 29 | Yankees | 23 | 72 | .317 | .416 | .582 |
| LF | Adam Dunn | 25 | Reds | 23 | 52 | .239 | .384 | .550 |
| CF | Carl Crawford | 23 | Rays | 9 | 48 | .284 | .315 | .440 |
| RF | Vladimir Guerrero | 29 | Angels | 16 | 51 | .335 | .388 | .584 |
| DH | Troy Glaus | 28 | D-Backs | 19 | 53 | .256 | .354 | .513 |
| Pos. | Player | Age | Team | W-L | ERA | IP | H | SO |
| SP | Jake Peavy | 24 | Padres | 7-3 | 3.14 | 111 | 90 | 124 |
| SP | Rich Harden | 24 | A's | 5-4 | 2.53 | 67 | 52 | 58 |
| SP | Roy Halladay | 28 | Blue Jays | 12-4 | 2.41 | 141 | 118 | 108 |
| SP | Mark Buehrle | 26 | White Sox | 10-3 | 2.53 | 136 | 130 | 85 |
| RP | Eric Gagne | 29 | Dodgers | 1-0 | 2.70 | 13 | 10 | 22 |
| RP | Andy Sisco | 22 | Royals | 1-2 | 2.72 | 43 | 33 | 45 |
David: Nice pick at this stage. My next choice may surprise you: Eric Gagne. We're not talking this year. We're talking the next five years, and if he's back healthy, he's the best closer in the game.
Eric: I want Chad Cordero for the next five years -- mostly because he's got that goofy look about him that I just have to have on my club, and partly because, well, he's a save machine.
David: I know what you're thinking: Why Gagne over Cordero? Because I'm just wondering if you remember Bobby Thigpen.
I need a DH, so I'm going with Troy Glaus of the D-Backs. I know they've got a couple kids in the minors in Conor Jackson and Carlos Quentin who are big-time prospects, but Glaus is healthy and mashing some bombs.
Eric: I'm going off the board for my last pick, and I'm doing it based on a hunch, and a very impressive spring training session I saw him throw down in Scottsdale earlier this year: For the future, for the chance to have someone come into something they aren't yet, and for that old magic called hope, I select pitcher Merkin Valdez of the Giants.
David: Well, I can't say I blame you for skipping over the Royals. I guess I'll finish our little experiment with that big lefty kid, Andy Sisco. I've never seen him pitch because, well, I haven't watched a Royals game this season, but I hear he's real tall and has some mean stuff and I can see that he's averaging 9.42 K's per nine. So he's my second reliever. I'll use him to face Big Papi.
Eric: Big Papi and I can't wait. Speaking of which, how long till we run the simulated series, brother-man?
David: We'll have to figure that out. But here's a prediction: I take the series in 6.