By Wayne Drehs
ESPN.com
GREELEY, Colo. -- In a 10-minute speech to every coach, athlete and athletic administrator at the University of Northern Colorado last week, school president Kay Norton preached, "We are not cheaters. We are not criminals. We are not racists." And then, in her closing comments, she went one step further.
"So who are we?" Norton asked. "We are the University of Northern Colorado Bears." She wasn't done. "We are the good guys." The affirmation might have been laughable if it wasn't, at the same time, necessary. It hasn't exactly been a smooth eight months for the school's football program, a group Norton openly refers to as the "front porch" of the university. Since last spring, when a Bears receiver allegedly pulled a knife on another player, the team has been in the news for a series of unsavory developments that include two other altercations involving football players (one of which allegedly involved racist comments) resulting in arrests, an illegal practice for which two assistant coaches were suspended and the highly publicized stabbing of punter Rafael Mendoza, allegedly at the hands of a teammate who has been charged with attempted murder. And so Norton's speech was intended, in part, to address the question being posed by many: Has Northern Colorado's football program spiraled out of control? Is it the "Miami of the North," a term head coach Scott Downing admits he's heard people use to describe his Bears? Norton, Downing and several players predictably resist that suggestion. They say no bigger theme of widespread bad behavior is in play on campus, and that this year's problems stem from nothing more than poor decisions by individuals who are struggling with the team's transition from Division II to Division I-AA, and from one coaching staff to another. But the record makes others wonder. Consider, dating back to last Feb. 23, the eye-opening details: • At a party last February, according to players and coaches, Kurt Hout, a defensive end, hit teammate Cory Sleeth over the head with a bottle, and Sleeth responded by pulling out a knife. Though the weapon was wrestled away, Sleeth and two teammates smashed the windows of Hout's car after they left the party. A police report was never filed and no arrests were made, but Sleeth, Hout and two other Bears were thrown off the team. • In early October, senior defensive lineman Jacob Carlson, one of the team's co-captains who grew up in Greeley, was arrested for his involvement in a fight at an area bar and grill. Carlson, who later admitted he was intoxicated, reportedly told a Latino man, "I don't like Mexicans." That hardly sat well in Greeley, a city of 90,000 whose population is 30 percent Hispanic. • On Oct. 15, according to police reports, backup fullback Garrett Bliss was arrested for assault after he allegedly attacked fellow student Sean Belfiore. Bliss told police that Belfiore had been sending sexually suggestive text messages to his girlfriend. Teammate Clinton Wright was also cited for placing a phone call that lured Belfiore out of his apartment, where Bliss and other football players were waiting. • Last spring, offensive coordinator Chad Brown held an unauthorized offseason workout that included footballs, a secondary violation under NCAA rules. The school self-reported the violation to the NCAA and suspended Brown for a week. Two other offensive assistants were also suspended for one game. Downing, who several sources said knew nothing of the practice, received no punishment. • Five games into the season, defensive line coach Craig Robinson left the program. University officials say he resigned. Robinson has a different version of events, insisting he was terminated after he voiced concerns to defensive coordinator Cody Deti about the unauthorized practice. • Shortly after the first game, the school discovered that an ineligible player had been allowed to take the field for an onside kick return -- a glitch characterized as a "miscommunication" between the coaching staff and the administration. The university self-reported that violation, too. • And in the most visible incident, the Weld County District Attorney charged former walk-on punter Mitchell Cozad with attempted first-degree murder in the Sept. 11 stabbing of teammate Rafael Mendoza. Cozad was to appear in court on Monday.
"They're isolated incidents. But as you string them together, you can literally say, 'Wow. What in the world is going on there?' I understand that. But if Rafael doesn't get stabbed, no one is here asking these questions."
-- Northern Colorado coach Scott Downing
Downing and his superiors know things don't look good. But they insist the program isn't nearly as out of control as it might seem. "They're isolated incidents," Downing said. "But as you string them together, you can literally say, 'Wow. What in the world is going on there?' I understand that. But if Rafael doesn't get stabbed, no one is here asking these questions. That incident just put the spotlight on us. "I think the person that is in the know, the person who has been around our program, they understand these are the growing pains we're going to go through." Poor publicity
Four years ago, when university trustees made the decision to jump from Division II to Division I-AA, increased visibility was the goal for this school of 12,000 students located a little over an hour's drive north of Denver. But this kind of visibility is hardly what they had in mind. Reed Doughty is one of the school's most visible alumni. A rookie safety with the Washington Redskins, Doughty is a former I-AA All-American and was a finalist for the Daddy Trophy, known as the academic Heisman. But as he walks into the Redskins' locker room these days, proudly displaying the name of his alma mater on a sweatshirt, he gets a different reaction from teammates than he did a few months back. "They never knew where I went to college," Doughty said. "'Northern where? Northern Arizona?' Now they know. They tell me, 'Hey, isn't that the school where the punter got stabbed?' "It's kind of embarrassing, to be honest. I'm still proud of my school, but that's not the reputation you want. I'm glad I'm not part of it." Northern Colorado isn't the first school to experience transition problems in the jump from Division II to I-AA, but the team's current struggles appear to be more troubling than those encountered by most schools. The team has won only once in its first nine games this year, and school administrators are wrestling with the switch in expectations for a football program and an athletic department that might result in teammates pulling knives on one another, or coaches holding unauthorized practices. "I don't know," Norton, the university president, said, "other than we have higher visibility. And because we are raising the bar in terms of behavior, you're going to have people who aren't going to clear that bar." In the late '90s, Northern Colorado won a pair of Division II national championships. But several current and former players sheepishly admit that, in recent seasons, behavioral expectations sank. Despite the same "no bar" policy that still exists today, it wasn't unusual, many said, for coaches to drink with players. One player in particular, they said, needed an assistant coach to pull him out of a bar almost every Wednesday night, known on campus as "Wasted Wednesday."
"It's kind of embarrassing, to be honest. I'm still proud of my school, but that's not the reputation you want. I'm glad I'm not part of it."
-- Redskins' rookie Reed Doughty
There were smaller issues, too, such as a no-chew policy for players that some said coaches themselves didn't follow. "In the past, a lot of guys were pretty much just interested in drinking, fighting and playing football," said one Bear who asked that his name be withheld. "And people looked the other way. But now, that's changing." Kay Dalton, the head coach at Northern Colorado during 2000-05 and an assistant under former head coach Joe Glenn for 12 seasons before that, scoffs at such claims, insisting his program was built with "character guys." But some of Dalton's recruits, such as Carlson and Bliss, have found themselves in trouble under Downing. "When I was there, these were high-class people," Dalton said. "I had one fight. We didn't have these problems that they're having now. These kids came from great families. I don't understand it. I stutter and stutter and stutter trying to explain what's happening." Changing a culture
Before he stepped foot in Greeley, Downing was a 20-year Division I assistant at Nebraska, Wyoming and Purdue. In his interview with Norton, she asked him to identify the first characteristic he wanted in a recruit. His answer? Character.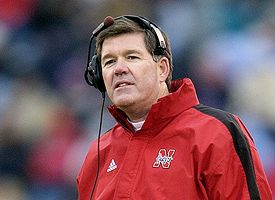 Scott Downing, a former assistant at Nebraska, imposed new rules on the Northern Colorado football players when he became the Bears' head coach. Some players struggled to adjust.
When Downing stood before his new football team for the first time last winter, he said he was shocked to see players wearing headphones, sunglasses and backwards baseball caps.
Before the season, he invited the district attorney, the chief of police and several drug and alcohol experts to speak with the team about making the right choices. As part of the team's clothing contract with New Balance, Downing arranged for each player to have a suit to wear on road trips. He instituted a no-clogs policy and a rule stipulating that players could wear only Northern Colorado hats on the road. Yet on the first road trip, there were players in clogs and guys wearing Lakers hats. Mendoza, the junior punter, said players struggled to adjust to several of Downing's rule changes, such as not leaving the hotel on the road without a coach, or not swimming in the hotel pool the night before a game. Norton said Downing's rule changes brought forth the program's first zero tolerance policy about behavior. It hadn't been a free-for-all in the past, Norton insisted, but she said Downing has taken behavioral expectations to another level -- a Division I level. And yet, the program has suffered through all this. "It's my responsibility to run the program, and ultimately, people are going to look at what I'm doing," Downing said. "But I'm going to tell you this: I've only been here eight months. I don't have a magic wand." Now, a tumultuous eight months after he arrived, Downing believes his team is finally turning the corner. Despite a 1-7 record in the team's first year in the Big Sky Conference, he said players appear to be taking ownership of the program. When something goes wrong on or off the field, teammates are challenging one another -- in a good way -- to improve, according to the coach. He and Norton are confident that as time goes on, the program's culture will continue to change for the positive. It can't get much worse. These are, after all, the "good guys."
Wayne Drehs is a senior writer for ESPN.com. He can be reached at wayne.drehs@espn3.com.