By Gregg Easterbrook
Special to Page 2
A while back when I was writing for NFL.com -- I learned so much football hanging around NFL guys that now I practically know what I'm talking about -- I asked a Powerful League Insider what was next in football promotion. Without hesitation he answered, "High school." High school football, he explained, was still pure. The pro version of the sport is excellent, but few can empathize with millionaire players and owners who whine nonstop. The college version of the sport just gets better and better, but cynicism just gets worse and worse about football-factory schools where "student"-athletes major in Fitness Center Towel Service Management. By contrast, high school football is untainted. There's almost no money involved. Boys who aren't super-ultra-gifted can play, and girls now sometimes play. Plus far more people experience football either as players or spectators at the high school level than in college or the pros -- it is estimated that about 225 million tickets were sold to high school football games in 2005, versus 17 million tickets for NFL contests. The marketing of high school football, the Powerful League Insider told me, is the next frontier.
FRIDAY NIGHT LIGHTS
NBC's new series about high school football, "Friday Night Lights," debuts tonight at 8 p.m. ET. The show has been receiving early critical praise, and Page 2 recently sent Mary Buckheit to the set in Austin, Texas. Be sure to check out her search for the mojo of Texas high school football next Tuesday.
Verily, he spoke sooth. Tonight is the debut of NBC's high school football series, "Friday Night Lights," and the initial reviews are glowing. For sheer cinematography, Nike's Briscoe High football commercial is the most impressive advertisement to run on television in years. MTV has a football reality show about Hoover High in Alabama. Sports-equipment manufacturers have begun to sponsor football programs at high-profile high schools; McDonald's recently sponsored a high school football tournament. Enthusiasm for football is soaring even at academic prep schools -- last Friday my teenagers' academics-oriented high school played its homecoming game before a record crowd of 3,000 people. And ESPN is broadcasting a slate of high school football games this fall.
To a point, this is good. High school football is the most human-scale version of the country's most popular sport, and attention ought to be paid. You can attend a high school game without vast expense and hours of traffic jams and logistics. Your friends and neighbors are there. You can cheer for the roughly 1 million boys and 1,000 girls who play high school football each year. I attend far more high school football games than college or pro games, in part because I'd usually rather attend a high school game, whether my kids' team is playing or not. There's something about the dusk sky over a high school football stadium full of kids and their dreams. There's no finer sound than the drums of the marching band echoing off the hill during a high school game. There's a glorious taste of youth and promise to burgers that were grilled by the booster club and have been sitting in the PTA steam tray for hours. And at high school games you don't pay for parking! In terms of offering an accessible sports experience, high school football beats the pros and college handsdown. Plus some of the games are really well played.
Nike
Hmm, wonder what the average GPA is for the Briscoe High starting lineup?
Yet shining the promotional spotlight on high school football because it's pure might succeed in ending the purity. Do we really need corporate sponsors muscling into high school sports? Having the local insurance broker or Italian restaurant buy a banner for the stadium is one thing; having multinationals descend is another. Corporate sponsors and ESPN cameras crank up the pressure on kids, adding excitement but subtracting innocence. Their youth and innocence will be gone soon enough. Why speed this up?
National focus on high school football only makes worse the underside of the subject, namely the hurt feelings of those who don't make the team. Playing high school sports is a wonderful experience, bringing satisfaction and instilling in many kids work habits and team awareness that will serve them well later in life. But except at small rural high schools, only a minority can make the prestigious sports rosters. For every player on a high school football team, there are 10 other students who were cut and still haven't gotten over it, or through no fault of their own never had the size or athletic ability to try out in the first place. Millions of high school kids resent the jocks with their embroidered varsity jackets and the cheerleaders with their impressive squad sweaters. Millions receive a subtle and wholly unfair message of inadequacy as the favored of the sports and cheerleading teams glide by in the halls. The more the promotional spotlight shines on high school football, the worse the leftout are likely to feel.
Then there are the skewed priorities brought on by the quest to win. Many high school players are spending far too much time in the weight room as opposed to the library, and are too tempted to use steroids and HGH to get big. Even high school players gaining weight naturally are asking for future medical problems -- the 285-pound offensive lineman, once rare in the NFL, today is common in high school. Parents are pressured to pay for private trainers and even high school combines. As high school sports become win-at-all-costs, priorities go out the window.
School system priorities become skewed, too. In his new book "Air Ball," John Gerdy, a professor at Ohio University, notes one reason so many high schools have shifted to pre-8 a.m. starting bells is to allow plenty of after-school time, before darkness falls, for the football team to practice. Studies consistently show high school boys and girls don't learn well in early-morning classes; learning for the majority, Gerdy contends, is sacrificed to improve practice conditions for sports teams. Budget priorities are skewed. "Air Ball" says that in New Jersey, high schools spend from 60 to 95 percent of their extracurricular-activity budgets on sports, despite only about a quarter of students being on junior varsity or varsity teams. Skewed school priorities might afflict in other ways. Here, Eli Saslow and Josh Barr of the Washington Post detail the case of a Maryland high school football star who was arrested last spring for armed robbery. His principal wanted to expel him; instead the school system moved him to a new high school and cleared him to play football, which he's doing right now. A local judge agreed to postpone his trial until the week after the high school football seasons ends, and gave him permission to leave the state to visit Ohio State, which is said to be recruiting him. Of course, everyone is innocent until proven guilty, but the boy in this case had a prior conviction for credit card theft. In the Post article, the boy complained on the record about how the arrest spoiled his summer vacation and said of the armed-robbery charge, "If this drags on … it might mess up getting to [college] and getting started with football." What kind of message do high school systems send when an armed robbery charge means nothing if you're a football star?
Kevin Terrell/WireImage
At this rate there will soon be an actual high school named after Marlin Briscoe.
Now let's contemplate the Briscoe High commercial. It's magnificently done, though TMQ wonders whether it was all filmed, or were the faces of the football celebrities -- Matt Leinart, Troy Polamalu, Don Shula, LaDainian Tomlinson, Michael Vick and Brian Urlacher -- digitally inserted? Reader Stephen Peelor of Culver City, Calif., says the backdrops were filmed at Roosevelt High in Los Angeles, an usually large prep school with an enrollment of 5,000. (The fictional Briscoe High's colors are red and white; the real Roosevelt's are red, gold and blue.) The school name is clever and thoughtful. Marlin Briscoe was the first African-American quarterback in the modern NFL, though he ended up spending most of his career at wide receiver, playing for Shula. That's the real Marlin Briscoe standing next to Shula in the pregame speech scene: he's the one with salt-and-pepper hair. The commercial -- watch it here -- is a tremendously made mini-drama, if implausible in football terms (see below).
But what message does Nike's commercial send? The first thing we see is Jimmy Johnson as a high school teacher with Vick, Tomlinson and Urlacher in his class. None of them are paying attention. Johnson as teacher asks Urlacher as student what happened when Napoleon invaded Russia. Urlacher has no idea, and everyone snickers. It's OK to be stupid as long as you're a football star! The implicit anti-education message sent by the Briscoe High commercial has drawn a flood of mail to the Tuesday Morning Quarterback mailbox, including one from Wesley Brown of San Mateo, California, who wrote, "This commercial presents education as a joke and football as all that matters. Nike should not be putting corporate muscle behind mocking education." Does this commercial tell us Nike as a specific company is indifferent to education, or that corporate America is about to ruin high school football by commercializing it? My fear is the latter. The Briscoe High commercial concludes, FOOTBALL IS EVERYTHING. It most assuredly is not! Football is at very best a minor aspect of high school, even for the players. Please, corporate marketers, don't labor to confuse high school educational priorities even more.
In other football news, a mere month of the NFL season has been played, yet already there are no remaining possible pairings of undefeated teams. Baltimore, Chicago and Indianapolis are undefeated, but not scheduled against each other. An undefeated Bears club could meet an undefeated Colts or Ravens squad in the Super Bowl, but since no team has ever gone 16-0 in the regular season, it seems unlikely two will perform that feat in the same season. Hope you enjoyed the Seahawks at Bears game Sunday night -- it was the last game of the 2006 season to match undefeated teams.
Stat of the Week No. 1: Baltimore and Chicago have outscored their opponents 202-62.
Stat of the Week No. 2: Oakland and Tennessee have been outscored 74-200.
Stat of the Week No. 3: From the fourth quarter of Week 3 to the fourth quarter of Week 4, NFC defending champion Seattle was outscored 6-61.
Stat of the Week No. 4: Buffalo has allowed six of six fourth-down conversion attempts by opponents.
Stat of the Week No. 5: Jacksonville had a scoring drive of minus-1 yard.
Stat of the Week No. 6: The Indianapolis Colts play their first six games in just two stadiums, the RCA Dome and at the Meadowlands. Reader stat submitted by Ben Christen of Ashtabula, Ohio.
Stat of the Week No. 7: During a stretch of touchdown drives connected by a successful onside kick, the Jets held the ball for 21 consecutive downs.
Stat of the Week No. 8: In two road games, San Francisco has given up 75 points.
Stat of the Week No. 9: In four games, Chicago has given up 29 points.
Stat of the Week No. 10: The Jets staged an 18-play, 79-yard drive that spanned 8 minutes, 11 seconds, but resulted in no points.
Mike Nowak/Chargers.com
We apologize for last week's cheesecake-free TMQ by presenting Cameron, the Trotsky-quoting cheerleader from the Chargers.
Cheerleader of the Week: Alan Kaufmann of McLean, Va., nominates Cameron of the Charger Girls, whose favorite quotation is from Leon Trotsky. You don't bump into Trotsky-quoting cheer-babes every day. The citation is, "In spite of everything, life is beautiful." If only Trotsky had lived to see Cameron's swimsuit calendar photo! According to her team bio, Cameron's hobbies are running and "trophy trucks." What is a trophy truck? Does that mean that after you've made it big, you ditch the first truck that was with you during the hard times and get a flashy, younger truck with a great chassis?
Favre Does Not Rage Against the Dying of His Light: "Imagine how Brett Favre would have reacted if coaches sent in the punter on fourth-and-5 from the opponent's 35! If Green Bay coaches did [that] to Favre, there would be a detonation so powerful it would light up screens at the National Earthquake Information Center." So I wrote two years ago in scorning a different veteran quarterback who trotted meekly off the field rather than insist on going for it as, I assumed, Brett Favre always would. Yet exactly that happened last night on "Monday Night Football." Trailing 10-9 in the third quarter, Green Bay faced fourth-and-4 on the Philadelphia 35 -- precisely the situation in which I said Favre would never leave the field. Mike McCarthy sent in the place-kicker, and Favre meekly trotted off. Forget the bad tactics by the Packers' coach. When sent in last night, Dave Rayner, the Green Bay place-kicker, was 1-for-3 in his career from beyond 50 yards, and a miss would hand Philadelphia possession at the 44. I scarcely need mention that after Rayner missed, it took the Eagles just two snaps to streak the length of the field for a 17-9 lead. I scarcely need mention that as Favre trotted off the field, TMQ wrote the words "game over" in his notebook -- from the fourth-and-4 on the Philadelphia 35 on, Green Bay collapsed, the Eagles winning 31-9. What was really striking about this play was how meekly Favre trotted off. Favre in his prime -- a close game on Monday night, fourth-and-4 on the opponents' 35, no way on Earth does Favre meekly yield to the kicking team. Last night he did just that.
Cheer-babes professionalism note: Several times in this young season, cheerleaders of various clubs have been scantily attired, yet their teams didn't win, calling into question the normal constant that equates cheerleader undress with victory. But on a hot sunny afternoon in September, any amateur can disrobe. It is when the weather begins to turn cool that cheerleader professionalism comes into play and appeases the football gods. Monday night in Philadelphia, the kickoff temperature was 59 degrees and falling, yet the Eagles' cheer-babes came out in their summer outfits, which are barely more than bikinis. Outstanding professionalism, and needless to say, the home team was rewarded with victory.
Sweet Play of the Week No. 1: Trailing Jersey/B 21-17, Indianapolis faced a third-and-goal on the Jets' 2. The Colts lined up with double tight ends; backup tight end Bryan Fletcher ran an "in" to the center of the end zone. Jersey/B defenders doubled up on Marvin Harrison and Dallas Clark, ignoring Fletcher, who had two receptions coming into the game. Peyton Manning sprinted in reverse all the way to the 15 before heave-hoeing off his back foot to Fletcher for the touchdown. Reaching the goal line and then throwing to the guy who never gets the ball is always sweet. Cautionary note: Both Manning brothers love to heave-hoe off the back foot while fading backward, but often this action means trouble. Counting only meaningful games -- that is, disregarding late-season contests when they had already locked up their best playoff seeding -- the Colts have won an incredible 25 consecutive regular-season games. The Colts also have lost seven of their past 10 postseason games.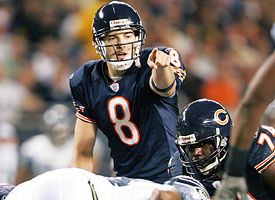 Larry Maurer/WireImage
Rex Grossman has looked excellent so far for Chicago.
Sweet Play of the Week No. 2: Seattle led 3-0 and Chicago faced a third-and-8 on the Blue Men Group's 9. Seattle came out in a nickel -- the Seahawks' defense spent much of the game in nickel or dime looks, and the dime has not been played much against the Chicago Bears in recent memory. The Bears lined up trips left. The inside man went right, the middle man ran a buttonhook and Muhsin Muhammad ran a Z-in (zed-in to Canadians) and was uncovered for the touchdown. The Chicago offensive line played well throughout this contest, granting Rex Grossman ample time to scan the field. All quarterbacks suddenly become more talented when they have time.
Sour Play of the Week No. 1: Carolina led 21-10 with two minutes remaining, the United States Saints were backed up on their own 14, yet the Cats' defenders nevertheless let Marques Colston get behind them for an 86-yard touchdown reception that allowed New Orleans to pull within 21-18. The game is almost over, where oh where might the pass go? Maybe up the field!
Sour Play of the Week No. 2: DeAngelo Hall got his third interception of the young season for Atlanta -- and for the second time, he held the ball high and waved it around as he ran. The football gods cannot let this go unpunished. Atlanta rushing update: Three different Falcons rushers outgained Cardinals star tailback Edgerrin James. Atlanta leads the league in rushing, averaging a phenomenal 234 yards per game. Can this be sustained? New Orleans shut down the Falcons' running game by putting eight men on the line and daring Michael-Mike Vick to throw. An eight-man front also nullifies the modified sprint-option Atlanta has been using, because in that scheme the defensive end does not need to decide between the fullback and the quarterback, the defensive end always takes the fullback. Inexplicably, Arizona mostly played a passing defense against the accuracy-challenged Vick, allowing the Falcons to run the ball. Expect Atlanta to see more eight-man fronts as the season progresses.
Sour Play of the Week No. 3: Leading Baltimore 10-7, San Diego faced a third-and-1 at midfield late in the first half. The Bolts came out in a power set with LaDainian Tomlinson as a deep-set back. At the snap, Philip Rivers fired the ball overhand, as if he was passing, to Tomlinson behind him. This pass-like lateral traveled so far backward that Tomlinson took the ball seven yards deep in the backfield, and ended up losing three; San Diego punted. When you need one yard for a first down, why are you firing the ball seven yards backward?
Sweet 'N' Sour Play: With Chicago leading 13-3 late in the first half, Ricky Manning made a sweet tipped-to-myself interception that set up a touchdown and turned the contest into a walkover. But it was sour that Matt Hasselbeck heaved a crazy pass into triple coverage. Seattle was only trailing by 10 points, and is a high-scoring team. The down was third-and-15, and often quarterbacks force the ball into coverage on long-yardage downs. Hasselbeck should simply have thrown the ball out of bounds. Note: From the last stanza of the Seattle-Jersey/A game to halftime at Chicago, Hasselbeck threw four interceptions in three quarters. And what was Hasselbeck doing still on the field once Chicago led 34-6?
In Tonight's News, Nationalists Overrun China. But First, This Breaking Terrell Owens Story: Last week Terrell Owens made the front pages of many newspapers and this Web site, among many others -- for an incident in which nothing happened. Below are upcoming T.O. headline stories.
Haydn West/WireImage
Space aliens interviewed by Page 2 denied involvement in the Terrell Owens matter.
OWENS DENIES ALIEN ABDUCTION

GOVERNOR OF TEXAS LEADS OWENS VIGIL

OWENS BRIEFED ON NATIONAL INTELLIGENCE ESTIMATE

OWENS FIRES GARDENER, CALLS LAWN "KIND OF SPLOTCHY"

OWENS WON'T MEET WITH HAMAS UNLESS IT RECOGNIZES ISRAEL

PUBLICIST: "NO COMMENT" ON RUMOR T.O. DISCOVERS CANCER CURE

OWENS DOWNLOADS CASHMERE DANCE TRACK

REPORT: OWENS HAS TURKEY SUB, APPLE, BIG COOKIE FOR LUNCH

WHITE HOUSE MUM ON OWENS LUNCH REPORT

OWENS DRIVES TO COWBOYS' TRAINING FACILITY, PARKS, GOES IN

OWENS SAYS "NO TRUTH" TO VISION OF VIRGIN MARY


Wacky Food of the Week: The Corner Bakery restaurant chain now offers "hand-roasted" coffee.
Buck-Buck-Brawckkkkkkk No. 1: Leading New England 6-0 at home early in the second quarter, Cincinnati faced fourth-and-1 on its 38 and punted. Yes, most coaches would say, "But that's what we always do." As last week's column explained in detail, going for it in this sort of situation is very attractive. Cincinnati went on to lose, and you got the feeling that had Marvin Lewis gone for it here, the outcome might have been different.
Scott Clarke/WireImage
The Kansas City Chiefs' cheerleaders appease the gods of field goal kicking.
Buck-Buck-Brawckkkkkkk No. 2: Trailing 10-0, San Francisco punted on fourth-and-4 at the Kansas City 42. Trailing 24-0, San Francisco attempted a field goal on fourth-and-4 from at the Kansas City 33 with 11 seconds remaining in the first half. Sure, a touchdown is unlikely at that point. But what does a 24-3 halftime deficit accomplish, except assuring the coach that he won't have a shutout on his record? Outraged, the football gods pushed the try aside, and it was 24-0 at the intermission. Trailing 27-0 in the second half, San Francisco punted on fourth-and-3. Trailing 34-0, San Francisco punted on fourth-and-1. Still trailing 34-0 with just 5:55 remaining, San Francisco punted on another fourth-and-1 and the football gods, outraged again, allowed Dante Hall to return the punt for a touchdown. Nolan the Younger: you're down by 34 points, why are you punting on fourth-and-1?????????? And a question for Herm Edwards, why were the Chiefs' starters still on the field with Kansas City ahead 34-0 in the fourth quarter?
The Homework Conspiracy: Valerie Strauss of the Washington Post reported that new studies by Duke University's Program on Education conclude, "Elementary school students receive no benefit from homework." The new book "The Homework Myth" by Alfie Kohn comes to the same conclusion, adding that in middle school more than 90 minutes of homework per night, and in high school more than two hours per night, backfire by reducing grades and test scores. The reasons are plain as the nose on your face -- too much homework leaves kids tired in the morning and makes them sick of education, while denying the time they need to goof off and be kids. Yet despite research showing large amounts of homework actively injurious to education, homework requirements have been rising steadily in public schools. Tuesday Morning Quarterback thinks he knows why: Teachers are using homework to exact vengeance on parents.
Wilfredo Lee/AP Photo
Remember, helicopter parents, you were the ones who complained about standards.
Since the National Commission on Education declared, in 1983, that "educational foundations of our society are presently being eroded by a rising tide of mediocrity that threatens our very future as a Nation and a people," parents have been complaining nonstop about schools. Set aside that the declaration of the National Commission on Education contains a grammatical error -- "nation" is not a proper noun and in this usage should not be capitalized. The 1983 report put school performance into the headlines. The media now stereotype public schoolteachers as muttonheads who oppose high standards and are more concerned with union politics and political correctness than teaching the basics and classics. (In my experience, teachers spend most of their time on basic subjects and classic texts.) The annoyingly large subset of "helicopter parents" now constantly second-guesses teachers. Meanwhile salaries of doctors, lawyers and other professionals keep accelerating toward the asteroid belt, while teachers are expected to work for love rather than money. The teachers' revenge? Assign loads of homework. Assigning loads of work is a great CYA tactic against complaints about standards. More important, teachers know too much homework renders home life unhappy during the evening when exhausted moms and dads are trying to relax. In those glistening suburban houses with the flat-panel TVs and granite countertops, kids are crying about homework and parents are stressed about homework -- take that, helicopter parents! Plus, teachers know that many moms and dads not only help kids with their homework, but end up doing the homework. Assigning extra homework makes affluent parents miserable, exacting the public teachers' vengeance.
Field Goals Matter: Case Study No. 1: Game tied at 14, Jersey/B faced fourth-and-goal on the Indianapolis 2 at the 4:40 mark of the third. The Jets had staged a monster drive, and a touchdown here might have swung the game. But Kick Early, Go For It Late! It's not yet the fourth quarter, and field goals are nothing to sneeze at. (Outside field goal range, TMQ often favors going for it; inside field goal range, taking three.) Eric "I Was a Teenaged Coach" Mangini gambles for six, and the interception call might have been questionable, but all that call did was move the ball out to the 20 -- the Jets still would have gotten no points. Indianapolis took possession and drove to fourth-and-goal on the 2. The Colts kicked for three and went on to win the game. The two teams faced identical choices on back-to-back possessions -- and the team that followed TMQ's immutable law was the one that prevailed.
Pride note: When the Giants play in the big round facility in New Jersey, it is officially Giants Stadium. When the Jets play, it is Meadowlands Stadium. That's indignity enough for the junior Jersey franchise. But Sunday, as the Jets performed there, NFL.com's play-by-play insisted on calling the facility Giants Stadium.
Field Goals Matter: Case Study No. 2: San Diego lost 16-13 on a Baltimore touchdown with 34 seconds remaining. Earlier the Bolts honked two field goal attempts, one that was a failed kick and one when the holder bobbled the snap. Think field goals are wimpy plays? Had San Diego connected on the two kicks, it would have walked off the field whistlin'.
Triumph of Line Play No. 1: Spectators and announcers usually follow the ball, but Tuesday Morning Quarterback followed the line play in the tense fourth quarter of the Baltimore-San Diego contest. Ravens taking over on their 40 with 3 minutes remaining, trailing 13-9, Baltimore blockers provided perfect protection for Steve McNair as he moved the team downfield for the go-ahead score with 34 seconds left. On what would prove the winning pass, McNair stood back unhurried while scanning the field, no Bolt pass rusher near him. Then when San Diego had the ball for a Hail Mary on the final snap, Baltimore's line recorded the first sack against the Chargers in 2006. Nicely done, big purple people.
Dan Beineke/WireImage.com
This photo must have been snapped before Carson Palmer fumbled away the game for Cincy.
Triumph of Line Play No. 2: The New England-Cincinnati game was a lot closer than the final score suggested, the Patriots leading 21-13 at the start of the fourth quarter and the Bengals then falling apart with consecutive lost fumbles in their own territory. The sports-yak world talked about Laurence Maroney's 125-yard day, but what impressed TMQ was the blocking. Check Maroney's 25-yard touchdown run: perfect blocks by Stephen Neal, Logan Mankins and yet another New England who-dat who instantly performs well, Wesley Britt. It's pretty fun to run 25 yards for a touchdown when everyone in front of you already has been knocked to the ground. Running up the score note: Two weeks ago I asked why the Bengals, leading Cleveland 34-10 in the fourth quarter, still had Carson Palmer on the field and still throwing passes. Reader John Bosha of Camp Hill, Pa. suggests Sunday's defeat was plainly "the vengeance of the football gods."
Best Block: The best single block of the day came from Buffalo's Jason Peters, a third-year undrafted gent from Arkansas, who is becoming one of the league's elite offensive linemen. A common fault of offensive linemen is making the first or primary block, then standing around watching the play rather than finding someone else to block. On what would become Peerless Price's 8-yard touchdown reception off a bubble screen, Price was all the way back at the 15 and seemingly doomed to take a big loss when Peters, rather than standing around watching, drilled a Minnesota defender with a perfect secondary block.
When Toyota Becomes the Official Car of the Detroit Lions, Feel Free to Panic: How bad are things for General Motors? Toyota is now the "Official/Exclusive Car and Truck of the Buffalo Bills." The Buffalo area was once a G.M. manufacturing hub.
Cylon Pin-Up Calendars Feature Babe Robots Removing Their Fenders: Last week Tuesday Morning Quarterback asked, where are the body organs that generate the superpowers of superheroes? Sure, I'll believe the woman in the green body suit can blast neutron waves from her eyes. Just show me the body organ that produces the neutrons. With "Battlestar Galactica" returning to the Sci-Fi Channel this Friday, it's time to ask the same question about the sinister Cylons.
First, an update on evil aliens in science fiction. Increasingly, they look exactly like people -- perhaps for budget reasons. The Cylons of the original 1970s "Battlestar Galactica" were pleasing ridiculous clanking robots: You thought, these buckets of bolts took over the galaxy? In the "reimagined" "Galactica" currently airing, the Cylons have evolved from metallic to take the form of the humans who made the original mistake of creating them. This facilitates filming, as no complex prosthetic makeup or suits are required. For several seasons, the wisecracking commandos on "Stargate SG-1" fought evil aliens called Replicators who, conveniently, made themselves look exactly like people. For several seasons on "Star Trek Deep Space Nine," the Federation fought evil aliens called the Dominion who, conveniently, made themselves look exactly like people. On the "Star Trek Voyager" series, Species was introduced as the most dangerous super-advanced aliens in the cosmos. In their true form, Species 8472 looked like giant praying mantes. Then these aliens started popping up as regular foes, and conveniently, decided to take human form. "Hey Ralph, you can put away the giant praying mantis suits."
Jim Spellman/WireImage
We'd be happy to be enslaved by thousands of cybernetic copies of actress Tricia Helfer.
Back to the Cylons. Because they have evolved from living machines to human form, supposedly it is impossible to tell them from real people. Supposedly not even a medical examination can distinguish a Cylon from a Homo sapiens, and several episode plots have turned on trying to determine who is trustworthy and who is a Cylon infiltrator. But if the Cylons are physically identical to people, how can Cylons have advanced powers? Cylons are depicted as super-strong -- that means their musculature would have to be different. In one episode, a Cylon agent inserts a computer cable into a dataport in her arm; why doesn't the dataport show up in medical examinations? Cylons are described as impossible to kill because if their bodies die, they transmit their souls to the nearest Cylon starcruiser, to be transplanted into newly manufactured bodies. One presumes some body organ or device would be required to transmit a soul across interstellar distance, yet Cylons are said to be physiologically identical to people. Upside of current "Battlestar Galactica" premise: if only all machines looked like actress Tricia Helfer, who plays the chief cyborg.
Trust Us, We're Experts: Sports Illustrated predicted Carolina and Miami would meet in the Super Bowl. The teams are a combined 3-5.
Singers.com
Eric Whitacre, in case you're interested ...
Classical Composer Stud! Last week choral composer Eric Whitacre's album "Cloudburst" sold out on Amazon the day after NPR did a feature on his music. In an all-time Tuesday Morning Quarterback first, I have included this item solely to create an excuse for the ESPN.com Art Department to run, for female and nontraditional male readers, a photograph of Whitacre, who is an ultra-hunk.
Preposterous Punt Watch: Trailing 7-3 in the second quarter, Minnesota punted on fourth-and-2 from the Buffalo 49. Trailing 17-6 in the fourth quarter, Minnesota punted on fourth-and-2 from the Buffalo 49. The Vikings lost by five points.
What The? Huh? What? Miami scoring with 1:43 remaining to pull within 17-15 of Houston, the Marine Mammals lined up for the deuce attempt. Tailback Ronnie Brown took the pitch right, then executed a dancer's "turn out," spinning over his outside shoulder, and ran back left. From there he threw the halfback pass, incomplete, and the Moo Cows went on to win. Every week there is one play TMQ watches over and over again in rapt fascination, and this week, this was it. Everything about the play was wrong. First, the right-handed Brown was running left, and threw left-handed. Second, the play was designed to go to tight end Randy McMichael, who lined up as a slot man right and then crossed left behind the formation in front of Brown. Running your pattern behind your own offensive line might work in the middle of the field, but at the goal line, where everything is crowded, McMichael immediately crashed into a defender and was taken out of the play. Third, two Dolphins receivers in the end zone were right next to each other, one of them obviously having run the wrong route. Fourth, Chris Chambers fell down in the end zone as the pass approached, knocked over by his own man. Plays don't get much shaggier than this.
Miami Dolphins Sack-O-Meter: Daunte Culpepper has been sacked 21 times. Tackles L.J. Shelton and Vernon Carey, both former first-round picks, have been awful. Desmond Bieler of the Washington Post further notes that in the 11 games the quarterback has played in for the Vikings and Dolphins since losing Randy Moss as his battery mate, Culpepper has thrown eight touchdown passes and 15 interceptions.
Aaaaaiiiiiiiyyyyyyeeeee! Indianapolis scoring to take a 31-28 lead over the Jets with 50 seconds remaining, the Colts kicked off. Jersey/B rookie return man Leon Washington fielded the kick on his goal line. He could have stepped back into the end zone for a touchback; instead, confused, Washington ran out and got tackled at the 2, pinning the Jets against their own goal line. Ye gods. Reader Luis Argerich of Buenos Aires, Argentina notes that here is the official Game Book description of Jersey/B's final down, an attempt to run the Stanford Band play. Eight Jets gentlemen carried the ball:
(:08) (Shotgun) 10-C.Pennington pass short middle to 29-L.Washington to NYJ 40 for 8 yards [93-D.Freeney]. Lateral to 16-B.Smith to NYJ 37 for minus-3 yards. Lateral to 87-L.Coles to IND 44 for 19 yards. Lateral to 10-C.Pennington to IND 37 for 7 yards. Lateral to 81-J.McCareins to IND 35 for 2 yards. FUMBLES, recovered by NYJ-16-B.Smith at IND 33. 16-B.Smith to IND 37 for minus -4 yards. FUMBLES, recovered by NYJ-87-L.Coles at IND 40. 87-L.Coles to IND 27 for 13 yards. Lateral to 74-N.Mangold to IND 27 for no gain. FUMBLES, RECOVERED by IND-42-J.David at IND 34. 42-J.David to IND 39 for 5 yards (29-L.Washington).
We're All Professionals Here: Minnesota launched a 9-yard punt. Buffalo lost yardage on its possession, then replied with a 22-yard punt.
Tass Photos/Photas/WireImage
Ansari arrived at the International Space Station only to discover that it lacks Wi-Fi.
Poyekhali ad Astra! : Anousheh Ansari, history's first female space tourist, last week landed safely in Kazakhstan after a stay aboard the International Space Station. Surprisingly little attention was paid to her flight, considering Ansari, an American, is not only the first woman to pay for space tourism but is an Iranian-born self-made millionaire. Also, Ansari became the first person ever to blog from space. Ansari flew to orbit from Baikonur Cosmodrome, which during the Moon race days was the secret stronghold of Soviet space activity. TMQ likes that at the moment the engines on her rocket ignited, Ansari hollered poyekhali! -- "let's go!" or even "charge!" in Russian. Poyekhali! is what Yuri Gagarin hollered in 1961 at the moment the engines ignited on the flight that made him the first member of genus Homo to reach space. Nice sense of history there.
Too Bad Steve Largent Isn't in Congress Anymore, Shuler Would Have Someone to Throw To: Former third-overall draft pick Health Shuler is running for Congress in North Carolina. Strangely, his campaign bio does not mention his NFL career statistic of 15 touchdown passes and 33 interceptions. Of the issues in Shuler's platform, one is Second Amendment rights: "As a lifelong hunter and sportsman … I will always support the rights of law-abiding citizens to own firearms, to hunt and to protect their life and property." Let's hope Shuler aims his guns more carefully than he aimed his passes!
On the Plus Side, Now Alexander Has Plenty of Time to Play Video Games: Shaun Alexander was on the cover of the latest Madden game, and now stands on the sidelines modeling NFL apparel. Coincidence? A reader haikuizes,
The power of prayer
can't overcome the curse of
Madden oh-seven.
-- Fred Chalmers, North Reading, Mass.
At 4:38 Eastern on Oct. 1, Oakland Scored Its First Touchdown of the 2006 Season: Oakland compiled 59 yards of offense in the second half at home, while losing a 21-3 lead to Cleveland. If you can't hold a 21-3 lead at home against a winless team you are, officially, pathetic. Randy Moss racked up one reception for 5 yards. Results of the Raiders' second half possessions: punt, punt, downs, punt.
Elise Amendola/AP Photo
How did the New York Times get his book first? We can only tell you on a deep background basis.
"Here's the Book, Young Lady. By the Way, You Look Nice In That Trenchcoat and False Mustache.": Last week the New York Times embarrassed the Washington Post by being first to obtain a copy of Bob Woodward's book "State of Denial." The Times obtained the book by the incredibly scientifically advanced means of buying it in a store -- "at full retail price," the paper primly added. The super-sleuth purchase was carried out, surely under cover of darkness, by Julie Bosman, a Times reporter who was once a New Republic intern and who contributed some research to my book "The Progress Paradox." No doubt future journalism students will study Bosman's stealthy technique! But, hey, New York Times -- how come Julie didn't get to the write the story? The book she obtained was handed over to a senior male reporter for analysis. Next time put Julie's work on the front page, OK, Multicolored Lady?
By the Hammer of Grabthar, He Was Avenged! Atlanta leading Arizona 6-3, Mora the Younger sent much-ridiculed understudy place-kicker Mike Koenen out to attempt a 51-yard field goal. To that point, Koenen was 3-of-10 in field goal attempts on his career. Surely the Cactus Wrens were expecting a fake! Straight and true, three points.
Picks of the Week No. 1: Trailing Detroit 34-33, St. Louis faced third-and-4 on the Lions' 5 at the two-minute warning. Les Mouflons lined up with Tory Holt slot right and Isaac Bruce wide right. Bruce came in motion back inside Holt. At the snap, Holt pretty much shoved the Detroit defender out of the way -- in basketball he would have been whistled for moving screen -- as Bruce ran an under-out for the touchdown. Zebras, where were you on this play?
Picks of the Week No. 2: Trailing New Orleans 10-7, Carolina lined up for second-and-goal from the Saints' 4. Keyshawn Johnson and Drew Carter were wide left. At the snap, Johnson pretty much shoved the New Orleans defender out of the way -- in basketball he would have been whistled for moving screen -- as Carter ran an out for the touchdown. Zebras, where were you on this play? Note: New Orleans scored to take the 10-7 lead on a third-and-goal on which the Saints ran up to the line and quick-snapped while Cats defenders were not set, several not even facing the line of scrimmage.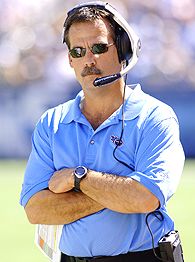 Joe Murphy/WireImage
Coaches like Jeff Fisher are enjoying the new technology.
This Fulfills My Obligation to Say Something About the Dallas-Tennessee Game: OK, it's traditional for a rookie quarterback's first start to be cover-your-eyes awful. But it is not traditional for the Tennessee Titans to be blown off the field, and they were by the Cowboys, 45-14. For many seasons the Flaming Thumbtacks have been a classy, power team. Now Tennessee has lost 13 of its past 15, with three of the past five blowout defeats. Does Jeff Fisher still coach in Nashville?
Leftover Briscoe High Points: In one scene of the commercial, the crowd cheers wildly for a late hit out of bounds. We're supposed to cheer for unsportsmanlike conduct? As many readers, including Asif Khalid of Los Angeles, pointed out, Briscoe wins with seconds remaining on a long pass thrown by a halfback. "No defense, not even in high school, would bite on the run-fake from midfield on the game's final play," Khalid wrote. The winning pass is caught by "Ryon Williams" -- go here and click "team" -- whom I'm guessing is a young actor. He's the only unknown in the commercial, which in addition to Marlin Briscoe and NFL players has cameos by Jill Arrington, Jillian Barberie, Lee Corso, Urban Meyer, Deion Sanders and Steve Young. Barberie plays the high school co-ed who checks out Williams in the hallway. The scene is vaguely odd because the baby-faced Williams is supposed to be 17, and Barberie was born in 1966. Yes, it's nice that a woman can still be a bombshell at age 40 and, yes, acting is different from playing yourself. But would any big corporation air a commercial in which a 40-year-old man ogles the behind of a 17-year-old female athlete? Finally the music track playing is "Spirit in the Sky," which is a song about dying! "Prepare yourself, you know it's a must/Gotta have a friend in Jesus/So you know that when you die/He's gonna recommend you to the spirit in the sky."
DEAR [INSERT NAME], YOU ARE THE ONLY ONE I CAN TRUST: Before Do-Not-Call lists deflated telemarketing, what vexed TMQ was the realization that companies would not be cold-calling at all hours offering phony real estate deals or fake vacations won in counterfeit contests unless people were falling for those hustles. That lots of somebodies were falling for telemarketing hustles was a sobering thought. Then came the Nigerian e-mail scam, those messages saying someone has found a large forgotten deposit in an African bank and will share the money with you in return for "fees." This is so transparently, obviously a con I thought there would not be one single human being on the face of the Earth who would fall for it. Most Nigerian scam e-mails are addressed to "Dear Sir" or "Dear Owner" because the con artists are sending bulk to spam lists and don't even know the names of the people they are addressing. Presumably if you had your clutches on a multimillion-dollar forgotten deposit and needed a partner, you would want perhaps to know the name of your partner.
Lately the "trunk of gold" version of the e-mail has been circulating. Supposedly a trunk of gold stolen during an African coup d'état is being held by a security firm on the African west coast. The e-mailer offers to share with you the location of the trunk -- despite not knowing your name! Another current Internet hustle is an e-mail saying you've won a million pounds in the Irish Lottery and asking you to send the lotto office personal financial information for processing of your pot. LOTTERIES DO NOT OPERATE THIS WAY! In a third current Internet hustle, the mark is asked to deposit checks for "an international charity" into his or her personal bank account, keep a 10 percent commission, then wire the rest to an account in Nigeria or Ukraine. INTERNATIONAL CHARITIES DO NOT OPERATE THIS WAY! A fake check for, say, $10,000 arrives at the mark's house; the mark deposits the check and wires $9,000 from his or her own account to Nigeria, expecting a $1,000 profit for doing next to nothing. The check bounces and the mark is out $9,000.
Nigerian e-mail scams and various imitators should be proliferating only if people with money fall for them. How could anyone stupid enough to fall for such obvious con jobs also have money to lose? For a cautionary tale, read this New Yorker piece about a seemingly intelligent man who fell hook, line and sinker, wiring about $80,000 of his money to African banks, and also tried to launder stolen checks sent to him from Nigeria, ending up in prison for bank fraud. The story is especially chilling because it's a "long con:" the Nigerian thieves sent the mark hundreds of e-mails over months. Short cons are one thing. I slam on the brakes in front of your car and there's a fender bender; I offer not to report it to your insurance agency if you give me $300; you never realize my car's bumper was already damaged before this started. The short con is over in a few minutes, the hustler vanishing the moment money changes hands. Long cons are especially weird because they involve psychological relationships between the con artist and mark. According to the New Yorker story, the victim in this case became psychologically dependent on receiving e-mails from Nigeria telling him riches were coming, and would plead for more e-mails even as he wired away what money he did possess.
Stop Me Before I Blitz Again! No. 1 Leading 27-17 in the fourth quarter, Washington safety-blitzed Jacksonville; touchdown Jaguars. OK, sometimes it doesn't work. Now Washington leads 30-27 with 39 seconds remaining, Jax facing fourth-and-8 at midfield. Surely the Skins won't blitz again. My 11-year-old, Spenser, a Jacksonville fan, was watching with me; when the ball was snapped and the Redskins safety blitzed, I turned to him and said, "Don't worry, first down." So it was.
Jeff Fishbein/WireImage
Your overtime touchdown is very nice and all that, but Santana, you seem to be blocking our view of the cheerleaders.
Note about Washington's eventual overtime win: It's good for quarterbacks to have short memories. On Mark Brunell's first pass of the game, he threw a horrible duck directly into the hands of Rashean Mathis of Jacksonville. Brunell recovered to toss three touchdown passes, including the winner. Meanwhile there are few plays more exciting in then NFL format than a length-of-the-field overtime touchdown at home. When Brunell threw to Santana Moss on the overtime's third snap, Jax safety Deon Grant committed the safety's cardinal sin, letting someone get behind him. The result was a wonderful 68-yard touchdown sprint in front of delirious home fans. Moss even got to run the final 30 yards past a line of glamorous, nearly naked Redskins cheerleaders. Football heaven!
Stop Me Before I Blitz Again! No. 2: In the first 56 minutes of the Buffalo-Minnesota game, the Bills' defense held the Vikings to two field goals, eight first downs and 226 yards of offense. In the final four minutes, the Bills allowed a touchdown, six first downs and 104 yards of offense, Buffalo barely winning when a Minnesota player dropped what would have been a touchdown pass in the closing seconds. What changed between the first 56 minutes and the last four minutes? The Bills began blitzing like crazy.
Obscure College Score of the Week No. 1: Morningside 37, Nebraska Wesleyan 0. Located in Sioux City, Iowa, Morningside issues a notebook computer to each incoming student. So mom and dad, the year is $24,950 but the laptop is free! Tuesday Morning Quarterback often observes that every college and university in the United States claims to have finished high in the influential U.S. News rankings, and everybody can't be highly rated. Morningside takes this marketing strategy to new heights by prominently placing the U.S. News "America's Best Colleges" logo on its home page. But if you click the logo it simply takes you to the Morningside admissions department, no further mention of U.S. News made.
Obscure College Score of the Week No. 2: Pittsburg of Kansas 59, Emporia State 57 (four overtimes). There were eight touchdowns in overtime as Pittsburg of Kansas -- "Home of the Nation's Only Gorillas," referring to the sports team not the fraternities -- beat Emporia. Since TMQ often takes shots at Pittsburg of Kansas running up the score, let me compliment the school for making it easy to find the athletic program's graduation rates. Most colleges elaborately bury this information. Pittsburg of Kansas prominently displays its rate because the school's athletes have a better graduation share (71 percent) than non-athletes in the student body (47 percent).
Scott Clarke/WireImage.com
We figured you deserved a reward for making it all the way to the end of the column. So here, another shot of the Chiefs' cheer-babes doing those leg-kicks!
Actual Good News from the NCAA: The latest graduation statistics reported by the NCAA are a breath of fresh air -- Division I football graduated 65 percent of scholarship players overall, and men's Division I basketball graduated 59 percent. There's still quite a way to go, but these numbers make the trend positive. The new figures give credit for athletes who transfer out, then graduate somewhere else; previously, such a student was classified as not having graduated. For scholarship athletes, the NCAA reported, the highest graduate was 89 percent for skiers. Some 70 percent of those with bowling scholarships graduated, the NCAA said. Bowling scholarships? The University of Nebraska, often-cited as a school where football players don't attend class, made a huge positive step, graduating 88 percent of football athletes. Perennial big-sports graduation leader Bucknell was at the top again, graduating 100 percent of its Division I men's basketball players and 95 percent of its Division I-AA football players. The University of Maryland, which embarrassed collegiate sports a few years ago by winning the men's basketball title with a team from which no one graduated, once again brought up the rear with only 18 percent graduation for its men's basketball scholarship-holders. "I feel very positive about what I have done here academically": Maryland men's basketball coach Gary Williams after the NCAA reported his program's graduation rate is a dismal 18 percent. Hmm, maybe the core problem at the University of Maryland is that the coaches need to start attending classes. You can check the graduation rate of any Division I college here.
Reader Animadversion: Got a complaint or a deeply held grievance? Write me at TMQ_ESPN@yahoo.com. Include your real name and the name of your hometown, and I may quote you by name unless you instruct me otherwise. Note: Giving your hometown improves your odds of being quoted.
Next Week: Julie Bosman obtains the Steelers' game plan by walking into the Pittsburgh locker room and offering to pay full retail price.
In addition to writing Tuesday Morning Quarterback, Gregg Easterbrook is the author of "The Progress Paradox: How Life Gets Better While People Feel Worse" and other books. He is also a contributing editor for The New Republic, The Atlantic Monthly and The Washington Monthly, and a visiting fellow at the Brookings Institution. Sound off to Page 2 here.