By Gregg Easterbrook
Special to Page 2
A reporter for the Chronicle of Higher Education asked me Tuesday what I would have changed about Nike's Briscoe High commercial, which I have accused of dissing education by implying that it's fine for a high school kid to be ill-schooled as long as he can play football. Here's my answer. The Briscoe High commercial is really well made in cinematic terms, and clearly Nike spent a ton of money both on production and on buying network time so the spot "runs long." Why didn't Nike include 10 seconds of pro-education subliminals? The ad could show one of the NFL-players-as-kids diligently doing homework in the library, or saying he's not going out after the game because he wants to study. You could see the imagined-kid-amid-stars, "Ryon Williams," respectfully ask an older teacher if she will come to watch him play tonight. The respected teacher could answer that she will attend if he gets an A on his algebra test. You could see Ryon sitting in class nervously as the tests are returned and breaking into a smile when he finds an A on his paper; then at the game, see a one-second shot of the teacher cheering in the crowd. Had Nike included any such touches, educators would be praising this commercial instead of denouncing it, and the shoes would still be selling.
As we complain nonstop about the Briscoe High commercial, let's not overlook that it does confer long-due attention on Marlin Briscoe, the first African-American NFL quarterback of the modern era. Bob Johnson points out this perspective on Briscoe's accomplishments, by Dirk Chatelain of the Omaha World-Herald, Omaha being Briscoe's hometown.
Of the NCAA's courageous stance against the feathers on the William & Mary sports logo, Andrea McKellar of Charleston, S.C., notes, "As an alumnus of the college, I have watched as Florida State has a simulated Native American ride a horse onto the field and the NCAA says fine, while we get in trouble for two feathers. In the 1970s, William & Mary changed its mascot from the Indians to the Tribe, putting the school way ahead of others in sensitivity about Indian imagery. Yet though William & Mary was on this issue long before the NCAA cared, we're forbidden to keep our drawing of feathers while Florida State keeps an on-field Indian caricature." Andrea, William & Mary graduates its football players -- the college clearly has no respect for NCAA policy! Tuesday Morning Quarterback suggests that William & Mary sports adopt a logo the NCAA would never object to: the dollar sign.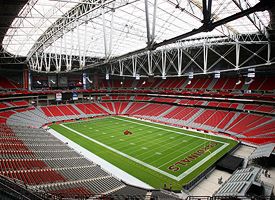 Paul Connors/AP Photo
Sometimes wine and candles gets it in the mood.
TMQ chided the online University of Phoenix, which bought the naming rights to the Cardinals' new stadium, as an electronic variation on the diploma mill. Frank Rohles of Cypress, Texas, wrote, "I take exception to your characterization. I am a current student in a MBA program at the University of Phoenix after recently receiving my BS in business management from the same school. In my case, I attended on-site classes at their Houston, Texas facility, and took one online class. I can assure you the work I had to do to pass the courses was challenging and in no way was my degree 'bought.' The University of Phoenix offers an alternative to those of us who for various reasons got into the work force without a degree." Paula Boyd, a professor at Parkland College in Illinois continues, "One of the courses I teach is a freshman-level requirement called Introduction to the Liberal Arts and Sciences in which we wrangle with texts by Dr. Martin Luther King, Jacob Bronowski, Jonathan Swift, Plato, Marx and Martin Buber. It is a demanding course that asks students to roll up their sleeves. My college offers sections of this course in the classroom and online. I have taught the online version, and there is no difference in the rigor or expectations. You seem like a person who would support lifelong learning. Don't judge innovations that improve access to education simply because they don't look the same as your good ole college days." Rashaan Alexander of Baldwin, N.Y., adds, "For the past two years, I have gone to class exclusively online and will receive my master's degree soon. I can tell you I have put in a lot of effort, that my diploma will have been earned through hard work and dedication. Which are the true diploma mills of our country -- online schools that allow working adults the flexibility to further their education, or Division I football/basketball universities that let their 'student'-athletes take cake courses and rarely attend class?"
As for Arizona's epic collapse Monday night, season-ticket holder Nisim Estrada of Avondale, Ariz., thinks the team switching from the old Arizona State stadium to newly christened University of Phoenix Stadium is bad karma. He offers in haiku:
Cactus Wrens still play
in University field:
keep losing culture.
Jeff Goldberg of Bardonia, N.Y., writes, "This morning, a co-worker who is a fan of New York sports anchor Warner Wolf came in touting that Wolf predicted the outcome of this weekend's Jets-Dolphins game -- his pick being Jets 20, Dolphins 17. I passed along a link to one of your columns where you discussed that Home 20, Visitors 17 is the most common outcome, and quoted where you said, 'This forecasting formula has the virtue that you don't need incredible insider information -- or even need to know who's playing.' Needless to say, it wiped the awe right off my co-worker's face."
Could this be the most Preposterous Punt ever? Lance in Tempe, Ariz., writes, "Against USC, Arizona State was facing a fourth-and-23 from its own 22-yard line with 1:19 left, and had two timeouts remaining. No, it's not looking too good for the Sun Devils but they still have one more play left and anything can happen. Boom goes the punt and ASU has to take its first timeout immediately -- the new rule in college states that the clock does not stop following a change of possession. USC runs up the middle for 1 yard and ASU takes its last timeout. After another run up the middle for no gain, USC enters its victory formation and the clock expires."
Heather Taylor of Milwaukee, Wis., notes the irony of the Obscure College Score of the Week item: "Once you mention a school in your column, it is no longer obscure -- millions of readers are now aware of the schools and their programs."
John Teti of New York City writes, "Reader Karen Locascio of Boston made an excellent point regarding The Meadowlands. You note the league's official Game Books refer to the football field there as Giants Stadium when the Giants play and The Meadowlands when the Jets play. I think the Game Book is referring to the overall Meadowlands complex; the word 'stadium' never appears. I searched the NFL's site for any reference to 'Meadowlands Stadium' and got only one result: a TMQ column. So Karen's claim that there is no such thing as Meadowlands Stadium was correct."
Ken Lamoreaux of Spokane, Wash., writes, "I hope some cupcake team such as the University at Buffalo will turn the tables by defeating a football factory school. I just want to point out that some of the cupcake I-AA schools schedule their own cupcake Division II opponents, and this does not always work out for them. After getting beat up on the road by Oregon State in Week 1 and West Virginia in Week 2, Eastern Washington opened their home schedule and promptly got beat by Division II Central Washington. Montana State shocked Colorado in Week 1 only to come home and lose to Division II Chadron State. Interesting to note: For a I-AA team to become eligible for a bid to the I-AA playoffs, it needs eight wins. But wins against Division II or lower schools don't count toward that total. For a I-A team to become bowl eligible, it needs six wins, and wins against I-AA schools do count. So at least it makes sense for a I-A school to schedule a cupcake I-AA school because the win counts toward bowl eligibility. But there is no advantage for a I-AA school to schedule a Division II school because the win does not count, while a loss is completely deflating."
The saga of Matewan High of West Virginia continues. A few weeks ago, this school staged one of the worst displays of bad sportsmanship in the sorry annals of that subject, using a no-huddle hurry-up offense throughout the second half of a game to humiliate by 64-0 a tiny rural high school that barely dressed enough players for the game. In the process, Matewan claimed an utterly bogus record of 658 yards rushing by one player. Brian Robinson of Harrisburg, Pa., writes, "I am a middle school teacher and our school subscribes to Channel One, a news program for students. Channel One is surprisingly honest and upfront, including by covering bad news. However, this morning they did a sports hero segment on -- you guessed it, that kid who ran for 658 yards! So here we have millions of teens watching a program that usually promotes community service, saying no to drugs, etc., and this time Channel One is promoting the lack of sportsmanship displayed by a selfish coach. Uhgh!" Ken Grix of Eastpointe, Mich., adds about the same broadcast, "I'm a high school science teacher, and a story appeared on Channel One about the record-setting game at Matewan High. Many of my students were in awe of the numbers shown, but thanks to your column I was able to supply the proper context and seize a 'teachable moment' about sportsmanship and fair play."
Gerry Broome/AP Photo
Physical beauty? West Virginia has it. Sportsmanship? Well ...
Last Wednesday, the TMQ readers' forum noted Matewan High had a guestbook on which anyone could post comments. Or once had: hundreds of comments about bad sportsmanship were posted after the TMQ item ran, and as pointed out by Harm van Lieshout of Groningen, Netherlands, the school stopped accepting entries a few hours after the link was published in TMQ. So Matewan High, you can dish it out but you can't take it? You think it's great when you beat up on a helpless opponent, but cover your ears about the reaction that follows. Of course, this is just a case of one school in a distressed state -- West Virginia is beautiful, its majestic hills touched by God, yet its economy continues to struggle -- with a punk coach. But the incident stands as an object lesson in why athletics must include good sportsmanship -- showing bad sportsmanship only brought this little school's name into low repute.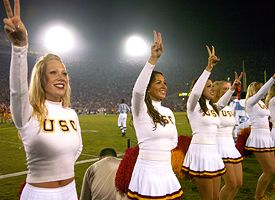 Kirby Lee/WireImage.com
Beautiful cheer-babes plus no punting -- USC is TMQ's dream college football team!
Daniel Goldman of Minneapolis, a USC alum, points out: "Pete Carroll must read TMQ, since USC routinely goes for it on fourth down and will almost never punt in the Maroon Zone. While some have questioned this strategy because LenDale White was stopped on fourth-and-2 in the waning moments of the Rose Bowl, surely a reason for USC's glittering record since Carroll arrived is that he doesn't punt as often as other coaches. For the season, USC is 8-for-11 on fourth downs and has punted once within opposition territory. And the Trojans are undefeated. Of course, part of the reason may be they appease the football gods with the gorgeous Song Girls."
Chris Shine of Fishers, Ind., notes that the football gods reward virtue: "Two weeks ago Indiana trailed Wisconsin 28-0 late in the first half and faced a fourth-and-9 deep in Wisconsin territory. Knowing the field goal meant little other than avoiding the shutout, IU coach Terry Hoeppner went for the first down. Although the play failed the football gods took note of his valor. The following week Indiana earned its first Big Ten road win since 2001. This weekend Indiana knocked off the 15th-ranked Iowa Hawkeyes. The football gods have rewarded Coach Hep for making the manly-man call on that fourth down." By the same token, the football gods punish hubris. Bob Glasgow of Princeton, N.J., notes: "Oklahoma up 27-9 late in the fourth quarter, coaches decided to keep running up the score by leaving star tailback Adrian Peterson in the game. Not only leaving him in the game, but calling for him to dive across the end zone line, which led to a season-ending injury. Why was he even on the field?" Adam Wolbach of Allentown, Pa., writes, "University of Wisconsin-Whitewater, ranked No. 3 in Division III, hosted intrastate rival UW-La Crosse in front of a Division III record crowd of 9,570 this weekend. Justin Beaver, Whitewater's star running back, amassed 286 yards and a touchdown on 39 carries, setting a school record for rushing yardage. Up by 28 points in the fourth quarter, Whitewater's coaches elected to keep Beaver in the game. Beaver broke his collarbone on a late play when the purpose was to run up the score."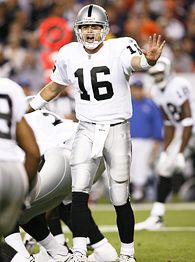 Rich Gabrielson/WireImage.com
Andrew Walter calling an audible, or perhaps calling 911.
I wrote that, on Sunday, MAC starting quarterbacks in the NFL were 3-0 while the Pac-10 glamour boys were 2-5. Garret Dickie of Tempe, Ariz., notes I left Andrew Walter, an Arizona State grad, off my list, rendering the Pac-10 2-6. He haikuizes:
PAC-10 -- 2 and 5?
With Walter stuck in Oakland,
add one loss always.
Finally as roughly nine million readers including Mary Cook of Bartlett, Tenn., pointed out, "Terrell Owens is going to have a hard time finding Huckleberry Finn by Samuel Clements, since Samuel Clemens was the author." Maybe I should write a book called "Huckleberry Finn by Samuel Clements." But then, right now I'm working on a movie treatment called "Groundhog Day: The Sequel."
In addition to writing Tuesday Morning Quarterback, Gregg Easterbrook is the author of "The Progress Paradox: How Life Gets Better While People Feel Worse" and other books. He is also a contributing editor for The New Republic, The Atlantic Monthly and The Washington Monthly, and a visiting fellow at the Brookings Institution. Sound off to Page 2 here.