TMQ Nation fires back

We haven't even reached United Nations Day, and already the Cowboys-Patriots pairing on Sunday is likely to be the final matchup of undefeated teams in 2007. Suppose the Cowboys emerge from Sunday's game still perfect? They don't play Indianapolis this season, so no further pairings of undefeateds would be possible involving the Cowboys, unless Dallas and Indianapolis meet in the Super Bowl with both teams at 18-0 -- and you can bet your life's savings against that. Should New England still be perfect after Sunday (Indianapolis will be because it has a bye), the last possible pairing of undefeated teams in 2007 will be the Nov. 4 Patriots at Colts' date. Meanwhile Bob Hollis of Pittsburgh notes that the current ESPN Power Rankings begin, "Rare are the NFL teams that win their first five games. Rarer still is when those undefeated teams actually play each other this late in the season." Hollis asks, "How can two 5-0 teams meet any earlier than the sixth week?"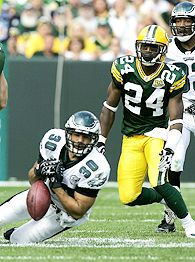 AP Photo/Morry Gash
Krumble on the play!
TMQ proposed that a lost kickoff or muffed punt is the most damaging of turnovers, and asked readers to name this misfortune. Many, including
Steve Fortna of Centennial, Colo.,
and
Charlotte Lechler of Newton, Mass.,
suggested "krumble" -- kick return fumble. TMQ said that timid coaching decisions are a major reason for the New Orleans' losing streak, then praised Sean Payton for at least calling a fake punt on Sunday.
Mary Kay Gogreve of New Orleans
reports that the fake was initiated by punter Steve Weatherford. Payton said after the game, "He felt pressure from the left side, and he ran left. That's something we need to clean up. Obviously it went in our favor, but I like to think that if we are punting, we are punting." Gogreve writes, "I am depressed knowing that one of the few plays of the day that was aggressive and successful was an accident. Not a promising sign." Of my contention that punting should be rare, many readers, including
Adam Gadberry of Birmingham, Ala.,
noted that LSU beat Florida largely because Les Miles repeatedly went for it on fourth-and-short in the fourth quarter. As TMQ likes to point out, not punting on fourth-and-short when trailing isn't a "huge gamble," it is playing the percentages.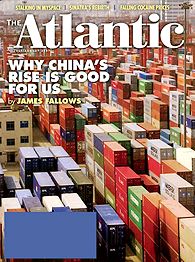 Atlantic Monthly
The articles are great. But where are the downloadable video highlights of editors crossing out excessive intensifiers and underlining dangling prepositions?
On Buffalo's spectacular collapse on "Monday Night Football," TMQ said that with the ball on the Bills' 43-yard line with seven seconds remaining and holding no timeouts, Dallas could only throw into the end zone or throw a quick out to gain field-goal position -- yet Buffalo had its defenders clustered in the middle of the field. Dallas threw a quick out to the 35-yard line, the runner stepped out of bounds to stop the clock, and a moment later the Bills' collapse was complete. Why didn't the Buffalo coaches react to the game situation by defending the sidelines?
Josh Peterson
, a Vikings fan, writes, "The Bills could have rushed three, put two defenders along each short sideline, and put the other four in the end zone. Take away the sidelines and there could have been no play that finished in less than seven seconds, leaving Tony Romo forced to launch a Hail Mary. How can NFL coaches be so numerous and so detail-oriented, working year-round, yet not [be] prepared for such obvious things?"
TMQ noted the just-redesigned NFL Web site looks amazingly similar to the just-redesigned Atlantic Monthly Web site. Dariusz Lozny of New York City writes, "Check out the similarity between Facebook and the Web site for the London Metal Exchange." Of the new Atlantic Monthly Web site, TMQ wondered why, per the NFL Web site, does it not offer video highlights of authors smoking pipes in their studies, plus literary cheer-babe calendars featuring attractive women in bikinis reading the latest Jim Fallows or Joyce Carol Oates work. The Atlantic Monthly really needs cheerleaders! Here is an Atlantic Monthly cheer:
Emerson, Thoreau, M. L. King,
Our articles are long but our prose it sings!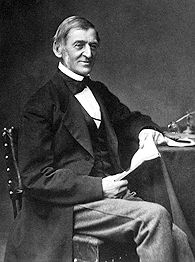 Imagno/Hulton Archives/Getty Images
Ralph Waldo Emerson -- he made a big mistake by not putting cheerleader swimsuit pictures in the original Atlantic Monthly.
TMQ continues to express existential dread over the ever-sooner start of Christmas commercialization.
Mike Boucher of Lunenburg, Mass.,
reports that
last week
, New Hampshire public television
ran a Christmas special
. Readers, please flag me at TMQ_ESPN@yahoo.com when you hear the first on-air (not Internet) radio station switch to an all-Christmas format.
TMQ noted that despite decades of determined searches for artificial radio signals elsewhere in the galaxy, none has been heard. Official Brother Frank Easterbrook of Chicago counters, "The early AM radio stations and TV stations transmitted with 50,000 watts. Transmissions went up and out to space, where someone might hear them. But the system was wasteful. These days TV signals move through cables including the Internet, or are broadcast down from satellites, at low wattage, to exquisitely sensitive receivers. That uses much less power. Cell phones transmit on tiny amounts of current, and cell towers use low power so they don't interfere with towers nearby. In other words, technological progress has reduced broadcast energy radically in less than 75 years, and the reduction is continuing. From the perspective of other planets, we are already going radio-silent. If technological civilizations generally become quiet in the same way, there could be many, and we would not hear them. The probability we would tune into the one or two civilizations still in their brief high-transmission-power phase is very small.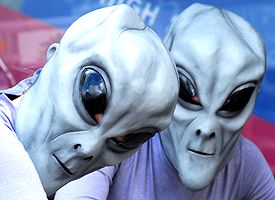 AP Photo/Roswell Daily Record/Mark Wilson
Space aliens contacted by Page 2 issued a terse "no comment" when asked about the Frank Easterbrook theory.
"Even if some civilizations continue to use high-power transmissions, they can't be heard from far away unless they are focused. The
Search for Extraterrestrial Intelligence project
is most likely to find focused radio or light that was deliberately sent toward Earth. Humanity has transmitted powerful intended-to-be-heard messages in that fashion exactly twice, for just a few minutes -- and one of the targets was the Magellanic Clouds, where the message won't arrive for 75,000 years! Sending a focused beam of high-energy radiation is expensive and, given how rare technological civilization is likely to be, probably not terribly productive. So far, SETI initiatives are effectively limited to searching for advanced civilizations that have mastered fantastic levels of energy -- a substantial fraction of their star's energy -- in order to transmit thousands or millions of simultaneous light beams aimed at planets that show signs of life. A civilization with that much command over resources might be capable of interstellar travel, and so why haven't their diplomatic ships arrived here? Considering that even sophisticated searches from other worlds might not detect the presence of our civilization, our own SETI searches are likely to miss most of the galaxy's technological life, if there is any."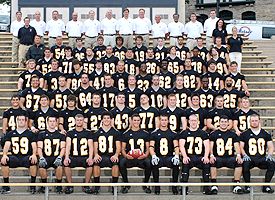 Colorado College
They're not afraid to take their act on the road.
TMQ ripped Mount Union College, the 800-pound gorilla of Division III football -- it's won nine of the last 14 national championships in D-III -- for deliberately scheduling schools that don't emphasize football, in order to win game after game by spectacular scores. (In the small-college world, some schools emphasize and recruit for football, others are walk-on teams; there is far more variation in sports programs in Division III than in the higher NCAA divisions.) Mount Union defenders countered that most of the team's schedule was dictated by its conference affiliation, leaving the Purple Raiders no choice but to bash inferior teams week in and week out, and also declared that D-III teams can play only nearby opponents. The latter point I am not so sure about -- last Saturday, my beloved alma mater
Colorado College
won at Macalaster, which is 1,000 miles from Colorado Springs in St. Paul, Minn.
Mark Albanese of Madison, Wisc.,
writes, "The readers who defended Mount Union used poor rationale for why its schedule is so weak. Mount Union could change conferences, or become an independent for purposes of football scheduling -- some colleges are in conferences for some sports but not for others. They could advance to D-II or at least schedule D-II foes. Travel budget is not a legit excuse for Mount Union because there are two D-II teams in the state they could schedule (Central State and Tiffin), a D-IAA team nearby (Dayton), and nearby Pennsylvania has perhaps a dozen D-II football programs within bus distance. I attended the University of Wisconsin-Whitewater, which was D-III in football, and we weren't afraid to schedule D-II and D-IAA schools. As a powerhouse program based on recruiting, there is no excuse for Mount Union not to be seeking opponents of similar skill level."
Frank Wiesebron of Paris, France, offers this reader stat: For one stretch of the Steelers-Seahawks collision, Pittsburgh held the ball for 23 minutes compared to three minutes for Seattle. TMQ used the Canadian expression "dollars to donuts." Bryce Thoen of Saskatchewan relates that in the frozen north, a hoodie sweatshirt is known as a "bunny hug." He suggests, "Call the New England coach Bill Bunnyhug, which makes him sound less sinister."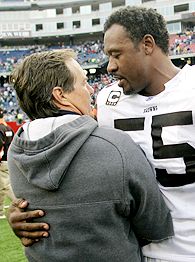 AP Photo/Winslow Townson
A hug for the cute, cuddly Coach Bunnyhug.
Last week TMQ noted that the Washington Post gave Page 1 "holy cow" treatment to a story claiming it was a shocking, shocking scandal that enforcement prosecutions by the EPA were declining. I countered that
of course
they are declining: with all forms of pollution except greenhouse gases in decline, and greenhouse emissions being legal, pollution prosecutions should be expected to decline -- every year there is less to enforce. That does not mean there are still no problems. On Monday the EPA finalized a legal settlement by which the utility company American Electric Power agreed to what is in effect a $4.6 billion pollution fine; the company will spend most of that sum on air-pollution reduction. So a week after the Washington Post told us environmental prosecution wasn't happening, a major environmental prosecution concluded. Page 1 "holy cow" treatment? The Post buried this inconvenient development
in the business section
.
Finally, Dan Geisler of Columbus, Ohio, has been keeping track of game predictions. His chart matches Accuscore and the astonishing insider information possessed by ESPN's NFL experts against TMQ's off-price ultra-generic prediction, Home Team Wins, and the Isaascon-Tarbell Postulate proposed by readers Eric Isaacson of Indiana University and Catey Tarbell of Kirkland, Wash. (Best Record Wins; If Records Equal, Home Team Wins). Here are the standings:
Isaacson-Tarbell Postulate: 52-24, 68 percent correct
Accuscore: 47-29, 62 percent correct
ESPN Experts: 365-236, 61 percent correct
Home Team Wins: 45-31, 59 percent correct
Note that NFL experts Sean Salisbury, Marcus Allen, Mike Golic and Seth Wickersham are doing no better than if they'd simply picked the home team in every game. Hey guys, pick the home team. You don't need incredible insider information, you don't even need to know who's playing!
In addition to writing Tuesday Morning Quarterback, Gregg Easterbrook is the author of "The Progress Paradox: How Life Gets Better While People Feel Worse" and other books. He is also a contributing editor for The New Republic, The Atlantic Monthly and The Washington Monthly.

Also See
ESPN Top Headlines