Everybody loathes Raymond
EURO 2008 COVERAGE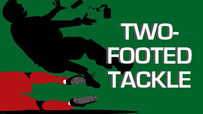 Check Page 2 each weekday during Euro 2008 for a tournament diary by David Hirshey and Roger Bennett
.
Previous entries
June 6:
Tourney preview
June 9:
Rough weekend for Switzerland
June 10:
Down goes Italy
June 11:
Villa, Spain flying high
June 12:
Big Portugal news
June 13:
Croatia shocker
June 16:
Turkey stuffs Czechs
June 17:
Germans march on
•
Soccernet Euro 2008 index
Thursday's live coverage
on ESPN and ESPN360.com:
•
Portugal vs. Germany
, 2:30 ET
(Available in both English and Spanish on ESPN360.com)
There was no head-butt this time, no moment of madness, no iconic figure losing his mind over a perceived insult to his sister.
That's not to say a French player wasn't tempted to plow into someone. Just that, instead of an Italian, it likely would have been his own coach, Raymond Domenech.
The part-time actor and astrology buff had been a loopy presence throughout Euro '08 with his comical sideline pantomimes, his Devo-approved glasses and, most of all, his fou fou game plans. But on Tuesday, with a berth in the quarterfinals hanging in the balance against Italy, Domenech reached new heights of cluelessness and cost the French dearly.
Italy certainly deserved its 2-0 victory that, coupled with Romania's loss to Holland, earned a quarterfinal date with Spain on Sunday. But the Italians must know they had two things on their side that they can't count on against the Spanish: An Alp's worth of luck, and an opposing coach who makes Isiah Thomas look like a brilliant tactician.
Domenech had been a figure of ridicule in his country even before the tournament began after he left several big names off the team -- David Trezeguet, Bacary Sagna, Gael Clichy -- opting instead to choose a mix of ancient and venerable players from his 2006 World Cup finalists, along with promising youngsters who hadn't been battle-tested in international competition. But without Zinedine Zidane's cunning and leadership to meld the two groups, the French were rudderless. Despite his once razor-sharp skills, Thierry Henry has not been a dominating game-changer for two years. And 36-year-old Lilian Thuram, the heart of the French defense, was so badly burned by Holland's speed merchants that Domenech was forced to drop him from the lineup against Italy.
None of this, however, explains why France had no fight in it Tuesday. After all, if you can't get up to play the world champions, who taunted your talismanic star into a breakdown on the game's biggest stage, who can you get up for?
Whatever resistance the French had in them all but disappeared eight minutes into the game when their best player, Franck Ribery -- the new Zidane, but with hair -- injured his knee and was taken off on a stretcher. Sixteen minutes later, they fell apart completely after a dreaded red card. Italy forward Luca Toni -- who was a scoring machine for his club team, Bayern Munich, this season but in Euro has looked unable to find the net with a GPS device -- broke through the French defense and bore down on the goal.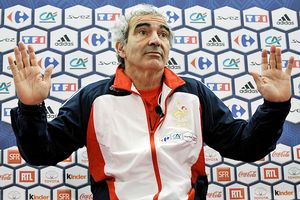 Franck Fife/AFP/Getty Images
"Would I make a good Mets manager? Oui?"
France's Eric Abidal barreled into him, knocking Toni to the turf. The referee pointed to the penalty spot, from which Andrea Pirlo made no mistake with a laser beam into the top left corner.
That red card also meant Abidal was sent off, and now France had only 10 players in trying to claw back from a 1-0 deficit. How do you adjust your strategy to give your offense more torque when you're a man down? If you're Domenech, you take off a sprightly attacker, Samir Nasri (who had been on the field all of 16 minutes, having come on for Ribery) and replace him with a leaden-footed defender, Jean-Alain Boumsong. Even the French players had a look on their faces that said, "Which way to the guillotine?"
Italy, for its part, seemed more concerned with the outcome of the Holland-Romania game than it did with the French, though Karim Benzema made Italian goalkeeper Gianluigi Buffon remind the world once again why he's the best at his position. Benzema struck a curling shot that Buffon had to dive flat-out for just to tip the ball around the post. Still, the French hung around until the 62nd minute, when fate dealt them a cruel blow they couldn't even blame on Domenech.
From 35 yards out, Italy's Daniele de Rossi (Americans will remember him as the guy who split open Brian McBride's face in USA's 2006 World Cup cage match with the Italians) hammered a free kick into the French wall. Henry stuck out his left foot to block it, and the ball ricocheted up and over French goalkeeper Gregory Coupet.
Having already learned that Holland was leading Romania, the delirious Italian fans in the stadium began to serenade the French with a mock chant of "Allez les Bleus a la maison." As for Domenech, he'll likely move to a new home -- with an unlisted number. But if it's any consolation, hours after coaching his last game for France, the 56-year-old coach went on live television and proposed to his 31-year-old girlfriend. Based on his performance at Euro, he'll probably sub her out for Brigette Bardot.
COMING ATTRACTIONS
Russia versus Sweden (2:30 p.m. ET, ESPN) -- After suffering a heartbreaking last-minute defeat against Spain, Sweden has to suck it up and move on. All the Swedes need to do to make it to the quarterfinals is a draw versus Russia.
Sweden's hopes rest on the ability of the nation's finest orthopedists to drain Zlatan Ibrahimovic's swollen left knee. Without their mercurial big man, the Swedes have a tendency to not score. And 37-year-old striker Henrik Larsson, who was released from his cryogenic chamber for one last shot at Euro glory, hasn't thawed out enough to make a difference.
Russia will finally have its midfield general Andrei Arshavin available for selection. He was suspended for the first two games after kicking an Andorran during qualifying. Both teams have been well-organized, but Arshavin's creativity could put the Russians over the top.
Prediction: Sweden 2, Russia 2
Greece versus Spain (2:30 p.m. ET, ESPN2) -- Spain isn't even thinking about this game. The Spanish will face Italy in the next round, and coach Luis Aragones, a man famous for his ability to operate with a lack of sleep, will be lying awake worrying about how his team's Pau Gasol-like defensive softness will respond to the probings of Italy, as opposed to the Greeks. Injuries to key players Xavi, David Silva and Carles Puyol will also be sources of concern, though Aragones is still expected to rest star strikers David Villa and Fernando Torres -- both the subjects of rumored massive transfer bids as Portugal coach Big Phil Scolari continues to use his team's Euro campaign as a prolonged Chelsea scouting trip.
Meanwhile, the defending champions but already-eliminated Greeks are hoping these 90 minutes go quickly, so they can make a hasty return home and spend their summer vacations watching UEFA's official video of Euro 2004 .
Prediction: Spain 2, Greece 0
David Hirshey is the executive editor of HarperCollins Publishers. He has been covering soccer for 30 years and played himself (almost convincingly) in the soccer documentary "Once In A Lifetime." Roger Bennett lives in New York but still is scarred by this. Hirshey and Bennett are at work on the forthcoming "ESPN's Ultimate World Cup Guide." The two will be writing about Euro 2008 Monday through Friday on Page 2, unless their astrologer tells them not to.