EURO 2008 COVERAGE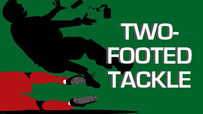 Check Page 2 each weekday during Euro 2008 for a tournament diary by David Hirshey and Roger Bennett
.
Previous entries
June 6:
Tourney preview
June 9:
Rough weekend for Switzerland
June 10:
Down goes Italy
June 11:
Villa, Spain flying high
June 12:
Big Portugal news
June 13:
Croatia shocker
June 16:
Turkey stuffs Czechs
June 17:
Germans march on
June 18:
French fried
June 19:
Playing quarters
•
Soccernet Euro 2008 index
Wednesday's semifinal
on ESPN and ESPN360.com:
Germany vs. Turkey, 2:30 ET
(Available in both English and Spanish on ESPN360.com)
Anyone happen to catch the shot of German coach Joachim Low jumping with orgiastic joy in a luxury box Thursday? Banned from the sideline for the game, Low was keeping the seat warm for his Portuguese counterpart, Phil Scolari, who now will have to watch the rest of Euro 2008 from afar after Germany's Bastian Schweinsteiger once again proved that (bottled) blondes have more fun. The powerful midfielder with the look-at-me peroxide mane had a foot in all three goals as the Germans, derided and mocked as shadows of their former Teutonic selves, sent Cristiano Ronaldo and his merry band of smurfs crashing out of the tournament 3-2.
Schweinsteiger redeemed himself after being sent off near the end of Die Mannschaft's loss to Croatia in the opening round. But the sheer force of will displayed by the Germans was best personified by their captain, Michael "Der Kleine Kaiser" Ballack. After finishing second-best to Ronaldo and Manchester United all season long, he was in no mood to be bested here, crushing Chelsea teammate Paulo Ferreira with a forearm shiver to the back before heading home the winning goal.
Hell hath no fury like a German team scorned.
Germany's triumph also was the season finale of the soap opera that was Portugal's Euro 2008 campaign. The Portuguese were too tentative defensively, too Ronaldo-centric offensively and simply too teeny all over the field to cope with Germany's high-flying smashmouth game. Big Phil Scolari's squad was undoubtedly the most expensive, and perhaps the most talented, in the tournament. But for all their crossover dribbles, these ball artists didn't have the stones to match up with the rock-hard Germans. (Choking, it seems, is not restricted to one side of the Iberian Peninsula.)
For Scolari, Euro 2008 now is the equivalent of a giant casting couch as he ponders how to dole out the rubles at Chelsea. He wasted no time Thursday, perhaps having second thoughts about his love for Portugal's pint-sized playmaker Deco and flirting shamelessly with Germany's most famous blond since Heidi Klum.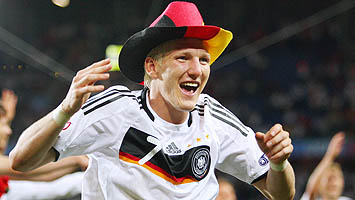 VALERY HACHE/Getty Images
Bastian, why cover up the blonde hair with a silly hat?
Ronaldo & Co. now are left to trudge back to Portugal, knowing that while their country is
the best golf destination in the world
, its team's performance was Thursday's
second-biggest wedgie
in soccer.
Another man caught with his pants down at Euro 2008 was English referee Howard Webb, who was sent home after the group round, in which he awarded hometown darling Austria a penalty that was about as real as Victoria Beckham's tan. Webb's public humiliation reflects UEFA's desperate desire to make it clear that unlike Vince McMahon's WWE, Simon Cowell's "American Idol" or, even worse, David Stern's NBA, there is no puppetmaster at work in Euro.
But if we were pulling the strings -- and if you don't want to know how the rest of the tournament should play out, stop reading here! -- this is how Euro 2008 would be destined to unfold.
REMAINING QUARTERFINALS
Croatia versus Turkey: Turkey has made more great escapes than David Copperfield in this tournament. Its luck will run out against Niko Kovac and his well-organized midfield. Croatia will stroll on, 2-0.
Netherlands versus Russia: The Russian newspaper Rossiyskaya Gazeta threw Dutch star Wesley Sneijder's words back in his face with its headline, "Now, Dutch, you tremble!" The Russians are confident their Dutch-born coach, Guus Hiddink, knows his home country's team inside-out. The Dutch, once famous for their fragile psyches, have reinvented themselves in this tournament under the dynamic Marco van Basten. Their turbo-charged attack will score early and often and knock the Russians out, 3-1.
Spain versus Italy: Conventional wisdom suggests Spain's propensity to raise expectations before surrendering meekly, combined with Italy's standing in the eyes of the Spanish media as "Champions of the World and Champions of Luck" should amount to another Spanish meltdown. But Italy will be without its midfield tandem of Gennaro Gattuso and Andrea Pirlo because of suspensions, and Spain will edge the Azzurri in this one, albeit nervously, 2-1.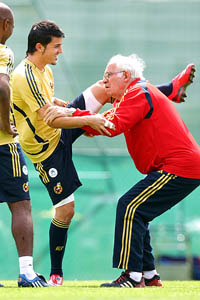 Jasper Juinen/Getty Images
Spain coach Luis Aragones helps David Villa stretch -- the secret to Spain's success!
SEMIFINALS
Germany versus Croatia: This is the matchup the English tabloids have been warming up for all tournament long. The game itself will be ugly -- penalty kicks are a likely outcome -- but Germany will prevail, 1-0.
Netherlands versus Spain: Featuring two teams that have been sublime up front and susceptible at the back, this figures to be a surprisingly tight game. While rumors might abound that both managers are considering fielding 10 men in attack, this will be the definition of what the great orator Sir Alex Ferguson refers to as "squeaky bum time" and will be closer than many people think. Spain will squeak by, 2-1.
FINAL
Germany versus Spain: The Germans will enter this game with the swagger of a team that started the tournament as the favorite and, after an early stumble, now is poised to win its fourth Euro championship. Germany will undoubtedly be favored, but we picked Spain from the beginning, so why stop now? La Seleccion will conquer their performance anxiety and gain revenge, 1-0.
David Hirshey is the executive editor of HarperCollins Publishers. He has been covering soccer for 30 years and played himself (almost convincingly) in the soccer documentary "Once In A Lifetime." Roger Bennett lives in New York but still is scarred by this. Hirshey and Bennett are at work on the forthcoming "ESPN's Ultimate World Cup Guide." The two will be writing about Euro 2008 Monday through Friday on Page 2, unless their astrologer tells them not to.