Turkey down to the bone, but ready to carve Germany
EURO 2008 COVERAGE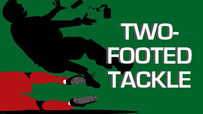 Check Page 2 each weekday during Euro 2008 for a tournament diary by David Hirshey and Roger Bennett
.
Previous entries
June 6:
Tourney preview
June 9:
Rough weekend for Switzerland
June 10:
Down goes Italy
June 11:
Villa, Spain flying high
June 12:
Big Portugal news
June 13:
Croatia shocker
June 16:
Turkey stuffs Czechs
June 17:
Germans march on
June 18:
French fried
June 19:
Playing quarters
June 20:
Spoiler alert!
June 23:
Semi-tough
•
Soccernet Euro 2008 index
Thursday's semifinal
on ESPN2 and ESPN360.com:
Russia vs. Spain, 2:30 ET
(Available in both English and Spanish on ESPN360.com)
Do you believe in miracles? That some things in life are divinely inspired and beyond the realm of human understanding? Like Doug Flutie's Hail Mary? Or Franco Harris' Immaculate Reception? Or Gisele?
And will we soon be able to add Turkey over Germany in the Euro 2008 semifinals to that list?
After stunning escapes against Switzerland, the Czech Republic and Croatia, the Turks would even have that well-known soccer prognosticator Aristotle second-guessing the choice of science over religion. So what that Turkey has only 13 able-bodied players to send out against the big, powerful Germans on Wednesday? Stranger things have happened already.
And being 8-1 underdogs is hardly going to daunt Turkey. While it is possible to argue that Turkey has displayed some of the most passionate and fast-paced soccer in this tournament, it is also safe to say the Turks have exhibited some of the roughest. They have accumulated 14 yellow cards and one red card -- six more cards than any other team. Now they find themselves decimated, with up to to nine -- almost a whole squad -- first-team players unavailable because of suspension or injury, and they might have to resort to fielding their reserve goalkeeper Tolga Zengin as a forward. That's the price you pay for the kind of full-blooded commitment the Turks have shown throughout the tournament.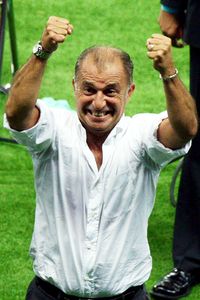 Andreas Rentz/Bongarts/Getty Images
Fatih Terim is so confident Turkey can win it all, he has incorporated Cup-lifting drills in training.
But then, this back-to-the-wall mentality is exactly what stokes Turkey's mojo, and who are we to disagree? Here are four quixotic reasons why the Turks could be lining up to play in the Euro 2008 final in Vienna on Sunday.
Phil Might Be Big, But Terim Is Fatih
Fatih Terim is one of the smartest coaches in world soccer, proving the old adage "a good manager can make a team five percent better; a bad manager can make them up to 30 percent worse" to be a vast understatement. Terim has the ability to motivate his players and to inspire them to play fearlessly, fusing aggression with heart -- which means that as long as Turkey can send 11 men onto the field, those 11 believe they can win, especially when they go a goal down. Terim won the UEFA Cup in 2000 with his beloved club Galatasaray, but he has yet to prove himself with an elite European side. He had a brief spell in Italy (including five frustrating months at AC Milan), and although he had recently been linked with jobs among the biggest in soccer, a victory in Basel will make him a hotter property than Maria Sharapova's tailor.
Get Your Head In The Fame
Just as Terim is eyeing a move to the higher echelons of soccer, the Turkish team is studded with young players who are fully aware that the right result in Basel could kickstart their careers. Especially winger Kazim Kazim, whose climb to these dizzying heights is one of the most remarkable story lines of this tournament. Born Colin Kazim-Richards in David Beckham's hometown of Leytonstone, his short career in the English leagues fizzled out because of his inability to make the grade at a series of unglamorous clubs.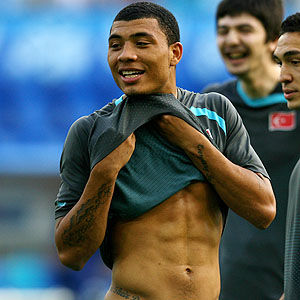 Shaun Botterill/Getty Images
Kazim Kazim has tattooed his new name on his abs as an aide-memoire.
His agent used the fact that Richards' mother was a Turkish Cypriot to pull off an act of creative rebranding worthy of Gordon Sumner. Colin Kazim-Richards was reborn as Kazim Kazim, and a move to Turkish soccer power Fenerbahce was engineered, resulting in a call-up to the Turkish national team. Kazim has been feted by the British tabloids as the only English player in Euro 2008 -- a status he has encouraged. "I'm not only Turkish, I'm English as well, so to play the Germans is incredible," Kazim said at a recent news conference. And he has made no secret of his ultimate desire: to return to the Premiership. This match might be just the platform to secure this, bringing with it the big contract and ensuing trophies
only the truly great have experienced
.
Can't We All Just Not Get Along?
If fame and fortune aren't enough to motivate the Turkish squad, then perhaps being on the wrong end of some old-fashioned national chauvinism will do the trick.
Germany is home to a massive Turkish diaspora
, nearly three million strong, the vast majority being immigrant workers whose experience of German life has been marked by extreme social, educational and economic disadvantage. Gelsenkirchen-born Bayern Munich midfielder
Hamit Altintop
is the most prominent example of a Turkish player born of an immigrant family in Germany who went on to learn his trade in the German leagues. While the German newspapers suggest that this game will show the world how close the two countries have become, it is telling to note that only one Turk, Mustafa Dogan, has ever represented the German national team -- and he played for them only twice, nearly a decade ago. Of the forwards on Germany's current squad, Lukas Podolski and Miroslav Klose were born in Poland, Oliver Neuville in Switzerland, Kevin Kuranyi in Brazil and David Odonkor's roots are in Ghana. The lack of Turks -- who are well-represented on the squads of both Austria and Switzerland -- on the German team suggests that this will be more than just a game.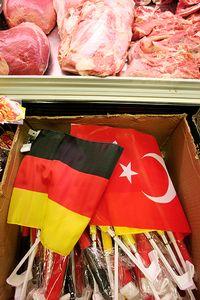 Ralph Orlowski/Getty Images
Germany-Turkey is more than a game. In Berlin, even prime ribs are choosing sides.
All You Need Is Low?
And what about the German squad? Could it be that things are possibly running a bit too smoothly? Coach Joachim Low is back from suspension. And his side is working off a national narrative forged at the past two World Cups, where the Germans were able to overcome early lackluster performances and become a dogged team of destiny, driven by determination and force of will. Two questions must be preying on their minds right now. The first is how will they insert attack dog Torsten Frings back into the team without losing the flow they achieved against Portugal, when Michael Ballack was given license to roam wherever his creative instincts took him? The second is who would they play in the final? Turkey is surely hoping it will catch the Germans looking ahead and dreaming of
"bringing it all home."
The critical question then is not how Turkey will win, but when exactly will we know it is headed to the final? The telltale sign that everything is going the Turks' way will be when Germany goes a goal or two up, which is exactly where Terim and Turkey want to be.
David Hirshey is the executive editor of HarperCollins Publishers. He has been covering soccer for 30 years and played himself (almost convincingly) in the soccer documentary "Once In A Lifetime." Roger Bennett lives in New York but still is scarred by this. Hirshey and Bennett are at work on the forthcoming "ESPN's Ultimate World Cup Guide." The two will be writing about Euro 2008 Monday through Friday on Page 2, unless their astrologer tells them not to.