Turkey's out of the picture, but Spain is ready for its close-up
EURO 2008 COVERAGE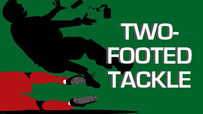 Check Page 2 each weekday during Euro 2008 for a tournament diary by David Hirshey and Roger Bennett
.
Previous entries
June 6:
Tourney preview
June 9:
Rough weekend for Switzerland
June 10:
Down goes Italy
June 11:
Villa, Spain flying high
June 12:
Big Portugal news
June 13:
Croatia shocker
June 16:
Turkey stuffs Czechs
June 17:
Germans march on
June 18:
French fried
June 19:
Playing quarters
June 20:
Spoiler alert!
June 23:
Semi-tough
June 25:
Miracle on grass?
•
Soccernet Euro 2008 index
Sunday's final on ABC:
Germany vs. Spain, 2:30 ET
(Replay available afterward on
ESPN360.com
in both English
and Spanish.)
Everybody wondered whether lightning would strike yet again for Turkey.
It certainly did -- but instead of knocking out Germany, it knocked out the television feed.
Perhaps it's just as well we didn't get to see the magic carpet ride end for the Turks. The cruel nature of their exit was too much to bear.
It would have been one thing if, as everyone predicted, they had been blown out by the Germans, their threadbare 14-man squad crushed beneath the relentless Teutonic power of the Euro favorites. But for the Turks to play the first half with all the skill and grit that they had previously reserved for stoppage-time heroics, for them to lay siege to the stout German defense as if it were Switzerland, for them to fill us with hope and joy for 89 minutes and 40 seconds and then get kicked in the face when we weren't looking -- well, that is the kind of twisted cosmic joke that only happens in an M. Night Shyamalan film. (And no one watches those either.)
Was Wednesday's game some kind of karmic payback for the Turks' thrilling high-wire act over their past three games, when they teetered close to Euro death but never fell? Did the Soccer Gods finally have enough and say, "Look, we can't have the Turks winning four games in a row by coming from behind in the last minute or on penalty kicks. How about we let them score first and see what happens?"
That, of course, is only one of the terrible ironies. Turkey didn't know how to hold a lead because it had been in front for only nine of the 400-plus minutes it had played at Euro 2008. You almost wonder if Germany gifted the Turks that first goal after only 22 minutes just to rattle them and throw them off their cliff-hanger game plan. How else to explain the comical bobbling and flailing ineptness of the German goalkeeper, Jens Lehmann, as he fell backward with the ball over his line? OK, so it's Lehmann, but you'd still think a guy who has played nearly 60 times for his country could handle Ugur Boral's scuffed shot that had all the power of a third-grade kickball attempt.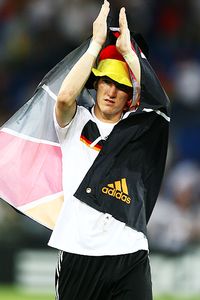 Alex Livesey/Getty Images
Inspired by Roger Federer's Wimbledon couture, Bastian Schweinsteiger summoned the finest German tailors to conjure up this designer look.
But then you'd also assume that a team, with its gleaming hood ornament Michael Ballack -- "Big Boss Ballack," as the German tabloids call him -- having been severely dented by Turkey's midfield schemer Hamit Altintop, would not respond so quickly and devastatingly. Yet it took only four minutes for the Germans to equalize. And they did it with the same terrifying speed and precision with which they tore Portugal open in the quarterfinals. And with the same two players -- Lukas Podolski crossing from the left flank to an onrushing Bastian Schweinsteiger, who needed just a simple flick of the outside of his right foot to send the ball fizzing into the net.
For the first time in this tournament, a hint of doubt seemed to cross Turkey coach Fatih Terim's face, as his players tried to figure out what had just happened. Did Germany just come from behind to tie the score? Wait, isn't that what we're supposed to do?
No one was more dazed and confused than goalkeeper Rustu Recber, who was the hero of Turkey's heart-stopping win over Croatia. Recber had so little to do in the first half -- Schweinsteiger's goal was the only German shot on target! -- that perhaps his mind was on a Bosphorus beach when he came off his line to collect a seemingly innocuous cross in the 79th minute. Imagine his surprise when he got there to find German striker Miroslav Klose heading the ball powerfully into his empty net.
So Turkey was now behind again, a position it revels in. Anybody remember when Croatia scored in the 119th minute against Turkey, and all hope was seemingly lost? Cue Semih Senturk, whose 120th-minute equalizer is already embedded in Turkish folklore.
With Lehmann once again slow to react, Senturk struck in the 86th minute, ghosting in behind the defense to get his outstretched boot on the ball just ahead of the German goalkeeper. Now it was 2-2, and the Turks celebrated with all the manic glee that the Croatians did when they thought their game against Turkey was over.
Had the Turks forgotten who they were playing?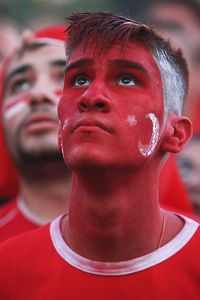 Sean Gallup/Getty Images
The second Philip Lahm's goal went in, it was time to rethink the use of the permanent marker.
Tactically and technically, the Germans were second-best Wednesday. But so immense is their mental strength and resolve they can still win even when they are playing poorly. And no German was struggling more than left back Philip Lahm. It was Lahm whom the Turks had skinned in the buildup to their tying goal, and it was Lahm who had grabbed a fistful of Colin Kazim-Richards' shirt in the box to make sure the Turkish winger didn't whoosh by him as he had done all game. (Terim went all Bobby Knight on the ref when he didn't call Lahm for a penalty, but he was strangely mute when Richards scythed down Lahm at the other end and no call was made.)
Lahm had the last word in his duel with Richards, however, swerving inside the Turkish winger to work a textbook give-and-go with his teammate Thomas Hitzlsperger that put him through on goal. Neither Recber nor anyone who believes in Turkish miracles was ready for what happened next. With 30 seconds left on the clock, Lahm lashed the ball high into the goal, and the TV feed cut out again. Imagine how maddening it must have been for the millions of German fans when the picture went dead. Suddenly, the Germans had their own Heidi Game -- and one of their own wrote the "Heidi" book.
While all of us were riveted by shots of the fanzone in Basel, the clock ticked down. There was no time for another stirring comeback. The world found out how many games of their lives the Turks had in them.
Sadly, it was only three.
---
It's always perilous to read too much into a team's first match in a three-week knockout tournament. Especially when that team is Spain, which always starts impressively and then traditionally takes a siesta.
So what are we to take away from Spain's 4-1 facial of Russia in their opening-round game?
Well, if you're Russian coach Guus Hiddink, you were left wondering two things: 1) What if your strikers had actually deposited a few of their early chances in the net instead of in Row Z? 2) What difference would Andrei Arshavin have made in the game had he not been suspended?
Hiddink is the Tony La Russa of soccer coaches, a tactical genius who is not above a mind game or two to give his team an edge -- like when he suggested ahead of the Sweden game that even though Arshavin was eligible to play, he might leave him out of the lineup because he wasn't match-fit. Psych!
In little more than two years, the Golden Guus (who has led his native Holland and South Korea to the World Cup semifinals) has transformed a bunch of hard-tackling, hard-running Russians -- whose names were known to few outside Moscow and St. Petersburg -- into a team on the brink of winning Euro. If he pulls that off, Hiddink's popularity will be rivaled only by Vladimir Putin and Maria Sharapova's dog, Dolce.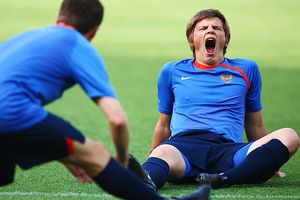 Clive Mason/Getty Images
Euro 2008 has been an electric cavalcade of passion, skill and twists. Andrei Arshavin is overwhelmed by it all.
Next to Andrei The Giant (all 5 feet, 8 inches of Arshavin), Hiddink is Russia's deadliest weapon. And anybody who watched Russia kick it up a gear against Holland in extra time and score twice knows Russia's other little secret -- no team in Euro has more high-octane fuel in its tank. Part of the reason for the Russians' lung-searing stamina is the fact almost every member of Russia's squad plays his club ball in its domestic league, which only recently started its season. By contrast, Spain's players -- like those on many teams in this tournament -- are coming off long, energy-sapping seasons in the English, German and Spanish leagues, and are worn down physically and mentally.
Still, even Hiddink would concede that, for all their stamina, the Russians do not possess the technical gifts of Spain. Arshavin and his main target man Roman Pavlyuchenko are a formidable duo, but can they terrify defenses like the quicksilver movements of David Villa and Fernando Torres? And for all their ability to close down opponents quickly in midfield, the Russians will surely recall how effortlessly Spain shredded them with slick passing the first time around.
It is only when Hiddink thinks of Spain's rear guard that he can take (slight) comfort. In their first meeting, Russia didn't have anyone to exploit Spain's shaky Carlos connection -- central defenders Carlos Puyol and Carlos Marchena -- but with Arshavin back in the lineup, Russia does now. In the two games since the 27-year-old dervish returned to the team, Russia has morphed into a counterattacking juggernaut every bit as lethal as Spain.
Pavlyuchenko, whom Hiddink reportedly told to lose weight and lay off the Bellinis before the tournament, has become a force upfront, now that he's feasting on a steady helping of Arshavin's assists. Unlike Italy, which was content to hide behind its fortress of eight bodies in the box, Russia will come at Spain, making for a wide-open, free-flowing game. It's just the kind of match that should bring out the best in Spain's stylish midfielder Cesc Fabregas -- that is, if crusty coach Luis Aragones decides to start him.
Arguably Spain's biggest impact player next to Villa, Fabregas hasn't been able to break into the lineup because Aragones feels his talents are redundant with Spain's other midfield ball artists. But after his masterful performance against Italy, when the 21-year-old Arsenal star was not just his team's most ambitious attacker but also its coolest, Aragones would be loco to keep him on the bench. After all, it was Fabregas who shrugged off the weight of his country's history and expectations to deliver the decisive penalty kick that put Spain in the semifinals of a major tournament for the first time since 1984.
How can anyone who saw him grinning at the bottom of Spain's celebratory dog-pile be immune to the Joy of Cesc?
David Hirshey is the executive editor of HarperCollins Publishers. He has been covering soccer for 30 years and played himself (almost convincingly) in the soccer documentary "Once In A Lifetime." Roger Bennett lives in New York but still is scarred by this. Hirshey and Bennett are at work on the forthcoming "ESPN's Ultimate World Cup Guide." The two will be writing about Euro 2008 Monday through Friday on Page 2, unless their astrologer tells them not to.