Because of crowd noise and multiple personnel groupings, the coaching staff of the Tennessee Titans uses large yellow cue cards to communicate defensive formations to players on the field. On Sunday in Nashville, after each series the cards were stowed safely behind the players on the bench -- team captain and linebacker Keith Bulluck; Pro Bowl tackles Kyle Vanden Bosch and Albert Haynesworth, who already has five sacks in 2008; "The Freak," Jevon Kearse; and third-year cornerback Cortland Finnegan, who leads the NFL in interceptions. The cards usually were placed on a table, face up. And so occasionally, it looked like someone was trying to use large black letters on bright yellow poster board to label the Titans' defense "REGULAR."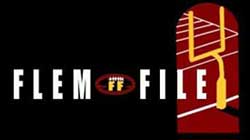 Of course, one glimpse of this cohesive, disciplined, nasty swarm, and it's pretty clear the Titans' defense is anything but regular.
In fact, the numbers suggest this might just be the best defense in the league. Tennessee, 4-0 for the first time, is ranked first in points allowed (11.5 per game), fifth in yards allowed (263.5 per game), second in sacks (15), first in picks (8) and first in takeaway/giveaway (plus-6).
As impressive as it is, though, the raw data is nothing compared to watching this team in action, the way the Titans hound, confuse and systematically dismantle offenses. Against the Vikings, one of the league's best lines, the Titans had four sacks, one pick and three forced fumbles.
I'm telling you, this defense is gonna make more Nashville visitors cry than Hank Williams Sr. ever did.
Great defenses are like great boxers, really -- at some point, they always manage to impose their will. And, let's face it, it's usually by beating opponents to a bloody pulp. You saw a glimpse of that Sunday when the bullied, battered and bruised Vikings went incomplete pass, incomplete pass, interception, fumble, sack, sack and punt on their final seven plays from scrimmage. It was the kind of annihilation that turns even partisan fans into little old grannies silently hoping the clock runs out so no more of those nice Viking boys get hurt any worse than need be.
So go right ahead and continue to ignore this team because it doesn't play on a coast or with a star on its helmet. But after the first month of the season, the truth is the Titans' defense is the most impressive thing I've seen in the NFL.
And I give Jeff Fisher a lot of credit for seeing what he had, early, and making the call to prevent Vince Young's growing pains from wasting a defense that might just out-Raven the Ravens. Because more than one member of the Titans' defense talked about how nice it was not to have to play the role of "big brother" anymore, always protecting the offense and cleaning up its messes. And that freedom -- of not having to win games entirely by itself -- has turned the defense's intensity into something closer to swagger.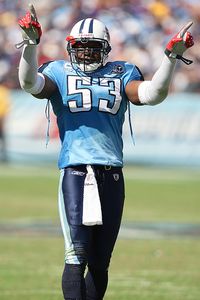 Joe Robbins/Getty Images
Bulluck and the Titans defense know how to make grown men cry.
"I've been on some solid defenses," Bulluck said, his shades propped on top of his head, ready for his closeup. "But not one that was so dominant up front. People always overlook us here in Nashville, and they continue to do so -- but that's OK. We're not all that concerned with national recognition. That will come."
There's no doubt. Look, the Titans tackle well. They fly to the ball. They pursue with leverage. The corners are disciplined in run containment. They do the little things right. And remember, the 2000 Ravens (the defense by which all others are measured in this millennium) did not use complicated, crazy schemes. They were as vanilla as you can get. They were just way more talented, physical, fast and fundamentally sound than anyone they played.
Now, a lot of teams have linemen who communicate well with other linemen and linebackers who talk to each other and DBs who work in sync. But the Titans, with 10 of 11 players back from last season (a rarity indeed in the salary cap era of the game) have taken communication and synchronicity to a whole new level and used it -- I love this -- to become even more violent and disruptive. The motto of the Tennessee defense is, "Meet me at the football, there's a party at the football," and most of the time, that VIP lounge is overcrowded with dudes so nasty they make powder blue look mean.
Most of the credit for the team's cerebral-physical balance goes to defensive coordinator Jim Schwartz, who walks around on the sidelines with his play call sheet folded up in his back pocket like Quick Draw McGraw. On Schwartz's command, Bulluck wasn't just talking to his fellow linebackers, he was signaling to corners for run blitzes. Linebacker David Thornton was shifting tackles just before the snap to overload the strong side and contain rookie of the year RB Adrian Peterson in a maze of defenders thicker and scarier than Fisher's cop 'stache.
"It's a family here; it really feels like a family," Finnegan said. "And when you have that, you have something special. When you care about each other, guys go to another level to make sure they don't let people down."
So the Titans have talent. They have speed. They have 'tude, schemes and loads of chemistry. The final sign? Although the players in Tennessee can sense they have the makings of something very special, on Sunday, no one was talking Super Bowl or 1985 Bears just yet.
"Look, 4-0 is special, but not if we go 4-12," Haynesworth said. "We have all the components to be a great defense. But we have not even played our best game yet. It's coming. You'll see it soon."
Consider yourself warned.
---
30-SECOND COLUMN
My buddy Jeff Legwold, who covers the Broncos for the Rocky Mountain News and is one of the most well-respected draft gurus in the biz, reminded me that this week (Oct. 6) is the 40th anniversary of Marlin Briscoe becoming the first black quarterback to start a professional football game.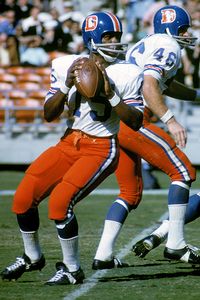 Darryl Norenberg/NFL Photos/Getty Images
Marlin Briscoe's struggle to break barriers doesn't receive the attention it deserves.
As a pro football pioneer, Briscoe's story is a remarkable tale of perseverance and dignity. He was drafted by the Broncos in 1968 out of Omaha University (now Nebraska-Omaha), where he earned the nickname "The Magician" and All-American honors. After Denver's starter went down with an injury, Briscoe started seven games at quarterback in his first year in the NFL. He threw 14 touchdowns as a rookie -- still a Broncos record. And the team repaid him the next season by not even allowing him to compete for the starting quarterback job. Coaches told him he was too short for the position. But in 2002, the 5-foot-11 Briscoe told ESPN what they really were saying was he was too black. So he asked for, and was granted, his release. He signed with Buffalo and, playing receiver for the first time in his career, was named the team's offensive MVP. The next year, he led the NFL in receiving. Briscoe played nine years of pro ball, winning two rings with the 1972 and 1973 Dolphins.
After retiring from football in 1977, Briscoe's life spiraled out of control. He spent nearly a decade on the streets of Los Angeles battling a drug addiction and his own demons. (He once was kidnapped by the Crips and held for a weekend over a drug debt.) After two stints in jail, he got clean in 1989 and since then has been a tireless advocate for the youth of South Central L.A. In 2007, he was inducted into the Omaha Sports Hall of Fame. A wonderful tribute, indeed, but just a fraction of the recognition and respect Briscoe deserves for being one of the game's often-overlooked pioneers.
FLEM FILE FOTOS

FF1: The glamorous life of a sportswriter usually means lots of nice little perks -- like a parking spot near (or, in this case on top of) the stadium port-a-johns.
FF2: The players' entrance to the field in Nashville. It's hard to describe the feeling this space elicits, but the combination of the massive, sort of glowing blue tarp, the sunlight at the end of the tunnel and the huge, narrowing, cold concrete walls makes you feel like you're either: (A) under water; or (B) an elderly football coach finally being called to the light by the great GM in the sky.
---
FLEM FILE FIVE
In honor of Paul Newman, Top Five (printable) Lines from "Slap Shot" (the best sports movie ever made):
5. "Oh, this young man has had a very trying rookie season, with the litigation, the notoriety, his subsequent deportation to Canada and that country's refusal to accept him. Well, I guess that's more than most 21-year-olds can handle. Number six, Ogie Oglethorpe."
4. "Get that lumber in his face and let 'im know you're there!"
3. TIE: "The h'air h'ere make me sick, make me wanna puke." And, "You do dat, you go to box … you know, two minutes by yourself, you know, and you feel shame."
2. "What about Eddie Shore? Oh, piss on Eddie Shore. Old-time hockey? Piss on old-time hockey!"
1. "What are you guys doing?" "Putting on the 'foil, coach. You want some?"
---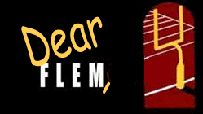 DEAR FLEM
In the crazy, topsy-turvy world of the NFL, sometimes fans just need someone to talk to. So once a week, I will exchange e-mails with one lucky (I think) reader on ESPN The Magazine's Web site. Last week, a day after talking Lions fan Connor Moore off the ledge, Detroit GM Matt Millen was canned. Coincidence? I think not. If you would like to have an e-mail exchange about something that's bothering you, by all means, click here and pour your pigskin heart out. Flem Filers: I'm listening.
DEAR FLEM: Is it totally unreasonable to want my Steelers to be the first team to six Super Bowls? This should not dominate my thoughts, but living in Texas and being a Steeler fan is not easy. It will be even harder if the Cowboys get there first … is there something you can do? -- Michael McPherson, an ER physician in Lubbock, Texas
Click here for the Tao of Flem.
---
FLEM GEMS

Tennessee Titans Observation No. 1: I don't want to say the Titans' defense dominated so much that the game got boring or anything. But in the third quarter, when a guy in a red Jevon Kearse jersey passed out in the stands behind the Titans' bench, his buddies entertained the crowd by stacking five empty plastic beer cups on top of the poor dude's slumped-over melon.
TTON2: Jags kicker Josh Scobee already has kicked two game winners. A feat I pretty much predicted in the Flem File after Week 2. Anyway, knowing that the NFL salary cap of $116.7 million is roughly 65 percent of each team's revenues of approximately $180 million, and that 1/16th of that is $11.25 million, if he were to kick two more game winners, I'd say his pro-rated salary for this season should be $45 million.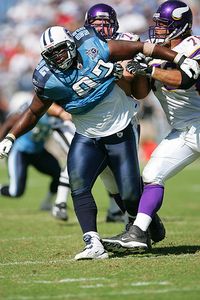 Paul Jasienski/Getty Images
It's safe to say that Haynesworth is in the Top 3 on the Most Scary Alberts list.
TTON3: I spoke to Ravens D coordinator Rex Ryan last week about the lost art of tackling, and all the things he stressed seemed to come to life on the field in Nashville (and then again on "Monday Night Football" in Pittsburgh.) Titans tacklers almost never leave their feet; they expertly use leverage (DBs tackle outside in, while the front seven tackles inside out). The first guy in always goes for the stop, not the turnover; instead, the second guy in attacks the ball, just like Thornton did on the fumble that led to the Titans' first touchdown.
TTON4: To continue that thought on tackling with the Titans: I was very impressed by the run support and open-field tackling of Tennessee's cornerbacks, guys like 188-pound Cortland Finnegan, who leads the NFL with four picks. Asking your smaller cover corners to also be the first wave of run containment on the outside is the Achilles' heel of most NFL defenses, but Finnegan is outstanding in both facets and even more amazing when you see him in person and realize he's giving away 30 pounds to the average running back.
TTON5: The heavier you are, the closer you get to sit to the portable AC units on the Titans' bench.
TTON6: The sun reflecting off the front of the Vikings' helmets made them look like they were wearing miners caps.
TTON7: Titans DT Albert Haynesworth called Minnie back Adrian Peterson "a bigger, stronger Barry Sanders." How good is AP? Everyone was complimenting the Titans afterward for "holding" him to just 101 all-purpose yards and two touchdowns.
TTON8: Former Minnie starter Tarvaris Jackson looked comfortable -- and relieved -- on the sidelines with his cap backward and earphones on, thoroughly enjoying the fan contests on the field during TV timeouts. Maybe it's just me, but a guy with a 51.7 completion percentage shouldn't giggle when a fan struggles to throw the ball through a giant tire.
TTON9: During those same kinds of breaks, Minnie coach Brad Childress was teaching. At one point, he gave very specific, detailed route adjustments to wideout Bobby Wade who, sure enough, kept a fourth-quarter scoring drive alive with a sweet 15-yard snag on third down.
TTON10: Here's why I've never gotten into the whole fantasy football thing: Besides the fact that it feels like a close cousin to "Dungeons and Dragons," Kurt Warner single-handedly threw away the actual game against the Jets but finished the week as a fantasy hero to millions.
TTON11: I don't want to take away anything from the way Kerry Collins has smartly managed the Titans' offense, but I saw at least three passes Sunday that a more in-tune defense could have exploited and used to alter the game dramatically. Tennessee, by the way, gained all of 70 yards in the second half.
TTON12: Most defenses use two fists on the helmet to signal a "Ram," a one-gap, straight-forward scheme against the run. But if you are talking one-gap symbols, wouldn't "LETTERMAN" be a lot cooler call?
TTON13: The Chris Johnson touchdown scamper to the left corner of the end zone was set up by a long series of calls to the right. At the goal line, the Titans then put a decoy tight end in motion to the right and caught the Vikes leaning. In today's game, that's all it takes.
TTON14: The score, by the way, was replayed six, then seven, then eight times in the few minutes before the next touchdown. This reminded me of a theory I have about hockey: The NHL is the fastest, most athletic, exciting, entertaining and hyper-violent sport on the planet, and you know why no one watches? Because we have been programmed to rely on instant -- and multiple, mind-numbing -- replays of all the important action in sports. We don't pay attention on any of the first five replays -- in other words, we get caught leaning just like the Vikings -- because we know there will be dozens more.
But in hockey, the action is so fast there is no time to replay that huge hit or that unreal pass or that puck ringing the crossbar, because in eight seconds, there will be two more things you won't want to miss. Hockey is enjoying a much-deserved upswing, but it needs to rethink all the traditional rules of how sports are broadcast if it wants to translate to a television audience.
TTON15: You ever have one of those days when, even though you've checked and re-checked 10 times, you still are convinced you skipped a button on your shirt?
TTON16: The Vikings certainly didn't lose on one bad call, but in the second quarter, Minnesota's defense absolutely stuffed Titans wideout Justin Gage on fourth-and-two at the 3. The ref's spot, however, added a yard and a half, easy, to Gage's actual forward progress. Childress challenged, dropping the red flag on the ref's shoe like a bag full of dog poo, but to no avail. On first down, the Titans scored to go up 20-7.
TTON17: Seems like I say this every fall, but, so far at least, the best football game I've seen was on Saturday a block from my house, when a scrappy Davidson College came from 21 down in the second half to beat Jacksonville 38-35 on a 23-yard field goal from sophomore Ben Behrendt with 42 seconds left to play. It was homecoming weekend, and the alumni were about to bolt the scene when, late in the third with the Cats trailing by two TDs, senior defensive back Brandon Giles picked off a pass and returned it 44 yards to the Jax 16. Giles was like Steph Curry in shoulder pads: The pick changed the momentum of what was about to become a blowout, and he was clutch all day in deep pass coverage, all the way down to the wire, when he broke up Jax's final pass to the end zone.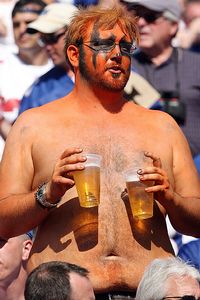 Evan Pinkus/Getty Images
Bengals fans haven't had much to smile about ... for a couple decades.
TTON18: Todd Jones, the outstanding Columbus Dispatch columnist and a friend of mine from my days as the outdoors writer for the Cincinnati Post (honest), has finally put the Bengals and their fans into proper context, calling them "sadder than an orphanage fire for almost two decades."
TTON19: In the current economic era of the game, the most amazing thing about the Titans' defense might just be that somehow, Tennessee's front office managed to keep 10 of the 11 players from last season around so that the family feeling and trench telepathy could continue. And the one replacement they did bring in? Former Titan Jevon Kearse.
TTON20: This column would have been a lot longer, but I flipped to a channel showing how they make rubber mats -- with soothing narration and strange elevator-type background music -- and the next time I looked up, it was, like, 26 hours later.
TTON21: In the bizarre NFL coaching ranks, it often is not about how well you work but how long. If one coach watches film for four hours, the next guy will try to find a way to watch the same thing for six hours. If one guy sleeps for four hours, the next guy will try to find a way to sleep for only three. The same thing is happening now with these play cards. I noticed the cafeteria tray-sized cards aren't big enough anymore. The one Childress carries has an extra, like, 10-inch gatefold flap, and Mike McCarthy in Green Bay has just gone ahead and used binder rings for multiple pages.
TTON22: Remember when you used to see a stretcher come onto the field, like, once or twice during an entire season? I've never seen this much injury attrition in the first month. It's not just hard to watch; it's severely watering down the product. In the 1920s, the NFL had a remedy for injuries: iodine and four fingers of whiskey. Now tell me, is "Hey, uh, well, the next guy in line will have to just step up …" that much more advanced?
TTON23: In between series, Titans center Kevin Mawae tucks his mouth guard behind his left ear. If I lived in Nashville, I would be thinking seriously about using this as my Halloween costume.
TTON24: Thanks for all the nice e-mails regarding my half-marathon "race" last week.
TTON25: The Titans' secret? A good DJ. Extremely rare these days to find any stadium that plays a cool mix of stuff beyond "Final Countdown." But in Nashvegas, they do it right: Beastie Boys, Kinks, Johnny Cash and House of Pain.
TTON26: These kinds of weeks in the NFL make me wonder how long before the season ends with every team 8-8 and in a 32-way tie for both first and last place.
TTON27: Isn't there a scene in one of the "Rocky" movies when his corner is begging him to go down to avoid more punishment? That's what the Vikes' last series felt like, with Jackson just getting abused by the Titans' defensive front and the crowd chanting, "4-0! 4-0! 4-0!"
TTON28: Down on the field after the game, I saw Mawae posing for pictures with what looked like a group of family and friends. After 15 years in the NFL, a guy still understands the coolness of what he does and wants to share it with people close to him? That's pretty cool.
TTON29: A little bit later, say, an hour or so after the game, down in the tunnels below the stands, I saw Thornton and Kyle Vanden Bosch making their way out their regular exit. Word had gotten around, however, that joyous fans were mobbing players with well wishes and autograph requests as they were leaving the stadium. And so Thornton and Vanden Bosch huddled for a moment to consider an alternate route. I had to giggle at the scene: Armed with the game's best defense and undefeated in October for the first time, for a moment, the Titans' defense had turned into the Beatles.
---
THIS COLUMN WRITTEN WHILE LISTENING TO: David Bowie's "Greatest Hits."
David Fleming is a senior writer for ESPN The Magazine and the author of the memoir "Noah's Rainbow" and "Breaker Boys: The NFL's Greatest Team and the Stolen 1925 Championship," which has been optioned as a movie. The Flem File will run each Wednesday during the NFL season.