Thanks to some strange scheduling quirk, before this year's Super Bowl it had been eight years since I last covered a game at Tampa's Raymond James Stadium. During that span I've been to bullfighting rings in Mexico, to Manchester United's venerable Old Trafford in England and at least a dozen times to Detroit's Ford Field, of all places. But for one reason or another I had never returned to Tampa's stadium, to the place where I witnessed the remarkable courage of Baltimore Ravens kick returner Jermaine Lewis, who broke open Super Bowl XXXV with an 84-yard kickoff return.
AP Photo/Roberto Borea
Jermaine Lewis' Super Bowl kick return was a play David Fleming will never forget.
After Lewis sliced his way down the field and floated into the end zone that night, he pointed into the inky sky to honor his son Geronimo, who had been stillborn two months earlier. Most fans remember Baltimore's ravenous defense in that game, or the perfect slow-motion arc of quarterback Trent Dilfer's 38-yard touchdown lob to Brandon Stokley in the first quarter. But at the time, I also was a grieving parent, having lost an infant son just a few months earlier. For me, watching in numbed silence from my seat inside the Raymond James Stadium press box, Lewis' triumph over tragedy felt transcendent; a moment, as ethereal and instantaneous as a puff of smoke, when an athlete seemed capable of defying death.
Eight years later, I returned to Tampa for Super Bowl XLIII. And now, after an NFL season punctuated at nearly every turn by tragedy -- including the news late last week that Oakland Raiders linebacker Marquis Cooper, former Detroit Lions defensive lineman Corey Smith and former South Florida Bulls player William Bleakley were presumed dead after their boat capsized in the Gulf of Mexico -- I am reminded, once again, of the frequent yet poignant connection between sports and death.
In August, NFL players donned GU patches on their uniforms to honor Hall of Fame guard and NFL Players Association chief Gene Upshaw, a towering man, even at 63, who died just three days after being diagnosed with pancreatic cancer. During training camp that summer, I caught up with Colts captain Gary Brackett, who during one 16-month span starting in 2003 lost his mother, father and brother. "You honor the dead by the way you carry on and live your life," Brackett reminded me when my next question lodged itself in the back of my throat.
Later in the season, I watched as New England coach Bill Belichick allowed his steely fašade to disappear, just for a moment, as he warmly embraced Matt Cassel after the quarterback beat Oakland just days after burying his father. And, back in Tampa in the days leading up to the Super Bowl, I listened to Cardinals 300-pound defensive lineman Darnell Dockett talk about the unsolved 1994 murder of his mother, Cheryl Hambrick. And I swear, you could still see the weight of that loss in his heavy eyes when he mentioned, in a near whisper, that he'd gladly give everything back for one more moment with his mom.
That same week, Colts coach Tony Dungy walked away from the game at 53 years of age, a move hastened by the 2005 suicide of his son James. During my own ordeal, it was Dungy himself who had helped me formulate, for lack of a better term, an athletic approach to grief: to confront it rather than cower before it, and to channel it in a way that might convert the pain, defeat and loss into a positive change, a blessing, even, that honored the life I was mourning.
Perhaps it's the short career spans, the threat of injury or the constant ticking of the game clock, but I remember thinking at the time that athletes and coaches somehow are better equipped to deal with death. They're trained not to dwell on the past, on things they cannot control, but to instead convert emotion into action. Yet they also understand, better than most, that our time here and our opportunities aren't endless, but finite. And, that on some deep level, sports really are about cheating death; about creating a legacy that will outlast our own mortality.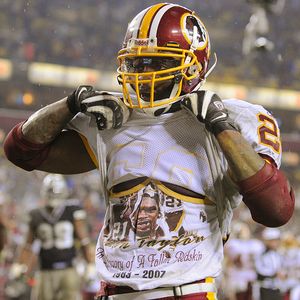 AP Photo/Nick Wass
Clinton Portis continues to honor his fallen teammate and friend, Sean Taylor.
In early November I spent part of the Washington Redskins' bye week with running back Clinton Portis at his waterfront condo in Miami. A sore knee and myriad other ailments caused Portis to shuffle around in his pajamas like an old man. When I asked him what kept him going through the meat grinder of the NFL season, he just tapped his chest and the white T-shirt emblazoned with a photo of former Redskins safety Sean Taylor, who was murdered in his home a year earlier.
Taylor's murder resonated across the league, sparking a paradigm shift in the way NFL players approached their safety and security. The Redskins continued their living tribute to Taylor with a renewed fervor for the game (Portis finished fourth in the NFL last season with 1,487 yards rushing), helmet decals adorned with his jersey number and a spot in the team's Ring of Honor.
In the days leading up to the ceremony inside FedEx Field, Portis imagined emerging from a pileup and looking to Taylor's name for inspiration. And his reaction typified what I've found to be an inspirational approach to dealing with the kind of unthinkable tragedy unfolding for the families of Marquis Cooper, Corey Smith and William Bleakley, who now face their own ocean of grief.
"When you measure someone's life," Portis said, "it's not about the time they had -- but the impact."
David Fleming is a senior writer for ESPN The Magazine and the author of the memoir "Noah's Rainbow" and "Breaker Boys: The NFL's Greatest Team and the Stolen 1925 Championship," which has been optioned as a movie. The Flem File will run each Wednesday during the NFL season.