Commentary
Signs of the Redskins times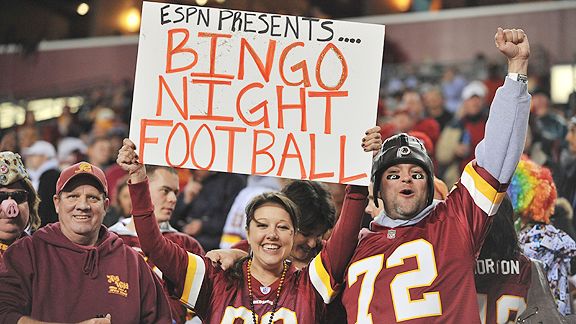 Larry French/Getty ImagesSorry, Redskins fans. Just because you're in the nation's capital doesn't mean you can have free speech at FedEx Field.
As time ticked down Monday night, the hapless Washington Redskins wrapped up their loss to Philadelphia with what I thought was a fitting final bit of buffoonery: a direct snap to the Eagles' defense. Ya know, after four turnovers and six sacks, what the heck, you might as well just eliminate the middleman and hike it right to the D. This may or may not have been the handy work of the team's new playcaller, Sherm Lewis, a great coach who has not worked in the NFL since 2004 but was staying sharp by calling bingo games at a retirement home in Michigan.
The Redskins, as you may have heard, have hit a bit of a rough patch. They haven't sniffed the Super Bowl in 18 years. They tend to overspend on free agents and underscout their draft picks. They've pretty much ruined the coaching careers of most of the guys they've hired. And they haven't scored more than 17 points in any of their past 10 home games.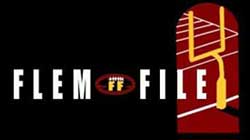 Despite being the only team in NFL history to play six consecutive winless teams, they've somehow started the season 2-5 thanks to a pair of statement wins (meaning: by a total of five points) to the combined 0-14 Bucs and Rams.
Oh, and did I mention this headline from earlier in the year? "Redskins sue elderly fan for breaking season ticket agreement."
Just when I thought the Redskins couldn't sink any lower, The Washington Post's excellent D.C. Sports Bog reported on Tuesday that the team is now apparently banning disgruntled fans from displaying signs inside FedEx Field. Reading between the lines of the report, it sounds to me as if the team doesn't want people (Dan Snyder) getting (his feelings) hurt by fan signs. One of the signs that had to be thrown away because of its potential to inflict a lethal paper cut said, "Let Ovechkin call the plays."
Hey, you can lose a lot of things in sports: games, jobs, money, respect ... your marbles. But it's a sad, sad day when a team worth $1.5 billion won't let frustrated fans, paying major coin for their seats, laugh a little at the team's expense.
So, in honor of all those censored signs, I thought I'd fly a few of my own FedEx Field posters right here.
(And, please, by all means, feel free to join in with your own creations.)
• YES we CAN'T!
• Our offense moves slower than I-395.
• Here's the sad part: In the time it took you to read this sign, the value of the Redskins went up another $42 million.
• DaVinny: Please don't trade for Herschel Walker during the bye week.
• SORRY SHERM, there are no FREE SPACES in football.
• Here's one phrase I never thought I'd say: I miss the FUN 'n' GUN.
• PHIL COLLINS
JOAN COLLINS OR
VODKA COLLINS
But please, not ...
TODD COLLINS
• Geez, even BILL BIDWILL got a team to the Super Bowl.
• If money could buy happiness, wouldn't Albert Haynesworth be in a better mood?
• I don't have anything to say: The guy behind me is a lifelong Hog, and I'm just doing him a solid by blocking his view.
• You'd better believe this is a 10-win team ... if the NFL went to a 50-game season.
• STEVE LARGENT needs to be taught a lesson. Make him the coach.
• So ... YOU WANT some of this TENNESSEE?
• I know it's been a while, Sherm, but the tight end is allowed to run more than one route.
• RUN, SHANNY, RUN!
• You hear that sound? That's Matt Millen and William Clay Ford laughing at us.
• Is it warm today, or are we in HELL?
• Jackie Moon was right: This is just like the Titanic, only with angry bears running everywhere.
• Domo arigato Mr. Cerrato.
• JASON CAMPBELL:
... EIGHT offensive systems;
... SEVEN interceptions;
... TWENTY sacks;
... Redskins in the playoffs with him under center?
WINLESS
• If you think our performance is offensive, check out our LOGO!
• Of course Jim Zorn will remain the coach, the Redskins always finish what they st ...
• Which team is "BYE WEEK," and why are they favored to beat the Redskins by 24 points?
• The last time we sniffed a Super Bowl, WILL SMITH was still the Fresh Prince.
• Even Richard Seymour doesn't think we'll make the playoffs.
• I'm only STANDING here because they threatened to sue my granny.
David Fleming is a senior writer for ESPN The Magazine and the author of the memoir "Noah's Rainbow" and "Breaker Boys: The NFL's Greatest Team and the Stolen 1925 Championship." And his work will be featured in the 2009 Best American Sports Writing anthology. The Flem File appears every Wednesday during the NFL season with updates on Mondays and Fridays.
ESPN Senior Writer
Senior writer for ESPN The Magazine and FlemFile columnist for ESPN.com.
Has written more than 30 cover stories for SI and ESPN.
Author of "Noah's Rainbow" (a father's memoir) and "Breaker Boys" (stolen 1925 NFL title).
Nike Youth Home Limited Jersey Washington Redskins Robert Griffin Iii #10 Shop »