Commentary
Golden Boy resonates with readers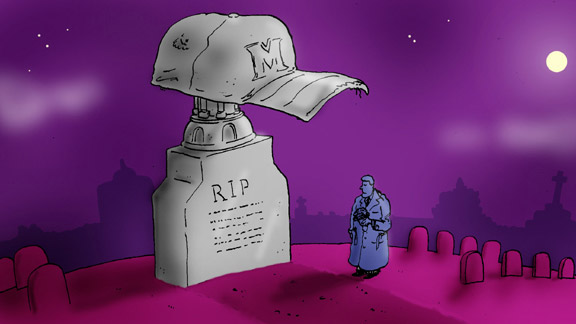 Kurt Snibbe/ESPN.comThere's no shame in holding a funeral for your favorite go-to hat.
I don't want to exaggerate the importance of your massive, passionate and empathetic responses to last week's Flem File on saying goodbye to Golden Boy, my favorite hat for almost a decade, but you pretty much restored my faith in mankind.
I thought I was the only one who felt this way about a hat. Boy was I wrong.
And to top it off, one of the responses was from an actual living, breathing angel. OK, it was an executive from '47 Brand, the company formerly known as Twins Enterprise that manufactured my original blue Miami hat. And, in what is either the kindest act in the history of the world -- or the best/cruelest prank ever -- a rep from the company says they tracked down an exact replica of Golden Boy and there's a chance I could have GBII resting on my melon by next week.
I'll keep you posted.
In the meantime, check out this multimedia sampling of reader responses. And thanks, you guys, this kind of stuff is why I love my job.
FROM E-MAIL
• I know too well of your love affair with the perfect hat. I have a collection of about 30, I prefer the New Era 59 Fiftys, but have one favorite. Right before I went off to college I bought an old red, white and blue Expos cap and 10 years later it's still my go-to hat whenever I need one I know is gonna fit just right. When I pull it out now I get a lot of "you still have that thing?" comments. Even after a dog took a leak on it I couldn't get rid of it, just soaked it in some water and then threw it in the wash. Every other hat I own comes and goes, falls in and out of favor, but that one I will never get rid of. -- Tony in KC.
• Dude, great story. However, none of that crap matters if YOU'RE bald. Just wait until the rest of your follicles decide to jump off your melon. My advice if you find Golden Boy part deux, buy more than one. Thanks for the great read. -- David in Wichita.
• Your article almost brought me to tears thinking of that Cubs hat with the alternate logo I bought in 1999 for $5 in Springfield, MO. It was a part of me. I wore it to the course, games, work, school EVERY day, practice, bars, etc. It saw Wrigley. I was wearing it when I met my wife. I picked up Ernie (my Boston Terrier) wearing it. I took it on our honeymoon. It was thrown at the TV during the Bartman game. I miss my Golden Boy. -- Chris in St. Louis.
• Hey, I absolutely loved the article about your favorite ball cap! I actually got chills reading towards the end, which tells you that I had a favorite cap. Mine was a white Marshall University "HERD" cap. I got in 1998. My HERD cap had tractor grease, sweat, urine (probably), dirt, manure, asphalt and who knows what else in it at one time or another. It got darker and darker and fit my head better and better every year. I started cutting a quarter-inch notch when I accomplished something big. That cap was lost once for over a year and it made its way back home. Now, I must regretfully say, the HERD cap has been lost for over four years. I don't know when or if I will ever see it again, but I will never forget the memories or the stink. -- Will in Alabama.
• I loved this story. I have printed it out and put it above my desk. I too have a love affair with a navy blue Miami hat. A man's favorite hat is like a reflection into his past.
Although I haven't given him a name, my hat and I have spent a lot of wonderful moments together like you have spent with Golden Boy. His navy blue has faded like Golden Boy to the point that he is almost white. The M has turned a wonderful brown that Crayola couldn't even match. My girlfriend has attempted many times to throw him away but after many failed attempts she has finally accepted him into our relationship. This hat has been through it all. He was with me when I did my first keg. He was with me through most of my exams and spent hours with me late nights at the library.
Throwing him away would be like throwing away my wonderful memories of Miami. Throwing him away would be like throwing away my best friend. So rest in peace, Golden Boy. May he live on through every Miami man's navy blue baseball caps. -- Joshua in Ohio.
• Hat Story was awesome. Anyone who's owned a hat like that was nodding his head the whole article. I had a hat like that from Emily, Minnesota. Condolences on GB1. -- TW in Minnesota.
• I loved your story on "Golden Boy" but thought the ending was horrible along the lines of an M. Night Shyamalan movie. You NEVER throw the hat away. EVER. If it makes it that far, you RETIRE IT. Such a fine hat never deserved such a fate. I don't care how bad it smelled. You find a spot in your home and you keep it. Please tell me your garbage has not been collected yet. -- Jan in Kentucky.
• Awful article. No wonder you're stuck on page 2. -- Joe in San Diego.
FROM FACEBOOK
• A fine sendoff for an old friend. Me and my merely two-year-old Lions hat salute Golden Boy. -- Partha.
• RIP, sorry for your loss. -- Mark.
• Maybe Golden Boy will be replaced with a Pottsville Maroons cap. -- John.
• I was indeed a bit shocked at the unceremonious disposal. Had an "Old Yeller" thing to it, except he cried more. -- Scott.
• I too recently had to toss my beloved dome piece covering. It was made of the same style of fabric as yours and faded from a vibrant navy to almost gray. I think the two years of working around gravel dust might of had something to do with it. -- Josh.
• Thank you for justifying the insanity of keeping a hat that contains more grease than a double down KFC sandwich. My lost and found story is that I dropped it crowd surfing at an outdoor music fest, moped around for two hours, and then found it in the sand at the end of the night. Ten years later my first Red Sox hat is my go-to for superstition big games. And, I'll never let the girlfriend throw it out. -- JP.
• Fantastic article ... I have a hat that's 10-plus years old that has survived numerous girlfriends trying to get me to toss it (I actually broke up with a girl for trying to put the hat into a bowling ball return). I'm going to print your article, make any future girl read it, and then dare them to ask me to toss my hat. Thank you for putting into words what I've felt for over a decade. -- Jason.
• Your column this week struck home! I bought my golden boy in December 2002. The Iowa Hawkeyes had been picked to take on the USC Trojans in the Orange Bowl and I needed a new hat.
The Hawkeyes didn't fare so well in that game, but my hat saw me through the next two years of college and the first few years of my career. Like yours, the brim lining has pulled away and frayed, the inside is stained and it is faded. Like yours, it's contrarian (black and white not black and gold) and has survived many attempted assassinations by my fiancee, the girl that I took on that 16-hour car ride to Miami to watch the Hawkeyes play for our third date.
She put up with me on that car ride and for the last eight years, we got married Dec. 4, 2010, on the anniversary of our first date. And if we're lucky we'll get to take our second honeymoon to the Rose Bowl we thought we were attending eight years ago. -- Aaron.
FROM TWITTER
Matt: I finally had to hang up Old Reliable for good. Still training his successor.
Joe: I'm glad someone else is as meticulous about selecting/retiring hats. His "Golden Boy" is my "Old Blue"
Joe: Best article ever on ESPN. I have a Cardinals hat just like Golden Boy.
Jim: I thought I was the only one that felt like this.
Kevin: Just read that article on beloved hats. I retired mine after 8 yrs from 10-18 yrs old. been on tons of campouts.
Owen: I haven't worn my first GB in 3 yrs but cant ever work up the nerve to throw him away, your article cut me deep.
David Fleming is a senior writer for ESPN The Magazine and a columnist for ESPN.com. While covering the NFL for the past 16 years at Sports Illustrated and ESPN, he has written more than 30 cover stories and two books ("Noah's Rainbow" and "Breaker Boys"), and his work has been anthologized in "The Best American Sports Writing."