Commentary
Halfway home in this NFL season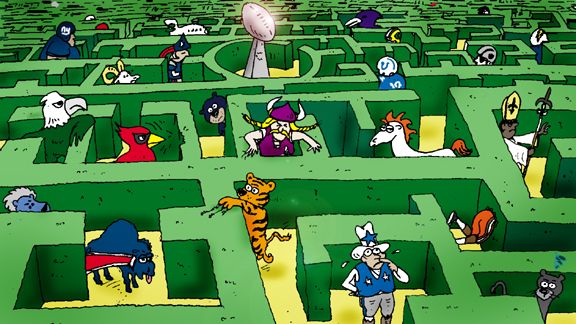 Kurt Snibbe/ESPN.com Welcome to the halfway point of the half-crazy maze that is the road to the Super Bowl.
Some half decent (and some totally half-baked) observations at the halfway point of yet another half-crazy NFL season.
WE'RE FOCUSED ON THE WRONG HALF: After Mike Shanahan totally botched his QB situation -- and with it, maybe the entire season -- I'm starting to wonder if John Elway made Shanny, not the other way around.
HALF HORRIBLE/HALF AWESOME: Jets punter Steve Weatherford's fake punt on fourth and 18. He would have made it, too, but the guy was slowed down by his gigantic stones.
HE WAS ONLY HALF JOKING: On Monday night a reporter buddy of mine suggested that Peyton Manning could take Indy to the Super Bowl with two guys off the street and me as the Colts' slot receiver. I've always seen myself as a fly-route, downfield burner-type guy, but okay.
HALF OF ONE PERCENT: The chances that Randy Moss will block downfield the first time Chris Johnson cuts one back.
HALF A HUNDRED: You can say the 5-2 Tampa Bay Bucs are for real, but they lost by a combined 50 points to the only two teams they've played (Steelers and Saints) with winning records.
HALFWAY TO MVP: Peyton Manning, Tom Brady, Arian Foster, Roddy White, Matt Ryan and Philip Rivers.
WAIT HALF A SECOND, RIVERS? With less than the world's greatest receiving corps he's thrown for more yards in the first eight games of the season than anyone in NFL history and is on pace for 5,298 total.
ALMOST HALF THE LEAGUE: Thirteen teams that have turned to their backup QBs already.
HALF PRICE? And not a single fan has asked for a ticket refund yet even though they are paying full price to watch second-string talent and subpar performances.
ONLY HALF JOKING: The Buffalo Bills might just be the most entertaining 0-7 team in NFL history.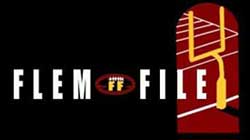 HALFWAY TO THE PLAY OF THE YEAR: The Bucs' LeGarrette Blount's 48-yard Olympic-hurdle-human-rodeo TD run.
MORE THAN HALFWAY TO CANTON: Chargers TE Antonio Gates.
HALF DOZEN, BEFORE I LOST COUNT: Tackles missed Monday night by the Texans' Bernard Pollard.
WAY LESS THAN HALF: The percentage of fans who ever took a hit on a football field who are now calling for players to wear skirts for not tackling head-first for their entertainment.
HALF THE ISSUE: Is the problem really big hits or (1) the fact that the NFL has glorified and marketed itself into a gazillion-dollar business by using the violence it is now fining players for; (2) the fact that technology has turned the helmet from protection into a weapon; (3) that the bizarre culture of the NFL would make players actually come out against rules meant to keep them safe; (4) that our society's insatiable appetite for violence and entertainment would make fans lust so openly for potentially life-altering injuries to their heroes.
HALF HIS BONUS: What DeAngelo Hall owes Jay Cutler.
HALFWAY TO DPOY: Clay Matthews; Osi Umenyiora (he's forced seven fumbles already, did I read that right?); James Harrison/Lawrence Timmons; Jerod Mayo; LaRon Landry; and Ray Lewis/Haloti Ngata.
ALMOST HALF A DOZEN: This week the Bears will feature their fifth different lineup on the offensive line. Which wouldn't be so bad if they had a quarterback who got rid of the ball a few half-seconds sooner.
MORE THAN HALFWAY TO SEVEN BILLS: The Packers' new 360-pound nose tackle Howard Green, who stepped right in and helped Green Bay shut out the Jets -- the most impressive win of the first half.
HALF A DORK: Anyone who uses the term "bills."
IT'S HALF TRUE: Why is it that when anyone else in the world twists their ankle it's a "sprain" but when Brett Favre does it's called a "break"?
YOU HALF TO BE KIDDING: Peyton Manning would like to personally thank the NFL schedule-makers for making the Eagles the fourth team coming off a bye week that the Colts have had to play.
HALF A BRAIN: Arian Foster (6.8 yards per carry) could have run for 250 yards against the Colts if the Texans had actually handed him the ball more than 15 times.
IT'S GOOD TO HALF CYBER FRIENDS: Last week's column on Jay (Cutler) George is at 3,500 Facebook shares … and counting. You people are nuts.
HALFWAY TO A BREAKUP: Since teaming up with T.O., Chad Ochocinco's TV ratings and his receiving stats have plummeted. Brace yourself for a major meltdown soon in Cincy. And a second-half winning streak, because no team is better in meaningless games once the playoffs are out of reach than the Bengals.
HALF A LOOK IN MY CRYSTAL BALL: The Colts and Packers winning with half their teams on IR is a glimpse into the future of an 18-game NFL season: Schemes and coaches will be the stars of the league and players will just be generic, interchangeable parts.
HALFWAY AROUND THE WORLD: The NFL should make the two worst teams during the first half of the season play in London every year.
HALFWAY TO THE PLAYOFFS: The Chargers.
ONLY HALF COVERED: The kilt-clad bagpipe band playing on the street outside Lucas Oil Stadium.
HALFWAY TO COACH OF THE YEAR RUNNER-UP: The award goes to Mike McCarthy if the Pack continues to win, but right now my runner-up is Steve Spagnuolo, whose Rams have held opponents to 18 or fewer points in seven of their past eight games.
HALF A STEP FASTER: And Colts RB Mike Hart would be a household name. He's got the smarts, the timing, the balance, the heart and the field vision; he just needs a little more burst.
HALFWAY DONE: This column.
HALF THE CRAP: What other Hall of Fame-caliber QBs have had to put up with compared to Donovan McNabb.
HALFWAY TO MY TURKEYS OF THE YEAR LIST: 49ers owner and prognosticator Jed York.
HALF BROTHERS? Am I the only one who thought that at times during his game in New England, Brett Favre looked a lot like the guy from "S--- My Dad Says"?
HALF THE IMPACT WE THOUGHT HE'D HAVE: Tim Tebow, but hey, at least he's been a proud, strong, vocal advocate against what's going on at his alma mater.
HALF AN MVP VOTE: Giants RB Ahmad Bradshaw leads the NFL with 10 carries of 20 yards or more.
AN ELITE HALF DOZEN: Broncos wideout Brandon Lloyd is just the sixth receiver since 1970, and the first since 1989, to pile up 800 yards receiving in the first eight games.
HALF NUTS: The last time the Raiders started 4-4 (2002), they went to the Super Bowl.
ALMOST HALF: There have been nine blocked punts this season, four against the Chargers, which helps explain how a team ranked first in offense and first in defense could be 3-5.
HALF THE CREDIT HE DESERVES: Detroit's Kyle Vanden Bosch.
HALF A LIFETIME AGO: Since anyone uttered this phrase: "That Chiefs-Raiders game should be awesome … "
HALF AS GOOD: Matt Schaub as a quarterback after he takes a few hits. That pick-six he threw against the Colts was him basically flinching at the prospect of taking another pounding from Indy 'backer Clint Session. "We knew we were getting in his mental," Session told me after the game. "In his mind, you mean?" I asked. "No," Session said with a wry grin that made his massive, awesome beard jump, "his mental." I nominate this as the next great Flem File catchphrase: "Dude, that's three in a row. I am totally in your mental right now, bro." Use it. Spread it. Report back.
HALF SERIOUS: If the Oakland Raiders' offensive line keeps improving, the Raiders could make a run at the postseason.
I MISSED ALMOST HALF: Of the best responses to my Golden Boy hat column -- they're in the comments section of the original piece. Check 'em out.
HALF AS GOOD AS IT SHOULD BE: The officiating.
I HALF FORGOT: A potential Golden Boy II Miami hat is in transit to my home as we speak. Pray for us.
HALFWAY ACROSS THE FIELD: They unfurl a giant American flag in Indy that covers the entire field for the national anthem (sung by Billy Ray Cyrus whose voice sounds like, well, sounds like he'd better pray his daughter keeps making money) and the volunteer at the 45 did a nose wheelie into the FieldTurf and had to crawl his way to safety.
YOU DIDN'T HALF TO DO THAT: Troy Polamalu had a bad game against the Saints, and then he did something that has become a lost art in our society: He stepped forward and admitted it.
WAIT HALF A SECOND: So Randy Moss was cut for making fun of someone's haircut and for complaining about food. He'd better not leave the toilet seat down or park in the wrong space in Tennessee.
HALF THE MAN HE USED TO BE: Wade Phillips. Honestly, it almost looks like Jerry Jones is punishing Wade by forcing him to keep coaching this dreadful team.
ALMOST A DOZEN: The Bears' jump in defensive rankings (11 spots up to sixth) since signing Julius Peppers.
HALF AS PHYSICAL: The Jets' supposedly badass defense has 15 sacks. The Lions have 23.
THE OVERLOOKED HALF: Bucs coach Raheem Morris's declaration that Tampa Bay is the best team in the NFC was more a rip of his conference than a statement about his crew.
HALF A BUCK: What I'd wager on Randy Moss finishing the season in Tennessee.
HE'S GOT HALF A CHANCE: Bucs wideout Mike Williams could be a dark horse for rookie of the year.
HALFWAY TO A FITTING REUNION: Dennis Green, Daunte Culpepper and Randy Moss make magic … in the UFL.
AM I HALF NUTS? Rex Grossman? What are we talking about here, Grossman? We're talking about Grossman? Grossman?
HE'D LOSE HALF HIS CHIPS: Is it me, or at his presser on Wednesday did Bills coach Chan Gailey act like he barely even knew who Shawne Merriman was, just hours before the team claimed him on waivers? Coach, take my advice: Don't ever play poker.
HALFWAY TO MY SUPER BOWL PREDICTION: Green Bay and the Texans.
HALF THE ATTENTION HE DESERVES: The Tampa Bay Bucs' Aqib Talib might just be the next Darrelle Revis.
HALF HEARTED: Forget Tony Romo; what happened to the Cowboys' defense?
GUESS WHAT HALF: Of the offense the Chiefs need to work on? Thanks to Jamaal Charles and Thomas Jones, KC ranks No. 1 in rushing … but they're 32nd in passing offense.
DOING TWICE AS MUCH WITH HALF THE TALENT: Packers, Colts, Tampa Bay, St. Louis.
DOING HALF AS MUCH WITH TWICE THE TALENT: Dallas, Minnesota, Arizona, Cincinnati, San Diego.
WAIT HALF A SECOND: Aren't the Chargers always on this list?
ONLY HALF AS SCARY: Jared Allen 2010 compared to Jared Allen 2009.
I'M ONLY HALF JOKING: Have the Cardinals thought about cutting the rest of their quarterbacks and running a single wing?
HALF MY ITUNES MONEY THIS WEEK: Went to the soundtrack for "Hot Tub Time Machine." Seriously. The last time I had a song order where New Order followed Public Enemy and Salt-N-Pepa were sandwiched between the English Beat and The Replacements, it was on a homemade cassette mix. (Remember those?) Oh, and check out Craig Robinson's sweet version of "Jessie's Girl," too.
Editor's note: Looking for Flem's top five, his music riffs and weekly reader e-mail WHYLO (who helped you log on?) awards? Check 'em out on Facebook and Twitter at @daveflemingespn.
David Fleming is a senior writer for ESPN The Magazine and a columnist for ESPN.com. While covering the NFL for the past 16 years at Sports Illustrated and ESPN, he has written more than 30 cover stories and two books ("Noah's Rainbow" and "Breaker Boys"), and his work has been anthologized in "The Best American Sports Writing."