Commentary
Don't you dare leave Bill Belichick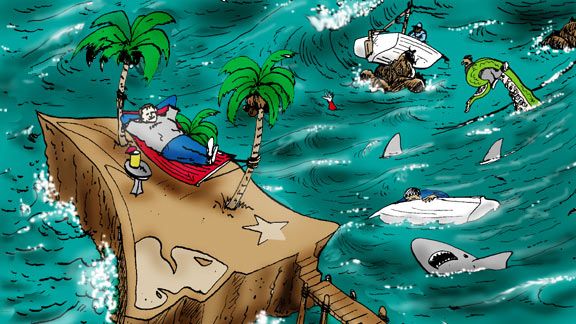 Kurt Snibbe/ESPN.comIf you dare escape from Bill Belichick's island you'll never be the same.
Cleveland might be blaming the wrong guy.
Since LeBron James bolted for the Heat, the city of Cleveland -- once the capital of the Midwest, second only to New York in prestige, population and manufacturing power (1940s, look it up) -- has been relentlessly whining about the supposedly devastating effect of the king's departure.
Well, I whole-heartedly agree.
Cleveland hasn't been the same since they ran the king out of town.
They're just obsessing over the wrong one.
I was there when it happened. It was the winter of 1995 and deep underneath the dark, dirty igloo of ignominy that was Cleveland Municipal Stadium, the Browns used to hold their postgame press conferences inside a makeshift construction trailer.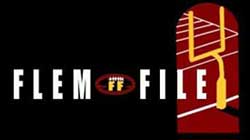 It was a different, far more awesome, time. Not wanting to miss any action, the denizens of the Dawg Pound used to pee in homemade urinals that drained out on to the field, too. And Jerry Glanville used to joke that he would bring his own hammer and nail to Cleveland Stadium so he'd have somewhere to hang his clothes inside the dungeon that passed as the visiting locker room. (Don't laugh, Bucs fans, your team used to train pretty much on a runway of the Tampa airport in a place that had rats bigger than Danny Woodhead.)
Anyway, the season before in Cleveland, then-Browns coach Bill Belichick led the team to an 11-5 record and a win over the Patriots in an AFC wild-card game. Here's a shocker: Belichick had built an unbelievable defense that year that allowed a league-low 204 points.
The next season, though, everything fell apart. Word got out that the team was leaving for Baltimore and about midway through what ended up a 5-11 season I stood inside the media trailer of Cleveland Stadium (it was lined with faux wood paneling, just like my basement growing up!) trying to have a conversation with Belichick only to be drowned out by angry fans on the catwalks above us, chanting:
BILL MUST GO! BILL MUST GO! BILL MUST GO!
I'll never forget this: In mid-answer, Belichick paused, gave a little wry grin to acknowledge the noise (it was a look that said "You idiots were 3-13 before I got here ... ") and then went right back to talking about the game.
Well, a few months later the team bolted for Baltimore. And Browns fans got what they wanted so badly: Bill left, too.
And guess what?
The Browns (zero playoff wins since Belichick left) and the city of Cleveland have never been the same since learning one of the essential sporting truths of our lifetime:
You don't leave Bill.
Many have tried. Many have failed. And they all learned the same thing: Don't leave Bill, don't ever leave Bill.
This week, the epic downfall of fired Broncos coach Josh McDaniels became the latest, and maybe the greatest, proof of what happens when you dare to leave Bill.
Fourteen short months ago McDaniels, 33, was the hottest young coaching prospect in sports. Then, he leaves Bill and, after a 6-0 start, loses 17 of his next 22 games, lords over a handful of the worst personnel decisions, maybe, ever -- dude got rid of Jay Cutler, Brandon Marshall and Peyton Hillis -- then gets busted in Spygate II and finally is fired with a month left in the season.
Sound familiar?
That's because pretty much the same thing happens to everyone who ever leaves Bill's immense, sleeveless shadow. Belichick is the MSG of football coaches: He's colorless and odorless but his presence makes everything so good you don't even mind that he also might be making you a little nauseous.
Romeo Crennel? Fired after going 24-40 in Cleveland. Eric Mangini? Fired after going 23-26 in New York, but he has shown rare post-Bill life in Cleveland. Charlie Weis? Fired after going 35-27 at Notre Dame, the third-worst record among Irish coaches who worked at least three years at the school. Nick Saban? 15-17 with the Dolphins. Jim Schwartz? 4-24 with the Lions.
Bill Parcells? Yep, him too: 0-2 in the playoffs without the benefit of Belichick's defense.
What happens is, owners around the league see the dynasty in New England and they say to their butlers: I want that.
"'Takes time, sir," the butler says. "You need to revamp your entire scouting department, build a foundation through years of mastering the high-value, low-cost picks in the middle rounds of the draft, then, when everyone else is still stuck in the 1950s wearing white socks with black shoes preaching about consistency and uniformity week in and week out, you need to find a coach so far ahead of his time in his mastery of the game and his teaching skills that, each week he can do what takes most coaches an entire training camp: customize his schemes to best suit his players and attack his opponent's weaknesses."
Naw, says the owner. I don't have time for all that. I'll just hire someone off his staff, dress him in a gray hoodie and throw gobs of money at him.
But there's a reason Belichick's coaching tree looks a lot like the spruce in "Charlie Brown Christmas."
What we've learned, through the zombified coaching remains of the people who dared to leave Bill, is that Belichick is more of a genius and control freak than we ever imagined. Obviously, McDaniels was successful in New England because he was basically relaying the preparation, ideas, execution, motivation and play calls that Belichick had ordered from above.
A walkie-talkie could have done the same thing. (Although I don't think it would have gotten rid of Hillis.)
In the end, The Mag colleague Seth Wickersham was the first to discover that coaches on Belichick's staff are actually less prepared than candidates from other teams because all Bill's guys are prepared to do is become the next Bill Belichick when the simple fact is there won't ever be another Bill Belichick.
This season alone, how he's taken a young, weak defense and a banged up running game and crafted a team that sits atop the AFC after destroying a loaded Jets squad -- it's just more proof that he's operating on a different level than any other mind in football.
And anyone who leaves that deserves what he gets.
I guess GMs (like Atlanta's Thomas Dimitroff and K.C.'s Scott Pioli) are immune to the curse. But leaving Bill can be even worse on players than it is on coaches.
Yes, I'm the one who earlier in the season wrote New England might regret trading Randy Moss. Instead, with Moss it was like the mutant stank from the taint of leaving Bill rubbed off on everything Randy touched once he left town.
Moss, one of the best receivers in NFL history, caught just 13 passes in four games with the Vikes, who went 1-4 and then fired coach Brad Childress. The funk followed Moss to Nashville, where he is 0-4 with five catches, zero TDs and his franchise QB is on IR with a thumb so mangled it's only good for hitch-hiking on traffic circles.
Richard Seymour? How has he fared since leaving Bill? What about Lawyer Milloy, Drew Bledsoe, Matt Cassel and Mike Vrabel? What about Deion Branch? He was irrelevant in his Seattle exile and now is a key part of one of the league's best offenses. These are all good players in their own right who were made great by Belichick's unique ability to do what everyone wants their boss to do for them: Put them in the best possible position to succeed.
The problem is I think the Leaving Bill Curse has morphed into something bigger and more destructive than anyone could have ever imagined. The guy basically ruined Cleveland. And you realize, right, that Peyton Manning was considered one of the greatest quarterbacks to ever play the game. Then he traveled to New England for a game Nov. 21 and since leaving Bill he's 0-3 and has thrown 11 picks.
OK, now it's just getting creepy.
Belichick studied economics in college and played football, right? Wesleyan lost three of its last four this season to finish .500 and we're now in one of the worst economic slumps in history. Oh. My. God. Bill then coached for the Baltimore Colts in 1975. Not long after parting ways with Bill, the Colts were headed out of town in the middle of the night bound for Indy. Bill then coached for the Lions and after they split, well, you know what happened. They became the Browns.
There hasn't been an official study or anything, but ever since Bill left them behind I'm sure shirt sleeves, smiling and men's grooming have never been the same, either.
In fact, someone should check if, at some point before taking the Redskins job, Mike Shanahan didn't accidentally "leave" Bill somehow. And after watching the Kardashians I wonder if Bill and Bruce Jenner used to be good friends at one point. I doubt Bill even knows the power of his gift because if he did my guess is he would have left Jon Bon Jovi a long time ago.
Anyway, pretty soon the regular season will be over and as many as 10 NFL franchises will be looking to tap into the genius of Bill Belichick by hiring someone off his staff.
In light of what happens to the people who dare to leave Bill, I think I've come up with a pretty reasonable solution for teams looking for new head coaches.
The Cowboys, Broncos and Vikes should go right ahead and hire members off Belichick's staff.
But to avoid the Curse of Leaving Bill, they should let these guys coach their new teams via video conferencing, texts and e-mails while remaining in New England with Bill.
Is that nuts?
Hey, it beats paying $11 million for an 11-17 record.
Editor's note: Looking for Flem's top five, his music riffs and weekly reader e-mail WHYLO (who helped you log on?) awards? Check 'em out on Facebook and Twitter at @daveflemingespn.
David Fleming is a senior writer for ESPN The Magazine and a columnist for ESPN.com. While covering the NFL for the past 16 years at Sports Illustrated and ESPN, he has written more than 30 cover stories and two books ("Noah's Rainbow" and "Breaker Boys"), and his work has been anthologized in "The Best American Sports Writing."