Commentary
Welcome to the NFL's real rivalry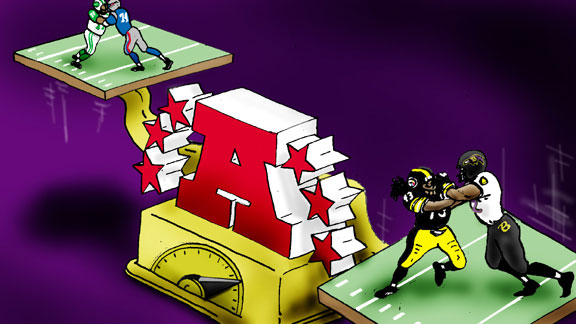 Kurt Snibbe/ESPN.com The Patriots and Jets have a long way to go to match the hatred saturating Steelers-Ravens games.
Let's start with what an NFL rivalry is not: Despite what you've been hearing this week, an NFL rivalry is not two teams separated by six touchdowns that are so desperate to manufacture any kind of emotional buy-in that they feign disgust because someone dared to point a finger the wrong way.
Yes, you read that right. Apparently, Jets cornerback Antonio Cromartie thinks Tom Brady is an a-hole because, five weeks ago in the Patriots' 45-3 laugher, the QB might have pointed toward the NY bench after the third or fourth time he burned Cromartie (honestly, I lost count). It's sad, really, that this is what we're left with in trying to muster up some kind of drama regarding Jets-Pats III -- cruel, bone-chilling accusations of improper etiquette.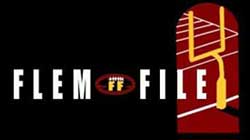 To me, I gotta be honest, JPIII feels as if it has the potential to be the football equivalent of a NASCAR driver slap fight. Normally, when the hype for a game like this gets out of hand, it usually isn't that big a deal. But I'm afraid if we can't tear ourselves away from the relentless pub surrounding the Pats-Jets game -- hey, I'm not saying it will be easy, I just read a blog post about Rex Ryan's sweater vest -- we're all gonna miss out on Pittsburgh-Baltimore III. You know, a real, honest-to-goodness, old-fashioned bare-knuckle back-alley brawl of a rivalry that's the best in the NFL, if not all sports.
On Wednesday, when Rex was rambling on about, I don't know, Broadway shows, his prodigious belly and whatever else, Ravens linebacker Terrell Suggs had donned a T-shirt at practice that featured a large purple Raven flipping off the Steelers. (Pssst: Antonio and Tom? That's how you improperly point a finger, fellas.) And I agree with Suggs, who later suggested that before the Pats and Jets even take the field Sunday, the AFC Championship Game will have already been played in Pittsburgh.
Look, the Patriots are the best team in the AFC. But the best two teams are the Steelers and the Ravens, and their matchup should be the nastiest, most physical and spine-tinglingly violent game of the season. Why? Because they always are. It's fitting, I think, that together the Ravens' purple unis and the Steelers' black helmets make up the color of a hematoma -- 'cause that's what's coming, folks. "Pure hatred" is how Steelers veteran wideout Hines Ward described the relationship between the teams.
Of course, there are also seven Lombardi trophies between these two. And since 2002, they have won seven AFC North titles. At this point, Pats-Jets seems to be all about words. Steelers-Ravens is all about will. It's about attrition, violence and sheer force. You'll flip the channel during Pats-Jets because you're bored watching a team that can't pass the ball (NY) go up against a team that can't defend the pass (NE). You'll change channels during Steelers-Ravens just to catch a break from the carnage.
In the end, the sure-fire way we can tell that this rivalry stands above all others is that Steelers-Ravens has been so heated for so long and produced so many violent collisions, angry words and bizarre subplots I can't even remember anymore how the vitriol got started in the first place.
Was it 1996, when the Ravens moved from Cleveland to Baltimore and took their deep-seated enmity for Pittsburgh with them?
Or was it 1998, when Rod Woodson left the Steelers and signed with the Ravens? (A few years later, remember, he got his nosed bloodied by a former teammate.)
Was it 2000, when former Balt TE Shannon Sharpe questioned the coaching and leadership abilities of Bill Cowher?
Maybe it was the next year, when Jerome Bettis infuriated Ray Lewis by suggesting linebacker Takeo Spikes was just as good?
Ya know, it could have been 2002, when Plaxico Burress and James Trapp were ejected for fighting during a Steelers-Ravens game.
Or it might have been 2003, when an injured Joey Porter tried to climb into the Ravens' bus to get at Lewis for mocking his boot-kick move during the game.
The next year, the Ravens knocked QB Tommy Maddox out of the game while becoming the only team to beat the 15-1 Steelers.
Then there was the rumor of a bounty on Ward for his snot-bubble block on Ed Reed. That was followed by a cheap shot on Todd Heap by Porter. Ravens knucklehead Tony Siragusa then suggested Ravens fans and Steelers fans should fight in the stadium bathrooms. And in 2006, the Ravens beat the Steelers twice by a combined score of 58-7 and sacked Ben Roethlisberger 14 times, at one point dancing over the injured, prostrate QB.
Can you feel the hate? Ain't it great?
"The coaches hate each other, the players hate each other," Ward said after those games. "There's no calling each other after the game and inviting each other out to dinner. But the feeling's mutual: They don't like us, and we don't like them. There's no need to hide it; they know it, and we know it. It's going to be one of those black-and-blue games."
Ward says former Ravens linebacker Bart Scott threatened to kill him after a game in 2007. And in 2008, the rivalry featured the top two defenses in the league and a hit by Lewis that cracked Rashard Mendenhall's shoulder like a dry twig.
That 12-year war, however, turned out to be just the opening act. These two teams, separated by less than 250 miles, have played eight times in the past 28 months -- and six of those games have been decided by four or fewer points, and never more than nine.
A day before the Patriots pulverized the Jets in a 45-3 yawner, the Steelers and the Ravens went toe-to-toe in an epic 13-10 brawl that featured more violence (even the Steelers' punter got hurt), more bad blood (after Jameel McClain's hit on Heath Miller) and, yes, more broken bones (Ben's nose).
It also helped show the difference between a real rivalry and whatever the Pats and Jets are pretending to be.
Brady pointed the wrong way; the Jets threw a hissy fit; and the whole thing is now national news.
But when Ravens coach John Harbaugh recently joked about being "glad" that his team broke Ben's nose, the Steelers QB responded to the media baiting by defending Harbaugh (they're both Miami University grads) and together they laughed off the whole thing.
Let's put it this way: When the game is so vicious that a broken nose on a quarterback is nothing to get all that worked up about, that's how you know it's a classic rivalry.
"The Jets and the Patriots are just getting started," Ward reminded everyone this week. "This has been going on for years."
Editor's note: Looking for Flem's top five, his music riffs and weekly reader e-mail WHYLO (who helped you log on?) awards? Check 'em out on Facebook and on Twitter at @daveflemingespn.
David Fleming is a senior writer for ESPN The Magazine and a columnist for ESPN.com. While covering the NFL for the past 16 years at Sports Illustrated and ESPN, he has written more than 30 cover stories and two books ("Noah's Rainbow" and "Breaker Boys"), and his work has been anthologized in "The Best American Sports Writing."