Stealing a victory from Father Time
Courtesy Ira Fritz
"If you build on it ... we will come ..."
Three balls, two strikes, two outs. Just one strike away from tossing a perfect game in my last year as a Little Leaguer. After a couple of hard pounds into his mitt, my catcher gives me the target I'm waiting for. OK ... here we go ... deep breath ... rock back ... leg kick ... the pitch ... STRIKE THREE ... PERFECT GAME. Wow! I did it! An amazing story I won't be telling over and over again to my children and grandchildren. Why? Because of one small but very critical detail. The umpire, my buddy Jeff's dad (Jeff was not on the other team) didn't call strike three ... he called ball four. The runner, looking almost as surprised I was, trotted to first base, taking with him my perfect game and my timeless story ... leaving me with a less than extraordinary two-hit shutout. Twenty-eight years later, despite this paternal calamity, Jeff and I are somehow still the closest of friends. And every now and then, when I see his dad, before we share a hug and a handshake, the conversation always starts the same way.
"It was a little outside, Ira."
"%*#* you, Marty."
In the shadow of more than a dozen 23-story high-rise buildings, two blocks from the sand and surf of Brighton Beach, and less than a 10-minute walk from the world's most famous hot dogs (Nathan's of Coney Island), sits West Brighton Little League. Snuggled, or more accurately, wedged way too tightly between an old seven-story brick residential building and a synagogue, Temple Beth Abraham, this very small and very oddly shaped field served as the centerpiece to this tight-knit Brooklyn, N.Y., neighborhood ... a neighborhood that managed to graduate just enough doctors, lawyers and teachers to forgive its drug addicts, convicts and teenage derelicts. What looked like a piece of land more intended for parked cars instead became a place for kids between 8 and 12 years old to discover their love of baseball.
Whether it was catching a foul ball down the right field line and then crashing into the brick wall of the temple ... or hitting a home run to left center field and shattering someone's bedroom window ... West Brighton Little League was ours. It was all we had ... it was all we knew ... and as far as we were concerned, it was all we needed. And every spring the community came out in droves to celebrate it. West Brighton Little League Parade Day was a huge event, when teams from every age division followed a real marching band down West 5th Street ... starting at the local junior high school a few blocks away, ending on the outfield grass. It was then that we were subjected to -- I mean enjoyed -- local politicians making speeches on the virtues of Little League baseball. Nothing gets a kid more excited than when the Brooklyn borough president spends 30 minutes telling you over and over again, "It's not if you win, but how you play the game." But the real treat on Parade Day was what took place next ... the first pitch of another epic battle between McDonald's of Brighton (my team) and our archenemy, Lincoln Savings Bank (my brother and two of my closest friends were on this team). The Yankees and Red Sox had nothing on this rivalry. It featured the league's top players ... best friends vs. best friends ... even brother vs. brother ... me vs. mine. When I look at my team picture taken that day, I can shrink 28 years down to the blink of an eye.
Father Time, in perpetual abuse of his evil power, prides himself on ruining what is perfect ... forbidding the here and now from ever being anything but a fleeting moment ... breathing fire onto the notion of "frozen in time." Returning as a West Brighton Little League coach a few years later may have kept the ever-anxious Father Time at bay for a bit, but his revenge for doing so was all the mightier. As the neighborhood evolved ... or more accurately devolved ... the overwhelming foreshadowing of what was to come was painfully obvious.
When I left for college in 1985, the first weeds to grow over the infield dirt began to rise up ... easy to ignore, perhaps, until the next baseball season, when those weeds appeared like a sheet draped over a freshly deceased body. For the first time since its very first Opening Day, there would be no familiar cry of "Play ball." Instead, there was a field crying out to be nurtured, taken care of the way it took care of us, simply respected ... not neglected ... left alone ... betrayed. Beautiful became ugly ... jaded replaced innocence ... and a horrible echo resonated throughout the neighborhood ... emanating straight from the cold lungs of Father Time -- "forgotten, no longer needed, dead."
I've been blessed to have kept the same circle of close friends throughout my life. The same friends who played baseball with me at West Brighton Little League ... on its All-Star team that dreamed of far-away Williamsport, Pa. ... only to be eliminated right down the road in Brooklyn, New York. Year after year we'd return to our field ... no longer populated by children experiencing the thrill of our national pastime, but by repulsive 6-foot high weeds, scattered drug paraphernalia and evidence that homeless people were using the dugouts as shelter. Yet somehow the memories came rushing back ... zooming into crystal-clear focus as we stood outside the fence of our decayed stadium. And amidst all that had so tragically and undeniably changed, one piece of history refused to relinquish its ground. We simply had to marvel at its stubbornness ... left there completely untouched, virtually unaltered, undiminished ... as if somehow perched just barely out of the reach of Father Time. Hanging proudly 15 feet above and behind home plate, looking as it did the first time I saw it at my first game 32 years earlier, stood the West Brighton Little League sign. 12 feet wide and 4 feet high, painted on a thin piece of sheet metal supported by a big slab of wood ... designed in a classic late-'60s style, this last artifact, still somehow in possession of its original bold luster, defiantly remained. The fact that not one baseball game had been played there in over 20 years mattered not ... this sign stood as testament that it was and always would be West Brighton Little League.
What was so special about this sign back in the beginning is what remained special about it all these years later ... it never ceased being a vital part of the fabric of this famous, historic neighborhood. So much so that photographers captured it and posted their snapshots on the Internet. And as we stood in its shadow, protected from Father Time, we were men instantly turned back into little boys ... gloves in hand, hats on head and deep pockets full of memories. Like the time Bruce hit the longest home run in West Brighton history off me ... or when Scott would come to the plate imitating the batting stance of his childhood Mets hero, the one and only Steve Henderson ... or when Jeff would foul off pitch after pitch after pitch until finally hitting a passing train that ran along the third-base line on its way to Coney Island ... or how my younger brother Todd got that game-winning hit off me that I never heard the end of (and still haven't) ... or how I hit three home runs in one game off him ... and, of course, my perfect game that wasn't. Every time we gathered around that wonderful, timeless, comforting sign, it whispered another sweet, splendid memory to us. And it was these memories that kept it buoyed above a field that hadn't seen a baseball game played at its feet for over two decades. Every reunion ended the same way, with me making a solemn pledge ... somehow, someday, some way, I will take down that sign ... before someone else who it means nothing to does. I thought I had forever to do it. I was wrong.
On a cold January morning my phone rang. The call was from a very reliable neighborhood source ... my Mom.
"I know this is going to upset you, but they're going to build a high rise on the Little League field."
I'd heard this countless times before. We all had.
"What else is new, Mom? Is this just a ploy to get me to bring your grandchildren down for a visit?"
"Construction starts in a couple of days. They're taking down the fences and boarding up the field tomorrow."
This I had not heard countless times before. None of us had. Sure, there were constant rumors swirling around for years that something like this was about to happen. But nothing ever did. So we continued to believe it never would. But this ... this was real. When I hung up the phone, I immediately remembered the story my dad told me about old Ebbets Field in Brooklyn ... where his beloved Dodgers played before they betrayed the borough and ran off to Los Angeles when he was 14 years old. Even after the team left, my dad would fool himself into believing that someday they'd return to their senses and come running back to where they belonged, right there in Flatbush. Until the day they started tearing Ebbets Field down ... then he could fool himself no more. Emptiness ... sadness ... anger ... frustration ... that is how he felt in 1960 ... and that is exactly how I was feeling almost 50 years later about West Brighton Little League. But this was no time for mourning. I had a mission to accomplish ... a promise to fulfill ... and suddenly, time was running out.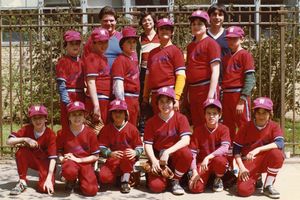 Ira Fritz
Everyone had dreams of Williamsport in Little League ... and everyone thought it would last forever.
After the 115-mile drive to Brooklyn, I arrived at the field just before sunset. Proof that plans were well under way, just as my Mom had said, was clearly evident. The weeds, garbage and who knows what else had been removed. The fact it hadn't looked this much like a baseball field in over 20 years was a bitter piece of irony impossible to ignore, but it was quickly eased by the sight above home plate ... the sign still remained. From outside the fence, as I made my way from behind home plate down the third-base line, I noticed that the gate, adjacent to the visitors dugout, was not locked. I gently pushed against it. As if opening its arms, immediately forgiving me for years of regrettable estrangement, it parted. Without hesitation, I stepped onto the field for the first time in way too many years ... and with each step forward I walked another year backwards ... until I finally arrived at the age of 12 ... on the pitcher's mound, one strike away from a perfect game. I stared in towards home plate, waiting for a sign from the catcher I knew would never to come. I then fixed my gaze a few feet higher ... on that wonderful sign that I knew I could not leave without.
I am not handy. Much to my wife's chagrin, screwing in a light bulb and successfully installing a new toilet seat gives me an embarrassing sense of pride. The odds of me getting down this sign, by myself, with not even a clue of where and how to begin, seemed at best infinite to one. As I stood there, fighting to dismiss the vision of the sign ending up on a scrap heap somewhere the following day, I could hear Father Time laughing ... mocking me ... reveling in my misery. "No perfect game then ... and no perfect game now ... kid."
Two blocks from West Brighton Little League sits P.S. 100, the school I attended from kindergarten through sixth grade. My mom is a teacher there, and so was my sister until recently, when my baby nephew Ross made his way into the world. With nowhere to turn, they suggested I ask ... beg if necessary ... a school custodial engineer (who they had become friends with over the years) to help. I had nothing ... and everything to lose ... so I walked over, found Joe outside the boiler room, and told him my story.
"So whaddya want from me, eh?" he asked in the strongest Brooklyn accent possible to still qualify as English.
"I ... I want you to help me get the sign down."
"Get the sign ... you gotta be kiddin' me."
"No ... I'm quite serious."
"What's it weigh?"
"I have no idea."
"How long's it been up there?"
"Over 40 years."
"You got permission to take this thing down?"
"Not really."
"You got tools, a blow torch, anything?"
"I have a screwdriver in my glove compartment and a flashlight in the trunk ... but it may not have batteries."
There was a long pause. I didn't think I was going to like what was coming next.
"C'mon ... don't be crazy ... someone's gonna get hurt tryin' to get that thing down ... go take a picture and bring that home with ya ... just fuggedaboudit, OK?"
Maybe it was the look of utter despair on my face ... maybe it was how much Joe liked my mom and sister ... or maybe I found the "Mr. Softee" of public school custodians. Joe looked down, shook his head, then let out a sigh.
"Meet me over there in two hours. We'll see what we can do."
I told Joe I loved him.
"Yeah, well we'll see how much you love me in a couple of hours if I can't get it down."
Two hours later, with the temperature plummeting and the wind whipping, there I stood with my brother-in-law, Craig, and my sister, Melissa. Just as I was about to express doubt that Joe was going to show, a truck pulled up that looked like a Home Depot exploded on it. It had every conceivable tool you could imagine. Both doors simultaneously swung open ... Joe emerged from the driver's seat, someone else from the passenger side. "This is John," Joe said. "He's gonna try and help us out."
After we exchanged greetings, it was evident that John had some questions he needed answers to, and they all revolved around my sanity.
"So, uh ... Joe told me the story," he said as he looked at me, then up at the sign. "That thing means a lot to you, huh?"
"I can't even tell you how much, John. Thank you so much for doing this."
John looked at me, nodded, then looked back up at the sign, as if plotting his next move.
"OK, Joe, let's give it a shot."
Like a couple of cats chasing a mouse, these two middle-aged men darted up the fence to where the sign was situated. I was beginning to feel very confident. Joe and John surveyed the situation very closely ... pulling on something here, pushing on something there. Then they began talking very quietly to each other. From where I was standing under them, I could not hear what they were saying. And I don't think they wanted me to either. "Ira ... listen ... I gotta tell ya ... I don't think this thing is ever comin' down," Joe said.
"It's not just rusted to the fence ... it's part of it," John added.
That look of utter despair crept back onto my face.
"You wanna come up here and check it out, we can show you," John said.
First, I knew that was pointless. There'd be nothing I could do up there that they couldn't. Second, and more importantly, since a ladder wasn't an option, there was no way in hell I was ever going to get up there anyway. As I waited for the two of them to come down, it dawned on me that Father Time was going to win again ... tomorrow morning the West Brighton Little League sign was going to be lying in a giant Dumpster, treated with no more respect and dignity than the mounds of trash and debris lying around it. But then something very strange happened ... or didn't happen ... Joe and John never came down. Instead, they were talking quietly to each other again. This time, I could hear them.
"You got the same thing over on your side, Joe?"
"Yeah ... but I can't tell if it's what's holdin' it up or not."
"Whaddya wanna do?"
"Last chance ... let's give it a shot."
Joe looked down at us.
"Youse guys ... move back."
We took a step back.
"No, I mean move back."
So we did.
"Now don't panic, OK ... we're not gonna hurt the sign," Joe said.
The three of us looked at each other. Before we could spend a moment trying to figure out what Joe meant, it began. Joe and John began kicking ferociously at the upper corners of the sign. The racket was loud enough to get us some unwanted attention, as a few lights from the windows in left center field turned on. As the kicking continued, the sign seemed to be hanging on for dear life ... fighting to stand its ground and remain home ... still clinging to false hope ... this I understood. For what seemed like an eternity, but in reality was just 30 seconds or so, the battering continued ... until Joe uttered three magic words...
"Here it comes..."
One final kick ... then silence. As if in slow motion, with nothing left for it to do but succumb to the bitterness of reality, the West Brighton Little League sign tumbled down, finally landing in the dirt below, upside down, its top left corner stuck in the earth. No one said a word. But in the deafening silence I could hear what sounded like a little boy crying. After a moment I recognized who that little boy was ... me. This now-barren, unmarked patch of land would never become ... could never become ... a real-life Field of Dreams.
Carrying the sign through the streets, it felt as though we were pallbearers. The looks on the faces of people walking by our funeral procession were priceless. But the further we got away from the field, the more the feeling of death began to give way to the awe-inspiring feeling of new life. This was a triumph, a rescue mission with a happy ending ... and even if it was borne of guilt, that didn't matter now. With more than a little help from my friends, we didn't save the memory of West Brighton Little League ... that was always safe ... but we saved its dignity, and somehow, someway I came through on a promise to a dear, old friend. Take that, Father Time.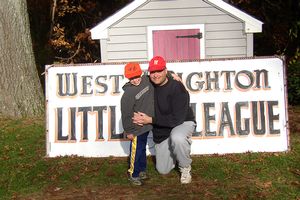 Courtesy Ira Fritz
Father Law No. 1: You will pass on the love to baseball to your son.
I couldn't wait until the next morning, when I could see the sign in the bright light of day sitting in my own backyard. I woke up at dawn, and like a kid excited to see what Santa left, rushed over to my bedroom window. While it was hard to deny how out of place it looked, so far away from where it stood for all those years, it fit perfectly. To me, it seemed content ... in the knowledge that when it was all said and done, it truly was cherished ... not forgotten after all. A few days later, I invited my friends over. They knew what was happening to the field, but had no idea what had happened there two nights before with Joe and John. I wanted it to be a surprise. With the sign now standing safe in our shadow, we could actually touch it while sharing more memories, and be even closer to it than back when we were Little Leaguers. Take that, Father Time.
My dad passed away in 1991, when I was 24 years old. He is the reason why sports have always been such an important part of my life. The times we shared during my Little League days served not only as the foundation of our relationship, but as the place we went to for strength during some very difficult times. Each day when I see that sign, I see him ... his reassuring face as I stood on the mound struggling to find home plate, his subtle fist pump after a big strikeout, and his pride in seeing his boy realize how magnificent sports can be ... the unbreakable, eternal bond it creates between father and son.
My 6-year-old son Daniel's love for baseball was born and forever cemented in Boston on Sept. 1, 2007 ... at his first-ever major league baseball game when he witnessed a no-hitter, thrown by Clay Buchholz at Fenway Park. Daniel and his grandfather never got to meet each other ... and nothing pains me more that both were so unjustly deprived. If only I could allow my son's childhood innocence to gnaw away at the jaded cynic that life has sometimes forced me to become. But wait ... in the shadow of that sign ... wearing the very same Little League hat I had worn so many years before ... Daniel teaches me to see how the three of us are so powerfully and spiritually connected. I can actually see my boy in the arms of my dad ... three generations stealing back what was so cruelly robbed of us ... grandfather, father, son ... together. And when Daniel says he wishes he could talk to Grandpa David ... and when I so desperately need to hear his voice again, too ... we can both reach out and touch that precious sign. And if we stay very still and quiet ... we not only can find him ... but deep inside the wind we can hear him, too...
"Stay loose, you two ... stay loose ... ya loose?"
"We're loose, Dad."
"We're loose, Grandpa... "
Take that, Father Time. I guess we do get the last laugh, after all.
Ira Fritz is a producer at ESPN. He can be reached at ira.r.fritz@espn.com.