Commentary
Owners, not players, are real NFL stars
Originally Published:
June 23, 2011
By
DJ Gallo
| Page 2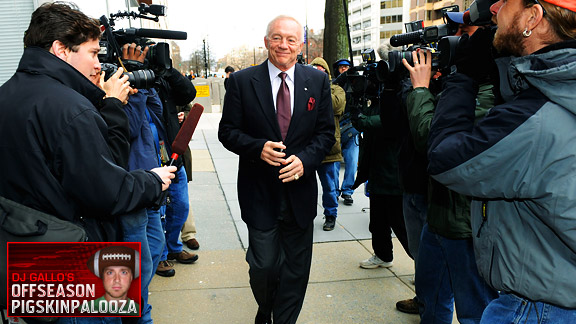 Getty Images
Almost every day we hear reports that the NFL owners and players are getting closer to a deal that will end the lockout. We are also hearing that the structure currently in place would be a fairly positive deal for the players.
Whoa, whoa, whoa. Pump the brakes, NFL owners. You're panicking. You guys had it right when you started all of this and chose to lock the players out. YOU have the power position. YOU own the teams. And there would be no NFL without YOU.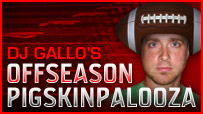 The average, stupid fan thinks the players are the stars. They think the players are the ones to watch. Ha! But you guys, the NFL owners, are the real stars of professional football! NFL players are easily replaceable. We see it week after week when players go down to injury. What happens? Another one just comes right in! And you're supposed to bend to their wishes? No way! You guys need to keep this lockout going in order to get the dream deal you wanted from the beginning. Remember: You are the stars. You are who fans really pay to see. Football players don't make football. Rich guys do.
Take Carolina Panthers owner Jerry Richardson, for example. Don't think he's exciting? Wrong! He made his fortune with Spartan Foods and Flagstar. Tell me what's more likely to fill 74,000 seats at Charlotte's Bank Of America Stadium: Cam Newton running around or Mr. Richardson talking about the challenges of owning a controlling interest in thousands of restaurants? Exactly. Goodbye, Cam Newton! The public has spoken.
Let's look at Colts owner Jim Irsay. Most people would say the most marketable member of the Colts' franchise is future Hall of Fame quarterback Peyton Manning. Ha! Absurd. It's really Jim Irsay. He is 52, likes rock and roll, is goateed out and has a Twitter account full of wacky musings. He's like your crazy uncle (except for the fact that unlike your crazy uncle, Irsay is really, really, really wealthy because he got an NFL team from his dad). And your crazy uncle is crazy marketable. Don't believe me? Who do you think would be a better replacement for Michael Scott on NBC's popular "The Office" than your uncle? No one, other than Mr. Irsay.
If Irsay is a bit too rock and roll for your liking, can I interest you in Browns owner Randy Lerner? He started out running an investment securities firm specializing in arbitrage. You know, those "derivatives" we've heard about. He then took over MBNA from his father before it was sold to Bank of America for $35 billion, three years before Bank of America was bailed out by the federal government. Wow! It's like a Hollywood financial thriller. At any moment it all could have fallen apart! But I'm sorry, I said I'd give you someone less exciting than Jim Irsay. I'm just not sure it's possible with these cats. They're all equally charismatic. These NFL owners aren't just any faceless rich guys.
Speaking of guys without a face, don't forget Cowboys owner Jerry Jones. He's always good for a headline. The Cowboys' team -- the players -- provides nothing but year after year of disappointment and unrealized potential. Whereas Jones can pack in a crowd -- all the way to the point of actually selling more tickets than he has seats. And for my entertainment dollar, I'd rather buy Jones a few drinks and then listen to him talk about Bill Parcells than watch Tony Romo and Roy Williams fail to connect on another timing pattern. Really. And I'm sure you would, too.
The list goes on and on. Falcons owner Arthur Blank co-founded Home Depot and now is the chairman of AMB Group, LLC. He is a true American entrepreneur. And since Atlanta has a checkered history as a pro sports town, it's probably time we see if the Georgia Dome will get a bigger crowd to watch someone "entrepreneu" something. Patriots owner Robert Kraft is the CEO of the Kraft Group, a diversified holding company. The fact that "diversified" is right there in its description is proof enough that it would appeal to lots of people as a spectator sport. ALMOST LIKE A VARIETY SHOW. Buccaneers owner Malcolm Glazer also is the president and CEO of a diversified holding company. All NFL players can do is hold. Vikings owner Zygi Wilf owns and manages tens of millions of square feet of commercial properties. Peyton Manning hasn't even been in that many commercials.
Cardinals owner Bill Bidwill? Well, I admittedly don't know anything interesting about him. But I think this just further proves my point: NFL owners are an untapped reservoir of fan-friendly excitement. For all we know, Bill Bidwill might have star quality unlike any we have ever seen before in the world. The players had their run in the sun. And look where it got us, into an ongoing work stoppage that threatens an entire season.
So, NFL owners: stay strong. Keep the lockout going. You're the real reason there is an NFL. Get the deal you want. You deserve it. Plus, it's vital for the long-term viability of professional football. With the rise of head injuries, many believe fewer parents will let their children play football. That will eventually lead to a smaller pool of players to draw from. Yet even in this poor economy, America is still churning out new millionaires -- and new millionaires are potential future owners. It's clear that the future will have more extremely rich people than it will have football players. It only makes sense to give the extremely rich people the better deal. It simply benefits more people.
Stay the course, NFL owners. And to my fellow NFL fans, I'll see you at a packed NFL stadium this fall to hear an old man talk about investment securities!
DJ Gallo is the founder of SportsPickle.com. His first book, "The View from the Upper Deck," is available from only the finest bargain-book retailers. His next book project will be released soon. You can follow him on Twitter at @DJGalloESPN.