By DJ Gallo
Special to Page 2
There is nothing quite as fun, arbitrary and absolutely pointless as power rankings. Except maybe using a real horse as a piņata. (Kidding, kidding.)
So, in celebration of pointlessness, let's rank the remaining NBA and NHL playoff teams. This will serve as a double dose of pointlessness on top of what my regular writing provides.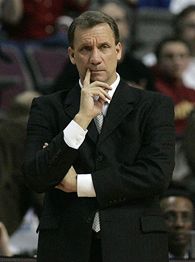 Carlos Osorio/AP Photo
A lot of fingers pointed at Flip at the end of the season.
1. Detroit Pistons -- There were times in the Cleveland series when Flip Saunders had a look on his face that seemed to say: "Oh, no. This is not good. Not good at all. I was unaware that I would have to do some actual coaching in this series. That's not really my strong point." The look really only left his face when Eric Snow pulled up for a jumper. And the story might be similar against the Heat. Only it will be seeing Jason Williams pull up for a jumper that will provide Saunders relief. Or, as Williams would say: "Rizz-elief, yo, comin' straight outta rural West Virginia. West side!"
2. Edmonton Oilers -- It's kind of cheating on my part to rank the Oilers so high, being that they're already up 2-0 on Anaheim in the Western Conference finals, but there's no other place to put them. Plus, it makes me feel good to think that after a bad year, Janet Jones Gretzky could be making millions by betting on her husband's old team in the Stanley Cup playoffs. She deserves it. Until "Police Academy 8: No Seriously, We're Up to 8" comes out, there might be precious few opportunities for her to make any money.
3. Buffalo Sabres -- Rookie Sabres goalie Ryan Miller is leading Buffalo through the playoffs with a 2.23 goals-against average, and some even believe he could end up being a better goalie than Sabres legend Dominik Hasek. In fact, the only area Miller clearly falls short of Hasek is in his ability to quit on a team.
4. Dallas Mavericks -- Mavericks owner Mark Cuban vigorously defended the actions of Dallas guard Jason Terry, who was suspended for Game 6 of the team's series against San Antonio for punching Michael Finley in the crotch. So, for the record, Cuban will whine and cry if even the slightest bit of contact against one of his players is not called a foul, but he's opposed to suspending one of his own players for throwing a haymaker at an opponent's junk. Good to know. I'd hate to have been the TV executive who told Cuban his reality show was being canceled. "Mr. Cuban, the ratings are terrible, so I have some bad news … oh God! Why? Why did you do that? The pain is unbearable."
5. Miami Heat -- It's impossible not to root for Miami. Blessed with a roster full of big names, the Heat made it clear all year that they wouldn't waste their time making an honest effort in the regular season when they could just turn it on in the playoffs. And they've done just that -- and all without their season-ticket holders demanding a refund. Better yet, Shaquille O'Neal decided that even though he's only making $20 million a year, he could find it within himself to not be fat and even get in shape a little bit. And kudos to him -- it's that type of leadership that could bring the Heat a title this year.
6. New Jersey Devils -- Sure, they might have been "eliminated" 4-1 in the second round by the Hurricanes. But that means nothing. Power rankings are all about momentum, and the Devils have won 16 of their last 20 games. No other playoff team is that hot. The Devils can't be stopped, I tell you. They cannot be stopped.
7. Los Angeles Clippers -- The Clippers have outplayed the Suns for much of the series so far, so their biggest problem heading into tonight's Game 7 might be looking past Phoenix to their upcoming series with the Lakers. (Assuming that "Battle for L.A." series we were all promised is still happening. I hope so.)
8. Los Angeles Lakers -- Speaking of the Lakers, it's a known fact nobody wants to face Kobe Bryant in the playoffs. Especially on two weeks' rest and when he's angry because all his sweater vests are in the laundry.
9. Phoenix Suns -- After missing three months with a broken foot, Phoenix center Kurt Thomas might return for tonight's Game 7 against the Clippers. There is a worry he might not be ready to fit into the team's flow so late in the series, however. Partly because he is rusty after his long layoff but mostly because he plays defense.
Eric Gay/AP Photo
Robert Horry hasn't been able to score many buckets against the Mavs.
10. San Antonio Spurs -- San Antonio forward Robert Horry is only 3-for-14 from the field in the series against the Mavericks so far, including just 1-for-6 from the floor. Obviously, Horry is trying to rid himself of the "Big Shot Bob" nickname he claims to hate so much.
11. Carolina Hurricanes -- Rookie Carolina goalie Cam Ward, along with Buffalo's Miller and Anaheim's Ilya Bryzgalov, means there are three first-year goaltenders starring in the NHL's playoffs this year. This could mean a new generation of goalies is ready to take over the league. Or, it could mean a few random, no-name goaltenders happened to get hot during the playoffs again and led their teams to improbable upsets over bigger-market, star-studded teams, leaving the NHL with a Stanley Cup finals few casual fans have any interest in watching, only to fade from sight in their second seasons, never to be heard from again. Probably the latter.
12. Anaheim Ducks -- Even though the Ducks have advanced all the way to the conference finals, few people in the Los Angeles market have been able to watch them because the OLN network reaches only 49 percent of the TV households in the Anaheim area. And you can imagine the type of uproar this has caused in hockey-crazed southern California. (If you are imagining little to very mild uproar, then you are imagining correctly. Well done.)
---
Headlines …
Barbaro fakes leg injury so he can start breeding immediately
Yankees planning to euthanize Carl Pavano after latest injury setback
Upcoming 'Bonds On Bonds' episode to feature an actual home run for a change
A.J. Pierzynski shows he has a pretty strong chin for a guy who doesn't look as though he has a chin
Jason Terry planning to 'nad-punch Tim Duncan before Game 7 opening tip
Four Things I Thought I Thought While Witnessing LeBron's Teammates Score All of 34 Points …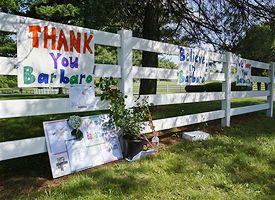 Joseph Kaczmarek/AP Photo
If only Barbaro could read ...
1. Outside the facility where Barbaro had surgery yesterday, well-wishers posted signs with sentiments such as: "Thank you, Barbaro," "We Love You Barbaro," "Good Luck, Barbaro" and "Believe in Barbaro." And if Barbaro hadn't been heavily sedated, I'm sure he would have posted a note of his own after surgery: "Thanks so much for the kind words. But I'm a [bleeping] horse, so I can't read, you stupid, stupid morons."
2. It seems that the biggest story line coming out of Detroit's elimination of the Cavaliers on Sunday is not that the Pistons move on but that their victory has set LeBron James' career on a path that most assuredly will match Michael Jordan's step by step. The apparent thinking is that James, just like Jordan before him, will lose to the Pistons in the playoffs at the beginning of his career, learn from those defeats, and eventually break through against Detroit and go on to dominate the entire NBA. Of course, it could just be a random coincidence that James and Jordan came across the Pistons in the playoffs early in their careers. In fact, it most assuredly is a coincidence. But coincidences don't really make for good copy, so I'll also go with the cosmic fate angle. And that's the more fun angle, anyway, because if it all plays out the same way, that means 20 years from now, Richard Hamilton will be Detroit's general manager, Rasheed Wallace will be coaching in the WNBA and Chauncey Billups will be destroying the Knicks. If the Knicks are still around in 20 years, that is.
3. Another NCAA hazing scandal erupted last week when Northwestern University suspended its women's soccer team after pictures appeared on the Internet showing a hazing party that included nudity and simulated sex acts. And I, for one, don't want to sit idly by and watch this growing problem spiral out of control as so many media people did a decade ago with steroids. I want to take action. Therefore, I would like to invite women's NCAA team members to e-mail me their hazing photos featuring nudity and simulated sex acts so I can review them and determine whether they are OK to post online. Please note that I will not be accepting men's hazing pictures, however, as I'll likely have my hands full with the women's photos. Also, my e-mail account has both a file size limit and picture subject weight limit. Oh, and I might need to meet with some submitters in person to go over my recommendations.
4. I spent most of the last week in Los Angeles and happened to catch a few Dodgers games on TV, and -- wow -- I feel really bad for Dodgers fans. They have to listen to this play-by-play guy -- Vin something or other -- who is soooo old-fashioned. He doesn't have a bunch of catchphrases he forces into his calls, nor does he try to make himself out to be more important than the action on the field. He just calls the game as he sees it, with no bells or whistles at all. It was really quite annoying, as you no doubt can imagine. Thank God there aren't a lot of announcers like this Vin guy anymore. Quite frankly, I prefer my sports television the modern way: fame-hungry windbags screaming non sequitur catchphrases in the hope of getting more camera time. That's the way it's supposed to be.
DJ Gallo is a regular contributor to ESPN The Magazine as well as the founder and sole writer of the award-winning sports satire site SportsPickle.com. He also contributes headlines to The Onion.