Page 2's 2007 MLB calendar

May 1: Pete Rose discloses on ESPN Radio's "Dan Patrick Show" that he continues to bet on the Reds -- every game -- to this day. He also discloses that he is $713 million in debt.
PAGE 2'S MLB CALENDAR
Want to know what's going to happen every day of this baseball season? We have all the answers.
May 2: Alex Rodriguez invites everyone he knows over for a sleepover, but only his agent, Scott Boras, accepts. Rodriguez is disturbed to discover that Boras sleeps in a coffin.
May 3: The world's only living person who was around the last time the Pirates had a winning season passes away.
May 4: Astros closer Brad Lidge finally figures out a way to prevent Albert Pujols from beating him by giving up a walkoff home run to the Cardinals batter hitting directly in front of Pujols.
May 5: White Sox catcher Wiki Gonzalez denies reports that he is a mass, user-created Latino baseball player.
May 6: Orioles starter Kris Benson has a setback in his recovery from shoulder surgery when he reinjures his shoulder pulling Anna Benson down off the pole.
May 7: Struggling Yankees starter Kei Igawa begins taking English classes so he can better understand the New York tabloid headlines that say he sucks.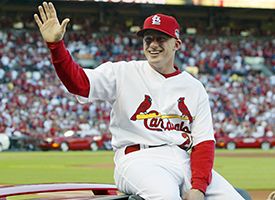 AP Photo/Tom Gannam
The Cardinals had to plop Eckstein on top of a car on Opening Day so fans could see him!
May 8:
Noting that obesity and a lack of exercise play major roles in the onset of diabetes, the American Medical Association renames diabetes "David Wells' Disease."
May 9: Cardinals shortstop David Eckstein is tragically decapitated by the Busch Stadium grounds crew when they mow the infield before the game and don't notice him doing calisthenics deep within the four-inch grass.
May 10: The Padres call up prospect Chase Headley from Double-A, but the highly-touted third baseman refuses to report due to his fear that Greg Maddux will urinate on him in the shower.
May 11: Red Sox pitcher Daisuke Matsuzaka is reprimanded by the team for repeatedly asking female organization employees if they want to see his gyroball.
May 12: On the heels of a torrid 22-9 start, the Phillies lose their sixth consecutive game, causing home attendance to skyrocket as the fans finally have something to boo.
May 13: Ryan Howard thrills Phillies fans with a dramatic, ninth-inning, game-ending, walkoff strikeout against the Cubs.
May 14: Alex Rodriguez says that he will not bat in Yankee Stadium unless the public address announcer gets every fan in attendance to raise his or her hand to attest that they love him before he steps to the plate.
May 15: The Marlins win their 10th game in a row and pull into first place in the National League East, leading to rumors that rookie manager Fredi Gonzalez will be fired by owner Jeffrey Loria.
May 16: Citing the ineptitude of the Nationals' pitching staff, the design of the team's new stadium is changed to put the outfield wall more than 620 feet from home plate. It is also announced that the infield and outfield grass will be at least 12 inches deep.
May 17: With the Yankees' bullpen struggling mightily, owner George Steinbrenner tries to sign Ugueth Urbina to a contract to fix the problem.
May 18: Former A's pitcher Barry Zito pitches his first game in Oakland as a San Francisco Giant. Zito shows off his wealth to his old "Moneyball-ed" teammates after the game by treating them to appetizers at Applebee's, providing several especially destitute A's players their first food in several days.
May 19: Toronto Blue Jays players are disgusted to see in the team shower that while catcher Sal Fasano has shaved off his trademark Fu Manchu, he has creatively sculpted hair on other portions of his body.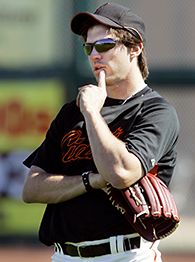 AP Photo/Jeff Chiu
Maybe Zito will even spring for a main course or two.
May 20:
The Tigers finish off a three-game sweep of the Cardinals and immediately demand that the winner of the World Series be decided in a best-of-nine format.
May 21: Speedy Devil Rays star Carl Crawford tells reporters that the secret to his base-stealing ability is that he looks at second base, imagines it is as any other team in baseball offering him a free-agent contract, and then runs to it with lightning speed.
May 22: Kerry Wood excites Cubs fans by hearkening back to his 20-strikeout rookie performance with a relief appearance in which he throws 20 consecutive pitches against the Padres without injuring himself.
May 23: Curt Schilling pulls himself from a start against the Yankees in the third inning so he can respond to a nasty comment left on his blog by Dan Shaughnessy.
May 24: Bud Selig apologizes to fans about the new out-of-market television package and says he is working on a new deal that will allow fans to see all out-of-market games, but not any in-market games.
May 25: Barry Bonds continues to be the most exciting player in baseball, hitting two home runs against the Rockies, and causing four more round-trippers in the field by playing routine fly balls into inside-the-park home runs.
May 26: Jonesing for a smoke but out of matches, Tigers manager Jim Leyland lights his cigarette using the flame trail shooting off Joel Zumaya's fastball.
May 27: With media outlets growing tired of his constant announcements about how he has yet to make up his mind about coming back to baseball, a desperate Roger Clemens parachutes naked into Yankee Stadium and announces he will make a decision in the next week before being whisked away by security.
May 28: Cardinals outfielder Jim Edmonds shows his age and declining physical abilities against the Rockies by making a sliding, game-ending catch on a lazy fly ball hit three feet to his right.
May 29: White Sox manager Ozzie Guillen has a bit of a meltdown before a game against the Twins, submitting a lineup to the home-plate umpire with nothing but profanities and racial and homophobic slurs written in place of player names.
May 30: With the Arizona Diamondbacks in town, Phillies fans chuck batteries at Arizona shortstop Stephen Drew with notes attached saying: "These are for your brother, J.D. Please throw them at him for us."
May 31: Pittsburgh Pirates bench players pass their hats around the stands during the seventh inning of a home game against the Padres, raising $78.19 -- money they then use to buy themselves a shiny new bat.
DJ Gallo is the founder and sole writer of the sports satire site SportsPickle.com. He is also a regular contributor to ESPN The Magazine and has written for The Onion and Cracked. His first book -- "SportsPickle Presents: The View from the Upper Deck" -- will be in stores in May. Preorder is available here.