I was very thankful this weekend, because I discovered something that should allow me to make millions in Vegas. It turns out my television's on-screen viewing guide not only reveals the time and channel of every program -- including NFL games -- but also provides a very accurate preview of each show as well.
Take a look.
Lions vs. Packers
Gather the family around the television to watch the Lions lose, in another airing of this traditional holiday classic. (Seasonal)
Cowboys vs. Jets
Terrell Owens delivers another stunning performance as a team-first player in this holiday romp. Meanwhile the Jets play the role of the incompetent, hopeless loser. But Eric Mangini (a former supporting actor on "The Sopranos") is convincing as a clueless and overwhelmed head coach. And special effects buffs will surely appreciate the scenes in which Jerry Jones' tight, plasticized face forms a realistic-looking smile. (Contains violence)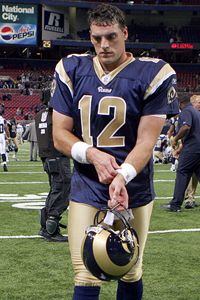 AP Photo/Jeff Roberson
Bet Gus has a headache after the way his game ended on Sunday.
Colts vs. Falcons
[This game is not available. Please call your cable provider if you would like to add the NFL Network to your programming package.]
Seahawks vs. Rams
Grab a bag of popcorn and strap yourself in for this entertaining ride. The action really picks up in the second half, when the Seahawks mount a dramatic comeback that paves the way for a surprising, hilarious finish that will delight fans of slapstick comedy. Gus Frerotte stars in the final scene, delivering a comedy turn on par with his performance in the 1997 laugh-riot "Head-Buttin' The Wall." (Comedy)
Vikings vs. Giants
Eli Manning delivers a memorable, convincing performance as a bumbling, overshadowed and talentless little brother in a performance that would make Frank Stallone proud. (Drama)
Buccaneers vs. Redskins
Jeff Garcia gets knocked out early in this tense drama. Can he return in time to save the day for Tampa Bay? Or will his injured back leave him more handicapped than a Joe Gibbs-led offense? This entertaining ride keeps your interest until the very end, but it's marred by a campy performance by Jon Gruden, who seems to channel a mid-90's Jim Carrey with his wide array of overwrought facial expressions. (Drama)
Panthers vs. Saints
David Carr delivers a performance as dark and hopeless as his black gloves. Meanwhile, a strong performance is put on by the Saints, who continue to be among the rare actors impossible to typecast. And Reggie Bush reprises his role as a supporting actor with a muted performance that allows those around him to shine. (Drama)
Jaguars vs. Bills
The Jags bolster their reputation as some of the most talented yet underappreciated actors working today. This week's episode sets up next week's more dramatic one, in which the question will be answered: Can the Jags continue to shine while sharing the screen with more highly regarded actors like the Colts, or will they fall back into their more familiar supporting role? (Drama)
Bengals vs. Titans
Vince Young portrays a young star losing the battle against a potent and time-tested curse -- a curse so strong it can even render Cincinnati's defense effective. But Chad Johnson steals the show with three touchdowns and one highly unusual celebration routine. Unfortunately though, the celebration is ill-conceived and poorly executed, suggesting Johnson is suffering for quality material with the Hollywood writers out on strike. (Drama)
Browns vs. Texans
The surprise hit of the season marches on, as Cleveland posts another victory. This episode features the touching story of Kellen Winslow, a war veteran who returns home to catch 10 passes for 107 yards and a touchdown. (Drama)
Chiefs vs. Raiders
A young stranger by the name of Kolby Smith comes to the Old West town of Kansas City and makes sure the locals won't soon forget him. But Herm Edwards puts in an equally surprising performance -- for all the wrong reasons -- by choosing not to attempt a game-tying field goal with less than five minutes remaining in the fourth quarter. Those familiar with Edwards will likely not be surprised by his decision, however, remembering that "you play … to win … the game." (Drama)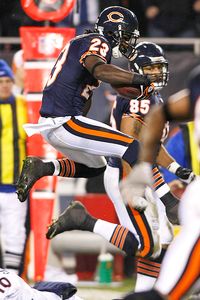 Scott Boehm/Getty Images
Will teams stop kicking to Devin Hester? We'll see.
49ers vs. Cardinals
The 49ers and Cardinals go the distance in a high-scoring, mistake-filled game brought to you by the premier producer of comedy today: the NFC West. (Comedy/Action)
Bears vs. Broncos
Devin Hester reprises his role as Chicago's entire offense, and even gets some help in the end from the least likely of candidates: Rex Grossman. And Mike Shanahan presides over Denver's disastrous special teams unit, showing depth and darkness that his acting mentor George Hamilton never could. (Drama/Suspense)
Chargers vs. Ravens
Reminiscent of teen dance movies such as "Stomp The Yard" and "Save The Last Dance," Shawne Merriman and Ray Lewis engage in an intense dance-off, strutting and jiving after even the most inconsequential of tackles. The conclusion is predictable, but three questions will keep your interest. One, can the unlikable Philip Rivers mend his troubled relationship with San Diego fans? Can Kyle Boller's new beard disguise the awful truth that he's still Kyle Boller? And will Brian Billick continue to take issue with the officials' insistence on getting calls right? (Contains suggestive dancing)
Patriots vs. Eagles
Expected to be from the snuff genre, Patriots vs. Eagles actually delivers a surprising plot and high drama -- but also a predicable ending. Hollywood hunk Tom Brady leads an ensemble cast in a film that received critical acclaim despite being unanimously panned by the 1972 Miami Dolphins. (Drama/Suspense)
DJ Gallo is the founder and sole writer of the sports satire site SportsPickle.com. He is also a regular contributor to ESPN The Magazine and has written for The Onion and Cracked. His first book – "SportsPickle Presents: The View from the Upper Deck" – is on sale now.