The NFL Draft begins Saturday and I thought: "Hey! How about a projection of how the first round of the draft will play out?"
It's a novel idea, no? I call it a "mock draft."
The Dolphins already signed Michigan offensive tackle Jake Long. But in recent weeks I have seen respected NFL experts predict that the Dolphins would possibly take everyone from Jake Long and Chris Long to Matt Ryan, Glenn Dorsey and Vernon Gholston with the first pick. So with Jake Long already in the fold, if they can manage to also get the other four here at No. 1, they'll have done pretty well for themselves.
Pick:
Jake Long, OT, Michigan
2. St. Louis Rams
With the player they most coveted, Jake Long, off the board, the Rams will go with the "best player available" route. That will be Glenn Dorsey. Oh, I should mention that I had Vernon Gholston going here in my earlier mock draft, so due to a domino effect, please note that my originally projection for who would go 243rd overall (Fernando Velasco, C, Georgia) has now been changed to Joe Jon Finley, TE, Oklahoma. Just thought you would want to know.
Pick: Glenn Dorsey, DT, LSU
3. Atlanta Falcons
The Falcons want to address the defensive side of the ball, but with Dorsey gone, they may target Boston College quarterback Matt Ryan. However, I think they'll take Vernon Gholston. The Falcons believe the 6-foot-4, 255-pound pass rusher will be able to play well in Atlanta, even though Ohio State players tend to struggle mightily -- and, granted, somewhat hilariously -- when competing in SEC country.
Pick: Vernon Gholston, DE, Ohio State
4. Oakland Raiders
Some teams have soured on Darren McFadden because he has fathered two children with two different women. The Raiders won't care about that. They just want to win … umm, baby. Plus, by bringing in McFadden, Oakland can challenge hated rival Denver to see which team's starting running back can out-sire the other.
Pick: Darren McFadden, RB, Arkansas
5. Kansas City Chiefs
The Chiefs have the most picks in the draft with 13. They can add another one here if they accept New England's standing offer to move up in exchange for the seventh and 31st overall picks. (It's not a bad deal, Kansas City! You should consider it.) But I think the Chiefs will stay put and decide to address a need position here at No. 5.
Pick: Chris Long, DE, Virginia
6. New York Jets
The Jets have needs on the defensive line, at wide receiver, in the defensive backfield, and at linebacker and running back. But, as you can see, they are also in dire need of a building operations manager. So that's where they'll probably go in the draft.
Pick: Cliff McGillicutty, building operations manager, Secaucus Business Park
The Patriots may trade this pick. But if not, look for them to address their aging linebacking corps by taking Derrick Harvey out of Florida. And Harvey, an anthropology major at Florida, will enjoy being on the Patriots, where he can study whether Bill Belichick is a human or an emotionless robot sent from outer space to steal our wives and destroy our new national pastime.
Pick:
Derrick Harvey, DE/LB, Florida
8. Baltimore Ravens
If Matt Ryan is still on the board when the Ravens are up, I encourage you to flip over to the NFL Network to hear their new analyst Brian Billick -- never one to mince words -- rip into the Ravens' former regime for its pathetic inability to develop a single decent quarterback in nine years.
Pick: Matt Ryan, QB, Boston College
9. Cincinnati Bengals
As always, the Bengals need help on defense. And it's important they select the defensive player who is most ready to contribute immediately. Because once Cincinnati's defensive coaches get their hands on him, he's not going to get any better.
Pick: Keith Rivers, OLB, USC
10. New Orleans Saints
The Saints can always use another big offensive lineman whose back Reggie Bush can run into before bouncing the play in the opposite direction it was designed to go.
Pick: Branden Albert, G/OT, Virginia
11. Buffalo Bills
The Bills want a wide receiver and likely will decide on Michigan State's Devin Thomas. He is used to playing near Canada and probably already understands how, like, Toronto is totally cool and everything.
Pick: Devin Thomas, WR, Michigan State
12. Denver Broncos
The Broncos have several areas to address on both sides of the ball, but conventional wisdom is that they'll take an offensive lineman to help protect Jay Cutler. I don't think so. I visited Jay Cutler's official Web site, and he doesn't appear to need any protection.
Pick: Sedrick Ellis, DT, USC
13. Carolina Panthers
The Panthers have a hole at left tackle and say they desperately need someone to protect Jake Delhomme's blind side. Hmm … interesting. Blind side. I never knew that about Delhomme. You'd think an NFL quarterback who is partly blind would be a bigger story. Get on the ball, media!
Pick: Ryan Clady, OT, Boise State
14. Chicago Bears
Chicago will look to address the offensive line, making it three consecutive linemen coming off the board. The Broncos, Panthers and Bears are nothing but chubby chasers.
Pick: Jeff Otah, OT, Pitt
Oh, hardy-har-har. The Matt-Millen-drafting-a-wide-receiver jokes are a bit old now, people. Come up with something new already. The Lions won't draft a wide receiver this year. They will draft an offensive tackle … by the name of Chris Williams … and then they will try to convert him into a wide receiver.
Pick:
Chris Williams, OT, Vanderbilt
16. Arizona Cardinals
Arizona will address a need here by taking the best cornerback available: Leodis McKelvin from Troy. But after the Matt Leinart hot tub fiasco, the team will make it very clear to McKelvin that there is to be no celebrating his entrance into the NFL. Do you hear that, Leodis?! No celebrating! No merriment! If a young, shapely woman in a bikini comes near you, immediately leave the premises! Remember: You are only young once! You can spend time with beautiful women when you are old and dying, and maybe you'll get lucky enough to have a fairly attractive nurse change your bedpan!
Pick: Leodis McKelvin, CB, Troy
17. Kansas City Chiefs
The Chiefs just got this pick from the Vikings in the Jared Allen trade. Big rip-off trade for the Vikings, because they were just going to let the time elapse again and skip the pick anyway. Way to go, Chiefs, you dummies.
Pick: Mike Jenkins, CB, South Florida
18. Houston Texans
The Texans will be ecstatic to take Rashard Mendenhall if he falls this far. And if he does fall, unlike Houston's other running backs, he probably won't get injured in the process.
Pick: Rashard Mendenhall, RB, Illinois
19. Philadelphia Eagles
Despite signing Asante Samuel, the Eagles still have a need at cornerback. So they will take Dominique Rodgers-Cromartie out of Tennessee State. Expect the pick to, at first, be widely panned by the Eagles' faithful until they sober up sometime around early May and come to the realization that, despite his first name, Rodgers-Cromartie is not a woman.
Pick: Dominique Rodgers-Cromartie, CB, Tennessee State
20. Tampa Bay Buccaneers
With Joey Galloway and Ike Hilliard getting up there in years, the Buccaneers could use a young receiver. In fact, they could use several young receivers. It would really help the flow of practice if all 17 of the quarterbacks on Tampa's roster had at least one receiver to throw to. Galloway and Hilliard are tired of getting hit with six or seven passes at once. It's no wonder they're aging quickly.
Pick: James Hardy, WR, Indiana
21. Washington Redskins
The Redskins still would like to deal this pick to Cincinnati for Chad Johnson. But regardless of whether this pick ends up being held by Washington or Cincinnati, whomever is chosen 21st is going to an organization with such inept ownership that he'll never win a championship. Sorry, guy.
Pick: Aqib Talib, CB, Kansas
22. Dallas Cowboys
The Cowboys decided to give up a fourth-round pick for a man who has a criminal history who never even made a single Pro Bowl. So expect them to be willing to unload their first pick in a second if they can acquire Ray Lewis or O.J. Simpson with it.
Pick: Felix Jones, RB, Arkansas
23. Pittsburgh Steelers
Ben Roethlisberger says he wants a big receiver. But from pictures I saw on the Internet recently, Santonio Holmes appears to be plenty big. So the Steelers will instead address their troublesome offensive line with this pick.
Pick: Gosder Cherilus, OT, Boston College
Titans, there is a player available with a track record of being able to catch Vince Young's "passes." For the love of all that is sacred and holy, do not let him go! Not just anybody can catch a football catapulted through the air end over end toward no discernible target.
Pick:
Limas Sweed, WR, Texas
25. Seattle Seahawks
Trust me. From the looks of Mike Holmgren, he absolutely loves mayo.
Pick: Jerod Mayo, OLB, Tennessee
26. Jacksonville Jaguars
The Jaguars need help along the defensive line, and at this stage of the first round, Phillip Merling of Clemson is a great value pick. I don't really know what a "value pick" is, but I hear the term a lot and wanted to sound like I know what I'm talking about. Also, Merling has a "great motor," "good knee bend" and an outstanding "subprime mortgage."
Pick: Phillip Merling, DE, Clemson
27. San Diego Chargers
The Chargers might use their first-round pick on a running back to play behind LaDainian Tomlinson. Obviously, they're pretty stacked. In fact, the only thing the Chargers could really use is a large animal expert to hit Philip Rivers with a tranq dart whenever he gets unruly.
Pick: Jonathan Stewart, RB, Oregon
28. Dallas Cowboys
Look for the Cowboys to address their aging receiving corps by selecting Cal receiver DeSean Jackson here. Jackson weighs only 169 pounds, but could very well be closer to 200 once camp opens (thanks to his recent purchase of a bulletproof vest for safety in light of Pacman Jones being around).
Pick: DeSean Jackson, WR, California
29. San Francisco 49ers
Wow! The 29th pick. I didn't remember the 49ers being that good last year. Wait, what's that? They got this pick in a trade with the Colts? Oh. Sorry, 49ers fans. Your team apparently still stinks, just as I originally thought. So you should just pick the best player available to fill one of your multitude of holes.
Pick: Dan Connor, LB, Penn State
30. Green Bay Packers
Expect Roger Goodell to stride to the podium, clear his throat and announce: "With the 30th pick in the 2008 NFL Draft, the Green Bay Packers select ... someone who is not Brett Favre ... waaaaaaah!" and then instantly crumple to the stage floor, crying and wailing. And then everyone the world over will join in with heartfelt tears of their own as we continue to come to terms with the exit of this god amongst us.
Pick: Brandon Flowers, CB, Virginia Tech
XX. New England Patriots
The Patriots lost the 31st overall pick because everyone is totally jealous they're not as good as the Pats and they're just a bunch of haters and taking draft picks away from the Pats is the only way to give the rest of the teams even a chance of winning and that camera thing was so long ago, so get over it already and it's not like everyone else isn't doing it, too, and Eric Mangini is a rat and Matt Walsh is a total loser and a liar and anyway what kind of guy chooses to play golf in Hawaii for a living when he could be a low-level staffer on the Pats and live in Boston and Wes Welker is the greatest receiver ever and …
Pick: Pick forfeited
31. New York Giants
You are the reigning Super Bowl champions, Giants. Everyone is gunning for you. Drafting players as though you have holes to plug only suggests you are weak and are concerned that your Super Bowl victory was nothing but a fluke. Stay strong!
Pick: Pass
DJ Gallo is the founder and sole writer of the sports satire site SportsPickle.com. He is also a regular contributor to ESPN The Magazine and has written for The Onion and Cracked. His first book: "SportsPickle Presents: The View from the Upper Deck": is on sale now.
2008 NFL DRAFT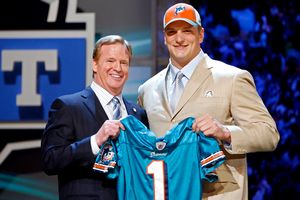 The 2008 draft lasted 14 hours, 26 minutes. Michigan offensive tackle Jake Long (above), selected by Miami, was the No. 1 overall pick. This year's Mr. Irrelevant -- the last pick in the draft -- is David Vobora, a linebacker from Idaho selected by St. Louis with the 252nd pick.


Round-by-round, team-by-team picks
•
Round:
1
|
2
|
3
|
4
|
5
|
6
|
7
•
AFC East:
Buffalo
|
Miami
|
N. England
|
NY Jets
•
AFC North:
Baltimore
|
Cinc.
|
Cleve.
|
Pitt.
•
AFC South:
Houston
|
Indy
|
Jax
|
Tennessee
•
AFC West:
Denver
|
K.C.
|
Oakland
|
San Diego
•
NFC East:
Dallas
|
NYG
|
Philadephia
|
Wash.
•
NFC North:
Chicago
|
Detroit
|
G.B.
|
Minnesota
•
NFC South:
Atlanta
|
Carolina
|
N.O.
|
Tampa
•
NFC West:
Arizona
|
S.F.
|
St. Louis
|
Seattle
Inside Radio City Music Hall
•
Panoramic views
Commentary/Features
•
Wickersham: Bears, Ravens take opposite turns
•
Williamson: Remembering Heath Benedict
•
Yasinskas: Falcons should be patient with Ryan
Day 2
•
Clayton: Six draft trends
•
Chadiha: 10 great marriages
•
Walker: NFC East draft review
•
Sando: NFC West draft review
•
Willamson: NFC North draft review
•
Yasinskas: NFC South draft review
•
Sando: AFC East draft review
•
Williamson: AFC West draft review
•
Walker: AFC North draft review
•
Yasinskas: AFC South draft review
Day 1
•
Clayton: Day 1 winners and losers
•
Williamson: Davis couldn't resist McFadden
•
Walker: Ravens had to work for Flacco
•
Sando: Long addresses Rams' D-line needs
•
Chadiha: AFC East hustle continues on draft day
•
Yasinskas: Ryan gives Falcons hope, identity
Mel Kiper
•
Kiper's team-by-team draft grades
•
Day 1 good, bad moves: Questionable Titans
News
•
2008 breaks previous trade record
•
Jets sign NCAA career rushing leader Woodhead
•
Lions pick Smith with first pick of second day
•
Miami, Long make it official
|
NFL Local
Video
•
Green: First-round pick instant analysis
•
Complete draft analysis
•
One-on-one with Jake Long
•
One-on-one with Chris Long
•
One-on-one with Matt Ryan
•
One-on-one with Darren McFadden
•
One-on-one with Glenn Dorsey
•
One-on-one with Vernon Gholston
•
Ed Werder on Cowboys
•
Norv Turner interview
•
Fantasy Spin
Audio
•
Jake Long
|
Chris Long
|
Matt Ryan
•
Darren McFadden
|
Vernon Gholston
•
Glenn Dorsey
|
Keith Rivers
|
Chris Williams
•
Lawrence Jackson
SportsNation
•
Vote:
Best first-round pick?
|
Potential busts?
•
Grades: How did your team fare?
Scouts Inc.
•
Analysis:
Round 1
|
2
|
3
|
4
|
5
|
6
|
7
Cheat Sheets
:
RB
|
DL
|
DB
|
LB
|
OL
|
REC
|
QB
•
McShay: Seven-round mock draft
•
Revisiting the 2005 draft
|
2005 re-draft
ESPN Top Headlines