Few players drafted outside of the NBA lottery ever become superstars. With the exception of such guys as Gilbert Arenas, Manu Ginobili and Michael Redd, the best players have their names called in the first 14 picks.
Which is convenient for me because it saves me the work of writing a mock draft of the entire first round. Whew! So let's take a look at how those first 14 selections might go.
1. Chicago Bulls: Derrick Rose, PG, Memphis
Forget that Rose is from Chicago. The Bulls simply can't pass up a point guard who has the complete package of leadership, defense, playmaking and scoring ability. If there's one negative against Rose, however, it's that he is very indecisive. Think about it: all that time at Memphis and he never even decided on a major.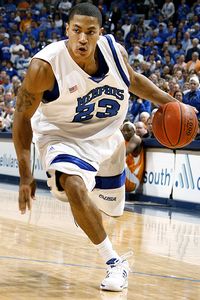 Joe Murphy/Getty Images
Rose is just another sad case of a guy dropping out of school to get a job.
2.
Miami Heat
: Michael Beasley, PF, Kansas State
A player with Beasley's abilities is quite a nice consolation prize at the No. 2 spot. But a red flag was raised last week when Beasley
measured 3 inches shorter than the 6-foot-10 he was listed at Kansas State
. His skill set is rare in a 6-10 package more so than it is for someone 6-7. It reminds me of back in 1992 when
this guy was very highly rated for a time
before the draft until he was measured accurately.
3. Minnesota Timberwolves: O.J. Mayo, SG, USC
Mayo can step in right away for Minnesota and do it all. He can score, he can get his teammates open looks and he has the ability to be a lockdown defender. Give him two or three years in the NBA and he will be an elite player. And by then, the Celtics will need to be replenished with youth, so it will be the perfect time for Kevin McHale to trade him to Boston.
4. Seattle SuperSonics: Russell Westbrook, PG, UCLA
The Sonics have plenty of options here, but it looks as if they are leaning towards Westbrook. He is young, but they love his upside. Personally, I've never been that much into upsides. Sure, I like a stacked upside as much as the next guy. But I've always been more into a nice, tight, firm downside.
5. Memphis Grizzlies: Danilo Gallinari, PF, Italy
Gallinari says he wants to play in the New York metropolitan area, but he may not last for the Knicks at No. 6 and almost definitely will not fall to the Nets at No. 11. The New York area has a strong Italian community, sure, but Gallinari should know that in Memphis, he could come in and contribute immediately on the floor. Plus, there are no fewer than four Olive Gardens within 30 miles of Memphis. Four!
6. New York Knicks: Jerryd Bayless, PG, Arizona
It's not every day that Stephon Marbury gets to mentor a 20-year-old. If David Stern is ever going to rig a draft, for the entertainment of us all, please let him make the Knicks take a young, impressionable point guard.
7. Los Angeles Clippers: D.J. Augustin, PG, Texas
Consensus is that the Clippers will take a point guard, and Augustin is the best point guard available here. And please, for the love of all that is good, do not think about why the Clippers need help at point guard. The last time I envisioned Shaun Livingston's injury, I didn't stop vomiting until 72 hours later.
8. Milwaukee Bucks: Joe Alexander, SF, West Virginia
Not only is Alexander a rapidly improving player, but he also speaks fluent Mandarin thanks to growing up in China. That would give Yi Jianlian someone to talk to -- and also someone to laugh with as they read all the tattoos on NBA players who got tricked into getting Chinese symbols that say stuff like "I'm with stupid" and "dumb American."
9. Charlotte Bobcats: Kevin Love, PF, UCLA
Charlotte likes Love's size and toughness, but is he a good fit with the Bobcats? Specifically, does he fit on the same front line as 2006 first-round pick Adam Morrison? Morrison's facial hair is all wild and unkept, while Love's is trimmed and overly manicured. Few teams can handle such differing philosophies in facial-hair management. I think either Love or Morrison would have to be traded.
10. New Jersey Nets: Brook Lopez, C, Stanford
Brook Lopez is seen as the bigger, stronger and more talented of the Lopez twins -- the Ashley to Robin's Mary-Kate -- and will come off the board first. And for the first time in their respective careers, the Lopez twins will be on different teams. (Although they might be those creepy kind of twins who insist on wearing the same outfit all the time, upon which they'll end up in the same uniform, even if they are taken by different teams.)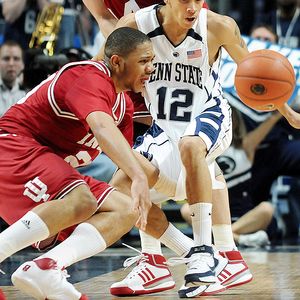 AP Photo/John Beale
Gordon won't see this much attention back home since he starred in "Space Jam".
11.
Indiana Pacers
: Eric Gordon, SG, Indiana
Getting the Indiana University star and Indianapolis native this late would be a huge steal for the Pacers. His sweet shooting might even remind Indiana residents of another home-state star: Pacers president Larry Bird. And since Bird doesn't want his "
players hanging around murderers,
" Gordon has the No. 1 thing he looks for in a player.
12. Sacramento Kings: Anthony Randolph, PF, LSU
Randolph is a raw 18-year-old who will take several years to develop, but he could blossom into a superstar. And the Kings know how vital superstars are. If you want to win a playoff series officiated by "company men," you have to have marketable superstars.
13. Portland Trail Blazers: Robin Lopez, C, Stanford
If the Trail Blazers decide to take another center in the draft, expect them to submit the pick with a lot of legalese: "With the 13th pick in the 2008 NBA draft, the Portland Trail Blazers select Robin Lopez, center, Stanford … assuming Lopez passes a physical, is found to have no cartilage damage in either knee, has legs of equal length, has not been injured at any time in the previous 15 years and will agree to have his contract voided on the instance of his first injury."
14. Golden State Warriors: Kosta Koufos, C, Ohio State
Koufos was born in Ohio but holds a dual citizenship of the United States and Greece. He also plays on the Greek national team and is considered the greatest Greek basketball player since Efthimios Rentzias. And yet he fell this far?! Madness! The Warriors win the draft.
DJ Gallo is the founder and sole writer of the sports satire site SportsPickle.com. He also is a regular contributor to ESPN The Magazine and has written for The Onion and Cracked. His first book, "SportsPickle Presents: The View from the Upper Deck," is on sale now.