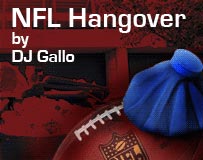 Ladies and gentlemen, Scott Linehan is no more.
After two-plus seasons at the helm of your St. Louis Rams, Linehan was let go Monday.
For old time's sake, let's take another look at all the highlights from Linehan's Rams tenure. So short, yet so difficult to avert your eyes.
So Linehan has been fired. But he likely will not be the last to go. Here are the other coaches on the hot seat:
Lane Kiffin, Oakland: The Raiders blew another lead and fell to 1-3 with a loss to the Chargers. But Kiffin is to be commended for holding his young and improving team together.
Hot-seat temperature: Equal to the heat given off by this thing's decomposition.
Rod Marinelli, Detroit: Bye week, but the Lions still stink.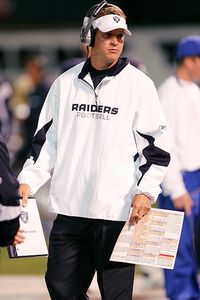 Paul Jasienski/Getty Images
When will Skeletor kick Lane-Man out of Castle Grayskull?
Hot-seat temperature: Almost as hot as Matt Millen thinks every college wide receiver is.
Marvin Lewis, Cincinnati: The Bengals fell to 0-4 with a loss to in-state rival Cleveland. Their next three games are at Dallas, at the Jets and home versus the Steelers.
Hot-seat temperature: Hotter than the burning in your eyes when you look at the Bengals' uniforms, but not as hot as the electronic equipment in the home of a typical Bengals player.
Gary Kubiak, Houston: The Texans have lost two in a row to division rivals and are off to a disappointing 0-3 start. But at least their next four games are at home.
Hot-seat temperature: Much hotter than the Texans cheerleader on the far left, but not as hot as Kubiak's hair iron.
Romeo Crennel, Cleveland: The Browns registered their first win Sunday but looked bad doing so.
Hot-seat temperature: Cooling, which is disappointing for Crennel because he uses his hot seat to keep pies warm.
Week in photos
"Hey, it could be worse. We could be investment bankers."
"Nolan is so amazed by my genius that he is at a loss for words."
"My face, Coach -- look at my face. I am more than just this body."
"Oh, no. I usually don't get this much flop sweat until the playoffs."
"OK, OK, my hands are up. I know the drill."
How they spent their bye week
Detroit: Celebrating the dismissal of the guy who mistakenly thought they were good players … wait, what?
Indianapolis: Standing in front of bulldozers advancing on the RCA Dome.
Miami: Getting Chad Pennington more reps at wide receiver.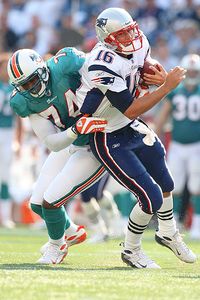 Scott Cunningham/Getty Images
Rumor has it that the National Transportation Safety Board was called in to investigate the Pats bandwagon derailment.
New England: Taking the bandwagon in for repairs.
New York Giants: Gathering outside the "Today" show studio window to wave their Super Bowl rings at Tiki Barber.
Seattle: Giving the 12th man a tryout as a slot receiver.
10 things you think you think you thought you think you thought I think:
1. Great game Sunday by Brett Favre and the New York Jets' offense. Favre is getting used to the offense, and more importantly, the offense is getting used to Favre. You can see it on the field. Just by looking in his eyes, the Jets know even before they reach Favre whether they are supposed to lift him up or be lifted up by him. That's jumping-on-each-other-chemistry that just can't be achieved in one abbreviated training camp.
2. Kurt Warner's inability to hold on to the ball was unbelievable. Four fumbles, three of them lost, and three interceptions, too. I don't know if he shook hands before the game with Matt Leinart or something, but there has to be some sort of explanation.
3. Sunday's win aside, the next time Jets fans find themselves thinking: "Woe is me. Why is this franchise always so terrible?" don't look any further than the team's New York Titans heritage that was on display Sunday. What exactly is this logo? Is it a player who's being shoved to the ground? A player who already was shoved to the ground and is being run over? A player who's doing the Riverdance? None of these is a good option. I can only assume that the moron who designed that logo worked his way up through the organization and eventually became its longtime director of scouting.
4. Now that the talented Cowboys have their first loss of the season, only four unbeaten teams remain: Bills (4-0), Giants (3-0), Ravens (2-0) and Titans (4-0). It will be tough for the Giants to get through their divisional schedule unscathed, and I don't think any of those other teams is a threat to go 16-0. So Mercury Morris and the 1972 Miami Dolphins shouldn't have to worry about any team's moving into their neighborhood this year. It's almost impossible to get approved for a home loan right now anyway.
5. The Battle of Ohio was played Sunday between the Browns and Bengals, but did you know that the original Battle for Ohio was waged from 1785 to 1795 between U.S. troops and Indians for the disputed Northwest Territory? The conflict is also known as the Northwest Indian War and Little Turtle's War. It effectively was won by the United States in 1794 at the Battle of Fallen Timbers. In the resulting Treaty of Greenville in 1795, the U.S. gained the territory that includes much of present-day Ohio. (I'm sorry, but even if this is boring you, I can assure you it is far more exciting than Sunday's Browns-Bengals game.)
6. Ed Hochuli's new workout routine: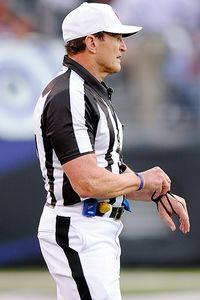 G Fiume/Getty Images
Say what you want about Ed, he's still the living embodiment of the second amendment.
Seated barbell curl: 3 x 12
Hammer curl: 3 x 10
Preacher curl: 3 x 8
Terrible call x 2
Respond to mean e-mail x 1,000
7. Now I present the short play: "Jim Zorn's Pregame Speech."
Zorn: "Men, gather 'round. Now, I know this is big rivalry game -- a rivalry on par with that of the Seahawks and Raiders."
Santana Moss: "Seahawks-Raiders? Ha. Good one, Coach. You're funny."
Fred Smoot: "Yeah, Coach -- good one. You might be new to this head coaching thing, but you clearly know how to loosen up a team with a well-timed joke right before a big game."
Zorn: "Umm … yeah. Right. A joke. Wait -- so you guys are saying that Redskins-Cowboys is not as big as Seahawks-Raiders, right?"
Moss: "Enough, Coach, enough. I'm going to pull a muscle from all the laughing and not be able to play."
Scene.
8. Is Brian Brohm unaware that is he isn't Green Bay's backup quarterback? When Aaron Rodgers got hurt Sunday, Brohm quickly started warming up. But then Matt Flynn, not Brohm, went into the game. Do we even know if Brohm is on the Packers? Maybe he was cut but thought that the way to get into the hearts of Green Bay fans was to hang around long past his welcome.
9. After Carolina receiver Steve Smith scored his first touchdown of the season Sunday, he gave the ball to Ken Lucas -- the teammate whose nose he broke with a sucker punch in training camp. It was a touching scene, which you can see here. (Lucas' face is just off the frame.)
10. Likely text message exchange between Steelers running back Rashard Mendenhall and a Ravens player before Monday night's game:
Mendenhall: "Ha ha. U hav 2 get fyrd up by txt msgs. U r stupd."
Ravens player: "U r so ded as soon as we finish watchng Gsip Grl!"
DJ Gallo is the founder and sole writer of the sports satire site SportsPickle.com. He also is a regular contributor to ESPN The Magazine and has written for The Onion and Cracked. His first book, "SportsPickle Presents: The View from the Upper Deck," is on sale now.