The Cowboys' locker room wasn't a very happy place Sunday night after they turned the ball over five times and let the Steelers score 14 points in the final 2:04 of the game.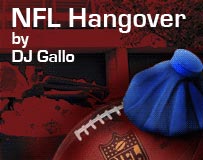 Needless to say, the outcome wasn't what Terrell Owens might have wished for on his 35th birthday. But despite the loss, the Cowboys still made sure to celebrate their star's special day. Here is what transpired:
(Scene: The locker room. Owens' teammates gather around his locker and hand him a wrapped package.)
Owens: "Thank you for remembering my birthday, guys."
Tony Romo: "No problem, buddy. We all chipped in. We think you'll like it."
(Shakes box. Holds it to his ear.)
Owens: "Hmm ... it seems light. I don't have a clue. I guess I'll just open it."
(Opens the package. Pulls out a paper containing the 2008 and 2007 season statistics for Jason Witten, Roy Williams and Patrick Crayton.)
Owens: "I don't get it. What is it?"
Witten: "Our touches, buddy! Our touches! Look how far down our stats are compared to last year. They're terrible! We might not even make the playoffs. And it was all to make you happy!"
Owens: "Oh, my ... this ... this ... [sniff, sniff] ... this is the greatest gift ever. Thank you, guys. Thank you so much."
Week in photos
• "Yes! You found my other black shoe!"
• "Did you hear a pop before the pain? No? Great. Did you hear a gun blast before the pain? No? Even better."
• "You are like I am supposed to be, only you don't get injured and you don't have a huge contract."
• "Congratulations, Coach, but don't think you'll ever be getting a raise."
• "Uh-oh, buddy! Kiss cam time!"
• "Behold! I have sacrificed a pig and brought you the skin of the great beast!"
Quote of the week
"We let two games get away that we should have rightfully won. We're just not playing Jets football."
-- Ty Law, cornerback, New York Jets
Stat of the week
330-399-8 -- That's the record of the New York Jets franchise. So Ty Law will be happy to know that the Jets are, in fact, playing Jets football.
Horrible fantasy team that crushed your team this week
Seneca Wallace, QB, Seahawks -- 20-for-28, 212 yards, 3 touchdowns, 47 rushing yards
Darren Sproles, RB, Chargers -- 64 total yards, 2 touchdowns
Tashard Choice, RB, Cowboys -- 166 total yards
Deion Branch, WR, Seahawks -- 4 catches, 88 yards, 2 touchdowns
Bryant Johnson, WR, 49ers -- 6 catches, 49 yards, 1 touchdown
Anthony Fasano, TE, Dolphins -- 3 catches, 36 yards, 1 touchdown
10 things I think I should consider thinking
1. Terrell Owens turned 35 on Sunday, and Alan Faneca turned 32. Visanthe Shiancoe of the Vikings doesn't have a birthday until June 18. So why did national television cameras choose to show him in his birthday suit in the postgame locker room? It makes no sense.
2. And what is with all the nudity this season? First Chris Cooley posts a picture of himself on the Internet, now Shiancoe is on camera without a towel. Please keep your weapon in your sweatpants, gentlemen.
3. The Chargers have won 11 in a row against the Raiders. Said LaDainian Tomlinson of the streak: "I think there are always certain teams that you enjoy playing and you seem to match up well against and seem to have a great game against. I can't explain it." Fortunately, I can:
X + Raiders = W
4. Kevin and Pat Williams of the Vikings reportedly took diuretics because their contracts include a $400,000 weight clause. So, basically, their contracts pushed them to do it. I'm sure if it were up to them, they would have avoided the diuretics and instead accepted $400,000 in bear claws.
5. The Patriots played in Seattle on Sunday and are staying out on the West Coast this week to prepare for the Raiders. That is a good idea in theory. But I don't think staying on the West Coast will work. The AFC West and NFC West teams do it all the time, and most of them are terrible.
6. The Lions are winless, but you have to respect them. They come out and play hard every week. As the old saying goes: "'Tis better to have tried and failed (in hopes you will open some eyes around the league and maybe one day sign with a team other than the Lions) than to have never tried at all."
7. After Peyton Hillis became the sixth Broncos running back of the season to go down with an injury Sunday, Tatum Bell came in and did a great job, running for 52 yards on 11 carries. With no one else left to share carries with, I think it's now Bell's job in Denver. He probably can unpack Rudi Johnson's bags and get comfortable.
8. Watching Ken Dorsey play, I can't help but think of famous jazz trombonist Tommy Dorsey. But not because they happen to share a last name. I just think Tommy Dorsey would have been ideal for this after each of Ken Dorsey's pass attempts.
9. It may be too late in the season to matter, but the Eagles are back. And Sunday's win was all thanks to the play of Brian Westbrook-Questionable. I hope his parents, Mr. and Mrs. Westbrook-Questionable, are proud of the player he has become.
10. Plaxico Burress reportedly called each of his fellow Giants receivers before Sunday's game and asked them to win the game for him. I wonder how that conversation went.
Teammate: "Hello?"
Burress: "It's Plax."
Teammate: "How you doing?"
Burress: "Good. Hey, can I ask you something?"
Teammate: "Shoot. Wait! No! I didn't mean it that way! Slip of the tongue! Don't shoot! Don't shoot!"
Burress: (silence)
Teammate: "Uh, hello?"
Burress: "Sorry, I missed what you said just then. I dropped my cell phone down my sweatpants. Anyway -- can I ask you something?"
Teammate: "Definitely."
Burress: "Can you win the game for me today?"
Teammate: "We'll sure try. We'll come out with all guns blazing. Gah! I did it again!"
Burress: "I'm sorry. I missed that, too. I accidentally shot myself in the ear. You were saying?"
DJ Gallo is the founder and sole writer of the sports satire site SportsPickle.com. He also is a regular contributor to ESPN The Magazine and has written for The Onion and Cracked. His first book, "SportsPickle Presents: The View from the Upper Deck," is on sale now.