The Super Bowl is less than two weeks away. Let's look at some of the big questions as the pregame show begins.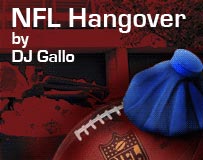 Will Ken Whisenhunt and Russ Grimm want payback?
Whisenhunt and Grimm were Steelers assistants who were passed over for the head-coaching job in Pittsburgh for Mike Tomlin. Whisenhunt made Grimm his assistant head coach in Arizona. Now they can exact revenge on their former franchise. And no doubt they hate the Steelers. "How dare you stick us here in charge of this talented NFC champion team in beautiful Arizona? You will pay for this! Nobody improves our lives and gets away with it! Nobody!"
Will Mike Tomlin continue to gamble?
Yes. Bill Cowher liked to play it close to the vest in big games. Mike Tomlin does not. Most likely because if Tomlin even has a vest, it's so far beneath his puffy coat it's near-impossible for him to access it.
Can Kurt Warner's play-action work against the Steelers defense?
Tough to say. They'll be expecting it. So maybe the Cardinals will counter by not running play-action. Which, I think, would just be a running play. Or perhaps they'll do play-action play-action which … I think might be play-also? Or would it be a series of actions that are not actually play-like that then result in … I don't know. I have no idea. Looks like the Steelers are going to need the entire two weeks to get ready.
What is the best individual matchup?
Steelers cornerback Ike Taylor will likely get the assignment on Larry Fitzgerald. If that doesn't work, Taylor will likely get help from a linebacker or a safety. If that doesn't work, an additional defensive back will help. If that doesn't work, maybe even another defensive back. And if all else fails, they'll jump him from behind on the sidelines with a huge Terrible Towel and then have Steely McBeam go beat on him with his steel beam or glow stick.
Are the Cardinals playing above their heads? Do they have a chance against the Steelers?
I don't know, you might want to ask that question to this guy. Okay, yeah, he's not that scary so you probably would. How about this guy then? Yeah, I didn't think so. That angry cardinal will mess you up!
Should I go to the game?
No way. The Super Bowl is a lifeless, corporate hellscape that is more about everything surrounding the game than the game itself. So if you have tickets, you should think about selling them. To me. For a fraction of what you paid for them.
Week in Photos
• "What? No, not at all. That's ridiculous. I support all teams equally. I'm not worried about Super Bowl ratings if you guys make it. Whoops. I just spit up a little bit of my lunch into my mouth there."
• "Oh, I see; that's a playoff beard you've got going there. So is there also an explanation for that ridiculous mound of hair up top?"
• "Why? Why did you let me wet my pants on national television? Why?"
• "I will always hate her for making me put that completely unnecessary lower-case 'e' on there."
• "What? That's all you got? Come on, pull! You're no Ed Hochuli, I'll tell you that."
• "Please buy these, people! Help a dying industry."
• "Is that confetti on the ground or the contents of my stomach?"
• "I would have thought you were a Cowboys or Texans fan, mini-Roger Clemens."
• "And now, when I pull my sign away, my legs will disappear. Voila!"
• "I don't need a hat in the cold. I just slick back my eyebrow."
• "If this were the regular season, I would so throw it right now."
• "You're not just my holder … you're also the holder of my heart."
• "What's happening up there? And is there any way I can challenge it?"
• "Get off me! I'm celebrating the tackle you made!"
• "It's not my fault. I thought I actually did a great Trent Dilfer impersonation."
• "I wonder what Augusta National looks like right now."
• "What did you say? I look high? Oh, hold it up high. Got you."
Quote of the Week
"I want to say 'Arizona Cardinals' and 'Super Bowl' in the same sentence. The Arizona Cardinals and the Super Bowl. How about it?"
-- Kurt Warner
I want to say Kurt Warner is being redundant. Kurt Warner is being redundant. How about it?
Stat of the Week
7-2: That's Ben Roethlisberger's career playoff record. His seventh win moved him past Troy Aikman for second-most postseason victories by a quarterback in his first five seasons. Roethlisberger and Aikman have forgotten more playoff wins than most quarterbacks will ever know.
10 Things I Think I'd Think If I Thought About What I'd Think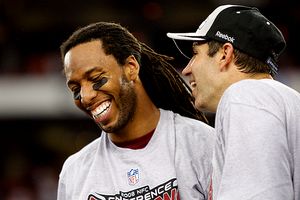 Jamie Squire/Getty Images
Forget the other six signs, just fast-forward to the apocalypse -- the Cardinals are in the Super Bowl.
1. Larry Fitzgerald is not good. There, I said it. Sure, in the past few weeks he has erased any doubt that he is the most productive wide receiver in football. But it's pretty easy to catch lots of passes and pick apart defenses when you spend all your time catching passes and studying defenses. Let's see him spend the majority of his time choreographing touchdown-celebration routines and feuding with his quarterback before we say he's up there with the game's best receivers. They are two-thirds as productive as he is while working just a third as hard. That's real value!
2. Criticize Bill Bidwill if you must for his years of inept management and greed as owner of the Cardinals, but only the coldest of hearts couldn't see he was truly moved by Arizona's NFC Championship Game victory. Take a look for yourself. That's true happiness on his 77-year-old face, mixed with a bit of regret. Regret that he didn't bring the team a title earlier, because he suddenly realized that the NFC championship trophy could probably net a sweet profit on eBay.
3. And now I present the short play "The Arizona Cardinals Play in the Super Bowl."
(Scene: The field at Raymond James Stadium.)
(The Arizona Cardinals run onto the field as one of the teams playing in a Super Bowl.)
(The world explodes.)
(End scene.)
4. Few people know this, but the Cardinals and Steelers actually used to be one team. They merged in 1944 when their rosters were decimated by World War II forming a team called … drumroll, please … Card-Pitt. Yes, Card-Pitt. And even fewer people know this, but "Card-Pitt" is the sole reason that those who were in their prime during the 1940s are referred to as "The Greatest Generation" and not "The Most Creative Generation."
5. The Cardinals are the first team with nine wins or fewer to make it to the Super Bowl in a non-strike season since the 1979 Los Angeles Rams, who were also 9-7. So the Steelers will now have the fortune of playing two 9-7 teams to win a championship. As the saying should go: It is better to be lucky than good. But best to be both.
6. Ken Whisenhunt is a master of trick plays. He's the guy who called the Super Bowl XL pass from Antwaan Randle El to Hines Ward. And in Arizona he has only become more skilled; for example, the Kurt Warner to J.J. Arrington to Kurt Warner to Larry Fitzgerald touchdown against the Eagles. Or, for another example, all the other obviously deceptive plays he now runs that make the Arizona Cardinals (the Arizona Cardinals!) appear good at football.
7. As disappointed as the Eagles and their fans must be, it's important to remember how far this team came. Not two months ago the Eagles were 5-5-1, and Andy Reid and Donovan McNabb were on their way out of town. Only the most irrational of dreamers could have imagined that the pair would turn it around to deliver yet another crushing NFC Championship Game defeat. Believe!
8. It's too bad Ray Lewis didn't get back to the Super Bowl. That would have been quite a story. A redemption story. A story of faith triumphing over tragedy. An American story. Because I think every little American boy grows up dreaming of one day playing in a Super Bowl immediately following an offseason in which he turned state's witness and pled guilty to obstruction of justice in a double-murder case. I know I did.
9. Every time I get off the couch and attend a football game -- as I did the Steelers-Ravens game -- I am reminded of how different the NFL experience is for fans who don't watch football every week on television. Those who attend games regularly don't see commercials. And by not seeing commercials, they miss out on many important cultural and societal messages. For example, there are hundreds of thousands of season-ticket holders all across this country happily driving to and from games, completely unaware that Howie Long has called them out for being pathetic little girls due to their choice of vehicle.
10. No one believed in the Cardinals. They have been playing the disrespect card, but they are the rare team that has every right to. And it has been working. I think it's time America plays the disrespect card. We have our doubters right now, so why not? While Barack Obama no doubt has a beautiful and uplifting speech all ready to go for Tuesday, I think he needs to appeal more to our inner disrespected underdog. "So first of all, let me assert my firm belief that the only thing we have to fear … is NOBODY! Because we're the best even though no one believes in us. Woooooooo!" And then he could maybe follow that up with some shirtless chest-bumping with his Cabinet.
DJ Gallo is the founder and sole writer of the sports satire site SportsPickle.com. He also is a regular contributor to ESPN The Magazine and has written for The Onion and Cracked. His first book, "SportsPickle Presents: The View from the Upper Deck," is on sale now.