Commentary
Another edition of Mr. Manners
Originally Published:
July 16, 2009
By
DJ Gallo
| Page 2
Major League Baseball may have just had its All-Star break, but there is never a time to break from good manners.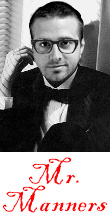 That's why it's time for another installment of Mr. Manners.
Dear Mr. Manners,
A camper dunked on me at my basketball camp. There was video of the dunk, but it was confiscated. Now everyone is saying I'm just protecting my image. What can I do? Isn't it rude to dunk on someone at his own basketball camp?
-- LeBron J. (Cleveland)
Dear Dunked, Defensive and Depressed,
What's done is done. By confiscating the tape, it sounds as if you already made a mountain out of a molehill. (And watch out, other people may now use that mountain to jump off to dunk on you.) What you need to do is focus on the future. You have to tweak your basketball camp so you are never put in this situation again. Most camps are for little kids -- little kids who can't dunk. That's the kind of camp you need to have. Barring that, I'd say don't have a camp. I mean, Shawn Bradley never hosted a camp, am I right? He was smart. You need to be as smart as Shawn Bradley.
-- Mr. Manners
---
Dear Mr. Manners,
I am a mixed martial artist who recently gave the finger to the fans after winning a match. Whoops! How can I show that I am sorry?
-- Brock L.
Dear Bird Brawler,
Give them the finger again. Only next time, make it an actual finger torn from your competitor (the more mangled and bloody the better). No doubt that will win you back the affections of MMA fans.
-- Mr. Manners
---
Dear Mr. Manners,
I want to tweet during games, but NFL commissioner Roger Goodell says I'm not allowed. I think I should be allowed to communicate with my fans. How can I persuade him to see things my way?
-- Chad O.C. (Cincinnati)
Dear WMAD in Cincinnati,
NFL commissioner Roger Goodell? Do you mean @NFLCommish? Roger Goodell is on Twitter, too, you know. And everyone on Twitter loves to get new followers. So on Friday, or #followfriday, just tell those who follow you to "#followfriday @NFLCommish." He will be grateful. So grateful he'll allow you to tweet during games? Maybe not. But I'll bet you he'll let you tweet during your suspension for tweeting during games.
-- Mr. Manners
---
Dear Mr. Manners,
My relationship with my girlfriend just ended. I am worried that she is depressed and will hurt herself -- and the eyes of others -- by eating too much and packing on some unsightly pounds. Is there a way I can politely tell her to watch her weight even though we're no longer together?
-- Tony R. (Dallas)
Dear Exes in Texas,
Hmmm. Tough one. You'll have to be delicate. Try this: Call her and say you have some things of hers at your place that you want to return. Then go over to her house to drop them off. Give her a hug and ask her how she is doing. Then tell her you notice something different about her. When she asks what it is, say: "You look like you're getting fat. Try not to get too fat, Fatty McFat." Then -- as she begins kicking and punching you (this will provide her with much-needed exercise) -- say: "No, I was just kidding. Your hair looks different." Only you won't be kidding. And with your previous fatty comments, you will have planted a seed -- a seed that she hopefully will not plant, grow into a potato, cut up and deep-fry.
-- Mr. Manners
---
Dear Mr. Manners,
I forgot: In addition to giving fans the finger, I also ripped one of the event's sponsors. Double whoops! How can I show that I am sorry for that, too?
-- Brock L.
Dear Bird Brawler,
When you snap off the middle fingers of your next opponent, use the blood-filled digits as paintbrushes to underline the sponsor's logo or write "#1" beside it. But move fast. I have found that severed fingers dry up quicker than you might think.
-- Mr. Manners
---
Dear Mr. Manners,
I recently ripped my teammate, an international superstar, in a new book about him. Now we have to play together again. What can I do to cut the tension?
-- Landon D. (Los Angeles)
Dear Book Basher,
Don't worry too much about it. Since you are in Los Angeles, buy your teammate a copy of Phil Jackson's book "The Last Season: A Team In Search of Its Soul" and highlight the parts about Kobe Bryant. Then explain to your teammate that you are not a blame-shifting, backstabbing jerk, but some sort of super-genius motivator who essentially locked up a future title with your well-timed words.
-- Mr. Manners
---
Dear Mr. Manners,
I am the interim general manager of the Washington Nationals and had to fire our manager, Manny Acta. But I feel terrible because we gave Manny absolutely nothing to work with on the field. It's not his fault that the team stinks. How can I make it up to him?
-- Mike R. (Washington, D.C.)
Dear Down in D.C.,
Tough one. But I think you have two good options. One, you could give Manny Acta another position in the organization. Perhaps a consultant role. Your other option, and one I think is the best, is to name him Manger For Life of the Washington Natinals.
-- Mr. Manners
---
Dear Mr. Manners,
I am a former All-Star outfielder for the Philadelphia Phillies in the 1990s turned financial whiz who is now bankrupt. I lost millions and millions of my clients' money. How can I make it up to them?
-- Lenny D. (Philadelphia)
Dear Overleveraged Lenny,
The answer is quite obvious. Sell your clients time-travel futures with the promise that your former teammate Darren Daulton will fly them back to the past -- back before you lost all their money. Just make sure you do it before Dec. 21, 2012, at 11:11 a.m., when the world as we know it will end.
-- Mr. Manners
DJ Gallo is the founder and sole writer of the sports satire site SportsPickle.com. He also is a regular contributor to ESPN The Magazine and has written for The Onion and Cracked. His first book, "SportsPickle Presents: The View from the Upper Deck," is on sale now.