Commentary
DJ Gallo's NFL Hangover, Week 3
Originally Published:
September 28, 2009
By
DJ Gallo
| Page 2
It's impossible to judge a team after one week. Even two weeks is too soon.
But by the time Week 3 of the NFL season is complete, we can start to draw some conclusions. And when it comes to teams that are off to poor starts, we can determine whether they should throw in the towel … or just relax.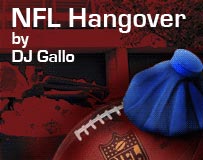 Arizona Cardinals (1-2): Your performance against the Colts earned boos from the home fans. A few more games like that and you'll be right back to not having fans again. Silence is great for concentration. Relax.
Miami Dolphins (0-3): Your veteran quarterback is hurt, and now you're stuck playing some young guy from Michigan who wasn't even drafted in the first round. That never works out in the AFC East. Throw in the towel!
Kansas City Chiefs (0-3): You're paying all that money to a quarterback who couldn't even beat out Tom Brady in New England? Tom Brady is terrible! Throw in the towel!
Washington Redskins (1-2): This is a tough one. I could say "Throw in the towel!" But many Redskins fans want Jim Zorn to be fired ASAP, so losing -- and in embarrassing fashion -- could actually hasten that. But good news, Redskins, even with all these years of losing and embarrassment, you are still considered an A-list NFL franchise. Look! You got a big-time celebrity to show up dressed in black for Jim Zorn's funeral and pay respects. That's big. A team like the Browns would kill just to get someone from The CW to give Eric Mangini the finger. Relax.
Pittsburgh Steelers (1-2): Two games in a row you have come out and dominated the game early, only to let your lead slide away at the end. That's no way to win more Super Bowls. (Unless you're playing the Cardinals in the Super Bowl. That approach worked well against them.) Throw in the towel!
Detroit Lions (1-2): Congratulations! It must be nice to get that 19-game losing streak out of the way. Only now you have the same record as the reigning and six-time Super Bowl champions. TOO MUCH PRESSURE! Better to throw in the towel!
Cleveland Browns (0-3): Each loss has been somehow worse. And now there are reports that Eric Mangini has lost the locker room. But don't panic. Once they put out the postgame spread, he'll find it again. He always does. Relax.
Denver Broncos (3-0): Sure, you're 3-0. But your wins have come against the Bengals, Browns and Raiders. I don't know, somehow it feels as if getting only three wins against those teams is a big letdown. Throw in the towel!
Houston Texans (1-2): Your defense can't stop anyone, but your offense has posted some good numbers the past two games. And most fans don't see you as much more than a collection of a few high-potential fantasy players anyway. Congratulations! You are meeting most expectations! Relax.
Seattle Seahawks (1-2): Sorry, I'm not wasting my time giving you a rating. If you're not going to take yourselves seriously, the rest of us aren't going to take you seriously, either. So how does this uniform thing work exactly? When the Oregon Ducks come up with something that's even too ridiculous for them to wear, they ship it up to you?
Buffalo Bills (1-2): Your offense got shut down. At home. By the Saints' defense! And now it appears that after the game, some tweets by Terrell Owens might have angered a known violator of the NFL's substance-abuse policy. Those people are incredibly volatile! PANIC! Don't just throw in the towel … RUN FOR YOUR LIVES!!!
Tampa Bay Buccaneers (0-3): The Buccaneers are going through some growing pains in Raheem Morris' first year on the job. "We were beat by a grown-man team, a team we want to be like one day," Morris said of Tampa Bay's 24-0 loss to the Giants. See? The Buccaneers haven't even hit puberty. Look at their quarterback. He has a giant baby face. Growing pains are to be expected. Relax.
St. Louis Rams (0-3): The Rams also have a first-year head coach. But they are more of a veteran-laden team. So they're not having growing pains. Their pains are more like the pains old people have before they die. Too bad. Maybe Tom Cruise can come by and say a few words. Throw in the towel!
Jacksonville Jaguars (1-2): No need to panic. You've gone loss-loss-WIN. Had you gone loss-WIN-loss or WIN-loss-loss, then you should be panicking. That's just how these things work. It doesn't make much sense, but just go with it. Would you prefer I said "PANIC!"? Of course not. Relax.
Oakland Raiders (1-2): JaMarcus Russell's passer rating has decreased in each game so far -- from 47.6 to 46.0 to 22.0. If that pattern holds, he should soon reach 0.0, then wrap around into the high end of the scale just in time for a push to the playoffs. Relax.
Tennessee Titans (0-3): "No panic stage, nothing," said Jeff Fisher after Sunday's loss. "By no means can we start pointing fingers and pushing panic buttons," echoed Kerry Collins. Titans, it appears you are trying to influence my evaluations. I don't care for that. In fact, it really ticks me off! WHO DO YOU THINK YOU ARE? I'll tell you who you are, Titans -- you're a team that has lost six of its past seven games. A team with a defense that is now a liability! A team quarterbacked by Kerry Collins! A team that is 0-3 and is facing the Colts, Patriots, 49ers and Jaguars (twice) in your next five games. You might be 0-8! You're nothing! DO YOU HEAR ME? Nothing! OK, I need to calm down. Breathe. Relax.
Quote of the Week
"You have nothing to be looking at the floor for! You didn't steal anything! You didn't do anything wrong! OK? We're going to get better! We're going to get there! We will see them again in the playoffs, all right? You hold your head up!"
-- Mike Singletary, 49ers head coach, to his team after losing to the Vikings
No offense, Mike, but are you really unsure why your team was looking at the floor? Really? You are the same Mike Singletary who has a history of dropping his pants when your team loses, aren't you?
Stat of the Week
13 -- With Detroit's losing streak coming to an end at 19, the Rams have the NFL's longest losing streak at 13 games. Please do a Find/Replace to adjust all your Lions jokes accordingly.
Horrible Fantasy Team That Crushed Your Team This Week
Kevin Kolb, QB, Eagles: 24-for-34, 327 yards, 2 TD, 1 rushing TD
John Kuhn, RB, Packers: 11 total yards, 2 TD
Lynell Hamilton, RB, Saints: 5 carries, 24 yards, TD
Bryant Johnson, WR, Lions: 4 catches, 73 yards, TD
Sidney Rice, WR, Vikings: 4 catches, 56 yards, TD
Daniel Fells, TE, Rams: 2 catches, 35 yards, 2 TD
Photos of the Week
• "Give me that wonderful hair!"
• "Well, maybe this will shame us enough to finally change our team name."
• "Well, at least I live in a city that is usually recession-proof. I should be able to get a new job."
• "Going to do a few quick sets on my frown muscles."
• "This is just the first of possibly several, man."
• "There are voices in my head! Voices with really terrible play calls!"
• "Todd Heap fan, eh? Good player. But I can't say I'm surprised that you tuck your jersey into your khakis."
• "That's right, photographer -- Boy George is a Raiders fan!"
• "Yeah, Steelers, you like this? You can't make us stop."
• "Someone fetch me an overhead projector! It's time to get rid of JaMarcus Russell."
DJ Gallo is the founder of and sole writer for the sports satire site SportsPickle.com. He also is a regular contributor to ESPN The Magazine and has written for The Onion and Cracked. His first book, "SportsPickle Presents: The View from the Upper Deck," is on sale now.