Commentary
DJ Gallo's NFL Hangover, Week 9
Originally Published:
November 9, 2009
By
DJ Gallo
| Page 2
Both the Colts and the Saints won on Sunday to improve to 8-0 and remain the only undefeated teams in the NFL.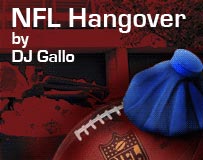 But identical records are not the only similarities between the teams. In fact, it's almost eerie how much Indianapolis and New Orleans are alike.
Quarterback: The obvious parallel is that both Peyton Manning and Drew Brees have gaudy stats. Manning: 2,545 yards, 16 touchdowns, 105.2 passer rating. Brees: 2,336 yards, 17 touchdowns, and a 106.1 rating. But the remarkable similarity? Each quarterback has what the kids call a "fivehead" -- a forehead that has expanded beyond the normal boundaries of a forehead. In fact, it seems Brees is desperately trying to conceal the rare "sixhead." Your move, Peyton.
Offense: Both offenses are explosive. Everyone knows that. But the eerie parallel is that they are both getting significant contributions from lightly regarded players with French-sounding names. Pierre Thomas of New Orleans leads the Saints in rushing yards, yards per carry and rushing touchdowns. Meanwhile, for the Colts, Pierre Garcon, a former sixth-round draft pick out of Division III Mount Union, is on pace for more than 700 receiving yards. Will both these teams go undefeated? I don't know. Will broadcasters continue to fall over themselves making lame French puns every time either player's name comes up? Oui. It's in the bag(uette)!
[+] Enlarge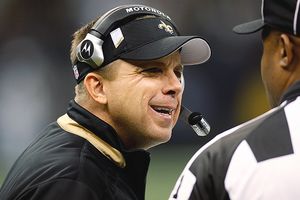 Chris Graythen/Getty Images"I'm wearing this visor indoors because it looks awesome. Get your head in the game!"
Defense: The Saints scored their seventh defensive touchdown of the season Sunday against Carolina. The Browns have only five offensive touchdowns on the season. Amazing. The remarkable parallel with the Colts? Well, hmm … the Colts have only one defensive touchdown this season. But, as with the Saints, I also think anyone on the Colts' defense could start at quarterback for the Browns.
Coaching: Sean Payton and Jim Caldwell have quickly moved to the upper echelon of NFL coaches. Here's why: They both play indoors, yet Payton wears a visor and Caldwell a hat. What -- they can't rely on a roof to keep the sun out of their eyes and harmful UV rays off their skin. Are you kidding? That would be the easy way out! Great coaches know there are no shortcuts.
Schedule: Although we're only halfway through the season, both the Colts and the Saints have relatively easy schedules the rest of the way. They have legitimate shots at going 16-0. But wait … what's this? They both play the NEW ENGLAND PATRIOTS this month? (Passes out.) (Regains consciousness.) (Sets DVR.) (Passes out again.) (Regains consciousness again.) What epic battles! Games of the century! Everyone knows you don't win a Super Bowl unless you go through the 2004 NFL champion first!
Horrible Fantasy Team That Crushed Your Team
Josh Freeman, QB, Buccaneers: 14-for-31, 205 yards, 3 TD, INT, 20 rushing yards
Joseph Addai, RB, Colts: 112 total yards, 2 TD
Ladell Betts, RB, Redskins: 93 total yards, TD
Chris Chambers, WR, Chiefs: 3 catches, 70 yards, 2 TD
Jason Hill, WR, 49ers: 4 catches, 50 yards, 2 TD
Brandon Pettigrew, TE, Lions: 7 catches, 70 yards, TD
Stat of the Week
6 -- Aaron Rodgers was sacked six more times in Green Bay's embarrassing loss to the Buccaneers. Rodgers has now been sacked a league-high 37 times in eight games. Also, Rodgers would like it to be known that if there are any former great Green Bay lineman out there who want to pull a Brett Favre and return to the team, he does not have a problem with it. At all. Even less-than-great linemen would be welcome. Tony Mandarich? Are you available?
Quotes of the Week
"We didn't let 'em off the hook."
-- Cardinals coach Ken Whisenhunt wrapping up his postgame press conference with a slap to the microphone
Wow. Whisenhunt's Cardinals beat the Bears on the road and then he references Denny Green's famous rant. Amazing. Is this an NFL head coach showing some levity and self-awareness? HOW DARE YOU, WHISENHUNT! THIS IS NOT A GAME! IT'S THE NATIONAL FOOTBALL LEAGUE!
Pictures of the Week
"Can you tell me what team you play for? Yes, that's correct, unfortunately."
"How does this look for my stance during the game? Appropriately detached?"
"Oh, delicious tequila-soaked rag, you are my only joy."
"Hey, sorry about putting Leinart in for a play. I hope you didn't think that was disrespectful."
"Here's an old veteran's secret: If you grow some stubble, it will cover up your chins a little bit."
"Stop yelling, you stupid bear! Our offense has the ball!"
"Aaaaaah! The pain! The paaaaaaaain! The sun is in my eyes! Throw a flag!"
"This thing must not be working right. Did I just hear you say that wind pants do NOT go with dress shoes?"
"Pinocchio had his nose, and you have your belly."
"Just remember, as far as ball placement, if I'm going across the middle, I'm probably not going to extend my arms any farther than this."
"Why is this weirdo winking at me?"
"Oh, yeah. I've got to get a picture of that. It's so hot."
"Should we tell daddy that he forgot an apostrophe?"
"Thanks again for letting me live in San Diego."
"Seriously, son, what is the deal with the posture in your family?"
"Yes! Burned all my timeouts. I don't have that distraction hanging over me the rest of the game."
DJ Gallo is the founder of and sole writer for the sports satire site SportsPickle.com. He also is a regular contributor to ESPN The Magazine and has written for The Onion and Cracked. His first book, "SportsPickle Presents: The View from the Upper Deck," is on sale now.