Commentary
DJ Gallo's NFL Hangover, Week 11
Originally Published:
November 23, 2009
By
DJ Gallo
| Page 2
It's late November. The NFL BCS picture is pretty much set. Ten teams make BCS bowls in college football, but with fewer teams in the NFL, only eight prestigious spots are available on the professional side. Let's take a look at who's in.
1. Indianapolis (10-0): There are some obvious weaknesses with the Colts. They seem beatable. But they've won every game on their schedule, won their annual rivalry game with the Patriots, and have a legitimate NFL Heisman candidate in Peyton Manning. They're in the NFL BCS title game with room to spare.
2. Minnesota (9-1): The Vikings slip in just ahead of the Saints, despite one loss, due to their far superior strength of schedule. They lost to the Steelers, but at least they had the guts to schedule a tough game on the road. The voters and the NFL BCS computer reward that.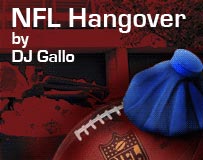 3. New Orleans (10-0): It's tough to see the Saints miss out on playing for the national title, but look at their schedule -- who have they really beaten? With their weak schedule and the program's history, they get left out in the cold. Tough break -- but it's still been a good season, and playing for third in a prestigious NFL BCS bowl is nothing to be ashamed of. Who knows, maybe they'll even win, stay undefeated and get bumped up to second.
4. San Diego (7-3): Too little, too late for the Chargers. Five wins in a row down the stretch gets the attention of voters and moves them up into a great bowl -- but if they wanted the chance to contend for a title, they needed to avoid slipups in September. Every week in the NFL is like the playoffs. It's about the body of work, not who the best team is at the end of the season.
5. New England (7-3): It's been a nice season for the Patriots, but they had to win that game at Indianapolis to have any chance of playing for a national title. Bill Belichick gambled and lost. His parting gift is a huge NFL BCS bowl payout. The Patriots probably hoped to play for the title at the start of the year, but they'll take the money, too.
6. Cincinnati (7-3): Like the crosstown Bearcats, the Bengals had a memorable and surprising season that fans will remember forever, despite the fact they won't get to play for a national title … despite winning one of the top divisions. Those are just the breaks. But the Bengals opened eyes and converted some skeptics. That could pay off in future years in the minds of voters, and maybe even get them a title shot one day. Either way, it was a positive season for the program.
7. Pittsburgh (6-4): The defending champs didn't have the season they wanted, but thanks to opening up the year at No. 1 they never dropped too far down in the polls and still will be able to slip into an NFL BCS bowl -- a respectable way to follow up a national title. This is why they are one of the best programs in the country.
8. Dallas (7-3): They may not win pretty and impress the voters with big margins of victory, but the Cowboys -- like Notre Dame -- are an established football brand, and voters usually will give them the benefit of the doubt. Just getting into the last BCS spot should be enough for Wade Phillips to keep his job.
Out of the BCS
Arizona (7-3): Missing out on a BCS bowl has to hurt, because the Cardinals have a better record than the Steelers and the same record as four of the eight teams who received bids. But Arizona strikes voters as nothing more than another high-scoring team from the West in a bad division. They have to schedule a much tougher out-of-division schedule. Who knows, maybe if there was a playoff system, the Cardinals would get to prove they are good enough to reach the title game. But that's unlikely.
Horrible Fantasy Team That Crushed Your Team
Matthew Stafford, QB, Lions: 26-for-43, 422 yards, 5 TDs, 2 INTs
Kevin Smith, RB, Lions: 149 total yards, 1 TD
Mike Tolbert, RB, Chargers: 7 carries, 58 yards, 1 TD
Terrell Owens, WR, Bills: 9 catches, 197 yards, 1 TD
Mohamed Massaquoi, WR, Browns: 5 catches, 115 yards, 1 TD
David Thomas, TE, Saints: 4 catches, 66 yards, 1 TD
Stat of the Week
384 -- Eli Manning threw for 384 yards on Sunday against the Falcons, the first time he has thrown for more than 300 yards at home. In his career. Really. This is his sixth season in the NFL. When Eli said he had something new lined up, I guess he meant more than a floor strewn with half-naked babies.
Quote of the Week
"We own you."
-- Josh McDaniels, Broncos head coach, to the Chargers' linebackers before the start of a game the Broncos went on to lose 32-3
Umm … whoops. Between stupid comments like this and the fact that the Broncos haven't won a game in 35 days, I'm starting to regret my decision a month ago to clean out my savings account and invest in Josh McDaniels football cards.
Pictures of the Week
"Don't look up. They make us look inept on a larger-than-life scale."
"Let's do the secret mediocre-quarterbacks handshake."
"I just don't know if baring my head will make the same point."
"I'm not doing the wave with him. That stopped being fun 15 years ago."
"I don't want to alarm you, but it appears your arm was torn off."
"Hey! I call the interim shots around here now! Whatever I interim say, interim goes!"
"Could you make the goalposts a little wider?"
"I appreciate you handing the division over to us a lot earlier than your predecessor did."
"What did you say, little fella?"
"An open hand right across the Bengals' face."
"Look, monkey skull, I'm sick of you telling me I look like Boy George."
"You're all going to be penalized. You know that, don't you? What you are doing is not allowed."
"Do not turn around. There is some Botox'd freak right behind you. He's terrifying."
"See? That's our quarterback. Dreamboat, right?" "Wow. You're right. OK, let's just agree that they are equally hot and we would be honored if either of them slept with our girlfriends." "If either of us had girlfriends." "Exactly."
"Do you mind if I just rest one of my chins here?"
DJ Gallo is the founder of and sole writer for the sports satire site SportsPickle.com. He also is a regular contributor to ESPN The Magazine and has written for The Onion and Cracked. His first book, "SportsPickle Presents: The View from the Upper Deck," is on sale now.