Commentary
Another edition of Mr. Manners
Originally Published:
November 25, 2009
By
DJ Gallo
| Page 2
The holiday season is upon us. I am giving you the gift of good manners. Be thankful.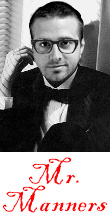 Dear Mr. Manners,
I am a Notre Dame fan. The other night I was out at a bar and sucker punched their quarterback. Right in the eye. Bad manners or not? They're 6-5.
-- John D., South Bend, Ind.
Dear Fighting Irish,
Yes. Bad manners. Very bad manners. A 6-5 record may not be great, but they're bowl-eligible. A refined fan never sucker punches the quarterback of a bowl-eligible team. And especially in this case. Notre Dame's quarterback is one of its only good players. You want to treat him well so he sticks around, not give him more reasons to go pro. What you should have done is sucker punched his offensive linemen.
-- Mr. Manners
---
Dear Mr. Manners,
I am the 86-year-old owner of an NFL franchise. Recently I gave the opposing team a double-bird salute from my owner's box. People saw it and I got in a bit of trouble. The commissioner got upset. So I had to write a letter of apology. But my apology was not sincere. Giving them the finger was the most fun I've had in 50 years. Should I take back my apology?
-- Bud A., Nashville, Tenn.
Dear Double-Bird Bud,
No. You should not recant your apology. Sometimes a refined gentleman must apologize for something he doesn't feel he should apologize for to resolve a messy situation. However, there is a way to do that while still remaining true to yourself. For example, in your case, you could have dipped your middle finger in ink and written your excuse out on paper that way. Or, better yet, you could have dictated your apology to your secretary in belch-talk. Same apology, but in your heart you know it's insincere.
-- Mr. Manners
---
Dear Mr. Manners,
I am a college football coach. Some of my former players have come forward and said that I emotionally abused them by yelling at them and making heartless, personal attacks in front of the whole team. What should I do?
-- Mark M., Lawrence, Kan.
Dear Mock Jock Jayhawk,
I am not hearing a denial in your letter. You need to remember that personal attacks are very hurtful. Let me guess -- you are a very small person who tries to compensate for his lack of physical presence by yelling and screaming at others in a desperate attempt for respect. I know your type. You have a Napoleon complex. Well, how would you like it if people mocked you for being so tiny and skinny and slight of build? You wouldn't like that. So don't you personally attack others either.
-- Mr. Manners
---
Dear Mr. Manners,
I am an NFL referee and in a game recently it appeared that I gave a player a high-five. I didn't, but I'm worried players and fans will now think I'm not impartial or don't take my job seriously. What can I do to change this perception? -- Jerome B.
Dear Rooting Ref
This is a tough one. The misleading image is out there in the minds of the fans, so you'll need an equally powerful image to make your point. Have you considered punching players in the stomach following big plays? Not too hard, though. Just enough to drop them to their knees. That will let fans know you're not rooting for any specific players. And if the fans don't get it, punch them, too.
-- Mr. Manners
---
Dear Mr. Manners,
I am the head coach of the Stanford football team. We recently beat USC 55-21 at USC. After the game, USC's head coach accused me of running up the score. But I was just trying to send a message about the program. Did I mess up?
-- Jim H., Stanford, Calif.
Dear Liar,
Stanford beat USC 55-21 in football? Please don't send fake letters in to Mr. Manners. I don't appreciate it. It's very rude.
-- Mr. Manners
---
Dear Mr. Manners,
I am a football coach who is about to get fired. However, upon my dismissal, I am set to receive a $15 million buyout. It's in my contract but sometimes I feel a little guilty about taking all that money from them when I've been a complete failure as a head coach. What should I do?
-- Charlie W., South Bend, Ind.
Dear Financially-Sound Failure,
A contract is a contract. It's an agreement made in good faith. A promise. Those with good manners keep their promises. So you don't need to feel guilty about taking their money. However, you may want to give a portion of that money back to the university in some way as a charitable donation. For example, maybe you could commission a statue of yourself. All statues don't need to make us think of heroes. There is also a place for statues to remind us of what we don't want to become.
-- Mr. Manners
---
Dear Mr. Manners,
I am the president of the University of Georgia. Our bulldog mascot, Uga, keeps dying. I'm starting to think that our mascot is more depressing for our school than inspiring. Should we get a new mascot?
-- Michael A., Athens, Georgia
Dear Dog Downer,
It's a tough call. Live mascots can die. That's why many schools use students dressed up in mascot costumes. A costume can't die. And the only people depressed by costumed mascots are the parents of the students inside them.
-- Mr. Manners
---
Dear Mr. Manners,
I am a professional football coach. I recently cried in front of my team. Bad move?
-- Rex R., New Jersey
Dear Crying Coach,
Yes. You can never cry in front of your team. It will define you. Look at Dick Vermeil. The first thing everyone thinks is that he cried all the time. Did he win a Super Bowl? Who knows. I think I turned that game off because I was worried he was going to start crying.
-- Mr. Manners
---
Dear Mr. Manners,
Is this the last letter of the column? I was really starting to get into it and & it's just that & BWAAAAH-HOO-HOO-HOO.
-- Rex R., New Jersey
Dear Crying Coach,
Knock it off. There will be another edition soon.
-- Mr. Manners
DJ Gallo is the founder and sole writer of the sports satire site SportsPickle.com. He also is a regular contributor to ESPN The Magazine and has written for The Onion and Cracked. His first book, "SportsPickle Presents: The View from the Upper Deck," is on sale now.